Hands down, these sloppy joe pies are the best main course to serve for Halloween. They are meaty, delicious and oh so creepy!
Halloween goes hand in hand with blood and body parts! Create meat pies worthy of Sweeney Todd and Mrs. Lovett to grace your holiday table!

Halloween is by far my favorite holiday. If you're a regular reader you know that I love all things that go bump in the night. Planning for Halloween often starts in August so there is time to make costumes, build homemade tombstones and spend countless hours making my house look haunted. I'm obsessed and not afraid to admit I own at least four fog machines.
One of my favorite parts of Halloween is creating homemade goodies. Whether I bake a sweet ghost cake or mix up Halloween gin and tonics, I'm busy in the kitchen creating festive treats to celebrate.
Well this year I decided to expand from treats into Halloween dinner. Each year my friend Kristin spends the month of October making creepy dinners for her family and she posts them to Facebook. I've been watching in awe for years as she's made ham-witches, "intestines' and creepy face pies. Do her kids and husband know how lucky they are?
Thanks to Kristen's inspiration, I've come up with these extra realistic severed hand pies… or as I call them, Sloppy Joe's Hand Pies.
Show of hands, who's ready for all the hand puns? I know it's heavy-handed but I can't help myself!
How to make Sloppy Joe's Hand Pies
You don't have to be a dab hand to make these meat pies. I have tested and retested this recipe and the process of shaping the pies so I could teach you how to make them.
First thing you'll need are these creepy hand molds. They come in sets of two. The recipe makes four hands, so you'll need two sets of molds but with Amazon Prime they can be in your hands in just two days. They won't cost you an arm and a leg either!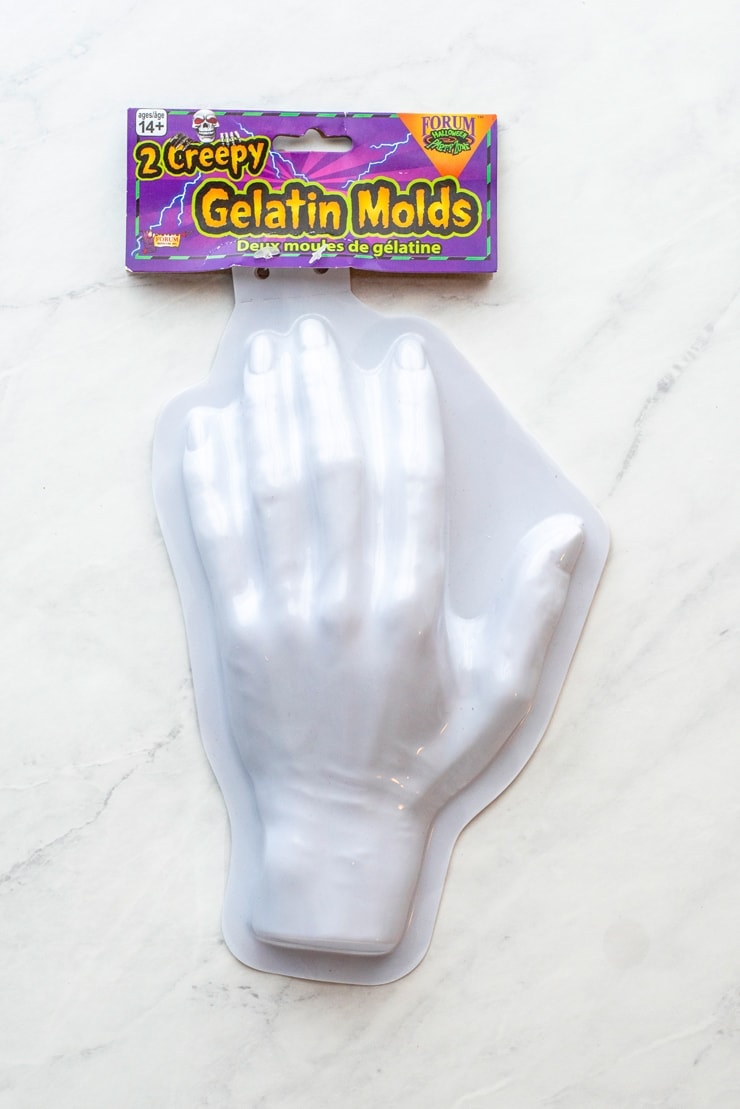 The recipe is quite hands-on. It takes at least two days to make because the dough must be chilled before rolling and the hand pies need to be frozen before baking. So, don't wait until the last minute to make them. Good news is you can leave them in freezer until the day of your Halloween feast.
Joe was a beefy guy so let's start by making the sloppy joe filling. It's pretty simple overall. I've added red wine to the meat and used the reddest veggies I could find. Joe's guts should look real, right?
For these photos, I used purple carrots and tried to avoid the yellow center because I couldn't find any red carrots. But if you can get your hands on some, do. Look for the bags of heirloom carrots in your grocery store. If you must use orange, chop them super small. The red wine and tomato paste will help dye the ingredients a gory color of red.
If you've ever made sloppy joes, you know how sloppy they can be. Difference here is the filling should be cooked down so that it's thick and not at all runny. Joe is not escaping this house of horrors!
I've used an old fashioned hot water crust for this recipe. It's very structural which is why it's great for a molded meat pie. Traditionally, a standing pastry calls for lard but that can be hard to find. Instead I've used butter and shortening because I had them on hand.
The crust is really easy to make. You boil the fats with the water and then mix it into the dough while it's steaming hot, then knead it by hand. What I like is that the dough is very easy to work and holds it's shape so the meat pies don't melt while baking.
The structural dough is especially important because these hand molds are not oven safe. Freezing the pies and baking them in a very hot oven helps to set the shape. But some creative venting lets the steam escape from the filling without misshaping the dough.
After unmolding the frozen hands, I cut open the wrist and cut slits into the dough where skin would naturally fold and wrinkle. Then I use an egg wash and some red wine and tomato paste to give the hand color.
If you want to go all out, you can add a vegetable "bone" to the hand after baking and serve it with our edible fake blood.
To make it a feast, start with this "Shrimp on the Brain" appetizer spread and Purple People Eater Cocktails. For dessert, we love this Dracula's Chocolate Cherry Cake. It's the perfect combo of scary and delicious! Throwing a party? Be sure to check out our favorite Halloween party recipes for more ideas.
Props can fill out the scene too. Dry ice, candles and a very scary knife add authenticity. More is more when it comes to Halloween, so create a layered look using antique silver, sumptuous fruits and black milk glass. This is one holiday where you want your guests to think you're underhanded character!
Sloppy Joe's Hand Pies
Hands down, these sloppy joe pies are the best main course to serve for Halloween. They are meaty, delicious and oh so creepy!
Print
Rate
Ingredients
Hot Water Crust
1-3/4

cups

plus two tablespoons water

9

tablespoons

butter

9

tablespoons

shortening

7-1/2

cups

all purpose flour

(33-3/4 oz)

1-1/2

teaspoons

sea salt
Sloppy Joe Filling
2

tablespoons

butter

2

carrots (preferably purple or red)

, finely diced

1

large

red bell pepper

, finely diced

1

large

red onion

, finely diced

1-1/3

pounds

lean ground beef

1/4

cup

all purpose flour

3/4

cup

red wine

6

ounces

tomato paste

1/2

cup

water

1

tablespoon

fresh rosemary

, chopped
Assembly
1

egg

1

tablespoon

heavy cream or milk

1

tablespoon

red wine

2

tablespoons

tomato paste
Instructions
Hot Water Crust
Combine the flour and salt in a mixing bowl and whisk together.

Place water, butter and shortening in a sauce pan and bring to a boil.

When the fats have melted and the water is boiling, pour into the flour and stir with a spatula.

Once the dough has cooled enough to touch, kneed for 5 minutes.

Divide two thirds of the dough into four large balls and one third of the dough into four small balls. Cover and refrigerate until chilled.
Sloppy Joe Filling
In a dutch oven, melt butter over medium high heat.

Add vegetables to the pot and saute until the vegetables are tender.

Stir in the ground beef, breaking it up with a spoon.

When the beef is browned, stir in the flour then add the red wine, tomato paste and water.

Cook until the sauce is very thick and most of the water has evaporated.

Mix in the rosemary and season with salt and pepper to taste, then chill.
Assembly
Roll out one of the larger dough balls between two sheets of parchment. Use the hand as a guide, making sure that there's excess to hang over the sides of the mold.

Press the dough into the mold then fill two-thirds full with sloppy joe mixture.

Using the mold, make a hand template out of paper.

Roll out one of the small dough balls between two sheets of parchment and then cut out a hand shape using the template you just created.

Trim the bottom crust so that there's about half an inch of dough all around. Place the cut out dough on top of the filling and roll the bottom crust over the top, pressing the dough to make a tight seal.

Place hand mold open side down on a cookie sheet lined with parchment and place in the freezer until completely frozen.

Repeat the process for the next three hands.
Baking
Pull the plastic mold off of the frozen hands then let warm up at room temperature for 15 minutes.

Using a small, sharp knife, cut the dough out of the wrist and reshape dough to resemble cut skin.

Cut slits in the knuckles and places where skin naturally folds and wrinkles.

Make indentations around the fingernails.

Make egg wash by whisking together the egg and cream, then brush onto hands.

Reopen any slits that have closed up.

Mix together wine and tomato paste and brush into slits, fingernails and then all over.

Reopen any slits that have closed up.

Bake for 45 minutes, checking the hands at 15 and 30 minutes for any slits that have closed. Also reposition the hands in the oven so they bake evenly.
Optional
Make a "bone" out of a white carrot, parsnip or parsley root with a vegetable peeler and roast until cooked but still firm.

Once the hand pies are done baking, insert the bone into the wrist.
Notes
See blog post for in-process cooking photos.
DO NOT bake pies in the gelatin molds I linked to! They are not oven safe!
Please follow the instructions carefully and don't skip steps. If you don't freeze the hands, they will not keep their shape. If you don't cut slits in the dough, the steam will make the dough puff up and the hands will lose their shape.
For more info on hot water crust (also called a standing crust) see this awesome video by Townsends. If you're a history of cooking nerd like me, you will love it!
When rolling out the dough, don't use flour, just the parchment paper. It will stick slightly and the paper will wrinkle, but it's a happy accident. Place the wrinkled side of the dough down in the mold, as it makes the "skin" look more realistic.
To make the hand template I colored a line around the edge of the hand mold using food markers, then pressed the mold onto paper. If you don't have food markers, do your best. It doesn't have to be terribly accurate since you'll never see the under crust.
Do your best to press the dough into the mold at each step, including once you've flipped it over for freezing.
Try to not overfill or under fill the mold. The pie should be level with the top of the mold.
If the hands start to thaw and get soft as you are prepping them for baking, refreeze them for 15-20 minutes before baking for best results.
These pies take time... but since they are frozen you can prep these up to a week in advance.
This recipe makes four hand pies but the pies are quite large, so four pies should feed 6-8 people.
Nutrition
Calories:
1157
kcal
|
Carbohydrates:
109
g
|
Protein:
25
g
|
Fat:
66
g
|
Saturated Fat:
29
g
|
Cholesterol:
152
mg
|
Sodium:
1038
mg
|
Potassium:
1057
mg
|
Fiber:
7
g
|
Sugar:
11
g
|
Vitamin A:
8241
IU
|
Vitamin C:
67
mg
|
Calcium:
75
mg
|
Iron:
9
mg
Tried this recipe?
Let us know how it turned out for you! Scroll down to leave a comment below.
You might also like:
Owl Cake
We're putting our twist on the classic cut-up cake genre. Our Owl Cut-Up Cake is easy to make and doesn't require any special equipment. More importantly it's a hoot to make!
Pumpkin Dog Treats
Don't forget your dog friends this Halloween! Show your furry companions how much you love them with these gluten-free Pumpkin Spice Dog Treats.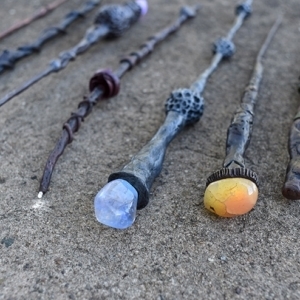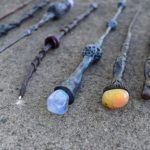 DIY Harry Potter Wands
This Harry Potter craft will bring out your creative wizard. Follow our instructions to make a one-of-a-kind wand that glows! Just imagine the spells you'll be able to cast.