Fans will love these DIY Harry Potter Wands! They light up making the ultimate wizard prop. This Harry Potter craft will bring out your creative wizard. Follow our instructions to make a one-of-a-kind wand that glows! Just imagine the spells you'll be able to cast. Lumos!
This post was originally published on October 17, 2017. It was updated on September 28, 2020 with a new craft template.
If you've read my post on how to make a tombstone prop, you know that both Kevin and I have a background in theatre. We met back in the summer of 1996 as interns at the Goodspeed Opera House, a time that seems eons away now.
Many things have changed…we are older, grayer, and have new careers. But we still have a deep and abiding love for all things theatrical!
When we talked about possible Harry Potter crafts, wands were an obvious choice. You can dress an actor in Hogwarts robes but no one will believe he's a wizard unless he has some killer props!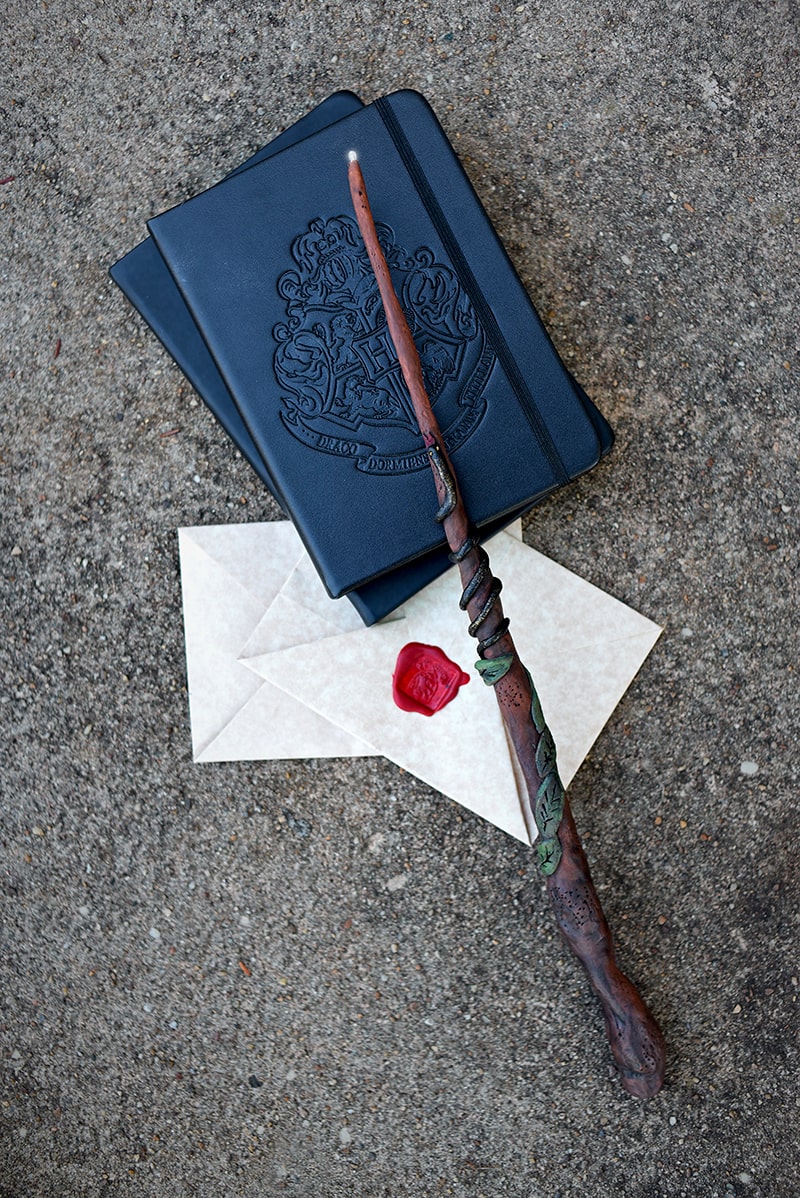 So, fellow Harry Potter fans, whether you're a Gryffindor or a Slytherin, this ultimate DIY Harry Potter Wands tutorial is for you!
Why is it the ultimate tutorial? Because they light up, of course! But also because this craft is inspired by a very memorable Halloween.
Let's grab a mug of butterbeer and I'll tell you why making lighted wands is so near and dear to my heart!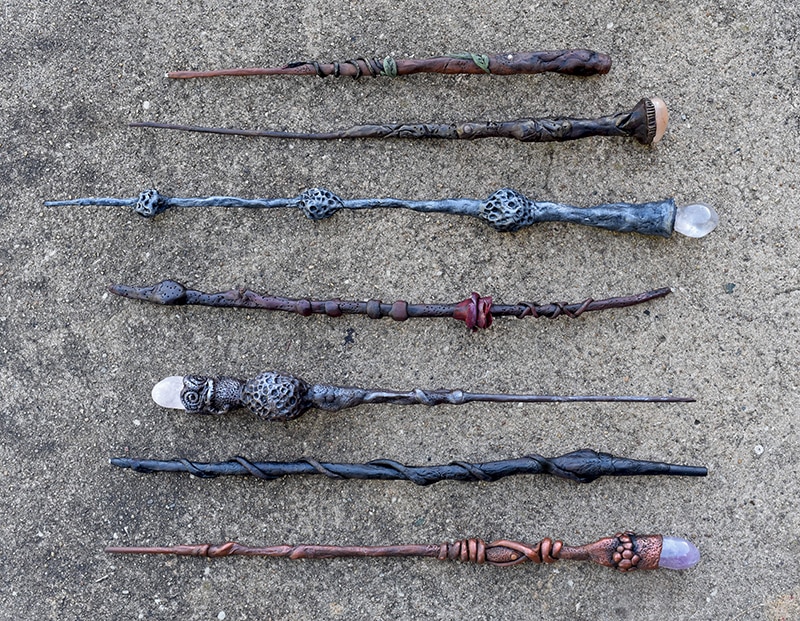 Light up wand
When I was about 6 or 7, my parents collaborated on a witch costume. My mom, never one to go with the obvious option, chose a black fabric with orange stars and sewed it together on her vintage Singer. My dad, always the tinkerer, fashioned a light up wand from a brass tube.
To my childish delight, the wand had an orange crystal at the end that lit up. I remember feeling so special in that starry tunic, swirling in circles as an ember glowed around me.
It was magical in a way only things of youth can be…the feeling of being unencumbered and giddy mixed with the power of imagination. To this day, it is one of my happiest childhood memories.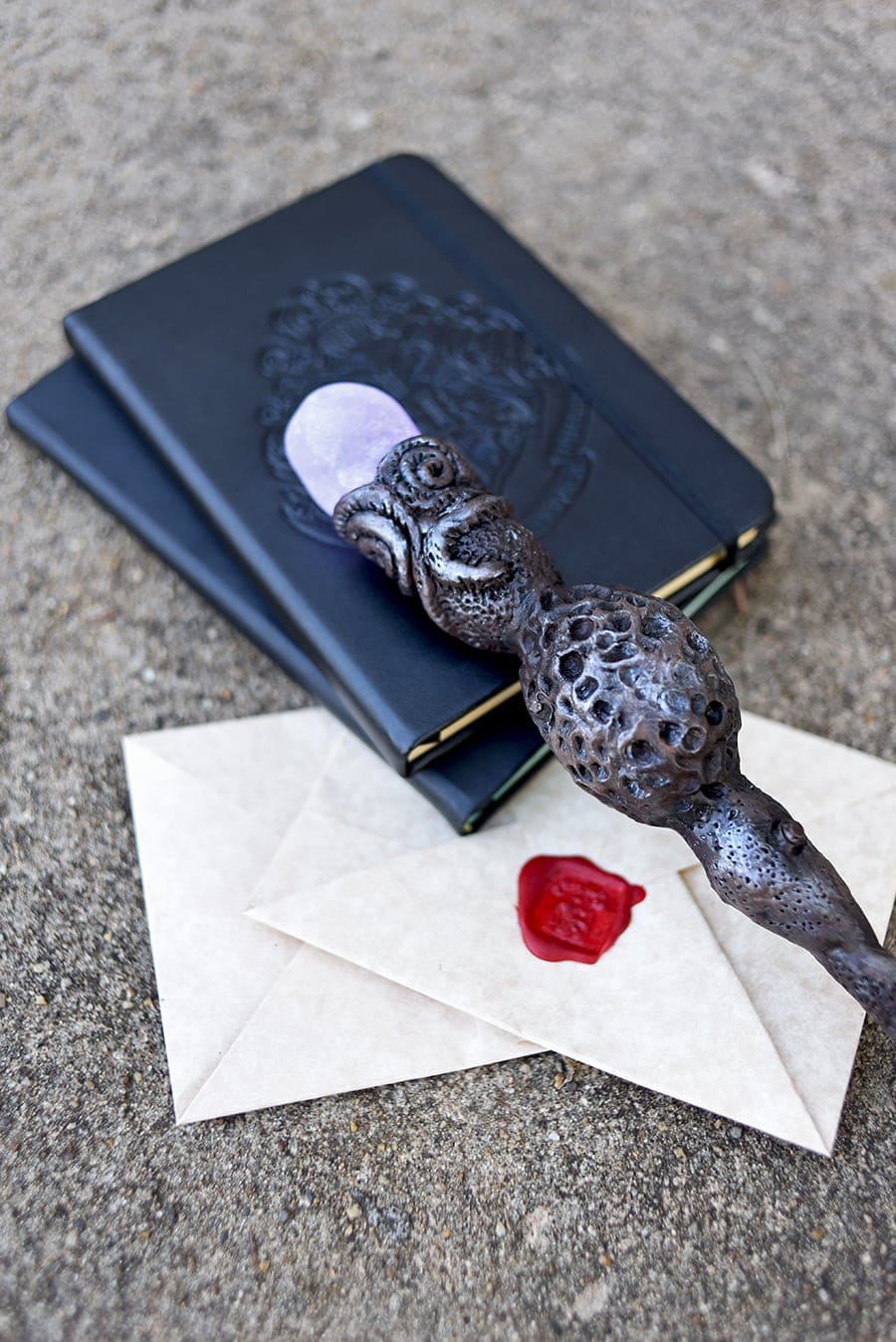 LED light craft
I want to spread that joy! To that end, Kevin and I sat down over the summer to figure out how to make these LED light craft wand. It started with a few dollar store flashlights and a few hours of frustration.
Although it was a thrifty concept, it was nearly impossible to add a wire to an LED bulb (most mini flashlights have a bulb that connects directly to the battery). Let's not even get started on the switches.
At the end of a very disappointing night, I had one dowel wired, but it took scavenging parts from various flashlights and I wasn't sure the switch could be camouflaged.
We needed a prewired bulb and a switch that was inconspicuous. Most importantly, this craft had to be achievable for those without a degree in theatre! LOL!
So, Kevin talked to some friends to figure out how and where to buy supplies. Luckily, he knows a lot of people that are into miniatures.
The right supplies in hand, we got our dowels wired. The next hurdle was making them look like wands. I have seen TONS of tutorials that use hot glue as the primary way to make Harry Potter wands.
Don't get me wrong, I love my hot glue gun, but this sounds unsafe to me. I have a scar from high school art class that proves it.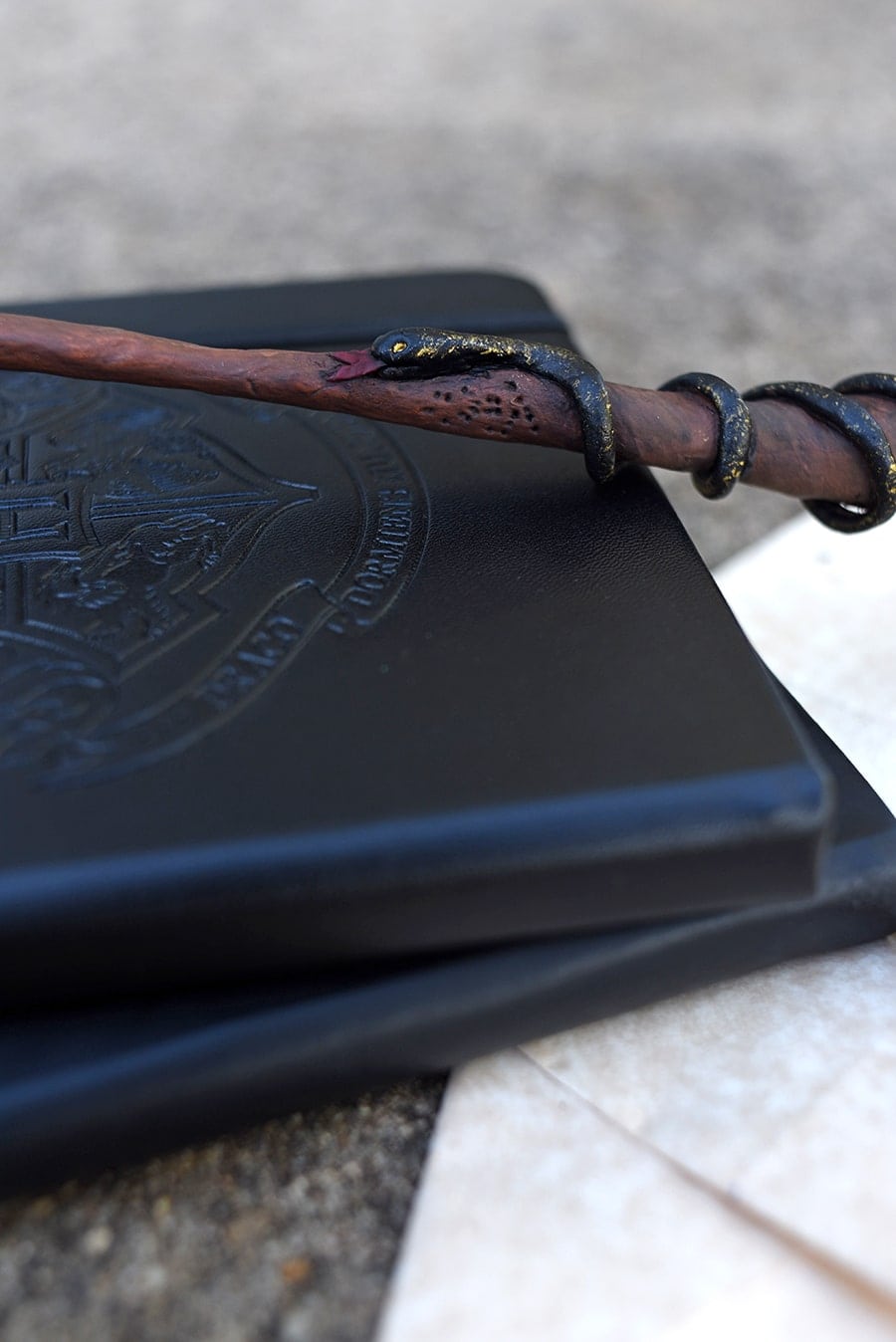 Air dry clay project
On a craft store run, I purchased oven bake clay, and when it came time to make the wands, I realized that baking a battery was a stupid idea. Another trip to the craft store and we were back in business with this air dry clay project.
Much smarter choice! But there were more lessons to be learned. Air dry clay is WET! So, one of my first two test wands failed because we neglected to completely protect the battery component.
As the clay dried, a distinctive rust pattern started to emerge and the battery went dead. With the next batch of wands we completely wrapped the batteries with electrical tape.
But then as were covering the next batch of wands with clay, the ones lit in the back with a rock started to turn on by themselves.
Very frustrating, but I wasn't going to let this project defeat me! I pulled off the clay around the switch and the power turned off.
Clay is wet…water conducts electricity…so let's just say this craft is not completely hot glue gun free.
Electrical tape is bulky, so I covered the area surrounding the switch with hot glue. Once it cooled, we finished decorating the wands with the air dry clay. I'm happy to say that was the end of the electrical mishaps!
See how well they light up? It was worth all the learning curves to bring you this tutorial!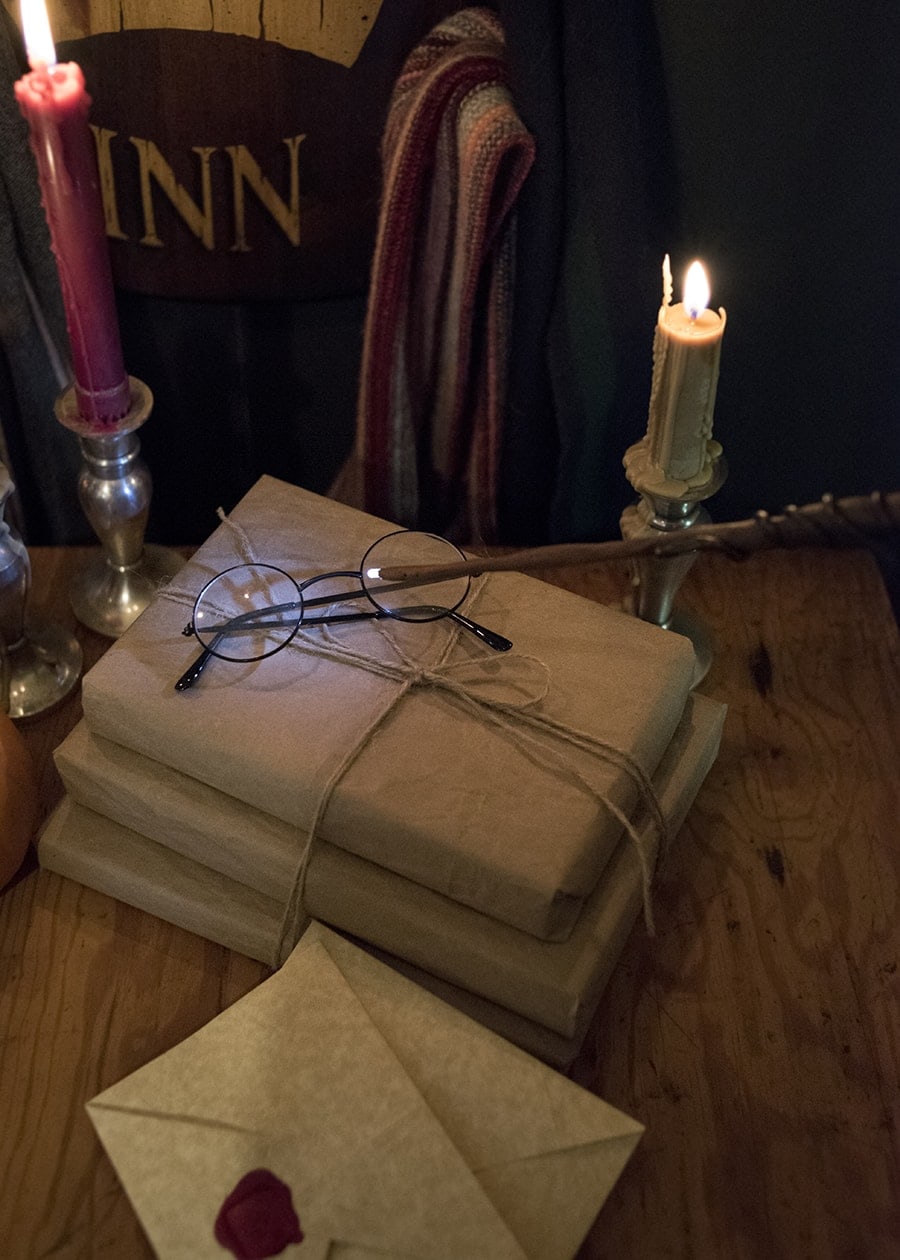 Don't forget the Wand-Lighting Charm is simple, but requires concentration. Hold your wand in your dominate hand and say "Lumos!" The counter- spell to extinguish the light is the charm "Nox!"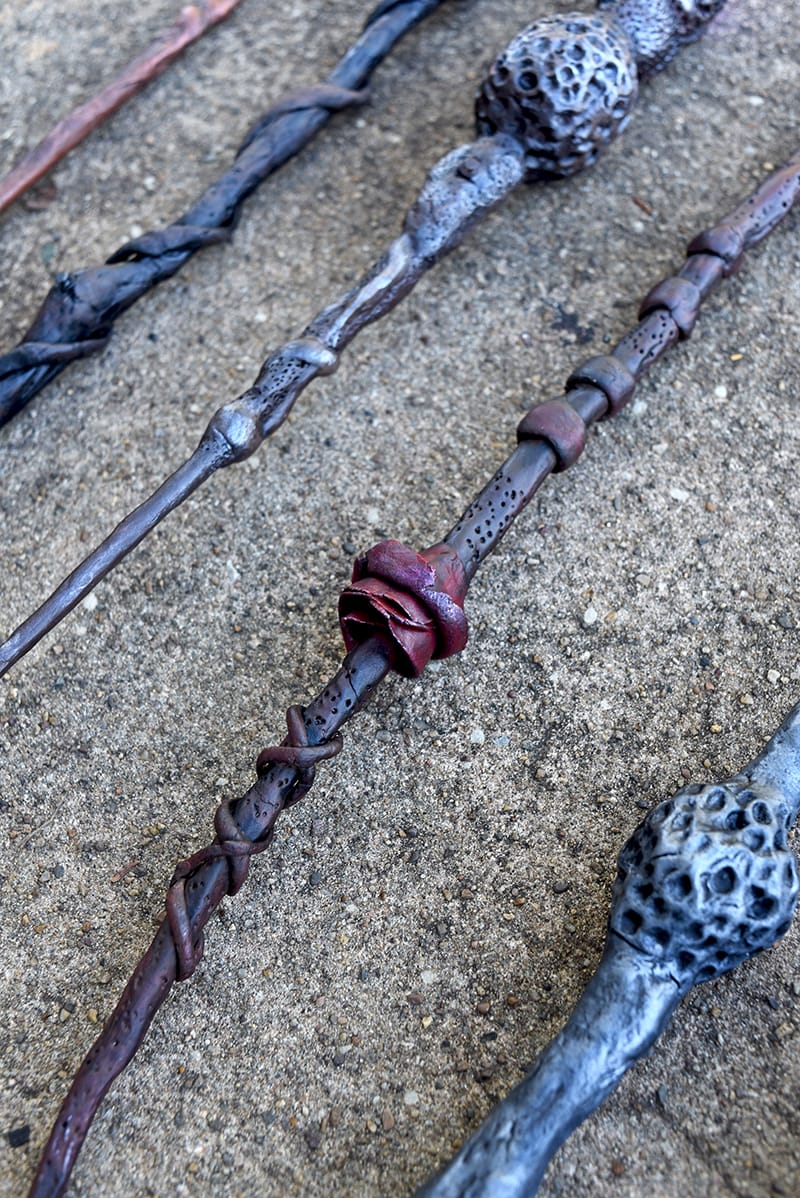 Harry Potter light up wand
But that being said, this is the theatrical, impress everyone at your Halloween party prop! Not because the Harry Potter light up wand is a difficult craft, but because you have to have some patience.
It takes about two to three days for the clay to dry but since we use a limited amount of hot glue, you'll save yourself the burns!
Of the whole process, shaping the clay was the most fun part for me. It's where you turn a stick into an instrument of magic!
I found it easiest to go with the flow. Because of the electrical components, the clay naturally bumps and swirls. I used that to my advantage by incorporating them into my design. Texture is where it's at, so I stippled and grooved the clay into an interesting design.
Once the whole stick was covered in clay, I added elements like leaves, vines and balls to the wands.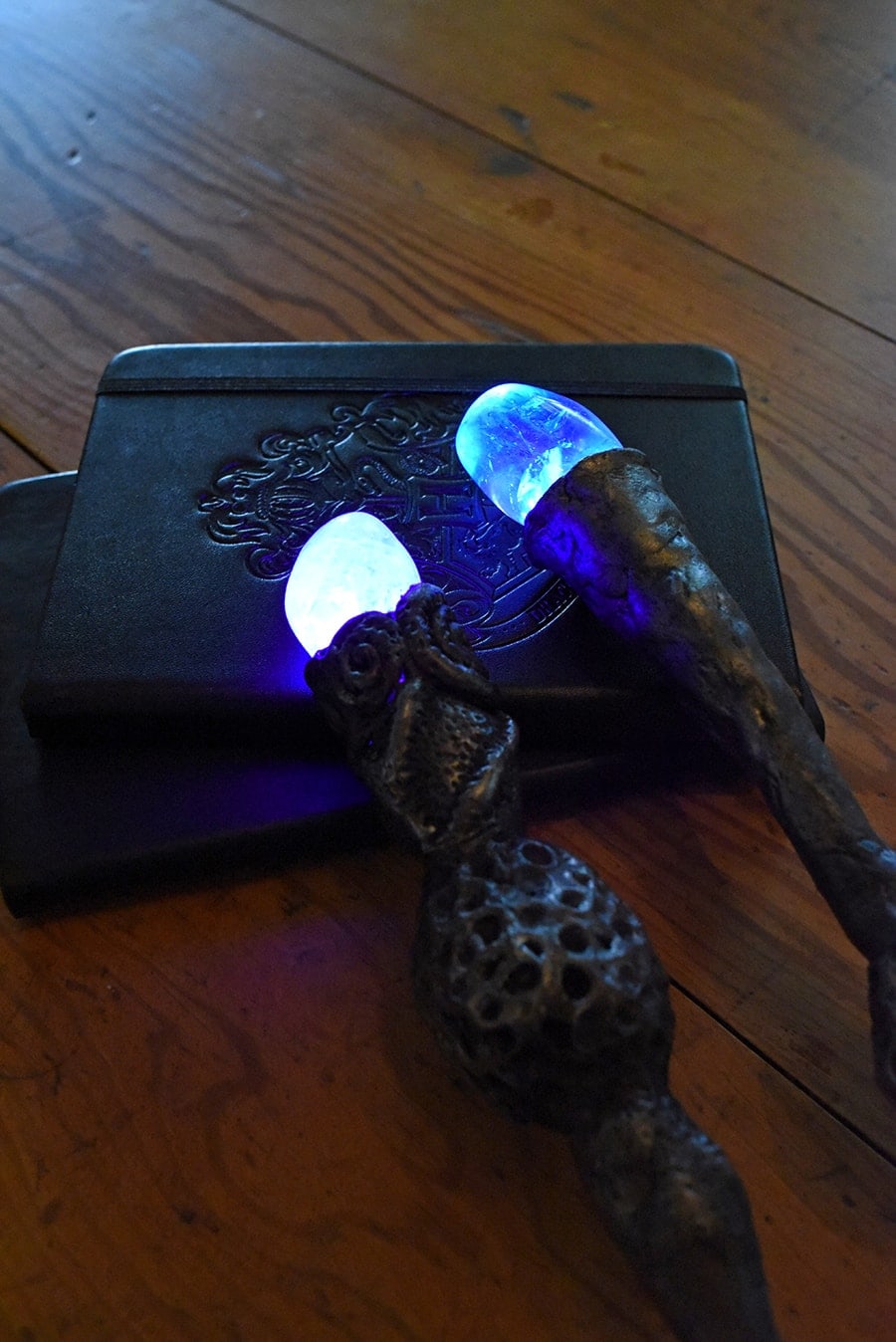 Then you wait… if you're like me you'll want to keep checking on the wands but trust me, let them dry a long time! I disassembled the wand that was a dud, only to find it was dry on the outside and wet on the inside.
So you don't want to paint them until they are super dry!
When the clay was dry it was time to finish the wands with a few coats of paint. We went with a more natural look for our DIY Harry Potter Wands, using mostly browns, black and metallics, but the sky's the limit!
Paint choice is as personal as your wand design. That's the beauty of this craft! You can really make it your own. See how no two are alike?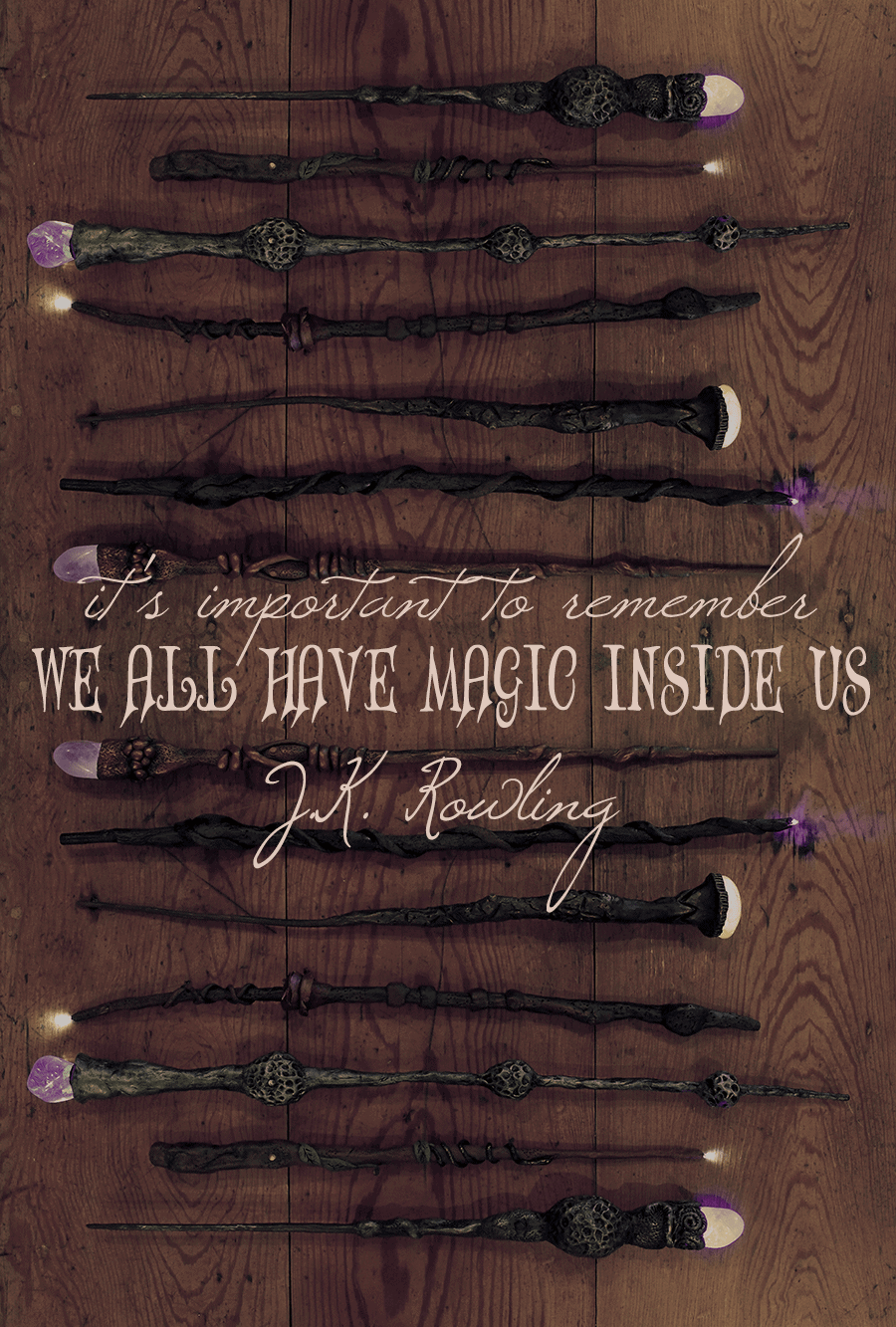 Now it's your turn! You can safely make these illuminated DIY Harry Potter wands learning from my mistakes so it's all fun and no frustration! Scroll down to get the tutorial and my tips and tricks. Also be sure to check out our Harry Potter #diydatenight for more wizarding fun!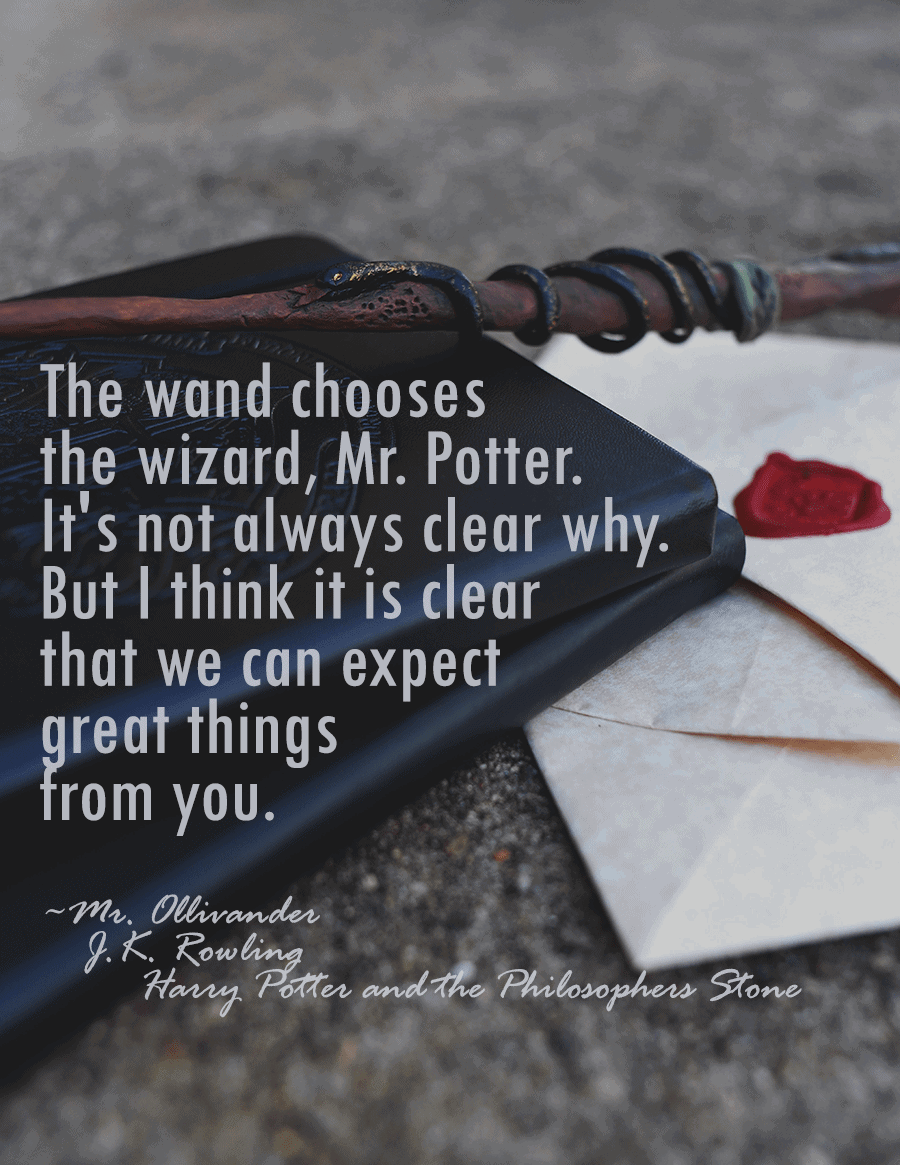 Wand tutorial pictures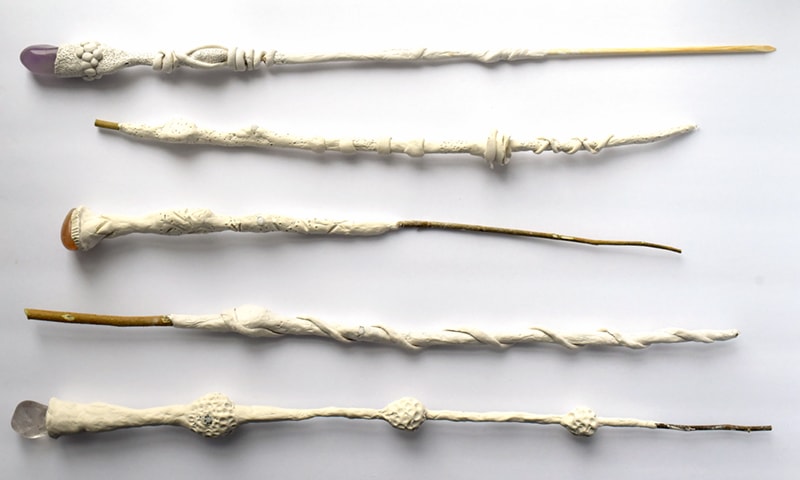 DIY Harry Potter Wands
This Harry Potter craft will bring out your creative wizard. Follow our instructions to make a one-of-a-kind wand that glows! Just imagine the spells you'll be able to cast. Lumos!
Print
Pin
Rate
Equipment
Hot glue gun

Glue sticks

Small piece of cardboard or foam core

Super glue

Saw or garden clippers

Sand paper

Paint brushes

Tools to shape clay (knife, toothpicks, small piece of dowel to roll out clay…. whatever you have around)
Supplies
Instructions
Cut dowels or sticks to be two inches longer than the desired length

Determine if you want your light at the front or the back of the wand

Insert battery into holder and completely cover in electrical tape

Attach the battery pack to one end of the stick. If you want to light a rock at the back of the wand, place it about one inch from the end. If you'd like the tip of the wand to illuminate, place the battery pack about three inches in

Decide where you want your switch. We found it natural to place the battery pack where the palm of the hand would naturally go and the switch where the thumb could easily reach it

Cut a couple small pieces of foam core or cardboard to the width of the wand and hot glue them to the stick where you plan to place the switch. You want the switch to be at about the same height as the battery pack or a little taller

Hot glue the switch to the foam core

Tape the LED light to the stick, letting the bulb stick off the end a little.

Connect wires, usually red to red, black to black, but if the colors don't match up, make sure to test connection before moving on to the next step.

Cover all of the wire and electrical pieces with tape, only leaving the switch exposed.

Cover the area surrounding the switch completely with hot glue. Make sure to not get hot glue on the the top of the switch or it won't operate. (This is to protect the wire connections from the moisture in the clay).

If you've chosen to light the back of the wand with the lighted rock, place the rock in a bowl, or something else that holds it steady. Gently place the end of the wand to the rock (the LED end) and hot glue the rock in place. You'll have to slowly add more glue until the rock is attached. If you're using a polished rock, the glue is unlikely to hold it long term, so handle the wand with care.

Cover your wand in clay leaving the switch exposed. It's best to start with a thin coat and then add details. To smooth your clay out you can wet your hands a little, but since there are electrical components inside, use water sparingly. We found it best to go with the flow. The clay has a mind of its own, so try to work any bumps or twists into the design. Make sure to leave part of your stick exposed.

Once you're done covering your wand in clay, stick the exposed stick end into your styrofoam to let the clay dry. Be patient. It will take about 48-72 hours.

Once the clay is dry, cut off the extra exposed part of the stick and sand smooth.

Now you are ready to paint. Start with a couple of base coats and then use some darker and lighter colors to bring out the textures of the clay.

If you've used a rock on the end of your wand and it's come loose, reattach it with super glue.

Once your wand is completely dry, you're ready to perform magic spells!
Notes
When the clay dries, it can shrink or crack a little bit. We found it easiest to fill in the gaps with hot glue.
Test your rock for translucency before using it for your wand.
If you want a brighter rock, you can wire two LED lights to the battery, but the battery will burn out twice as fast.
As designed, the batteries are not replaceable. If you are making these for kids, we suggest you let them play with them for short bursts of time to make the fun last longer.
We think this is a great project to make with older kids. Because of the electrical components, it's too fragile for little ones to construct. Let them make their own without the electricity or have them paint a wand after the clay has dried.
To disguise the the switch, dry brush on paint in very thin layers.
Some tutorials use chopsticks… they are not long enough for this project. Our finished wands ranged from 19-27 inches.
Our measurements were for adult wands. If you are delighting your little ones with wands, make a wand that will fit little hands.
Tried this recipe?
Let us know how it turned out for you! Scroll down to leave a comment below.
Loved making these DIY wands? Try your hand at a few more crafts!
This boozy take on butterbeer will give you the feeling of being in the world of Harry Potter, but with an adult twist.
A fun project for kids and adults! Use these paper gnomes as gift tags, Christmas ornaments or make into a holiday garland.
Can you imagine yourself cuddled up with your date at The Three Broomsticks? We've got a special date night planned for you.