This heirloom pie crust recipe rolls out like a dream. It's flaky, tender and time tested so you know it will never fail.
#MyVintageRecipe is a series that documents the anthropology of food one recipe at a time. My hope is that these stories will help us better understand how the food we eat plays a vital role in our personal lives and tells a larger story about the cultural impacts of food traditions. Every recipe has a story. Do you have one to tell? Email me at kitty@vintagekitty.com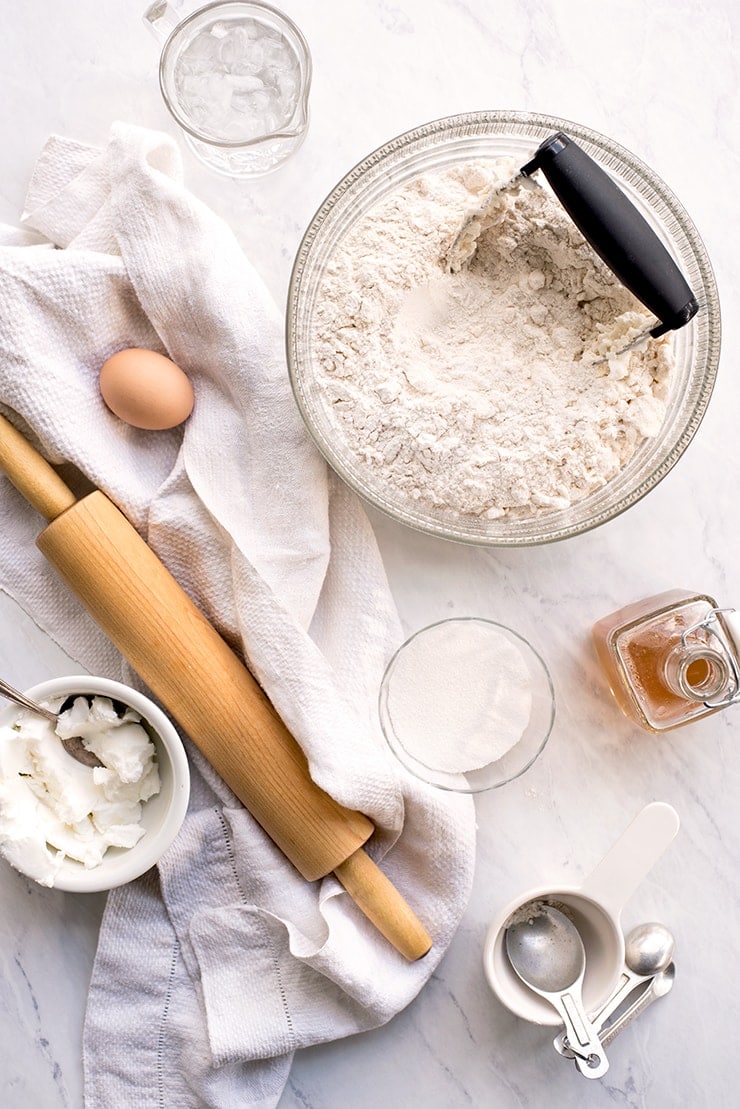 As far back as I can remember my mom has been a baker. As a young child I can remember her waking me up late at night because she was in the mood to make cookies. In my nightgown, I'd teeter on a step stool, watching my mom as she turned flour and sugar into batter.
My mom was so adept at baking, that I usually watched, rather than participate. Mom performed her elegant dance, gently caressing the ingredients, massaging them into minimalist works of art. She was no foodie or gourmet, just a home cook with a rural Pennsylvania Dutch palate. Despite the simplicity, be it a humble pie or a buttery pound cake, the result was sweet perfection and I lived for a taste.
It was during these intimate nights, baking in the moonlight with my mother, that my deep love of food began.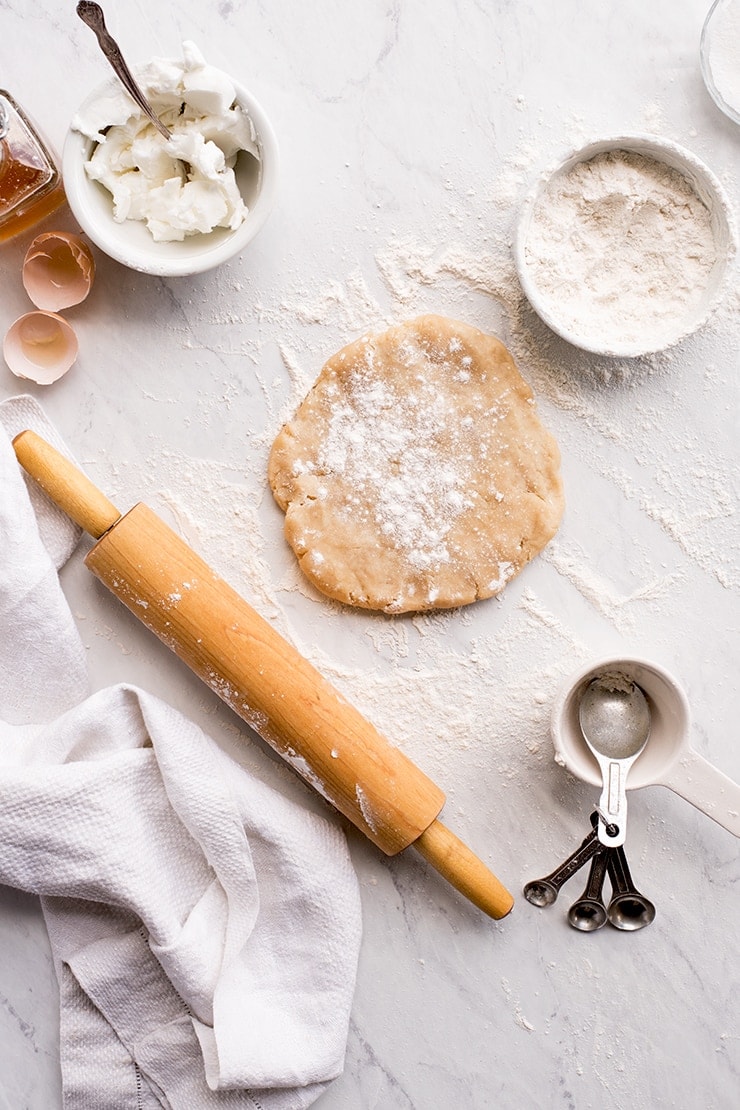 When I finally began to bake on my own, it was a rude awakening. Mom made baking look effortless but it did not come easily to me. There were many tears and fallen cakes before I earned a bit of my mother's finesse. But with years of practice, I too have grown into a baker, like my mom and her mom before her.
Baker is a title of honor. Its a position earned through haphazard burns and dishpan hands. Yes, beyond the toil there is achievement. Nailing the meringue can be so satisfying! But the real reward is joyful smiles and full bellies. It's the gift that everyone appreciates and that will be remembered.
I would love to personally bake something for all of my readers, but I'm afraid that's not possible. Instead, I'm going to give you #myvintagerecipe for foolproof pie crust. Well actually it's my mom's recipe…but it's not. You know how someone makes a recipe so long it becomes "their" recipe? That's the story here.
Back in the early 1970s my mom got this pie crust recipe from her coworker. That coworker got it from her mother. That's all mom remembers. I know mom was working at Capitol Records in Winchester, Virginia at the time and Winchester also happens to be were my parents met. So, filling in the gaps in the story…maybe my youthful mother wanted to impress her beau with homemade pie? At least that's the story in my mind.
As to the actual origins of the recipe, it's unclear. I found a newspaper clipping on Teacup Lane that has a very similar recipe. Sandy writes that she found the recipe sometime in the 1980s but the clipping doesn't have a date or title. The pie dough is called Linda Garner's Absolutely Perfect, Never Fail Pie Crust. But unfortunately this little article left me with more questions than answers. Is Linda still alive? What paper did Judy McConnell Steele write for? I googled both names and looked for similar recipes in Google Books and several heirloom recipe databases. But my searches came up with zip, nada, nothing.
One day, I hope to find out exactly how this recipe made its way to my mom and how it came to be called foolproof pie crust. If you've read my post on the brown betty or my homage to the cut up cake, you know I'm a budding food anthropologist. So, when researching a recipe I'm like a dog with a bone. Who knows? Maybe one of you readers will have the next clue?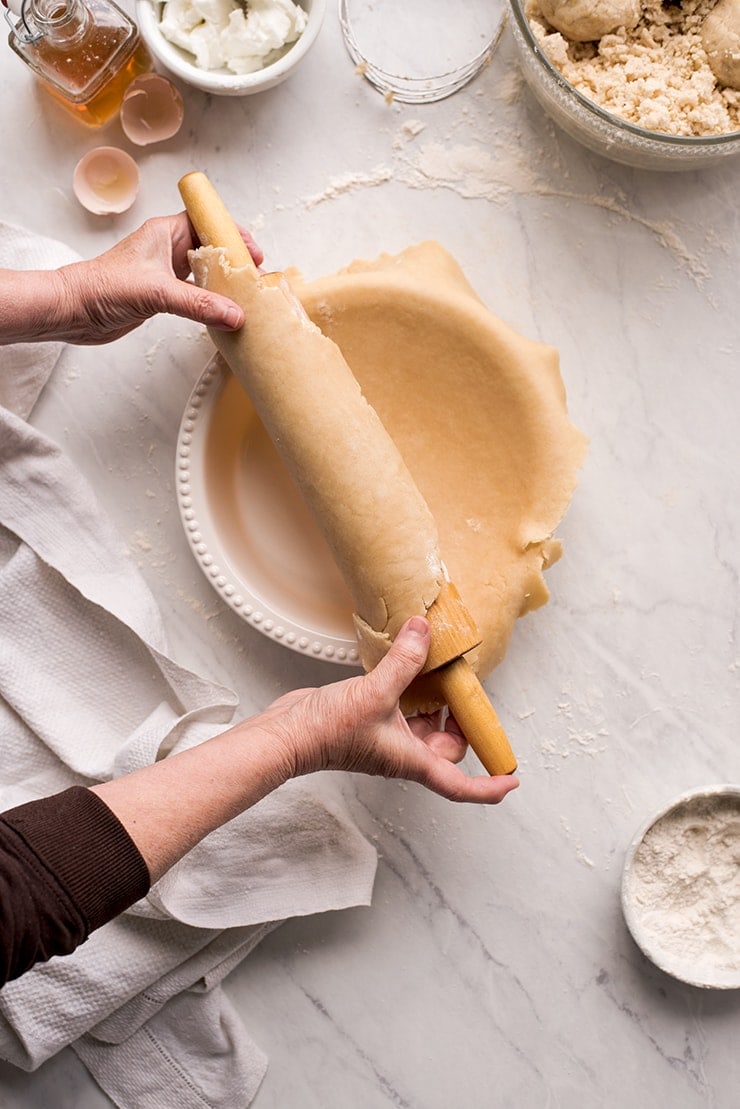 But I don't need to give you a long history to convince you this pie crust is phenomenal! It's all in the name…it really is foolproof. It rolls like a dream, there's no need to refrigerate the dough before rolling, it mends well, and it's so flaky and tender!
It's the ONLY pie crust my mom makes and she makes it often. So often, I think she could make this recipe in her sleep.
When mom visited before Thanksgiving to help bake pies, I put her beautiful hands to work. They're hands that have the telltale lines and bumps of age, but they are experienced. And despite the arthritis developing in her petite frame she works the dough just as quickly and smoothly as she did as a young mother.
Watching her roll and shape the dough, I am forever transported back to the step stool, watching my mother and how blissfully happy she is when she is baking.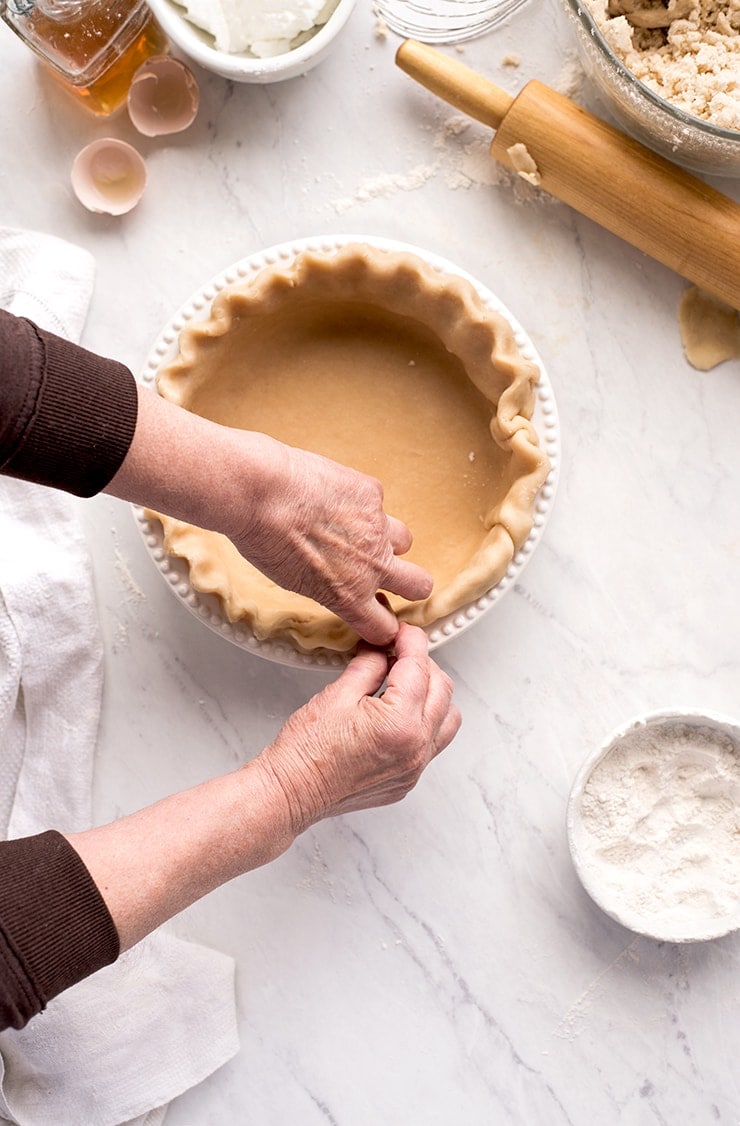 But now I peer through a lens. Beyond this perfect pie crust recipe, I have documented my mom's precious hands and her place in the history of this recipe.
When I'm old, and she is gone and my memory is failing, I will have these things to cherish: the way she rolls the crust so much thinner than I can ever get mine; the way she crimps the crust, an altogether different approach than my own; but also how her hands are my hands. My crust is almost as perfect as hers and as I look at my own hands I see they too are developing those wise wrinkles. Perhaps one day I will have mastered the perfect roll, the perfect crust and the perfect pie?
Until then, I will continue to watch and learn from my mom and ask all the questions I didn't know to ask when I was young.
Foolproof Pie Crust Tips
The first thing I do when making pie crust is fill a liquid measuring cup with ice and filtered water. That way when I'm ready for the water it's very cold.
Although shortening is more forgiving than butter, on a hot day it never hurts to refrigerate the shortening. The key to a flaky crust is keeping the fat from completely mixing into the flour. That's easier to do if the shortening is cold.
This recipe can be made in a food processor but I prefer to make it the old fashioned way with a large bowl and a pastry cutter.
There's no need to rest or refrigerate the dough before rolling it out.
This dough can be made ahead and refrigerated for up to 3 days. Let it warm up a bit before rolling it out.
This is my prefered pie crust for custard fillings, like our sweet potato pie. I find that a shortening crust can withstand the longer baking time required for a liquidy filling.
For single layer pies, I like to freeze my prepared pie crust for 30-60 minutes before filling and baking. This will help the crust hold its shape.
Be sure to use apple cider vinegar. Any vinegar will impede the gluten from forming (this is a good thing in pie crust) but the apple cider vinegar improves the flavor as well.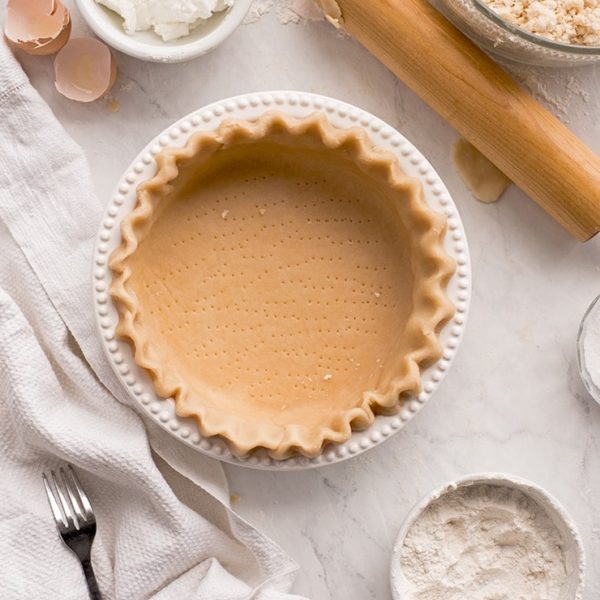 Fool Proof Pie Crust
This recipe has been in my family for years. It is my mother's go-to recipe. It is tender and flaky and works perfectly every time.
Print
Rate
Servings:
5
single crusts
Ingredients
4

cups

all purpose flour

1

tbsp

sugar

1

tsp

salt

1-3/4

cups

vegetable shortening

1

tbsp

apple cider vinegar

1

large

egg

, beaten

1/2

cup

ice water
Instructions
In large bowl, combine flour, sugar and salt. Mix to combine

Cut in shortening with pastry cutter until pea sized crumbles occur.

Mix in remaining ingredients until flour is incorporated.
Notes
This dough can be rolled out immediately, but can also be stored in refrigerator for up to three days.
Get more helpful tips within the blog post!
Nutrition
Serving:
1
crust
|
Calories:
1022
kcal
|
Carbohydrates:
78
g
|
Protein:
11
g
|
Fat:
73
g
|
Saturated Fat:
18
g
|
Cholesterol:
37
mg
|
Sodium:
485
mg
|
Potassium:
120
mg
|
Fiber:
2
g
|
Sugar:
2
g
|
Vitamin A:
55
IU
|
Calcium:
21
mg
|
Iron:
4.9
mg
Tried this recipe?
Let us know how it turned out for you! Scroll down to leave a comment below.
Love to bake from scratch? Check out all out pie and tart recipes!
You might also like:

Magnificent Mixed Berry Pie
Not only is this mixed berry pie tender, flaky, and fruity, it is also beautiful. Learn how to make this pie from scratch using simple ingredients and cookie cutters.
Lemon Icebox Pie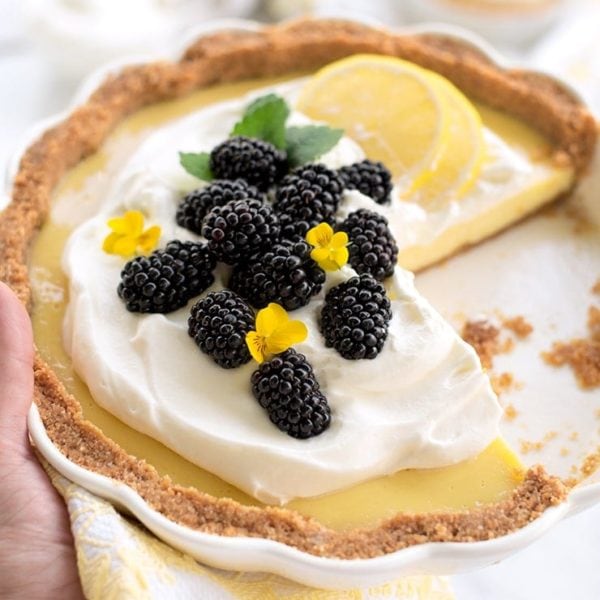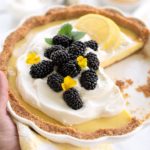 Lemon Icebox Pie is sweet, tart, creamy, nutty and best served cold! This mouthwatering icebox pie hits the spot when the thermometer soars!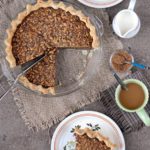 Maple Walnut Pie
You'll love this alternative to pecan pie, Maple Walnut Pie! There's no corn syrup, but instead real maple syrup and a hint of whiskey to spice things up!