Pecan pie meets bourbon old fashioned! This seasonal twist takes the the classic cocktail to the next level with brown sugar and pecan liqueur. Great for holidays gatherings!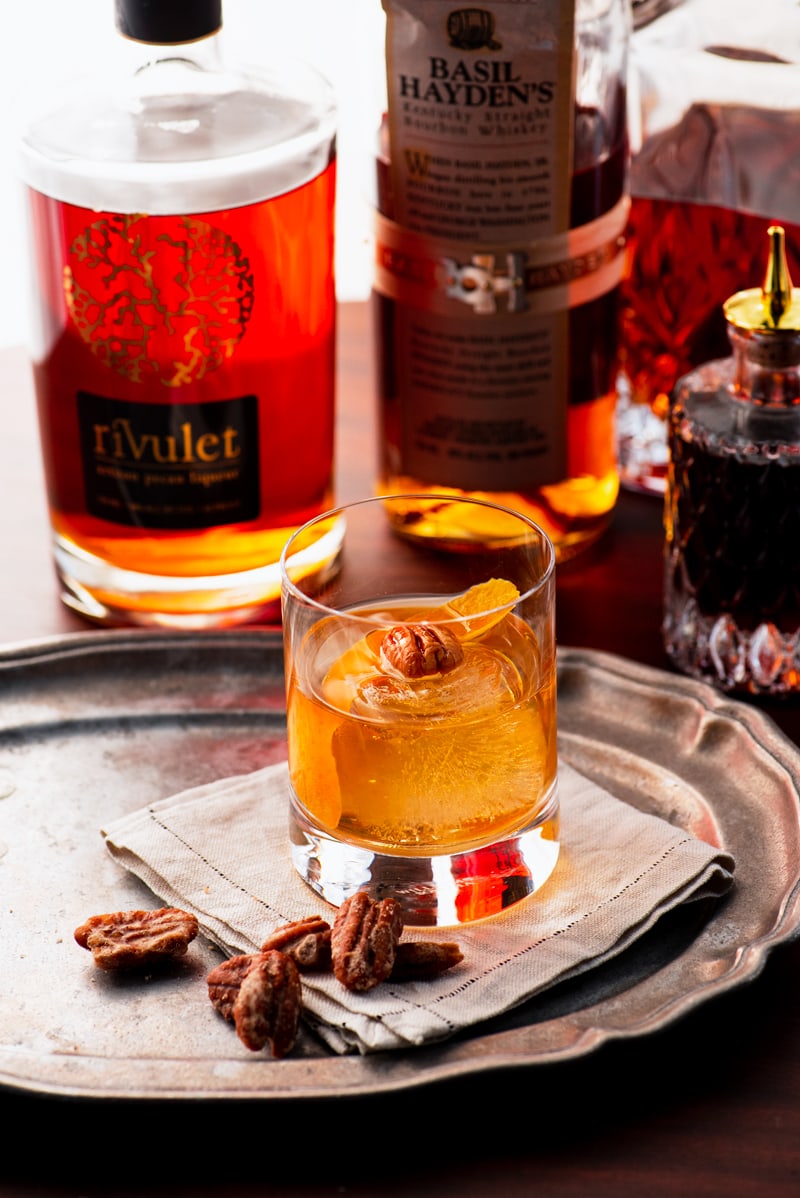 While pecans are good year-round, they have extra appeal during the holiday season. So last year while Kevin and I were in St. Louis for a work holiday party, it's no surprise that a stop in to Intoxicology ended with us purchasing pecan bitters.
If you ever have the chance to go to Intoxicology, I highly recommend it. It's a very Vintage Kitty kind of place with vintage glassware, high quality bar tools and tons of cocktail books to inspire your happy hours.
With a new bottle of bitters and bar tools in hand, we were excited to fly home and start our Christmas break.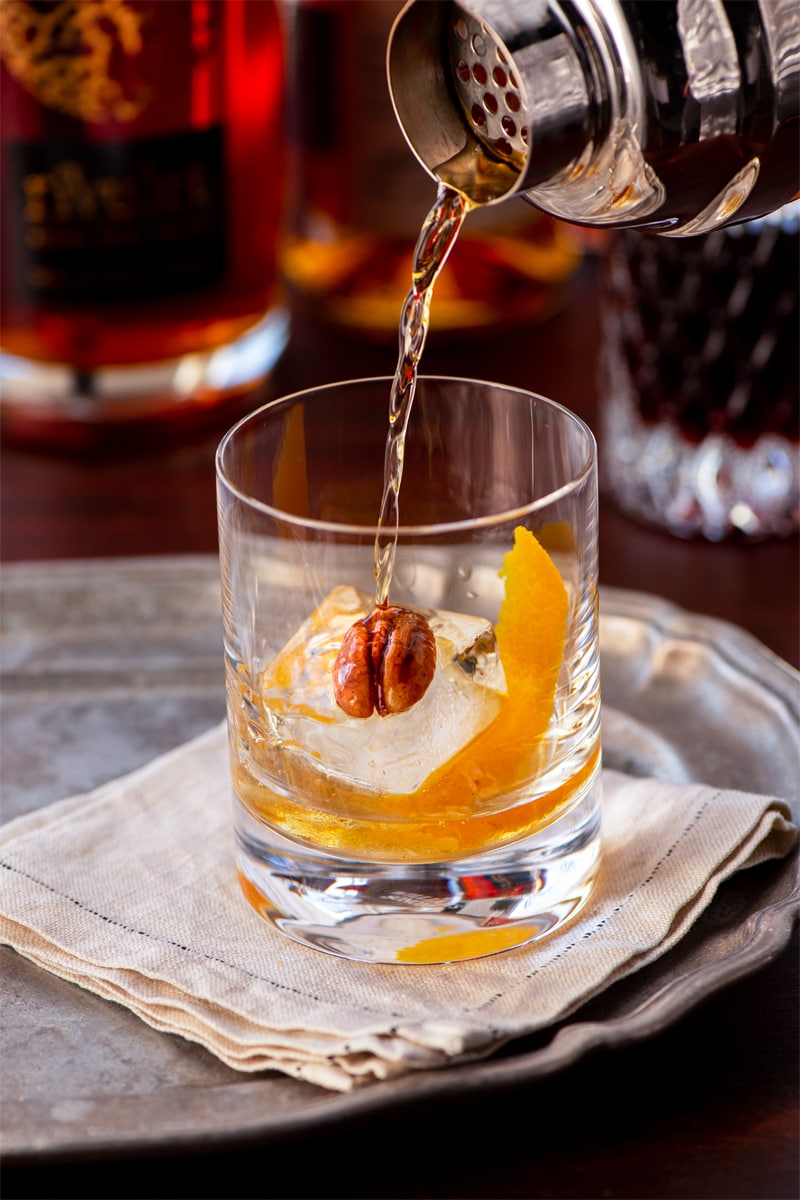 Pecan cocktail
We decided that an old fashioned cocktail was a great way to start the vacation. And what better way to bourbon than combining it with pecan pie flavor?
We love the Miracle Mile Pecan Bitters we purchased last year. They were really nice in a classic old fashioned, but this year we wanted to take our pecan cocktail to the next level. We purchased two pecan liqueurs, Evangeline's Praline Liqueur and Rivulet Pecan Liqueur to taste test.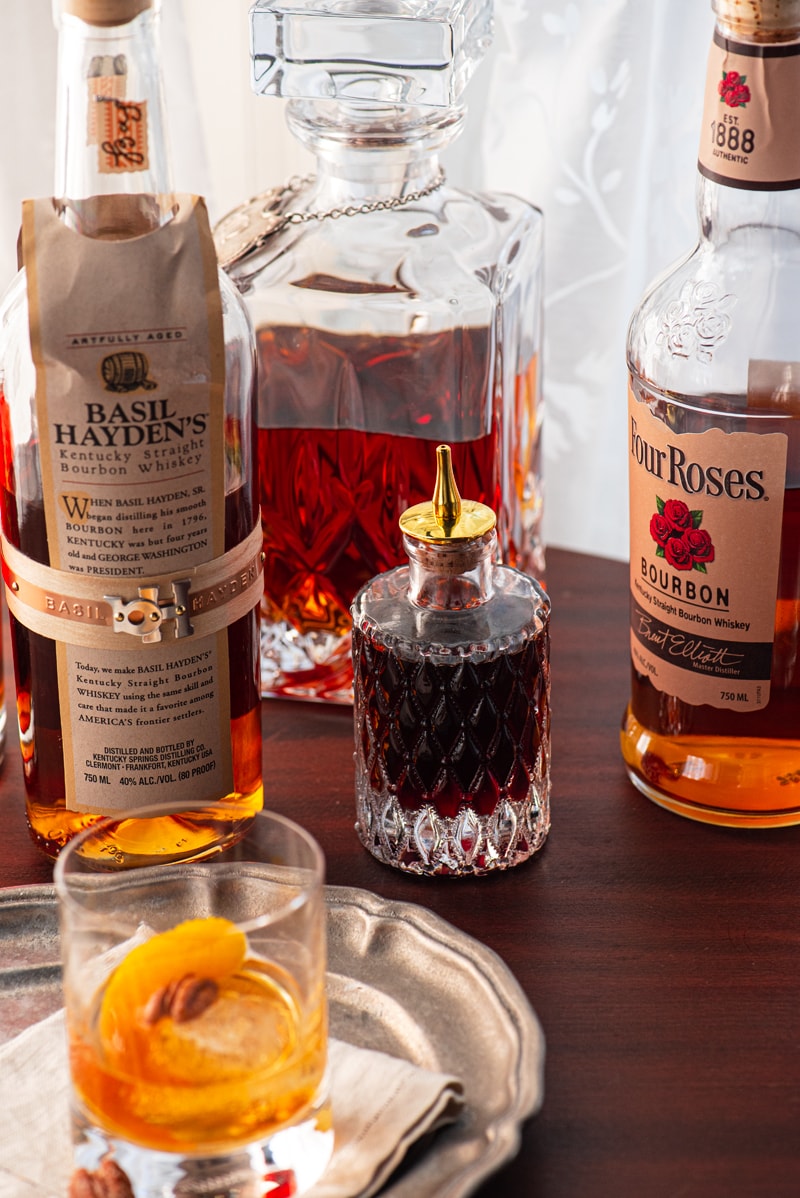 The pecan liqueurs upped the flavor profile and made our cocktails amazing! Evangeline's made a sweeter, dare I say, more girly old fashioned? While the Rivulet with it's higher ABV made a more traditional old fashioned that even purists would love.
It's a drink that both Kevin and I can agree on even though I'm more of a tequila girl and he's a gin guy. We are in love with this cocktail and somehow keep running out of bourbon! What can I say? It's the perfect way to kick back after the work day is over.
Best bourbon for old fashioned
In the spirit of science, we have continued to test the recipe with a variety of bourbons. Obviously the quality of the bourbon can make or break even a great recipe. An old fashioned cocktail is a straight forward drink without a lot of mixers, so the flavor of the liquor will come through. This means, you don't want to use the cheap stuff!
Go for a nice bottle that has a little age to it! Labels like "small batch" and "single barrel" point towards a more refined bourbon. Four Roses Small Batch has been one of our favorites. It's great in mint juleps and straight.
We liked Basil Hayden's just as much and it comes in at a similar price to the Four Roses mentioned above. It's easy to drink, quite smooth and has tasty caramel notes that pair well with the pecan.
That's not to say that less expensive varieties can't make a good old fashioned. Four Roses "Yellow Label" is a solid choice too.

New to bourbon? Don't be afraid to chat with the clerk at the liquor store. They can point you towards the best bottle in your price range.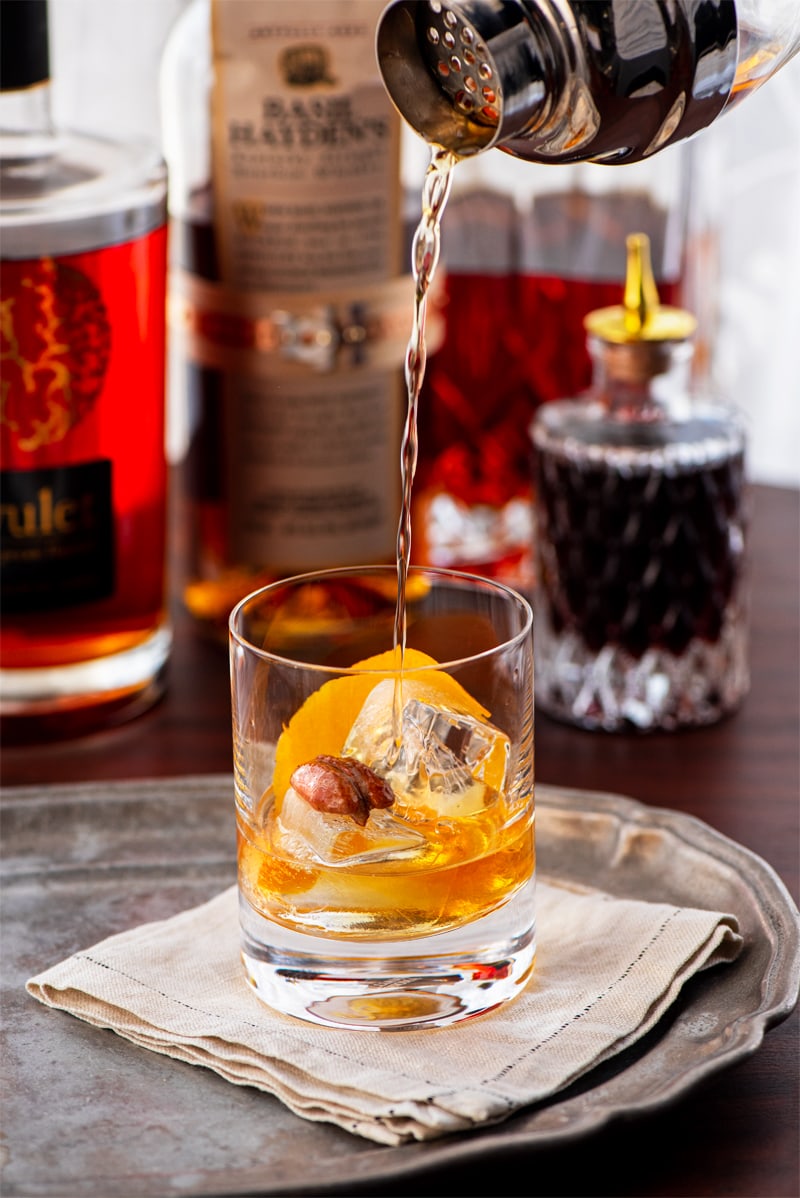 Holiday drinks
While it's become a 5 o'clock standard in our home, this pecan old fashioned is equally suited to decking the halls and chatting virtually with your loved ones.
It's a great season to remember to unwind. The gift list will get done because it always does. The chores? Is anyone coming over? Probably not this year. So, whether you are trimming the tree or watching A Muppet Christmas Carol you have time to make some holiday cocktails and live it up a little bit, right?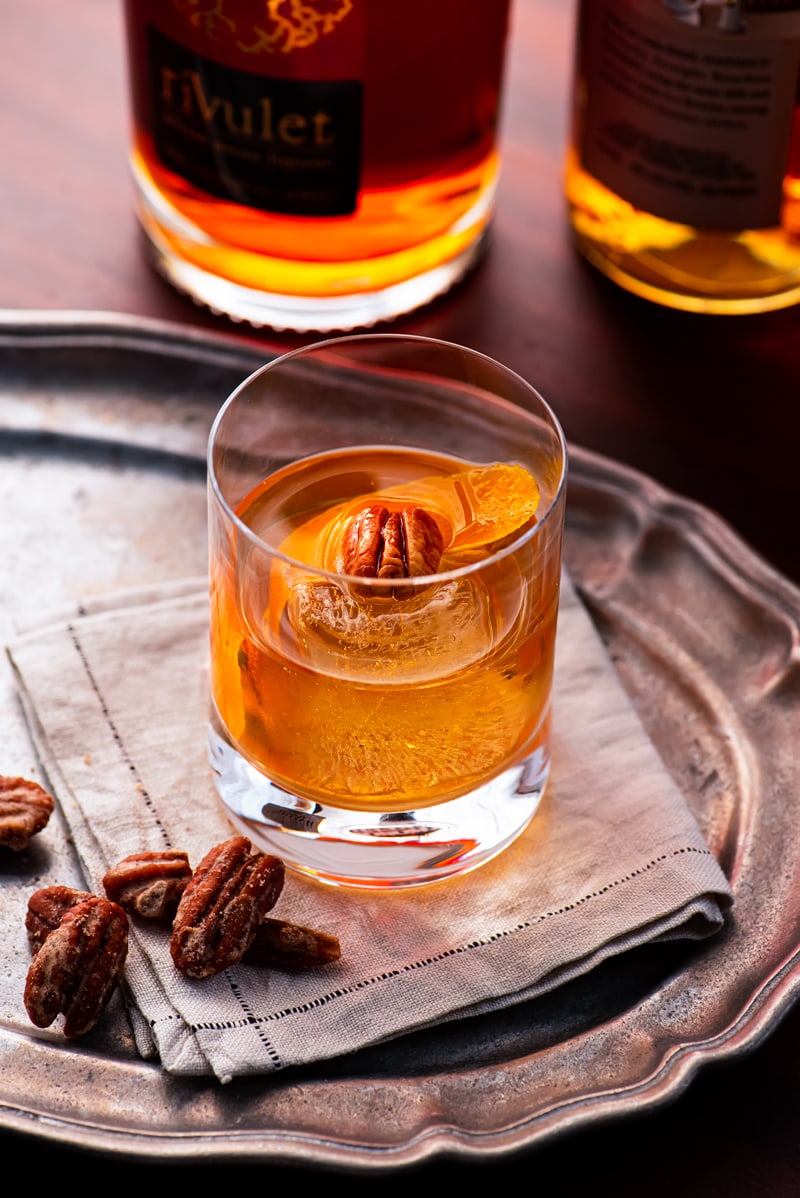 One of the things that has made all the months at home a little more fun is decking out our home bar. We've jazzed it up with classy decanters and bitters bottles. Since we can't go to a high end bar, we've made our home bar the next best thing.
Sometimes I like to go a step further and place twinkle lights on the bar like I did with our Saucy Santa Cocktail and our Chocolate Martini recipe. It gives the bottles a warm, festive glow!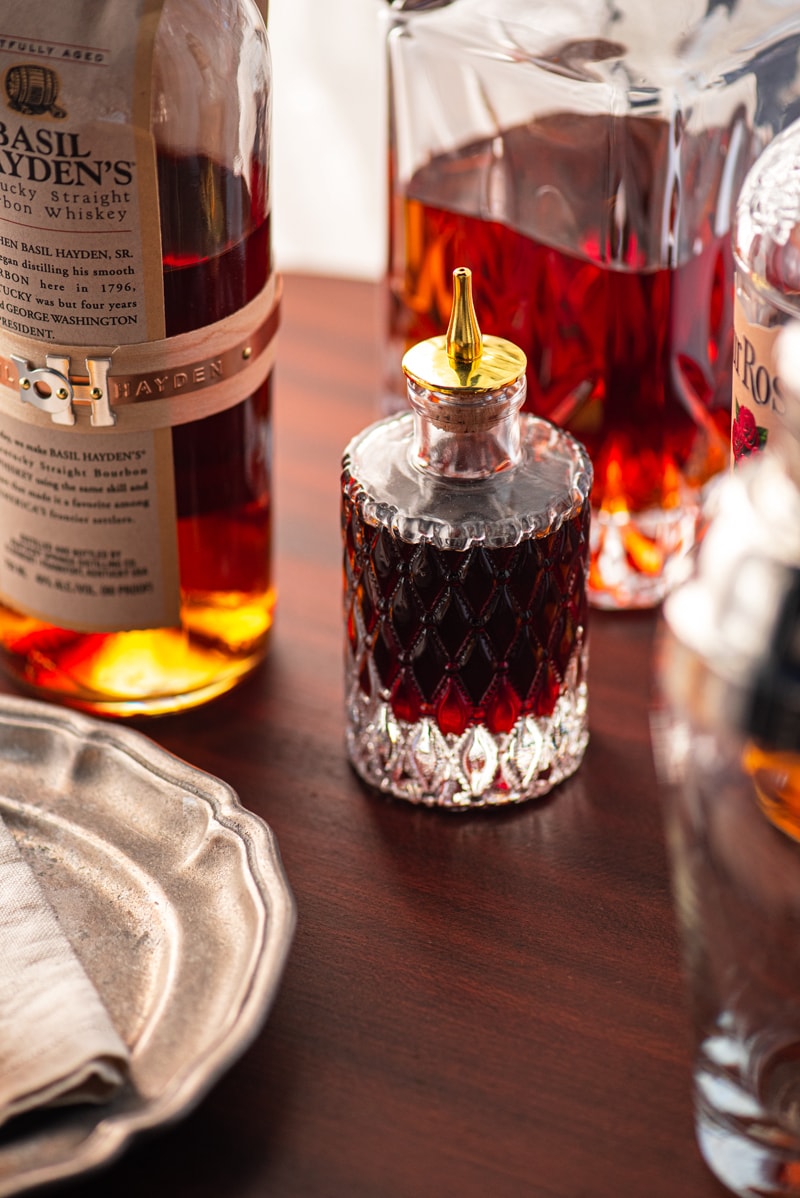 To make our drinks extra special we also made a batch of candied pecans for garnish. It's that extra element that makes this pecan old fashioned look like a bonified speakeasy cocktail.
Although it's served on the rocks, this pecan old fashioned makes the season feel warm. The flavors of orange peel, brown sugar and bourbon accompanied by pecan is so tasty and festive that it will become your signature drink all season long!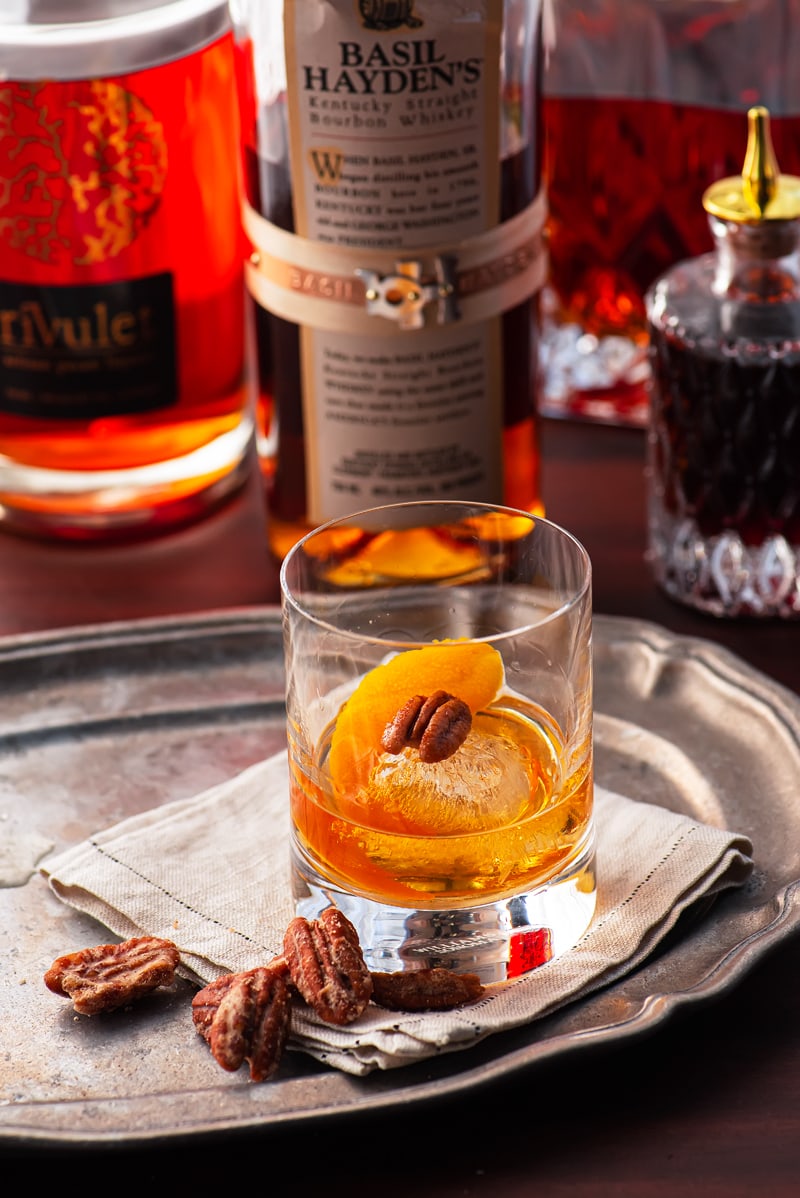 Mixology tips
It's traditional to use a large ice cube in an old fashioned. It doesn't water down the drink as fast. We like this ice cube tray because it has a lid keeping your ice free of fridge flavors.
For clear ice, use distilled water.
Remove the white pith from the orange peel to keep your cocktails from getting bitter.
Make sure your sugar melts before pouring the cocktail over ice. You can stir it until it melts, or simply let it rest for a while. The bourbon will dissolve the sugar given enough time.
I like to muddle a little orange peel in with the sugar. The orange flavor goes nicely with the pecan.
If you muddle, always use a cocktail mixing glass, cocktail shaker or HEAVY bottomed pint glass. Thin glasses and muddling are a dangerous combo.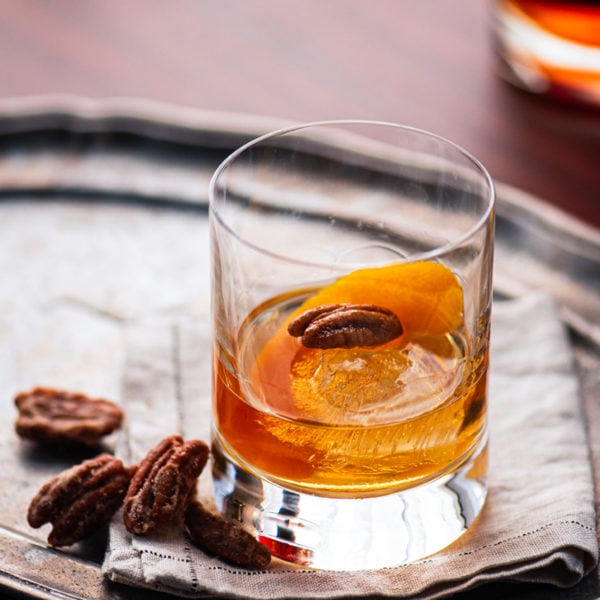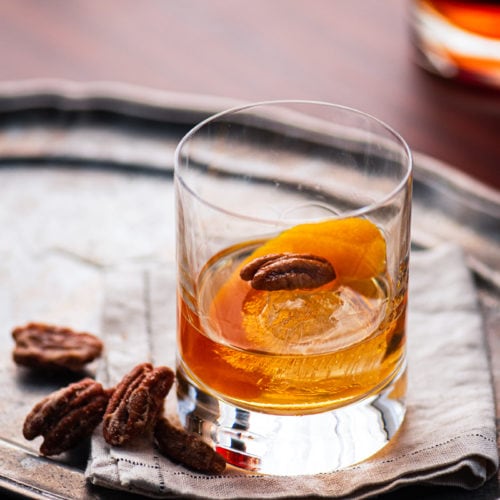 Pecan Bourbon Old Fashioned Recipe
This twist on the old fashioned cocktail is the perfect signature drink for the holiday season!
Print
Pin
Rate
Ingredients
Pecan Old Fashioned
2

teaspoons

light brown sugar

2-3

drops

pecan bitters

2

ounces

bourbon

1

teaspoon

water

½

ounce

pecan liqueur
Garnish
1

large

ice cube

1

strip

orange peel

1

candied pecan

(optional)
Instructions
In a cocktail mixing glass, combine the brown sugar, pecan bitters, water and bourbon and stir until the sugar melts.

Once the sugar has melted, stir in the pecan liqueur.

Place a large ice cube in a double rocks glass with the orange peel.

Pour the old fashioned over the ice and top with a candied pecan.
Notes
We tried this recipe with Evangeline's Praline Liqueur and Rivulet Pecan Liqueur. While both were good, the Rivulet was less sugary and produced a more authentic old fashioned with deeper pecan flavor.
We really loved this drink with both Four Roses Small Batch and Basil Hayden's. Both produced a smooth cocktail that let the pecan flavors shine. For a less pricey bottle, Four Roses' yellow label bourbon is good too.

If you like more orange flavor in your old fashioned, muddle a strip of orange zest with the brown sugar and bitters then add the liquors. Strain over ice and serve.
Nutrition
Calories:
211
kcal
|
Carbohydrates:
10
g
|
Protein:
1
g
|
Fat:
1
g
|
Saturated Fat:
1
g
|
Sodium:
8
mg
|
Sugar:
12
g
|
Vitamin C:
3
mg
Tried this recipe?
Let us know how it turned out for you! Scroll down to leave a comment below.
Is mixology your jam? Check out all our awesome cocktail recipes!
Looking for cocktail gifts for the home mixologist? We've got you covered! Our picks for snazzy drink accessories, classic bartending tools and small batch mixers are sure to delight!
Aged cheddar is combined with cream cheese and rolled in butter roasted apple chips and pecans with a sprinkle of fresh rosemary. Just 7 ingredients for this no fuss, delicious recipe.
It's that time of year again! Don't let shopping for the foodie in your life be frustrating. Check out these sure to please food gifts that won't break the bank.