Spice up your salsa routine with this grilled pineapple salsa recipe! It's a fresh, tropical way to dress up everything from tacos to tortilla chips!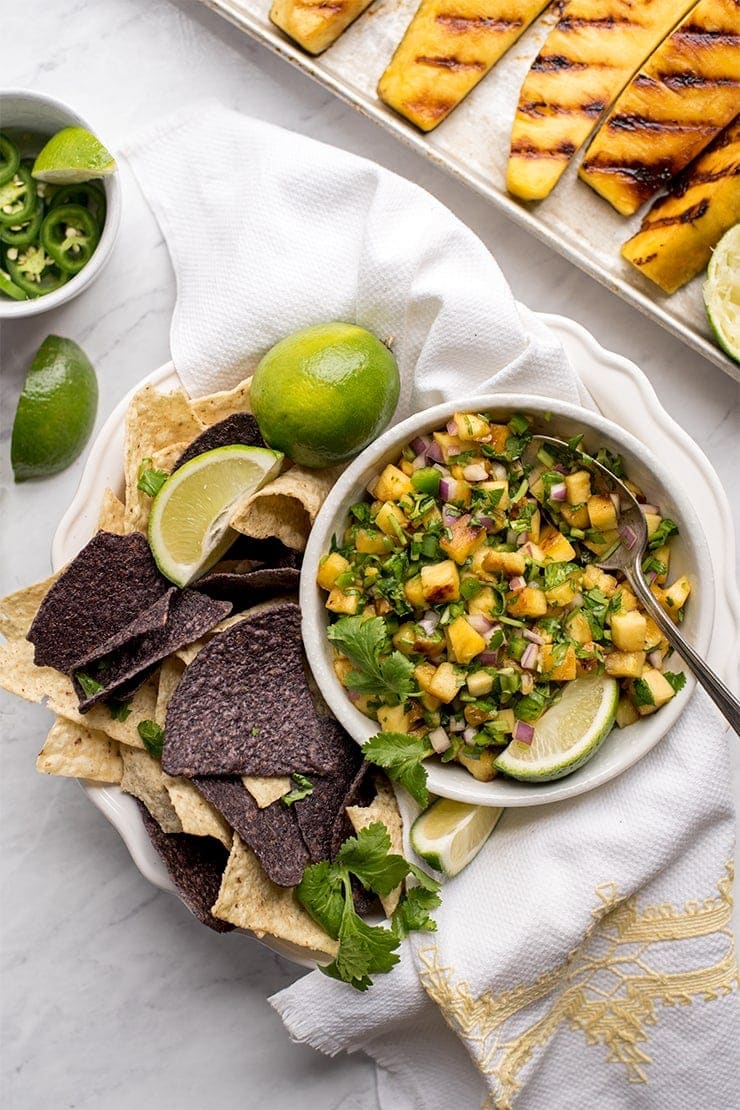 You know we love pineapple here at Vintage Kitty. Not only is it a very Virginia fruit, it's a staple in the Long household, whether it's mine, or my inlaws', my sister-in laws'… you get the picture. We like it served in a pineapple tart, pina coladas or this grilled pineapple salsa. Bottom line, we cannot get enough pineapple!
Personally, I prefer grilled or cooked pineapple, like in this Hawaiian steak recipe. That's because I have this weird tongue thing. When I eat some acidic foods my tongue burns and swells. But when I cook them, no reaction. It's totally strange and inconsistent, but when it happens it can be embarrassing because my swollen tongue makes me sound drunk. But it also makes eating painful.
So, if I'm going to eat pineapple, I usually like it cooked or better yet drenched in rum and sugar and grilled! Yes please! Grilling pineapple gives it the best caramel notes. It becomes soft and syrupy and so SWEET!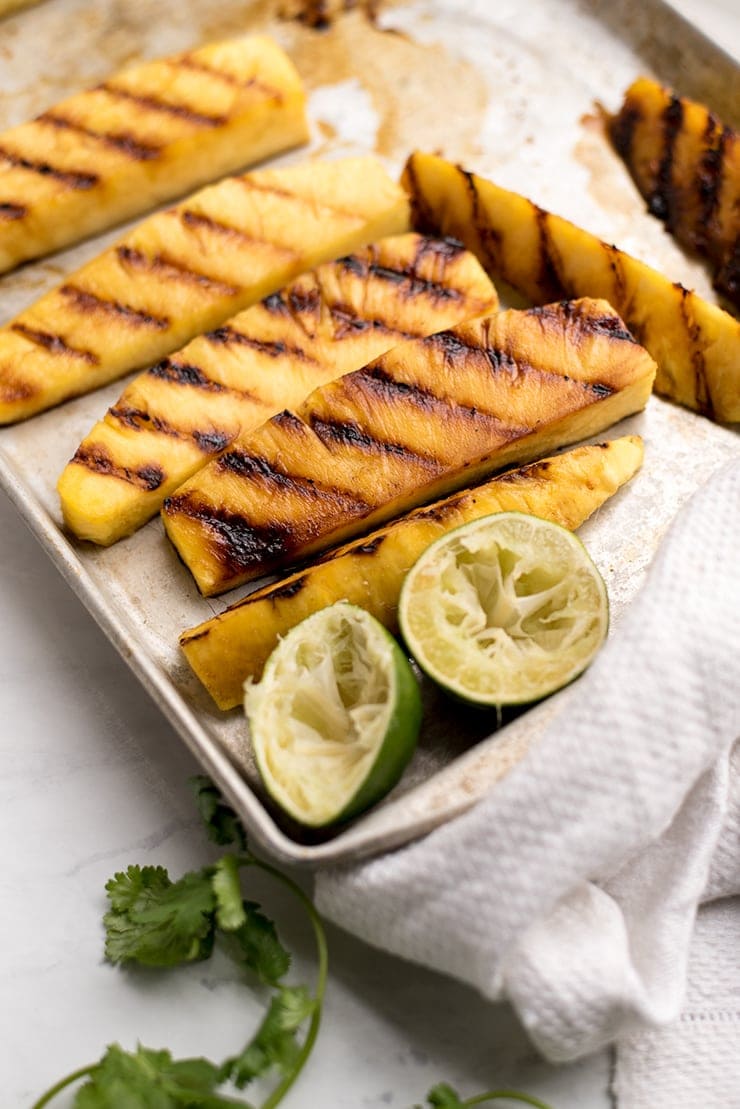 HOW TO GRILL PINEAPPLE
Grilling pineapple is really easy! You can use a gas grill, charcoal grill or a stovetop grill pan which means you can make grilled pineapple any time of year!
The first step is cutting your pineapple into thick rounds or wedges. The thinner your pineapple, the easier it is to overcook. Ever tried to pull an overcooked piece of fruit off the grill? It will usually break apart or fall through the grates! The goal is to sear the outside of the pineapple but still have the interior of the slice stay firm, so bigger is better for grilling!
If you're feeling indulgent, now's the time to marinate your pineapple. We glazed ours with an agave-rum mixture to enhance the caramel flavor. For the rum we used Bowman Brothers small batch aged rum because it has a great flavor without breaking the bank. But any decent aged rum will do. Same adage as cooking with wine…use something you would drink.
It doesn't take long to marinate the pineapple, about 60 minutes to let the flavor permeate the fruit. Less is more here. Too long a soak and you might end up back at mushy pineapple.
In order to achieve that perfect grilled pineapple you need high heat! That's how you get those nice grill marks and caramelized flavor.
I grilled this batch of pineapple on the stove using a Lodge grill pan. The burners were cranked up as high as they would go and I also turned up my vent fan all the way! I lightly oiled the pan and once it was searing hot, I grilled each piece for 2-3 minutes per side.
But you can also grill in the oven! Place your oiled grill pan in the oven and crank it to 450F. Once the oven is good and hot, grill the pineapple slices about 2-3 minutes per side. This method is nice because the kitchen won't get so steamy.
On a grill, indirect heat is preferable but you still want the grill really HOT! But the method is essentially the same. Preheat, grill, EAT!

HOW TO MAKE GRILLED PINEAPPLE SALSA
Once you've grilled your pineapple, let it cool to room temperature. Then dice it and mix it with lime juice, minced jalapeno, cilantro and red onion. But maybe the most important step is seasoning the salsa with salt to taste. Salt actually brings out the sweetness of the grilled pineapple.
My best tip for making salsa is to have extra ingredients on hand. Sometimes hot peppers can be mild and underwhelming and sometimes they can be super hot! So, I typically add ingredients to taste. Too sweet? Add heat. Too bland? Add salt and lime. Too hot? Add more of the base ingredient (pineapple, tomatoes etc) to tone down the spice.
Use this recipe as a guide but trust your inner chef to create the perfect balance of flavors by tasting and adjusting as needed.
Personally, I feel this salsa is best served fresh. That's because the onion in the salsa can easily take over the dish.
If you've made my apple salsa or my cherry tomato pico de gallo, you know that I'm not a fan of raw onions. The sulfur compounds in the onion can easily take over. So, I soak the chopped onions before adding them to salsa to remove some of those bitter elements. However, over time, the onion can and will take over your salsa's flavor.
If you must make your salsa in advance, don't add your diced onions until you are ready to serve the salsa.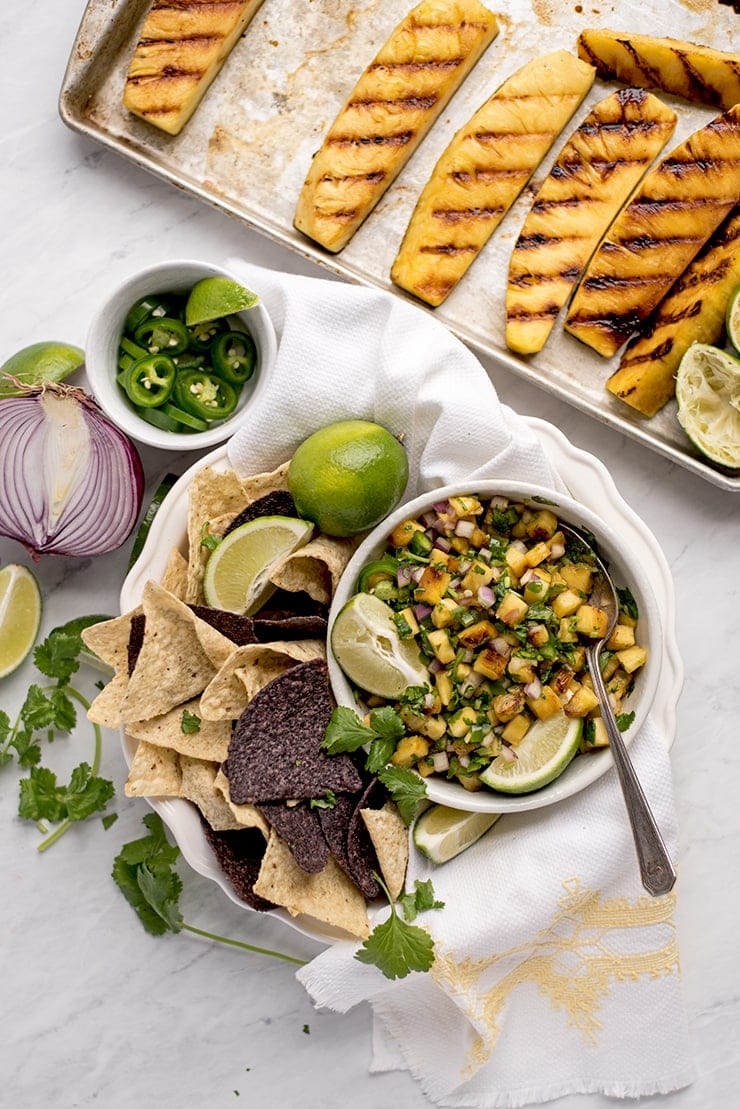 You're going to love this grilled pineapple salsa! The grilled pineapple makes this salsa taste so rich and rummy! But rather than being one note, there's this myriad of flavors: sweet, spicy, acidic, and salty! It's bright, tropical, juicy and so delicious!
This salsa is great as a party appetizer served simply with tortilla chips but its a great condiment as well. Serve it on fish tacos, as a topping for grilled meats or as an addition to salads or rice dishes. I'm sure you're going to find a million ways to use this salsa recipe. We certainly have!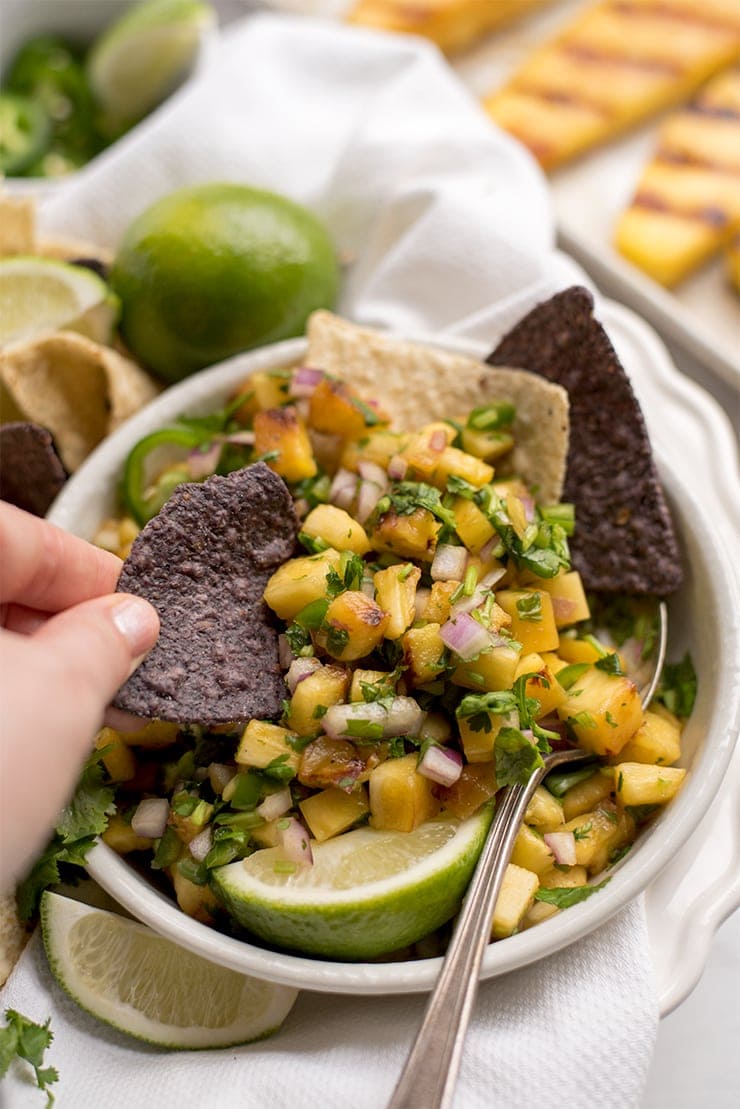 I hope this recipe makes your summer season as sunny and bright as this salsa is!
Questions? Thoughts? Let me know what you think by leaving a comment below!
xoxo
~Kitty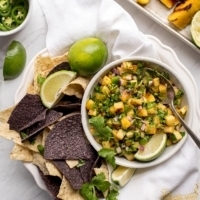 Grilled Pineapple Salsa
Grilled pineapple gives this salsa a unique spin. We've soaked the pineapple in an agave rum marinade prior to grilling to maximize it's sweet flavor. We love this salsa on tacos, but it's also great as a party appetizer.
Print
Rate
Ingredients
Grilled Pineapple
2

tablespoons

agave

2

tablespoons

gold or aged rum

1/2

large

pineapple

, cut into long strips
Grilled Pineapple Salsa
4

cups

grilled pineapple

, diced

2

jalapenos

, seeded and minced (see notes)

1/2

cup

red onion

, diced (see notes)

1/4

cup

lime juice

1

cup

cilantro

, chopped

salt to taste
Instructions
Grilled pineapple
In a large bowl, mix together the agave and rum, then marinate the pineapple for an hour, tossing the pineapple every now and then to distrubte the marinade.

Lightly oil your grill or pan.

Preheat grill or grill pan to as hot as you can get it. For a charcoal fire, make a large indirect fire.

Grill pineapple 2-3 minutes per side, basting with the leftover marinanade as you go.

Let pineapple cool then dice it.
Pineapple salsa
Mix together pineapple, jalapeno, red onion, lime juice and cilantro.

Season salsa with salt to taste.
Notes
I like to soak my onions in cold water for at least 15 minutes, then rinse them before adding them to my salsa. It reduces the sulfur in the onions so they aren't so bitter.
This recipe really depends on a balance of sweet and hot flavors. For best results, have extra hot peppers on hand. If your jalapenos are not very hot, add more to taste. This is how I make all my salsas since the heat of peppers can vary.
You can also zest the lime to add extra flavor to the salsa.
Half a grilled pineapple should make 4 cups or more of diced pineapple.
Nutrition
Calories:
60
kcal
|
Carbohydrates:
13
g
|
Sodium:
2
mg
|
Potassium:
104
mg
|
Fiber:
1
g
|
Sugar:
9
g
|
Vitamin A:
205
IU
|
Vitamin C:
34.7
mg
|
Calcium:
11
mg
|
Iron:
0.2
mg
Tried this recipe?
Let us know how it turned out for you! Scroll down to leave a comment below.
Love this recipe? Leave a comment below!
You might also like:
Crockpot Black Beans
Making these slow cooker black beans from scratch is so easy, and so flavorful, canned beans will be a thing of the past!
Pico de Gallo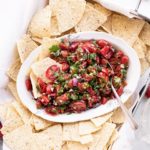 Nothing is as awesome as a sweet, juicy, summer tomato! But you don't have to wait for summer to make this fresh cherry tomato pico de gallo.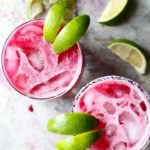 Margarita Flavors
You don't need an excuse to shake up a fruity margarita from scratch! Here are some of our favorites!