Don't forget your dog friends this Halloween! Show your furry companions how much you love them with these gluten-free Pumpkin Spice Dog Treats.
---
Dogs Trick or Treat too! Make sure you have something special for those wagging tails and make these Pumpkin Spice Dog Treats! They're cute, nutritious and super tasty!

If you follow me on Instagram, you've seen my Siberian Husky, Luna. She's my rescue angel but being true to husky form she's extremely dramatic. And she has me totally wrapped around her little paw!
I have to admit the ride with Luna has been a roller coaster. She's a senior citizen and there have been so many ups and downs with her health. But this dog seriously has a will to live. So each time she falls ill, I nurse her back to health and she responds by giving me snuggles and love.
Luna's normally a super patient dog. She spent most of last October in a skeleton sweater (yeah I know huskies don't need clothes), she's an expert traveler and even goes on walks with her three cats. But its been touch and go lately. In August, she was refusing food and having a lot of trouble walking. At her age the aches and pains of arthritis are a fact of life, but she rarely let them keep her down.
So to help her get back her footing I put shoes on her and led her around the neighborhood with treats OFF LEASH! If you know anything about huskies you know they are runners so this can be risky. But it helped Stella get her grove back. Now, she's a happy and healthy girl again and has resumed some of her husky antics (barking, demanding treats, trying to play wrestle with the cats).
When you have an old dog you have to celebrate the good times, so I made her these extra special Pumpkin Spice Dog Treats!
How cute is she? Not only do these treats smell amazing (very important for those canine sniffers!) they are packed with fiber. Luna says they're delicious but I'm here to tell you that these gluten-free pumpkin treats are loaded with tasty health benefits.
They are naturally sweet, packed with vitamins, and all that fiber will help your friend go, if you know what I mean 😉 I made them gluten free because on top of everything else, Luna has skin problems, so I curate her diet very carefully and when it's bad, or she's sick I make all of her food.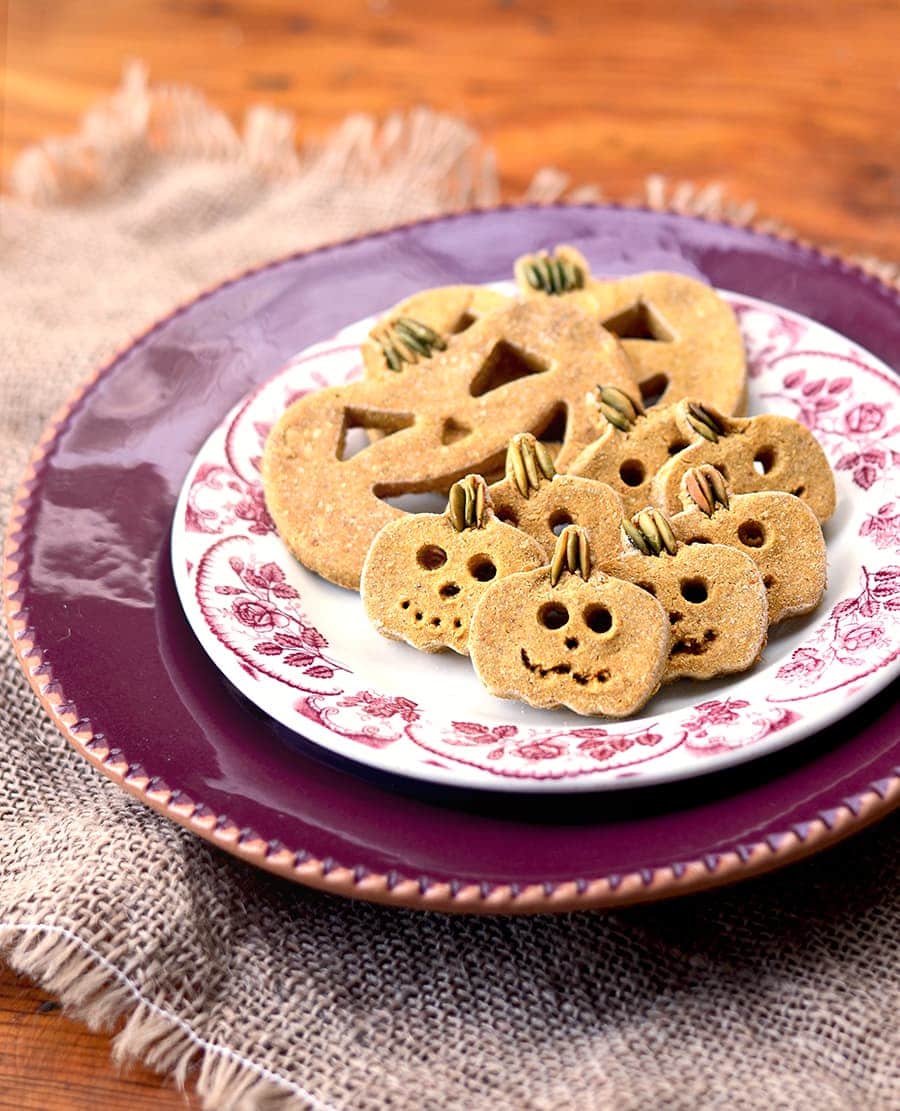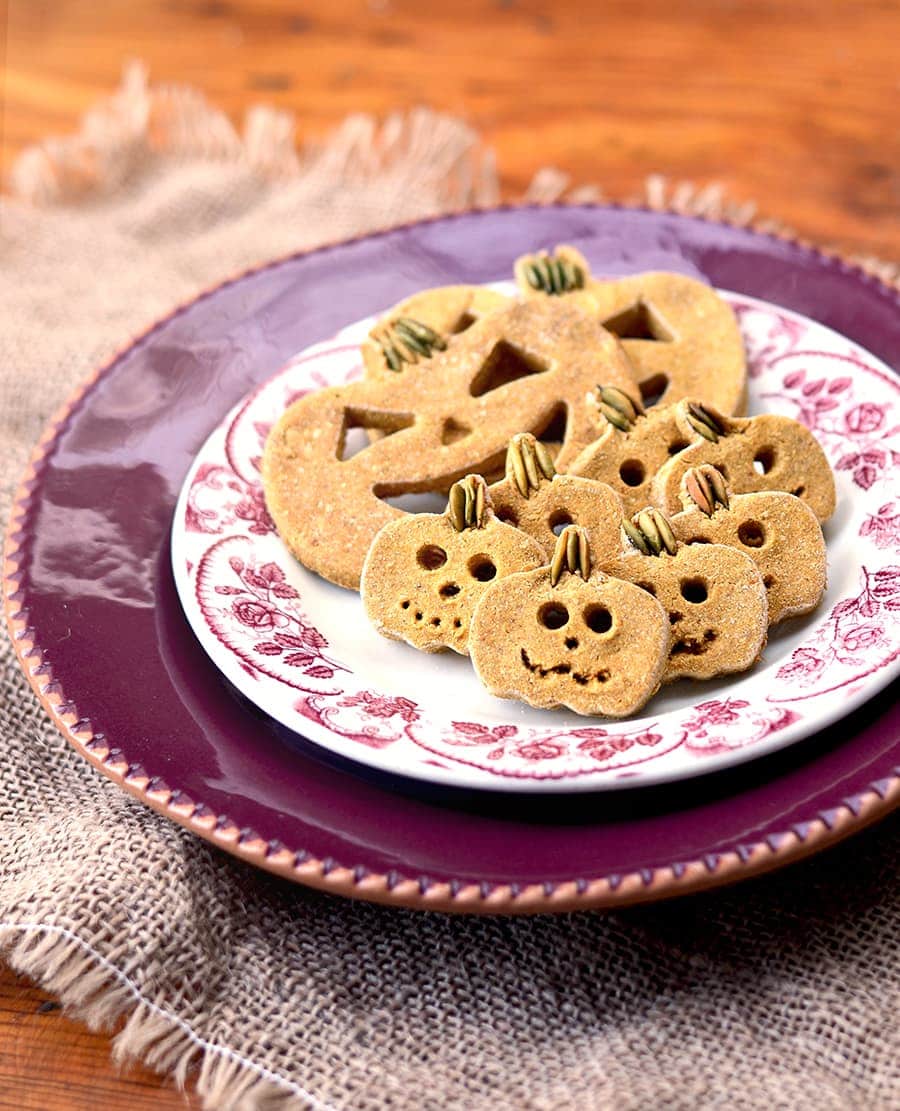 Making dog treats is not hard, but I will tell you its a bit time consuming, especially if you use a cookie cutter. So this recipe is for a really big batch. Once they're baked they freeze really well, so you'll be stocked up for quite a while. Or if you're me, you'll be rewarding the dogs that Trick or Treat with their kids this Halloween!
The easiest way to make dog treats is to roll out the dough and cut it into squares with a pizza cutter. But I don't do things the easy way, I almost always choose the cute way! So, I used a few different cookie cutters: a long dog bone, a larger jack-o-lantern and a small pumpkin cutter.
The small pumpkin cutter didn't have a face, so I used a straw and a skewer to make one. For all the pumpkins, I stuck green pumpkin seeds vertically into the stems which looks super cool.
If you make dog bones, you can make them plain, or add some pumpkin seeds into the dough (pumpkin seeds are good for dogs too!)
Luna goes absolutely crazy for these Pumpkin Spice Dog Treats. so I'm sure your furry companions are going to love them too!
If you make them, take a picture of your dog eating them and tag me on Instagram @vintagekittyblog, Twitter @theVintageKitty or Facebook @vintagekittycom. Share the #puppylove!

Print Recipe
Pumpkin Spice Dog Treats
These super tasty Pumpkin Spice Dog Treats are naturally sweet and nutritious.They take a long time to bake and dry, but most of the cooking time is hands off.
Ingredients
5

TB

vegetable oil

3

tsp

xanthan gum

1 1/2

cups

canned pumpkin puree

1

cup

unsweetened apple sauce

4

eggs

1

cup

cooked sweet potato

mashed or riced

4

tsp

pumpkin spice

2 1/2

cups

coconut flour

1 1/2

cups

rice flour

1 1/2

cups

almond meal

raw pumpkin seeds
Instructions
In a large mixing bowl, whisk together the oil and xanthan gum.

Add in the pumpkin, applesauce, sweet potato, eggs and pumpkin spice and whisk until smooth.

Fold in the flours and almond meal with a spatula and then knead with your hands until the dough is thoroughly mixed.

Shape dough into a couple disks and cover in plastic wrap.

Chill dough at least 4 hours or overnight.

Preheat over to 250F

Roll dough out to a thickness of 1/4 inch between two pieces of parchment paper.

Cut out shapes using a cookie cutter.

Place cutouts on parchment lined cookie sheets.

Bake for two hours, rotating the pans every 30 minutes.

Turn the oven to warm setting and open door slightly to vent.

Dry dog treats until they have a good snap broken in half.

Place treats in a few airtight containers, freezing some for later.
Notes
To make the dog bones with pumpkin seeds, roll out dough to 3/8 thickness, then sprinkle dough with seeds and roll to 1/4 inch and cut out shapes with a metal cookie cutter.
To make pumpkins, stick pumpkin seeds into the stem and make faces with a straw and wooden skewer.
You might also like: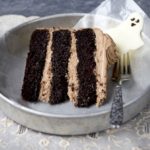 Dancing Ghosts Chocolate Coconut Cake
Mocha coconut buttercream tops layers of rich, fudgy chocolate coconut cake. Hauntingly delicious!
Hickory Marshmallow S'mores
Made from scratch with artisan hickory syrup and whiskey, fine chocolate has met it's match with these fluffy confections.
Pumpkin Spice Beer Cake
This cake takes the fuss out of making a cake from scratch. In about an hour you can put together this delicious dessert.
I shared this recipe on the following linkups. Come join the fun!
♦ Fiesta Friday
♦ Friday Favorites with Life in Leggings
♦ Friday Favorites with Momfessionals, A Little Bit of Everything, and Grace and Love
♦ Weekend Potluck with The Country Cook,Sweet Little Bluebird, Mommy's Kitchen, The Better Baker, & Served Up with Love
♦ Fall into Fall-It's a Party by DIY by Design
♦ Sincerely Paula's No Rules Weekend Blog Party
♦ Husky Hide-N-Peep on a #FlashbackFriday! hosted by Five Sibes and Owed by a Husky
♦ Saucy Saturdays with Mid-Life Croissant, The Flavor Bender, La Petit Chef & Take Two Tapas