Don't forget your dog friends this Halloween! Show your furry companions how much you love them with these gluten-free Pumpkin Spice Dog Treats.

Dogs Trick or Treat too! Make sure you have something special for those wagging tails and make these Pumpkin Spice Dog Treats! They're cute, nutritious and super tasty!

This post was originally published on Oct. 4, 2016. It was updated with new photos, additional information and news on our new puppy on September 9, 2019 but it's still the same awesome recipe!
If you follow Vintage Kitty on Instagram, you've seen my Siberian Husky, Luna. She's my rescue angel but being true to husky form she's extremely dramatic. And she has me totally wrapped around her little paw!
I have to admit the ride with Luna has been a roller coaster. She's a senior citizen and there have been so many ups and downs with her health. But this dog seriously has a will to live. So each time she falls ill, I nurse her back to health and she responds by giving me snuggles and love.
Luna's normally a super patient dog. She spent most of last October in a skeleton sweater (yeah I know huskies don't need clothes), she's an expert traveler and even goes on walks with her three cats. But its been touch and go lately. In August, she was refusing food and having a lot of trouble walking. At her age the aches and pains of arthritis are a fact of life, but she rarely let them keep her down.
To help Luna get back her footing I put shoes on her and led her around the neighborhood with treats OFF LEASH! If you know anything about huskies you know they are runners so this can be risky. But it helped Stella get her grove back. Now, she's a happy and healthy girl again and has resumed some of her husky antics (barking, demanding treats, trying to play wrestle with the cats).
When you have an old dog you have to celebrate the good times, so I made her these extra special homemade pumpkin dog treats!
How cute is she? Not only do these treats smell amazing (very important for those canine sniffers!) they are also packed with fiber. Luna says they're delicious but I'm here to tell you that these gluten-free pumpkin dog treats are loaded with tasty health benefits.
They are naturally sweet, packed with vitamins, and the pumpkin fiber will help your friend go, if you know what I mean ;-) I made them gluten free because on top of everything else, Luna has skin problems, so I curate her diet very carefully and when it's bad, or she's sick I make all of her food.
Making dog treats is not hard, but I will tell you its a bit time consuming, especially if you use a cookie cutter. Because this recipe takes a long time to bake, it's for a really big batch (like 8 dozen dog biscuits big). Once they're baked they freeze really well, so you'll be stocked up for quite a while. Or if you're me, you'll be rewarding the dogs that Trick or Treat with their kids this Halloween!
The easiest way to make dog treats is to roll out the dough and cut it into squares with a pizza cutter. But I don't do things the easy way, I almost always choose the cute way! So, I used a few different cookie cutters: a long dog bone, a larger jack-o-lantern and a small pumpkin cutter.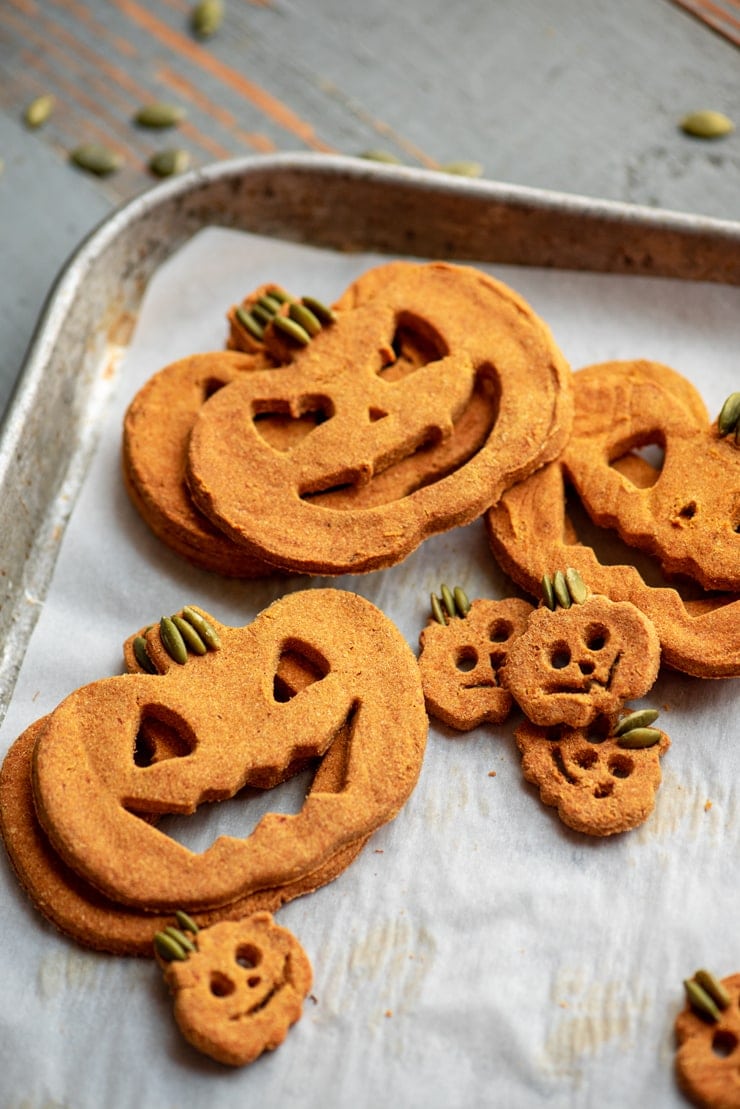 The small pumpkin cutter didn't have a face, so I used a straw and a skewer to make one. For all the pumpkins, I stuck green pepitas vertically into the stems which looks super cool.
If you make dog bones, you can make them plain, or add some pepitas into the dough (pumpkin seeds are good for dogs too!)
Luna goes absolutely crazy for these pumpkin spice dog treats. so I'm sure your furry companions are going to love them too!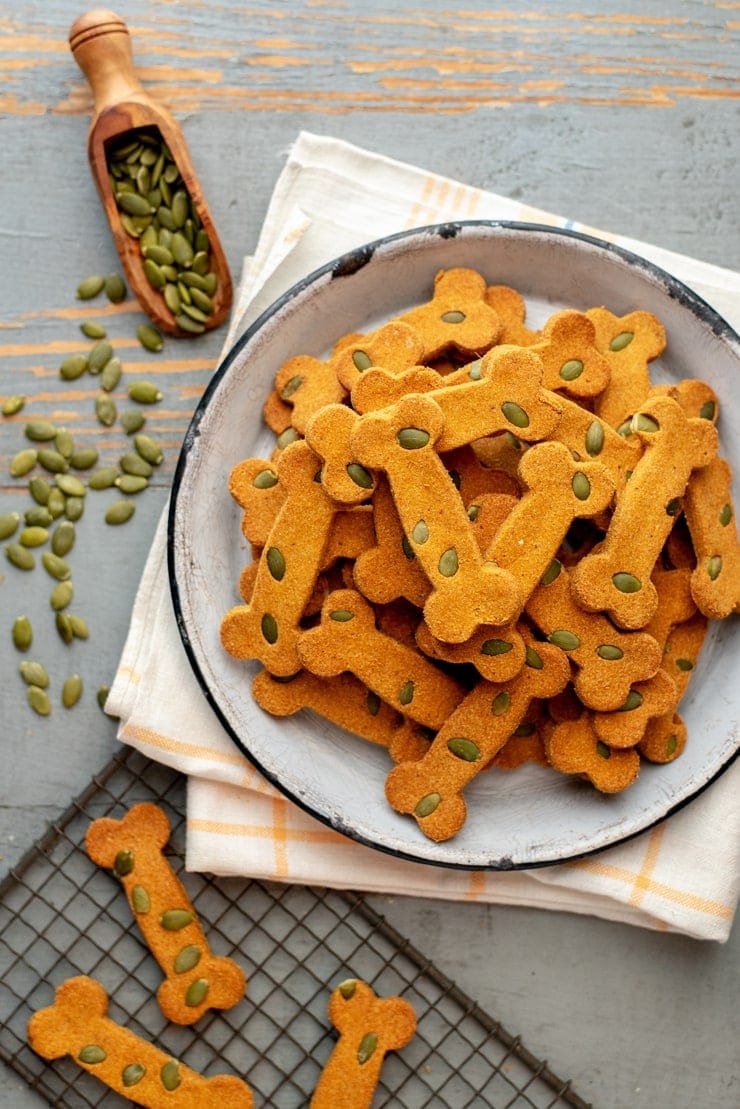 Update: It's now September of 2019. Luna lived another seven months after this recipe was published. And I'd like to say it was all the love and treats, but truthfully, it was the Ruffware dog shoes that extended her life.
Without the shoes her weak legs would slide out from under her. With the shoes she regained some strength and the will to eat. There were downsides too… like blisters and smelly paws, but for a time it helped us put off the inevitable.
I'd like to tell you that these were magic shoes just like Dorothy's ruby slippers, but I cannot. In May of 2017 we made the very hard decision to end Luna's suffering. By the end she couldn't walk, wore diapers and had increasing dementia. Our two previous dogs, Scout and Kahlua died of cancer… and in some ways that's easier. It's easy to be mad at cancer.
But when your dog slowly slips away, you have to weigh the pros and cons daily. It's a guessing game, wondering if the joy outweighs the pain. No one wants to make this decision. And in the end, I felt a mixture sorrow, relief, guilt and loneliness.
For the first time in 20 years we were without a dog… and our doglessness lasted for two and a half years. But our hearts finally recovered and we started to feel like it was time to add a new member to our family.
Pixel is an 8 week old Border Collie and so sweet. We are so in love with her and having a ton of fun getting to know her personality. Her favorite thing to do is eat dirt, bark and leaves and she loves a good belly rub. Pixel is learning to fetch a tennis ball, although she is much more fond of chasing us. She also loves to chew so I've bought a million toys!
This seemed like the perfect time to update this old post with some new pictures (of the treats because the gif of Luna stays forever!)
I'm happy to say that Pixel enjoys the treats just as much as Luna did. It really is all about the smell! Treats are critical in all things puppy training like going potty outside and learning to come. She knows when I have the treat in my hand and she comes back proudly after doing her business with that "hey mom, I did a good job" look. And of course I reward her! Who could resist?
We're so lucky to have our little ball of fluff. She has already brought so much joy to our lives and we are looking forward to years of walks, snuggles and love.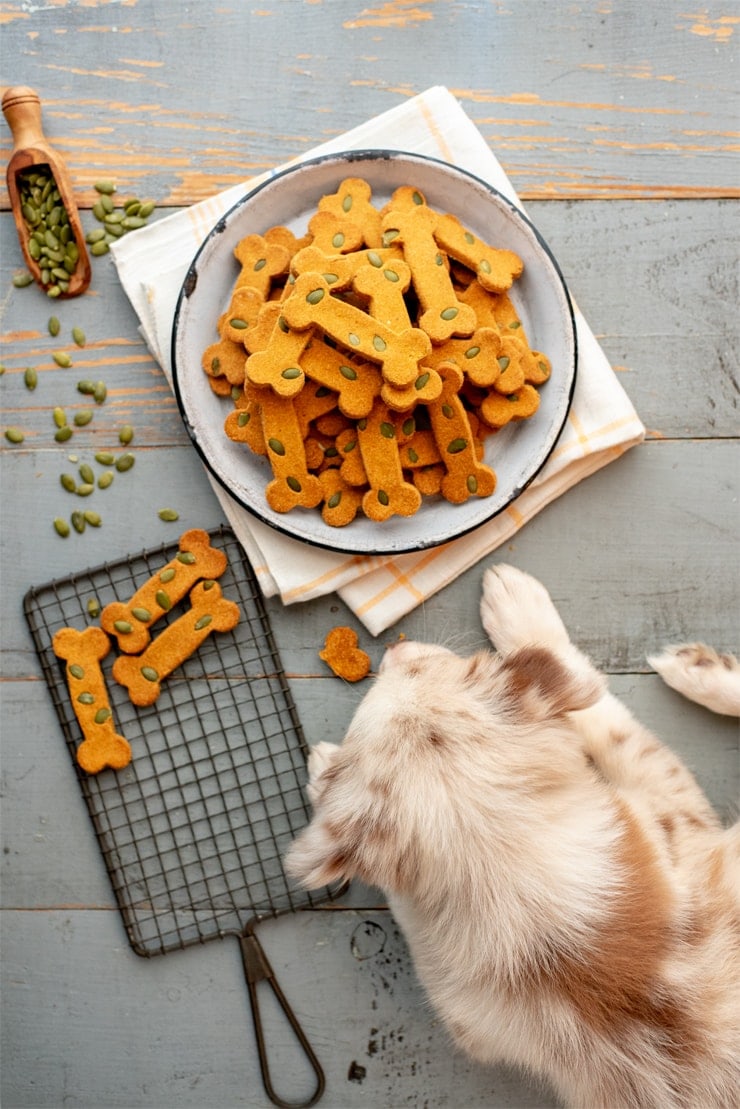 Making Homemade Pumpkin Dog Treats
This is a HUGE recipe. It will make roughly 8 dozen treats. I figured that with all the specialty ingredients like rice flour, almond flour, coconut flour and xanthan gum, it's better to make a big batch. Feel free to cut the recipe in half if that better suits your needs.
You can freeze the dough or the baked treats.
Like stated in the recipe card, these treats must be baked and then dehydrated in the oven so they are shelf stable. I bake them in the evening and then leave them in the oven overnight on warm with the door ajar.
They do not spread when baking, so you can place the treats closer than most cookies.
If the dough is too sticky, you can add a little more rice or coconut flour to the dough. Even so, it is a little tricky to work with since there's no gluten. I find it easiest to let the dough stick to the cookie cutter and then gently press it out of the cutter onto the parchment paper.
Store the baked treats in an airtight container.
About the ingredients: all of the ingredients in this recipe should be safe in small quantities for your dog. I've fed these to my dogs, family dogs and neighbor dogs with no apparent side effects. However, almonds are sometimes added to the toxic foods list. Sweet almonds are not toxic to dogs, but there seems to be concern over dogs eating them whole (choking hazard) and not being able to process some of the proteins in them. I haven't tried it, but I'm fairly certain that the almond flour can be swapped for peanut powder if you wish to avoid the almond meal. Keep in mind that pecans, walnuts and macadamia nuts are toxic so do not swap for another nut meal.
Xanthan gum has been deemed safe for dogs. Studies in rats and dogs have noted soft stools as a possible side effect. Xanthan gum (sometimes confused with the highly toxic ingredient xylitol) is used in this recipe to make the dough hold together in the absence of gluten.
Always read the ingredient labels on everything you feed your dog, you never know what might be added to processed foods.
Pumpkin Spice Dog Treats
These super tasty Pumpkin Spice Dog Treats are naturally sweet and nutritious.They take a long time to bake and dry, but most of the cooking time is hands off.
Print
Rate
Ingredients
5

tablespoons

vegetable oil

3

teaspoons

xanthan gum

1½

cups

canned pumpkin puree

1

cup

unsweetened apple sauce

4

eggs

1

cup

cooked sweet potato

, mashed or riced

4

teaspoons

pumpkin spice

2½

cups

coconut flour

1½

cups

rice flour

1½

cups

almond meal

raw pepitas
Instructions
In a large mixing bowl, whisk together the oil and xanthan gum.

Add in the pumpkin, applesauce, sweet potato, eggs and pumpkin spice and whisk until smooth.

Fold in the flours and almond meal with a spatula and then knead with your hands until the dough is thoroughly mixed.

Shape dough into a couple disks and cover in plastic wrap.

Chill dough at least 4 hours or overnight.

Preheat over to 250F

Roll dough out to a thickness of 1/4 inch between two pieces of parchment paper.

Cut out shapes using a cookie cutter.

Place cutouts on parchment lined cookie sheets.

Bake for two hours, rotating the pans every 30 minutes.

Turn the oven to warm setting and open door slightly to vent.

Dry dog treats until they have a good snap broken in half.

Place treats in a few airtight containers, freezing some for later.
Notes
To make the dog bones with pepitas, roll out dough to 3/8 thickness, then sprinkle dough with seeds and roll to 1/4 inch and cut out shapes with a metal cookie cutter.
To make pumpkins, stick pepitas into the stem and make faces with a straw and wooden skewer.
Nutrition
Calories:
46
kcal
|
Carbohydrates:
5
g
|
Protein:
1
g
|
Fat:
2
g
|
Saturated Fat:
1
g
|
Cholesterol:
7
mg
|
Sodium:
13
mg
|
Potassium:
29
mg
|
Fiber:
2
g
|
Sugar:
1
g
|
Vitamin A:
1167
IU
|
Vitamin C:
1
mg
|
Calcium:
8
mg
|
Iron:
1
mg
Tried this recipe?
Let us know how it turned out for you! Scroll down to leave a comment below.
Pumpkin isn't only for the dogs! Humans will enjoy our pumpkin chocolate tarts with pepita crust and this scrumptious recipe for pumpkin mac and cheese! Enjoy pumpkin season y'all!
Love this recipe? Leave a comment below!
You might also like: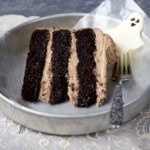 Dancing Ghosts Chocolate Coconut Cake
Mocha coconut buttercream tops layers of rich, fudgy chocolate coconut cake. Hauntingly delicious!
Hickory Marshmallow S'mores
Made from scratch with artisan hickory syrup and whiskey, fine chocolate has met it's match with these fluffy confections.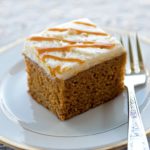 Pumpkin Spice Beer Cake
This cake takes the fuss out of making a cake from scratch. In about an hour you can put together this delicious dessert.