This homemade strawberry frozen yogurt is creamy like ice cream but without the added calories! It's fruity, tangy and oh so yummy!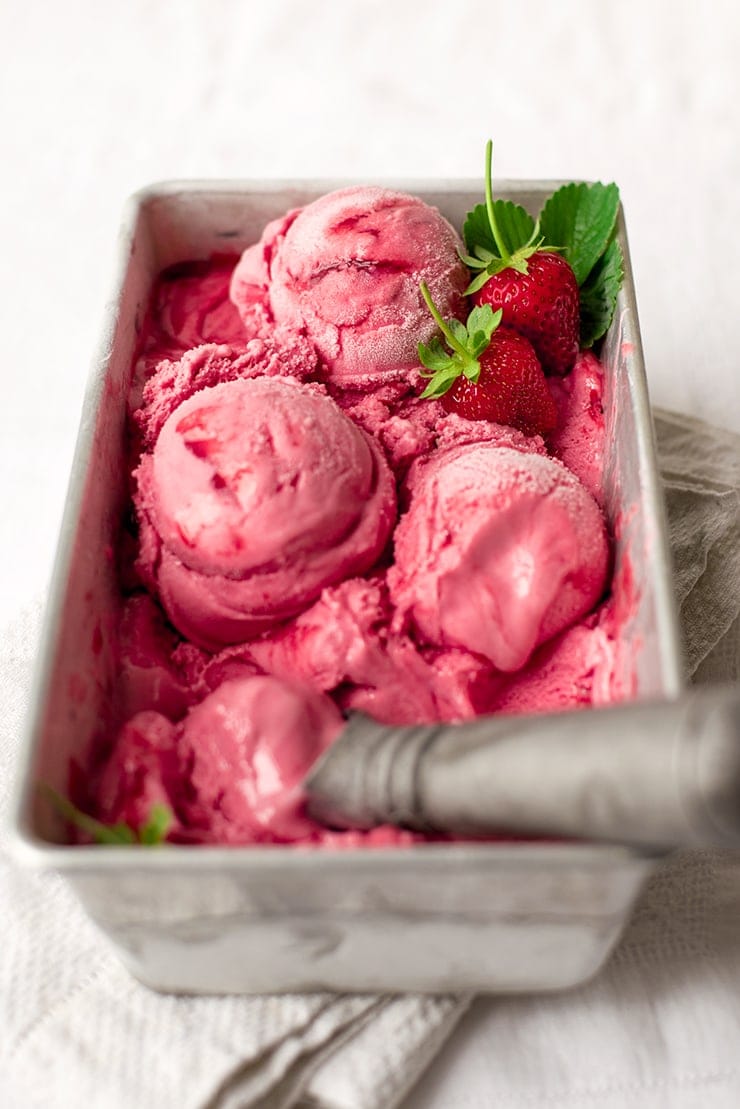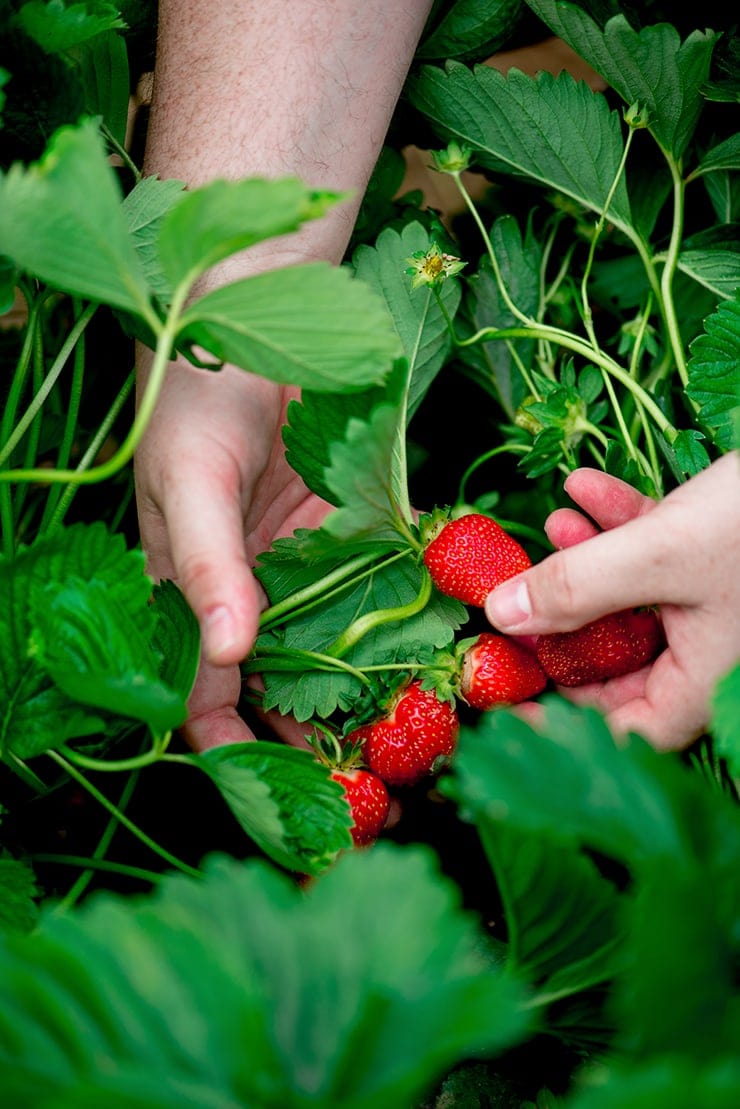 Recently, Kevin and I went strawberry picking. It's one of those outings that I'm super excited for and he goes along just to make me happy. I don't think a single summer month goes by without me saying, let's go pick cherries, peaches, apples, pumpkins, etc…. Country girl at heart I guess! But he's a good sport and tags along, excited or not.
We went to Wegmeyer Farms, which was a first for us. Really pretty farm house overlooking the rows of strawberries. We arrived just as the thermometer was peaking and with empty stomachs no less. To our surprise, they were selling freshly fried donuts with strawberry glaze. So, that certainly won over Kevin. We ate our little donut treats and then spent about an hour picking strawberries.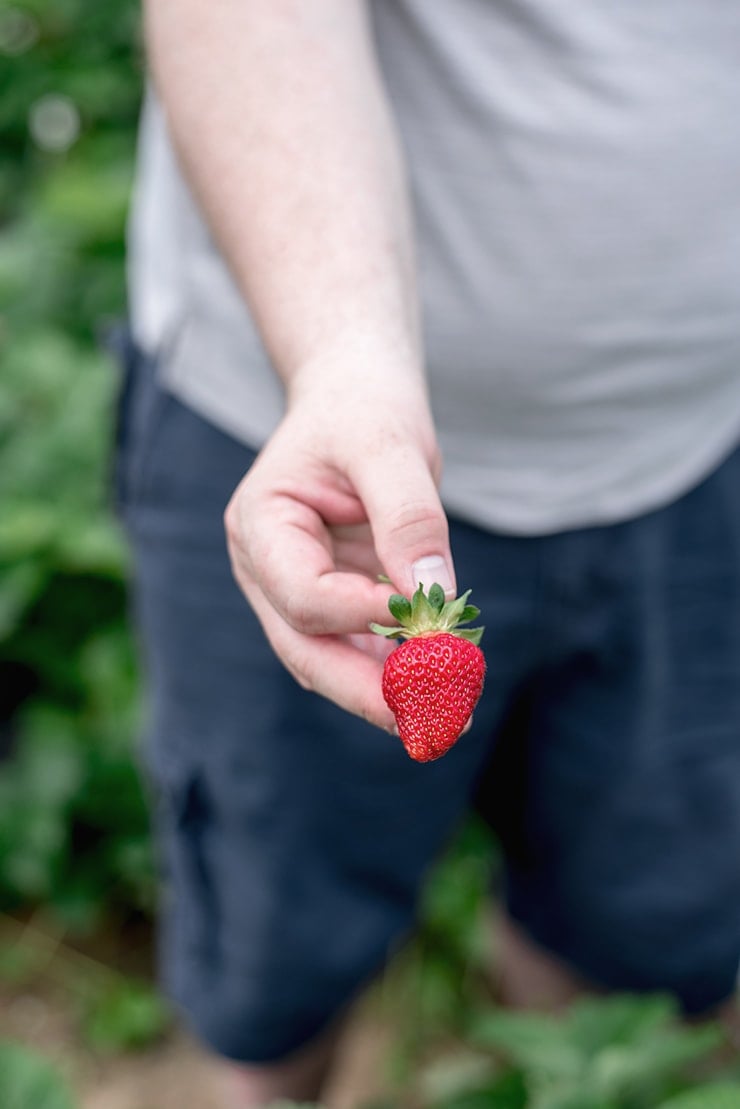 The picking was easy, since the plants were teeming with ripe berries. Nothing like my few spindly plants at home that put out just a couple ripe fruits a day!
Best part was coming home with two buckets of super ripe, sweet strawberries. Once we started tasting our loot, Kevin admitted he had a good time. But I really think it was the flavor of the strawberries that convinced him. Freshly picked strawberries are so sweet a delicious and nothing like the commercially viable strawberries at the supermarket!
The downside is that you have to use or preserve freshly picked strawberries ASAP because they don't keep long. I thought about making strawberry muffins or a strawberry jalapeno tart, but settled on this frozen strawberry yogurt.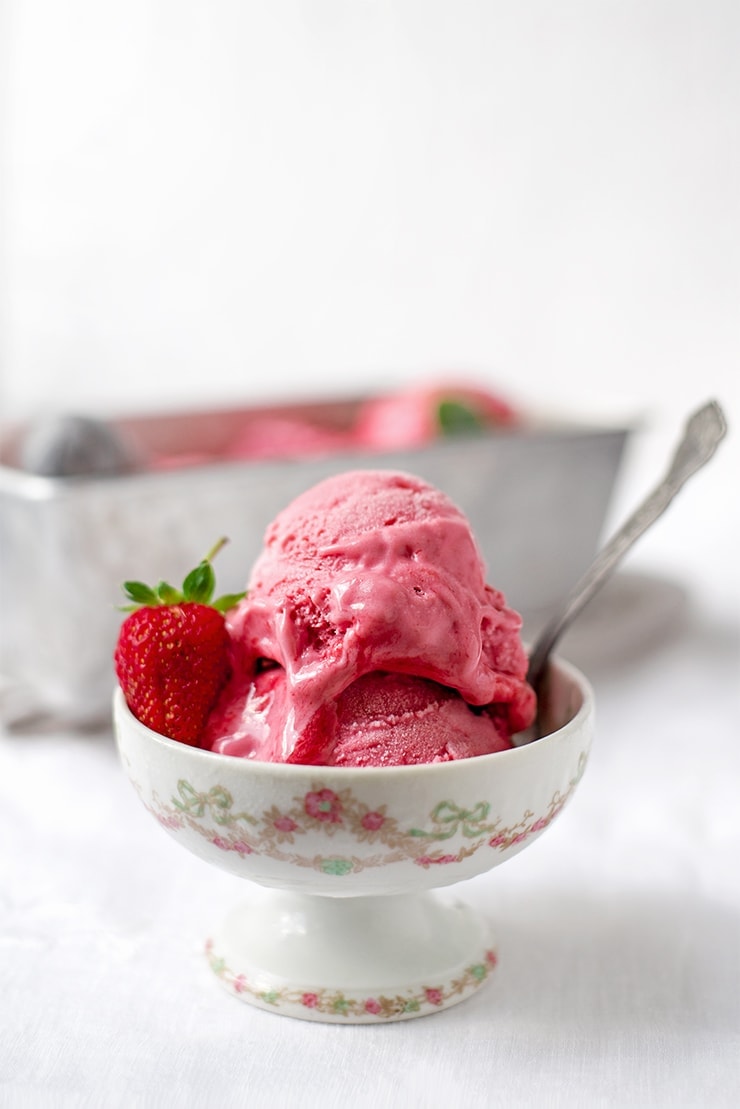 Making ice cream is one of my favorite summer activities. While it may seem difficult, with a little bit of equipment it's an easy pastime. Back in the day I had one of those ice cream makers you would load up up with ice and rock salt. Actually I still have it because it was the one I grew up with and I'm irrationally, sentimentally attached to it despite the fact that it's old motor screeches at 100 decibels.
Now, I have a Cuisinart Gelateria, which a) doesn't require ice and b) doesn't cost a fortune. I had considered buying a fancier machine with an compressor, but couldn't justify the expense on appliance I only use occasionally.
Have to say I'm really happy with the Gelateria. It makes smooth ice cream, works quickly, and it's quiet. Only downside is you have to freeze the bowl in advance. BUt that's a trade off I can live with. I guess it also moderates my ice cream consumption too!
But I'll let you in on a little secret: you have to wait anyway because the best, most creamy ice cream (or frozen yogurt) must be churned use a pre-chilled base. So yes, there's some waiting involved with this recipe, but the active time takes less than an hour!
How to make strawberry frozen yogurt with an ice cream maker:
First things first, if you have a machine like mine, remember to put the ice cream maker bowl in the freezer! And while you're add it, place a bowl for your churned frozen yogurt in the freezer too. I made the mistake of putting freshly churned yogurt into a room temperature bowl and it starting melting immediately! Lesson learned!
The next step is to make a strawberry jam. While some recipes call for raw strawberries, I like to cook mine. One reason is that I want to remove some of the water content from the berries so that the finished product is creamy, not icy. The other reason is that I like my strawberry frozen yogurt to have a very deep, rich strawberry flavor.
So, why not just use strawberry jam? Because I want to control the amount of sugar so my frozen dessert is on the healthier side. But I also want to the right ratio of sugar, water and yogurt. It's a tricky balance and sugar plays a key role in keeping the final product soft enough to dip but not so soft that it won't freeze.
When the strawberries and sugar have cooked down, this is what it looks like. Unlike most jams, there's no pectin and I don't bother with skimming off the foam.
Next, I strain the jam. You can skip this step, but I like a supery creamy frozen yogurt without the seeds or stringy pieces of pulp. If you do strain, you have to work the majority of the pulp through the sieve by scraping the through the mesh with a spoon.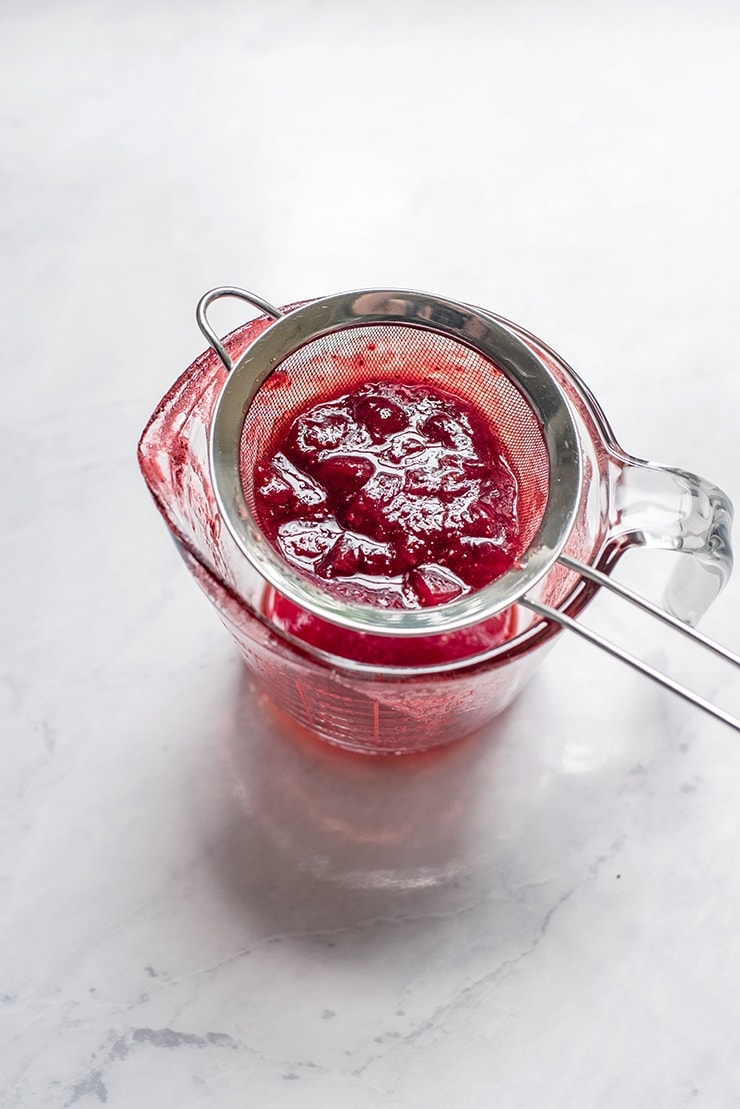 I set aside some of the jam to make a swirl and then the rest is blended up with yogurt, lemon juice, salt and a little vodka (to keep the yogurt from setting too hard in the freezer).
Whole milk yogurt is my yogurt of choice. That's because fat=yummy but also because it tends to have less sugar. For this recipe I used Chobani Savor. I think it's a new product but It has been popping up in all the grocery stores I frequent. This yogurt is super thick and doesn't have any added sugar. Excellent for frozen yogurt when you're trying to control that sugar ratio!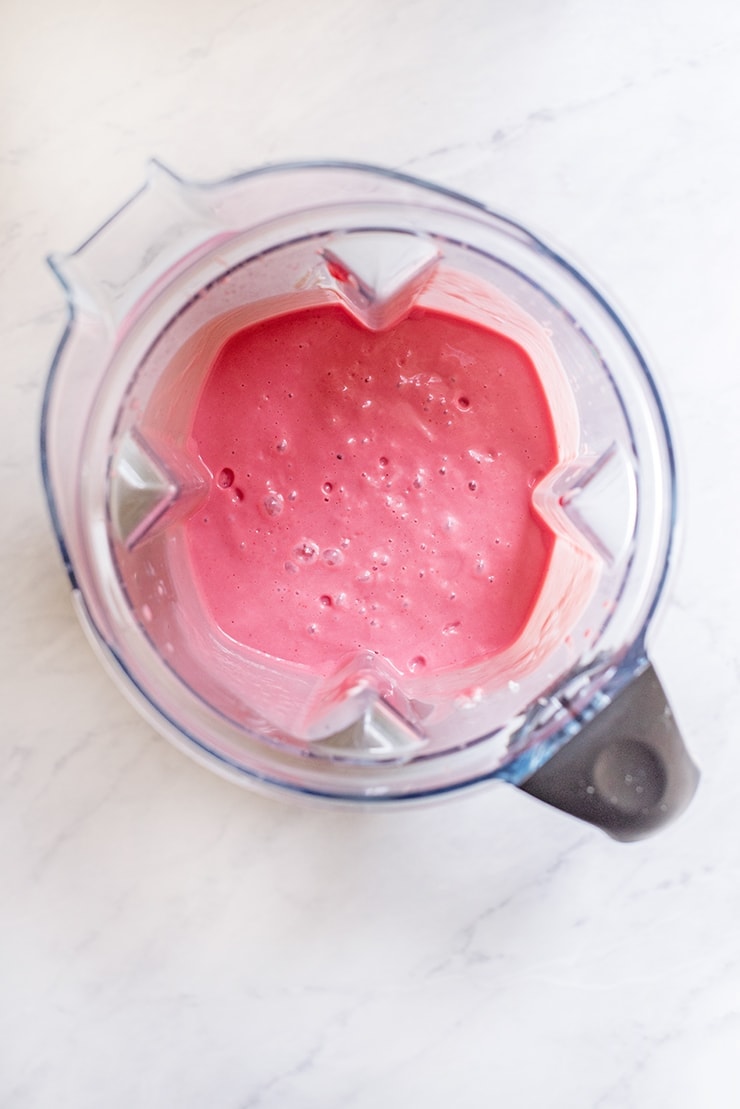 Now before you can freeze your frozen yogurt, you chill the mixture for at least 4 hours. But I usually leave it overnight. The colder it gets' the less likely ice crystals will form during the churning process. With the Gelateria, it takes about 15 minutes to churn. Longer if you want to double the recipe, which I highly recommend!
You could eat the strawberry frozen yogurt straight out of the ice cream machine, but it would be like soft serve. To harden the frozen yogurt, layer the churned yogurt with the leftover jam in the bowl you placed in the freezer, cover and let freeze overnight.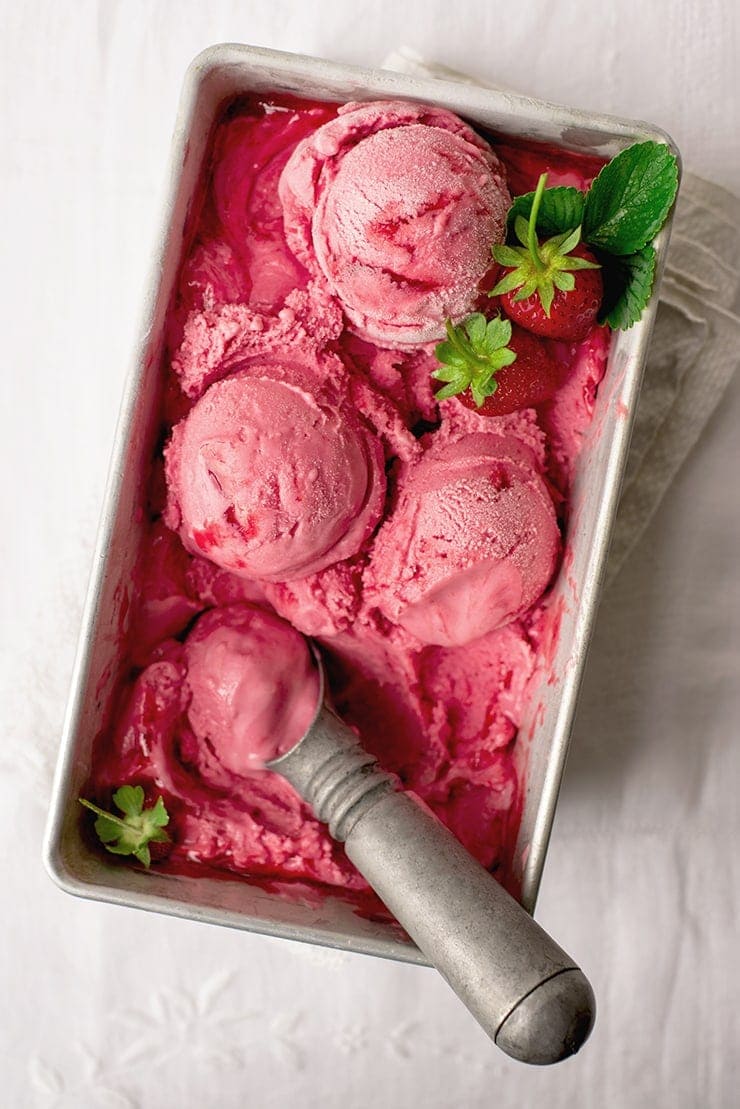 I know, there's a whole lot of waiting involved with this recipe, but it the most creamy, most flavorful frozen yogurt I've ever had! In fact it's more delicious than most ice creams I've had. It's fruity, sweet, smooth and creamy. It seriously indulgent. Plus the color is gorgeous!!!! Perfect for strawberry lovers!
This strawberry frozen yogurt recipe is perfect for summer holidays like Memorial Day and the Fourth of July, but really you don't need an excuse to indulge!
Strawberry Frozen Yogurt Recipe
We love this frozen strawberry yogurt because it is creamy like ice cream but has the tang of yogurt.
Print
Rate
Ingredients
4

cups

strawberries

, diced

1-1/2

cups

sugar

1

tablespoon

lemon juice

1-1/2

cups

whole milk yogurt

(I used Chobani Savor)

1/2

teaspoon

sea salt

1

tablespoon

vodka

(I used whipped cream vodka)
Instructions
Place diced strawberries and sugar in a pot that is 4 quarts or larger. Cook on low, stirring often until the sugar melts.

Turn up the heat and cook the strawberries until you have a thick jam. No need to remove foam but stir every couple minutes and watch so the mixture doesn't boil too hard. In the end you should have about 1-1/2 cups of jam.

If desired, strain jam through a sieve to remove seeds.

Puree 3/4 cup of strawberry jam with lemon juice, yogurt, sea salt and vodka.

Refrigerate the mixture for at least 4 hours. Also place a 4 cup covered container for the finished frozen yogurt in the freezer. Refrigerate leftover jam as well.

Start your ice cream maker and pour in the frozen yogurt base. Using my Cuisinart Gelateria it took about 15 minutes to churn.

Once the strawberry frozen yogurt is fully churned, get out your frozen container. To make strawberry ripples, layer frozen yogurt with strawberry jam.

Freeze strawberry frozen yogurt until firm.
Notes
If your ice cream bowl needs to be frozen first, don't forget to put it in the freezer!
The overnight refrigeration of the base prevents ice crystals developing during the freezing process.
Nutrition
Calories:
85
kcal
|
Carbohydrates:
19
g
|
Protein:
1
g
|
Fat:
1
g
|
Saturated Fat:
1
g
|
Cholesterol:
2
mg
|
Sodium:
153
mg
|
Potassium:
134
mg
|
Fiber:
1
g
|
Sugar:
17
g
|
Vitamin A:
25
IU
|
Vitamin C:
43.1
mg
|
Calcium:
30
mg
|
Iron:
0.3
mg
Tried this recipe?
Let us know how it turned out for you! Scroll down to leave a comment below.
Have a sweet tooth? Check out all our dessert recipes!
You might also like:
Panna Cotta Tart
Juicy, sweet strawberries are the star of this icebox dessert. It's a splendid way to highlight the beauty and sweetness of fresh strawberries.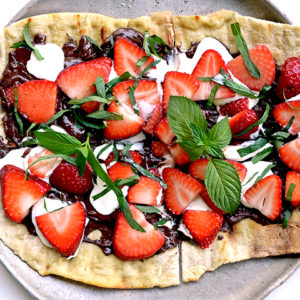 Chocolate Pizza
Topped with strawberries, mint and whole-milk ricotta cheese, this recipe lies at the intersection of easy and unbelievably delicious!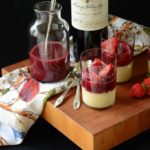 Strawberry Rhubarb Pudding
This Elegant Cabernet Strawberry Rhubarb Pudding makes great use of the season's bounty and elevates pudding beyond a children's dessert.