Get your spook on this Halloween! Check out our collection of charmingly frightful foods that will make your holiday a chilling success!
Deviled Egg Bloody Eyeballs
---
Rough night? Or did you have a bloody good time? Check out this twist on deviled eggs from Savory Spin.
Dancing Ghosts Chocolate Coconut Cake
---
Get into the spirit with this chocolaty ghost cake. Download the free template to make the dead rise this Halloween!
Halloween Roasted Veggies
---
Who knew root vegetables could make such adorable Halloween treats? Move over dessert! Live Eat Learn is teaching us that sugar is not the only way to get festive!
Owl Grilled Cheese Sandwiches
---
Can we get a hoot for the most adorable grilled cheese sandwiches EVER? Kitchen at Hoskins is delivering the goods with this owl tutorial.
Dracula Cupcakes
---
These cupcakes suck. Blood that is! Learn how to make these adorable vamps over at Hungry Happenings.
Vampire's Kiss Cocktail
---
These vapors are sure to make you swoon! Kiss this cocktail from Wanderspice and maybe a handsome vampire will appear!
Jack o'lantern Shepherd's Pie Stuffed Peppers
---
You can get as stuffed as these peppers from Cupcakes and Kale Chips. They're the best tasting jack o'lanterns on the block!
Easy Halloween Cupcakes with Chocolate Spiders
---
What goes creepy crawly in the night? These hairy spider treats from Just a Taste. We think these are the best cupcakes on the web!
Frankenstein Pudding Pops
---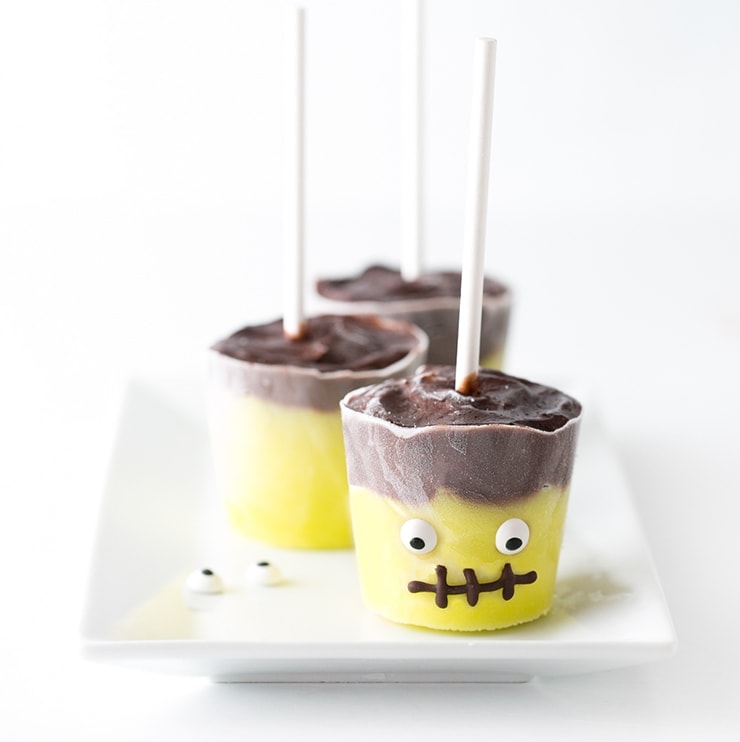 Simplicity wins the day with these easy pops from Design Eat Repeat. How cute are these monsters?
Healthy Halloween Treats
---
Another nod to a healthier Halloween! Green Healthy Cooking is keeping things subtly sweet with these spirited gummies.
Sloppy Joe's Hand Pies
---
Halloween goes hand in hand with blood and body parts! Create a Halloween dinner worthy of Sweeney Todd and Mrs. Lovett to grace your holiday table!
Ghost Pretzels
---
No boos for these charming ghost confections. Check out this simple dessert over at Dessert Now Dinner Later.
Frankenstein Rice Crispy Treat
---
Dessert won't fall flat with this Frankenstein treat by Kudos Kitchen by Renee. You won't look green if you follow this tutorial!
Spooky Black and White Russian
---
Enjoy an avant-garde cocktail that is as black as night! You're going to love this charcoal potion via Homemade Banana!
Pumpkin Spice Dog Treats
---
Pumpkin spice isn't just for people! These pumpkin dog treats will delight your canine friend this Halloween!
Chocolate Glazed Black Cat Doughnuts
---
These chocolate ganache doughnuts via Domestic Gothess are teeming with vintage, spooky flair!
Two Ingredient Edible Fake Blood
---

Making edible fake blood is an easy undertaking. This Halloween recipe uses just two ingredients: sugar and juice and tastes fang-tastic!
Chocolate Mummy Cupcakes
---

Wrap up your Halloween feast with these mummy cupcakes from That Skinny Chick Can Bake. This easy dessert won't get you wound up!
Zombie Brain Shot
---
This shot from Homemade Hooplah will bring you back from the dead! If you're a party hopping zombie that is!
Spooky Pumpkin Tombstone Cakes
---
These easy tombstone cakes from Hunger Thirst Play are fun to decorate with punny or scary epitaphs!
Alien Blood Punch
---
These neon green cocktails from Feast in Thyme are inspired by the movie Alien. What's a Halloween party without out of this world drinks?
Owl Cake
---
How sweet is this Owl Cake? This vintage inspired cut up cake doesn't require any special cake pan, just a little decorating creativity!