Nothing feels as classic or as Southern as a mint julep! Just the mention brings about visions of oversized hats, silver cups and shiny coated horses. And you don't actually have to attend the Kentucky Derby to experience the glamour and spectacle of the run for the roses.
A number of years ago my friend Kelly hosted a fabulous Derby Day party. She has always loved horses, and since we live in horse racing country here in Jefferson County, West Virginia, it was a natural excuse to get friends and neighbors together.
The ladies wore big hats, the men donned bow ties and I think everyone came bearing a bottle of bourbon. It was a memorable experience, not to mention my first ever taste of a mint julep. In these modern times, we have to make up reasons to dress up and live it up… so take this as your cue to get together friends for some cocktails and frivolity.
And boy do we have a Peach Tea Mint Julep recipe that's a southern belle! We've taken a little artistic license by using a rich syrup made with Harney and Sons Peach and Ginger Tea for our mint julep. I'm a long time fan of their blends and this one is nice because it's peach forward but isn't saccharine. The peach flavor adds a subtle twist to the cocktail but doesn't overwhelm the bourbon. It's like a mash up of sweet peach tea and a mint julep!
HOW TO MAKE A MINT JULEP
The very first thing you need to know about a making a mint julep is you need a glass overflowing with crushed ice. If you serve a mint julep with ice cubes to a southerner, they are likely to respond with a "bless your heart" which is not a compliment!!!! The ice must be crushed or better yet, shaved.
Now, if you're lucky enough to own silver julep cups, use them! If not, a small high ball will do. Our sweet vintage glasses hold eight ounces of liquid, making the perfect ratio of ice to cocktail.
Next you need a cocktail shaker. You never want to muddle in a delicate glass because it's likely to shatter. This is a vintage Noritake shaker I found in a thrift store. It's etched with a wheat pattern and has a silver top, which makes it perfect for entertaining, but any utilitarian shaker will do.
Start by gently muddling 5-6 mint leaves and then add half an ounce of the peach tea syrup and muddle a little more.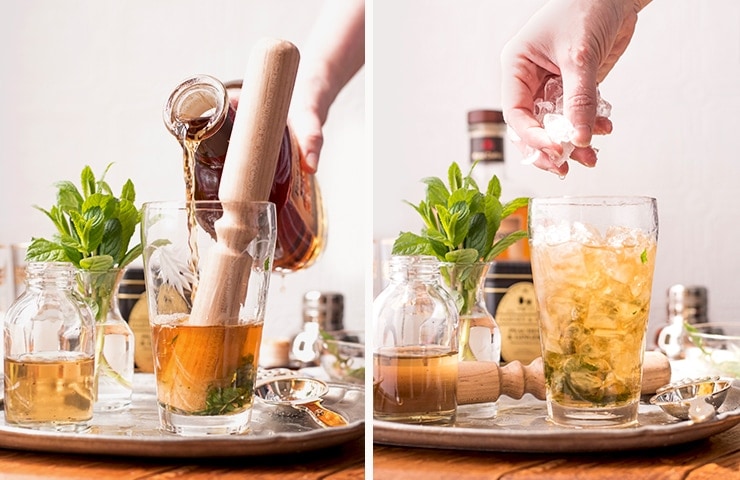 Next, add 2.5 ounces of good bourbon. We used Four Roses Small Batch which is a great value. You don't want to mix cocktails with a high priced bottle of bourbon, but you also don't want to use the cheap stuff either. This bourbon is also 90 proof, so it holds up better in melting ice.
Now add ice cubes and shake.
Strain the peach tea mint julep into the glass and garnish with a fresh sprig of mint. And I mean fresh! If it looks wilted in the store, it will never hold up as a garnish. The best option is picking the mint yourself and placing it in water immediately. If you don't grow mint yourself, consider buying a plant or find some at a local farm stand.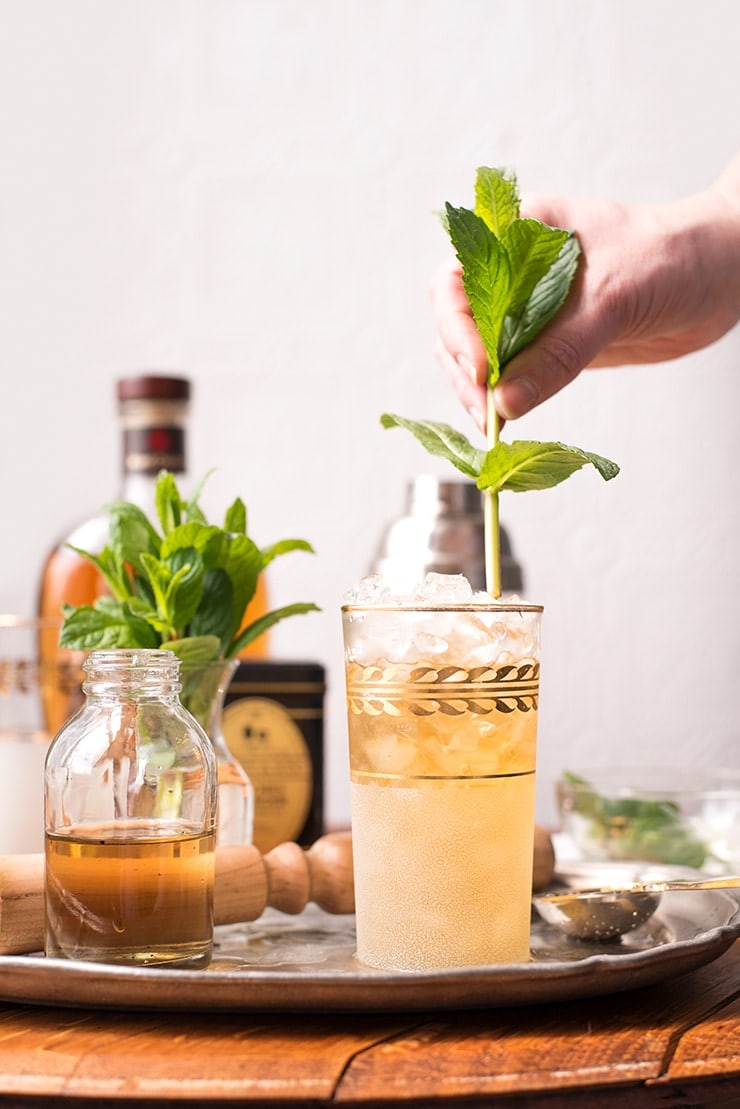 Now isn't she as pretty as a peach? I reckon all y'all will want to sip these out on the veranda when the weather gets hot! This peach tea mint julep is as refreshing as a glass of iced tea and perfect for an afternoon watching the horses run… or maybe doing nothin a'tall!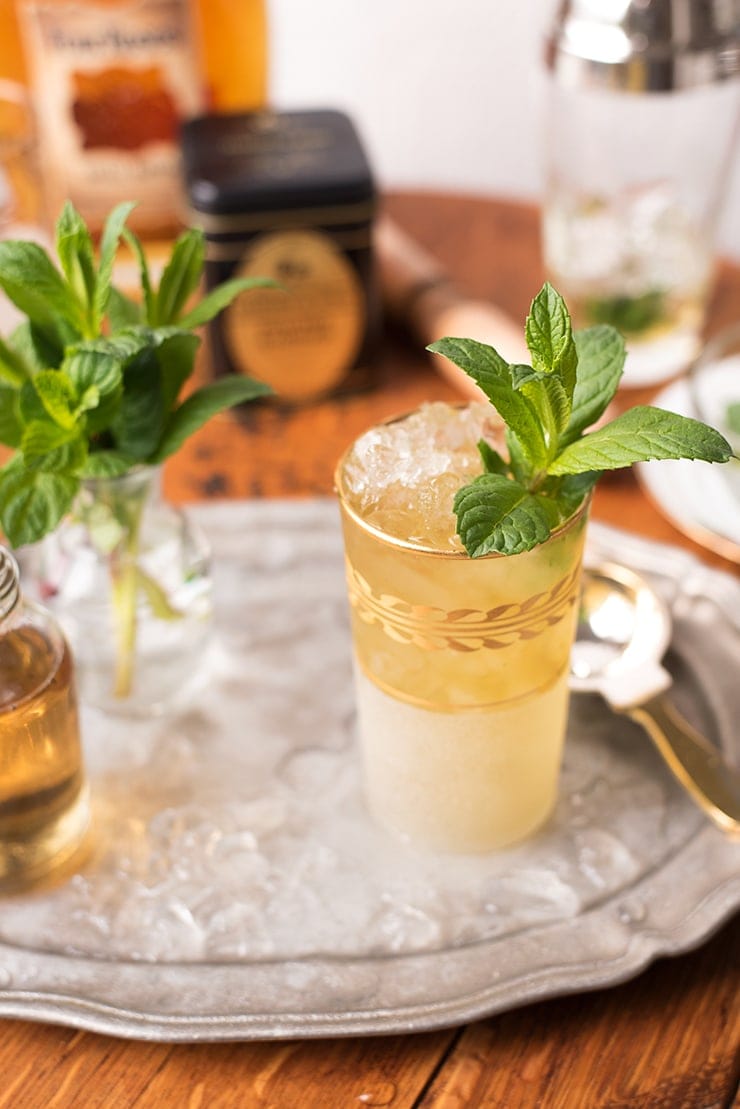 Love tea drinks? You'll love our iced tea vodka cocktail!