This flavorful turkey peanut stew is based on the West African curry, maffe. Our version features leftover turkey and butternut squash but read on to find our suggestions for using fresh ground turkey or chickpeas for a vegetarian main course.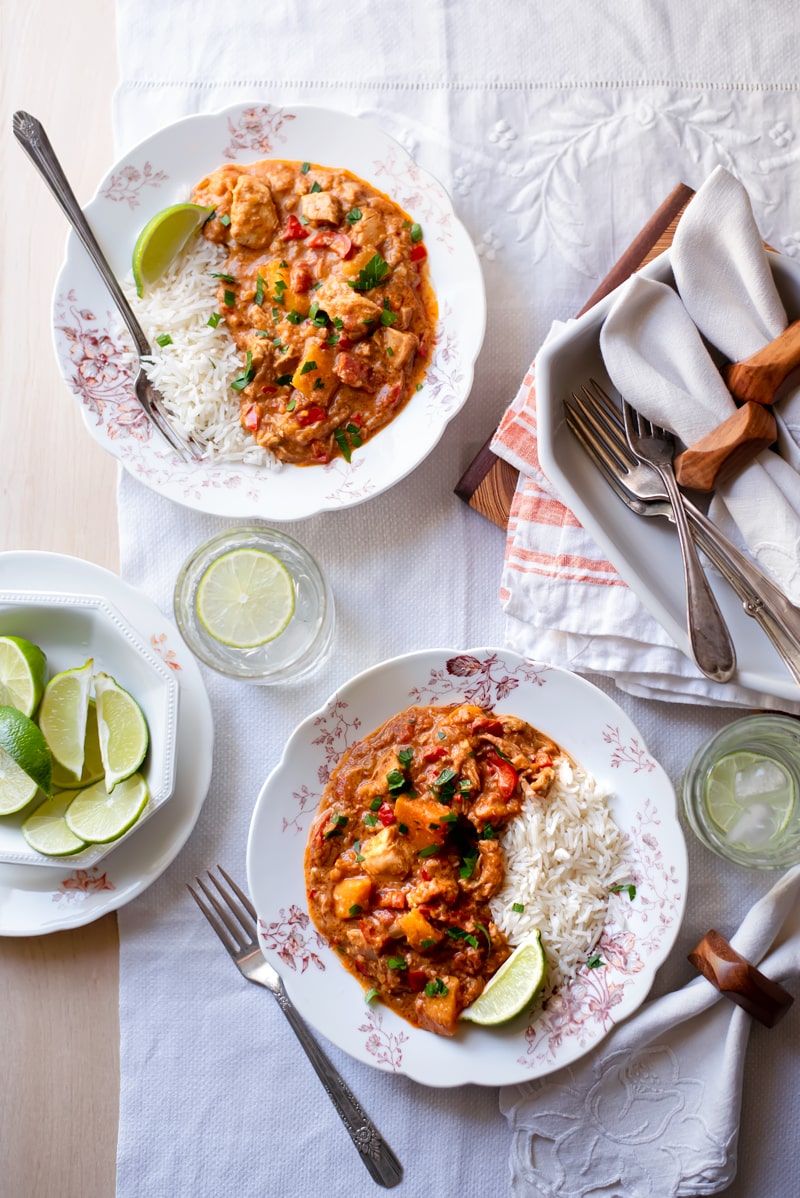 I love foods from around the world, especially ones rich with spices and the heat of fresh ginger and hot peppers. From Thai green curry to cauliflower curry to butter chicken, curries are the spice of life! So it's no surprise that curry came to mind when looking for ways to use turkey leftovers from Thanksgiving.
My recipe is based on African peanut stew but has a couple seasonal twists. Namely the leftover turkey but also swapping out traditional vegetables like carrots and sweet potatoes for butternut squash. It's such a winner I've made the recipe with ground turkey when I didn't have leftovers as well as a vegetarian version with chickpeas.
This stew is thick and hearty with a a good balance of spice and sweetness. The peanut butter makes the dish sumptuous while the hot peppers cut the richness. The winter squash makes the sauce sweet and the bell pepper and tomatoes give it that deep curry base
The best news is this stew gets better with age, so you can make it when you have time and serve it later, which means it's great for meal prepping and easy workday lunches. But I think the ideal time to serve this meal is when the Thanksgiving guests are still visiting, but you don't want to feed them a repeat of Thanksgiving dinner.
Maafe
This turkey peanut stew is a play on African peanut stew, which is popular throughout Western and Central Africa. While ingredients vary based on region, the one ingredient you can usually expect is peanuts, a staple crop in West Africa. Another older variation is made from groundnuts which are native to Mali where the stew is thought to originate.
This dish goes by many names and throughout the world might be called simply peanut stew or groundnut stew. It's called maafe (or mafe) in Senegal, domodah in Gambia and tigadèguèna by the Mandinka of Mali.
The stew can be made with meat (chicken, lamb or beef) or vegetarian with eggplants, cabbage, carrots, sweet potatoes, okra or eggs. Popular spices include paprika, ginger, turmeric, and hot peppers with tomatoes and onion commonly used in the stew's base. It's traditionally served with rice, millet or couscous.
Leftover Turkey Recipe
The inspiration for this dish came from trying to reinvent my turkey leftovers. Truthfully, I am not a fan of leftover poultry, so I try to disguise it in flavorful dishes like cottage pie or enchiladas. Stews and casseroles have a way of keeping the cooked chicken or turkey meat from getting dry or having off flavors.
You can use either white meat or dark meat because the turkey is added at the end of the recipe since it's already cooked. This way you aren't drying out the meat by cooking it a lot more, just reheating it.
You can also use your leftover turkey carcass and neck to make the stock for the soup. Follow my recipe for roasted chicken stock for a hands off approach!
As stated above, I also used butternut squash as the main vegetable since many of us have leftover pumpkin or winter squash lying around this time of year. But if you don't have it, save yourself some time and buy the precut butternut squash!
Vegan and vegetarian friendly substitutes
There's no dairy in this recipe and the only ingredients that contain meat are the cooked turkey and chicken stock. For a vegetarian version use chickpeas and vegetable stock instead.

Or you could use a more traditional approach and substitute eggplant, carrots or sweet potatoes for the cooked turkey. Simply add them at the same time as the peppers or butternut squash.
Have a mix of guests that are meat eaters and vegetarians? Use vegetable stock then divide the stew in into two pots then add the proteins at the end of the recipe! One dinner that makes everyone happy!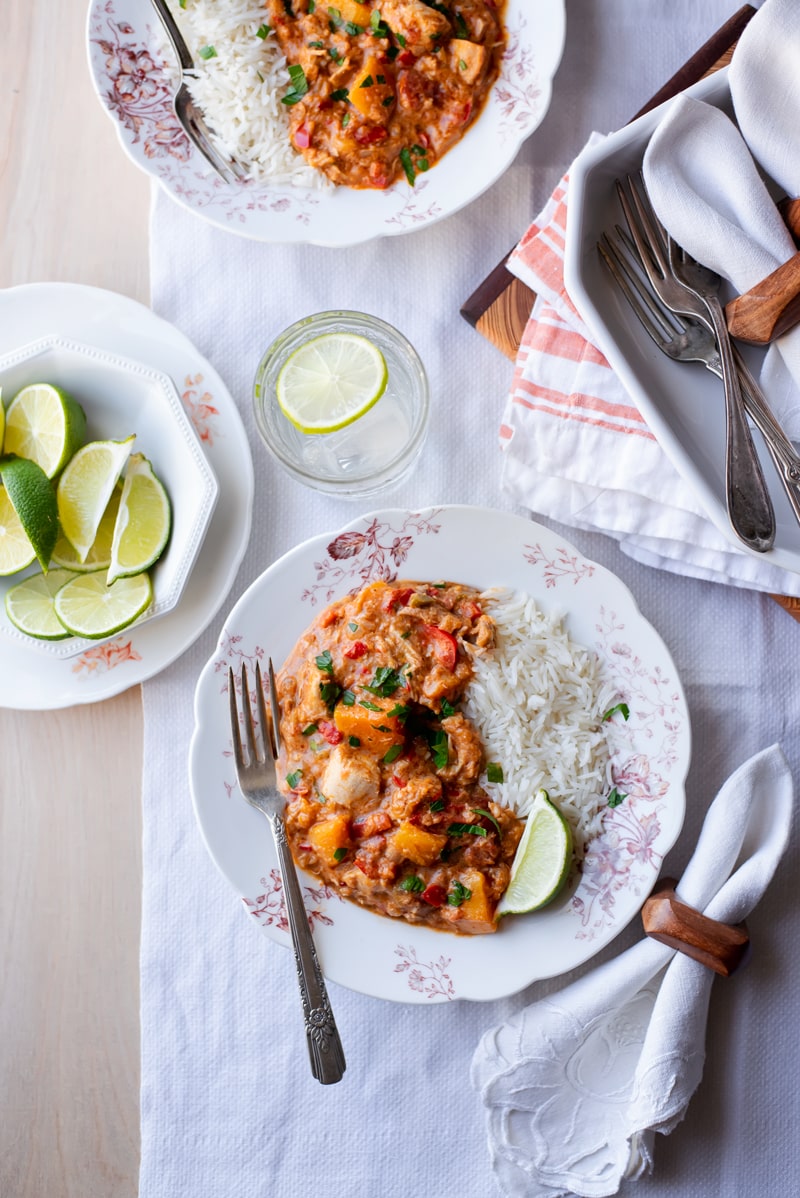 Ingredients and Substitutions
I realize that ingredients are hard to find right now so I've listed possible substitutions below. Don't sweat the details. There are only a couple ingredients that are essential, so feel free to skip ingredients and swap them as necessary.
Coconut oil → any cooking oil will do
Sweet onions → white or yellow onions…even red would be fine but it will change the color.
Sweet bell pepper → carrots, okra or eggplant
Garlic → I used fresh but you could use jarred or a small amount of dried.
Habaneros → serranos are a good substitute or double the jalapenos
Jalapenos → pinch or two of red pepper flakes
Fresh ginger → use frozen or one third the amount of dried
Paprika → use cayenne but use only 1/2 to one teaspoon
Cinnamon → you can omit the cinnamon, but it does give a unique flavor to the stew
Peanut butter → use peanut powder reconstituted with water or substitute with almond or cashew butter
Canned tomatoes → use fresh diced tomatoes instead. Make sure to seed them first!
Chicken stock → turkey stock, vegetable stock or water
Cooked turkey → cooked chicken, chickpeas or eggs
Butternut squash→ pumpkin, sweet potatoes, carrots, or parsnips
Rice → quinoa or couscous
Cilantro → scallions
Turkey Peanut Stew Recipe
This is my Autumn version of African peanut stew. I use leftover
Thanksgiving turkey
and swap the sweet potatoes for butternut squash. If you don't have cooked turkey, see my notes for using fresh turkey instead.
Print
Pin
Rate
Ingredients
2

tablespoons

coconut oil

1

large

sweet onion

¼

cup

fresh ginger

, finely grated or chopped

6

cloves

garlic

, minced

1

sweet bell pepper

, diced

2

habaneros

, seeded and finely diced

2

jalapenos,

seeded and finely diced

1

teaspoon

cinnamon

1

tablespoon

paprika

1

-14.5 ounce can

diced tomatoes

¾

cup

creamy peanut butter

4

cups

chicken stock

4

cups

butternut squash

, cubed

3

cups

cooked turkey

, diced

salt and pepper to taste
Instructions
In a large Dutch oven or stock pot, heat coconut oil on medium high heat.

Add the onions and cook alone for about 5-10 minutes.

When the onions are translucent, add the ginger, garlic and peppers. Cook until the peppers start to soften and the onions are golden brown.

Mix in the cinnamon and paprika, then add the tomatoes, peanut butter, and stock. Stir to combine.

Add the butternut squash and bring to a boil. Once boiling reduce the stew to a simmer and cook until squash is cooked and beginning to break down, about 20-30 minutes. Or if you prefer, cook longer until the squash has broken down into the sauce.

Turn down heat to low and add cooked turkey. When the turkey is warm, season with salt and pepper to taste.

Serve over rice with cilantro or scallions.
Notes
This recipe is great leftover! Like most stews, the flavor gets better with age.
Need a quick dinner? Freeze the stew for later. Great for easy lunches too!
If you don't have cooked turkey, you can use a couple of diced turkey tenderloins or a pound of ground turkey. Brown the meat with the coconut oil, then set aside, leaving behind the oil and juices for cooking the vegetables. Add the turkey back in at the the end of the recipe as stated.
Looking for a vegetarian or vegan version? Swap the chicken stock for veggie broth and use a couple cans of chickpeas instead.
It's always a good idea to wear gloves when handling hot peppers!
Leftover pumpkins? That's a 1:1 swap for butternut squash.
Nutrition
Calories:
350
kcal
|
Carbohydrates:
28
g
|
Protein:
24
g
|
Fat:
18
g
|
Saturated Fat:
6
g
|
Cholesterol:
32
mg
|
Sodium:
1349
mg
|
Potassium:
850
mg
|
Fiber:
4
g
|
Sugar:
10
g
|
Vitamin A:
8399
IU
|
Vitamin C:
45
mg
|
Calcium:
74
mg
|
Iron:
3
mg
Tried this recipe?
Let us know how it turned out for you! Scroll down to leave a comment below.
Take your party to the next level with these Fried Mozzarella Balls. They are crunchy on the outside, gooey on the inside and served with Yogurt Herb Dip. Everyone will ask for the recipe!
This turkey salad recipe is a great way to use up your holiday leftovers! But far from stale, our creamy turkey salad gets its fresh taste from pomegranate seeds, celery and lemon zest.
Small Thanksgiving dinner party? This recipe for turkey cutlets combines the best parts of a roast turkey and stuffing, but easily serves two to four people without all the fuss.