Celebrate Hanukkah with this glitzy chocolate martini inspired by chocolate gelt and the festival of lights! It features dark chocolate and coffee liqueurs for a rich and sweet drink that's also festive!
The holidays are in full swing… well virtually! And the holiday season means festive cocktails! While brainstorming cocktail recipe ideas for the season, I realized I had Thanksgiving drinks like pear martini and hard cider sangria on the blog.
For Christmas there's a Santa cocktail, an old fashioned whiskey punch and frozen cranberry daquiris. I even have a fancy fig prosecco cocktail for New Years. Somehow, I neglected to think of Hanukkah.
I think inclusivity is important. There is no better way to make someone feel welcomed than honoring their beliefs. This can be as simple as making a dish that fits their diet or wishing them a happy Hanukkah/ Kwanzaa/ Festivus…
So, I reached out to my friend Tamar (who is also a cocktail enthusiast) to ask her what holiday drink would be appropriate for Hanukah. Her suggestion was a gelt inspired cocktail.
Hanukkah gelt inspired cocktail
My knowledge on Judaism is sorely lacking so I started researching the idea. Turns out that gelt is another word for money, a traditional Hanukkah gift that dates back to the 17th century.
In the 20th century, chocolatiers created chocolate gelt and a new tradition was born. I'm sure you've seen those little pouches of Hanukkah gelt around the holidays. You might also find other chocolate coins because they are a traditional gift for Saint Nicolas Day too.
Whether you're celebrating Saint Nick or Hanukkah, I'm sure a chocolate cocktail is something we can all appreciate!
Chocolate martini with coffee liqueur
Inspiration in hand, Kevin and I invited neighbors over to sit on the porch and taste test new holiday cocktail recipes. I'm working on several, but we started with a chocolate martini. I knew I wanted to include coffee in the recipe. You know how chocolate cake recipes often include coffee or instant espresso? It deepens the chocolate flavor and counteracts the sweetness.
We played around with several concoctions, testing out both Kahlua and espresso liqueur and adjusting ratios to get a chocolatey drink that was rich and smooth but not overpowered by coffee.
Turns out we preferred the Kahlua. It was sweeter with a subtle coffee flavor while the espresso liqueur overtook the cocktail. My friends declared the Kahlua version a winner…it was a really tasty drink but I felt something was missing.
Chocolate bitters
I wanted the chocolate flavor of the martini to be richer, so I ordered Woodford Reserve chocolate bitters to do another recipe test. I was really pleased with the quality of the bitters. They were rich and chocolatey with a hint of spice and of course that distinctive bitterness that ups your mixology game.
As planned, adding chocolate bitters really did the trick It cut the sweetness of the liqueurs and enhanced the chocolate flavor, taking the drink from good to great!
Is this recipe kosher?
I thought I was good to go…then I realized I never looked into whether the liqueurs I used were kosher! Turns out Godiva's dark chocolate liqueur is and Kahlua is not. I'll be honest, I haven't had time to test the recipe with kosher coffee liqueurs, but I have tested it with a homemade coffee liqueur and a recipe is forthcoming! In the meantime, if you need a quick substitution, a little sweetened black coffee would be my suggestion.
The bitters… also not kosher. Face palm! After this realization I did some digging and it looks like Bittermens Xocolatl Mole Bitters are certified by OU Kosher. I honestly don't know how they will taste in the recipe but they have excellent reviews on Amazon.
Long story short, it's the thought that counts? At least I learned something in the process!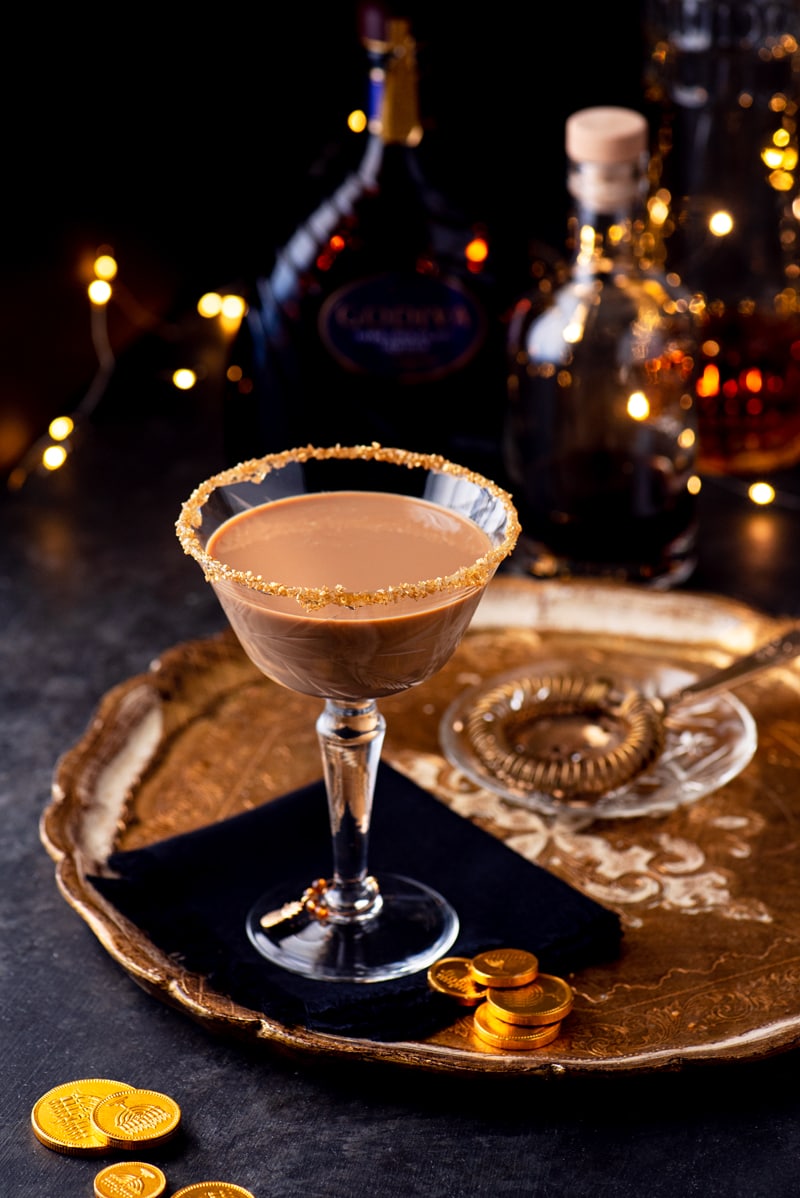 How to serve this chocolate martini
To keep with the gelt theme I rimmed the glass with gold sugar and served it in an elegant martini glass. I also adorned the bar with twinkle lights, gold accessories and Hanukkah gelt for a festive feel. Super pretty and elegant, just like my friend Tamar. Thanks for the inspiration friend!

Happy Hanukkah!
Chocolate Martini Recipe
This festive chocolate martini is inspired by Hanukkah gelt. It's rich, chocolatey and so delicious!
Print
Pin
Rate
Instructions
Pour some honey onto a small plate and gold sugar rim onto another then dip your martini glass rim into the honey first and gold sugar second.

Combine the chocolate liqueur, coffee liqueur, heavy cream and bitters in a cocktail shaker.

Add ice and shake until the shaker is super cold.

Pour martini into prepared glass and serve immediately.
Notes
I tested this recipe with Kahlua (not kosher) and homemade coffee liqueur.
Not all the ingredients I used were kosher. Please see the blog post for substitutions
Nutrition
Calories:
415
kcal
|
Carbohydrates:
42
g
|
Protein:
1
g
|
Fat:
6
g
|
Saturated Fat:
4
g
|
Cholesterol:
20
mg
|
Sodium:
8
mg
|
Sugar:
41
g
|
Vitamin A:
208
IU
Tried this recipe?
Let us know how it turned out for you! Scroll down to leave a comment below.
Does happy hour make you smile? We have more cocktail recipes for you to swizzle and stir!
Follow our step-by-step instructions to make this flawless Instant Pot chocolate cheesecake with an Oreo crust and a creamy chocolate filling.
This cookie recipe combines the flavors of molasses and cocoa for a rolled chocolate gingerbread cookie that is fun to bake and decorate.
This cozy and flavorful cinnamon coffee is easy to make at home. Serve it with turbinado sugar and whipped cream for an extra special drink!