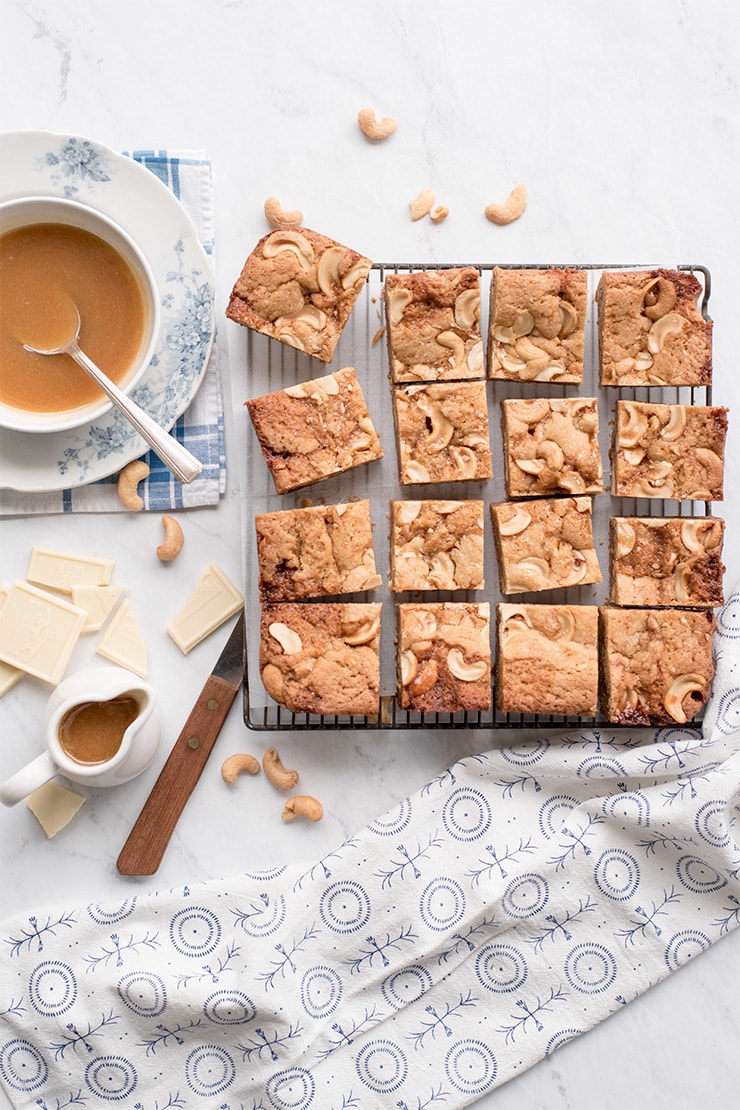 This is what enchantment looks like! Our recipe for salted caramel blondies layered with chunks of white chocolate and cashews is truly magical!
---
You have the power to make salted caramel blondies from scratch…including the thick, caramel sauce made from just five ingredients. Now that's a bewitching recipe!
If these pictures of SALTED CARAMEL BLONDIES don't make your mouth water, I'm not sure we can be friends! There is no one on this Earth with as much in common with Cookie Monster as me! Seriously, cookies stand no chance in my presence. It's like a sugary madness takes over and BAM! All the cookies are gone.
That might be because I make the BEST cookies ever…. I'm trying not to pat myself on the back but my hand is raising of its own accord! Credit where credit is due.  I'm not an Einstein at math or a Cassatt at painting…really, I have no claim to fame other than my sorcery in the kitchen. I revel in precise spells spun with sugar and butter, the result of which makes unsuspecting victims bend to my will just for a taste.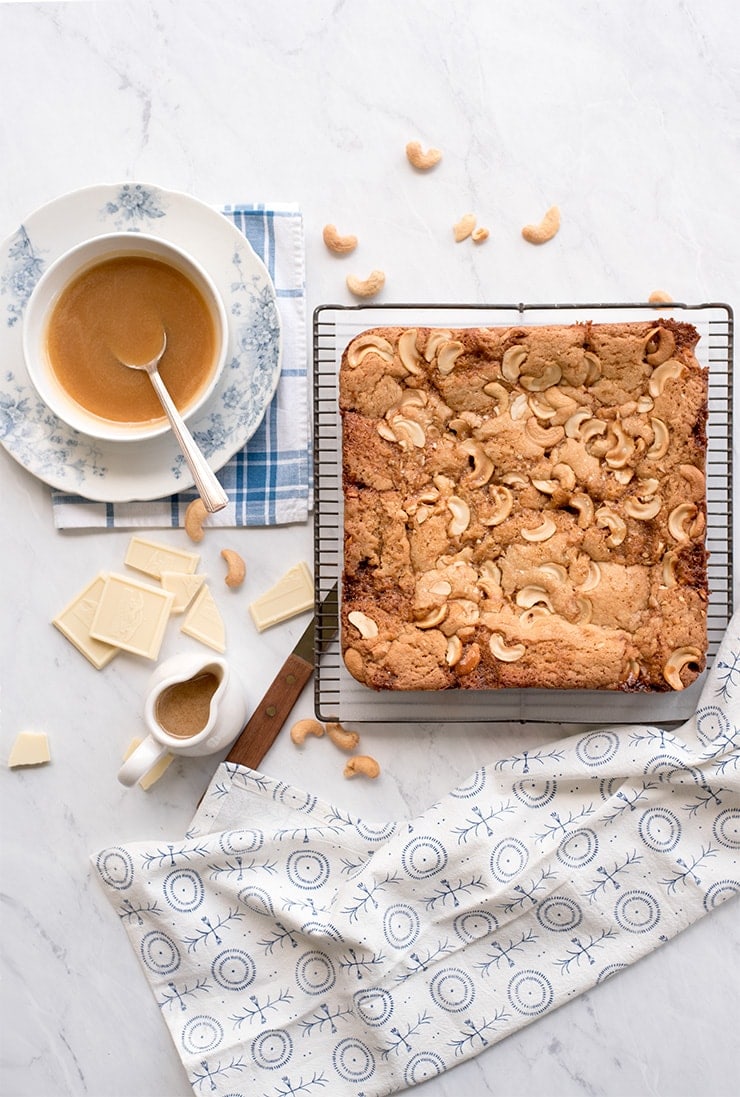 That's the beauty of baking. It's a subtle charm that garners friends without so much as a word. Even people that claim to not have a sweet tooth can be overcome by an ooey gooey cookie. I mean, who says no to homemade salted caramel swirled in a white chocolate blondie? The answer is no one.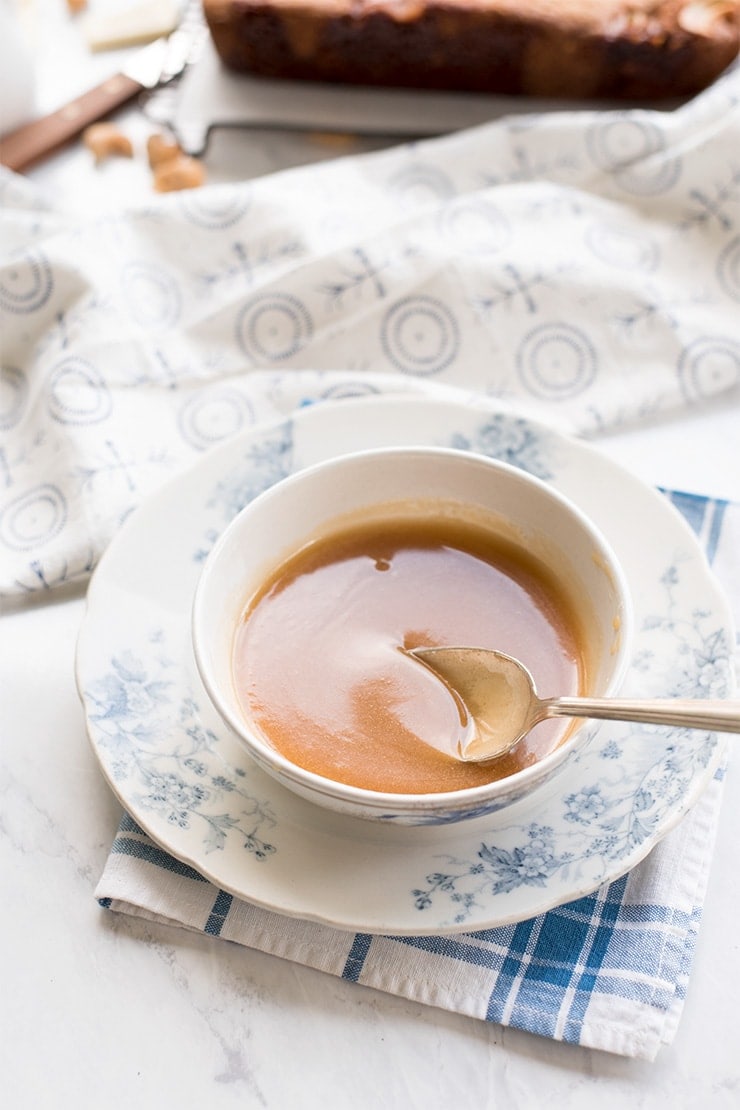 Because look at that thick, golden caramel. This stuff is legit. Homemade with just five ingredients…and before you say to yourself "I can't do that," remember you harness all the magic needed to spin liquid gold. You've got all that plus a little white chocolate and cashew hocus pocus!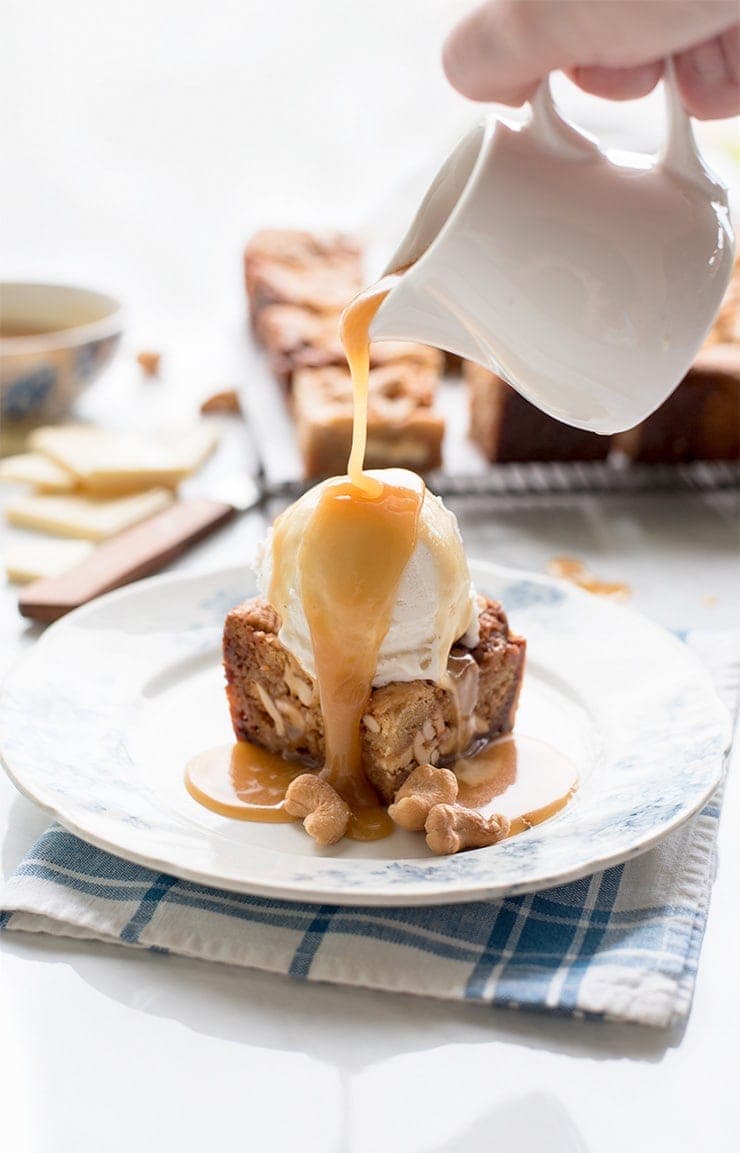 It's time for you to wield this homemade magic.  Conjure these salted caramel blondies for cookouts, breathe life into the company picnic, earn all the money at the bake sale… Your wand is a wooden spoon and you have the power to spread salty caramel joy. So do it!

Print Recipe
Salted Caramel Blondies with White Chocolate and Cashews
I have a real weakness for homemade salted caramel sauce so this recipe is truly from scratch! But don't worry, you can have these blondies in the oven in about 20 minutes.
Ingredients
Cookie dough
2 1/4

cups

all purpose flour

1

teaspoon

baking powder

1/4

teaspoon

baking soda

3/4

teaspoon

sea salt

12

tablespoons

salted butter

1

cup

sugar

1/2

cup

brown sugar

2

large

eggs

2

teaspoons

vanilla extract

3/4

cup

cashew halves

4

ounces

white chocolate

, chopped into large chunks
Salted Caramel
4

tablespoons

salted butter

1/4

cup

brown sugar

3

tablespoons

agave syrup

1/4

cup

heavy cream

1/4

teaspoon

sea salt
Instructions
Prep
Preheat oven to 350 and line a 9 inch square pan with parchment paper.

Combine the dry ingredients (flour, powder, soda and salt) and set aside.

Crack open the eggs and combine with the vanilla in a small bowl.

Place the butter and sugars in a mixing bowl.

Place all of the caramel ingredients in a medium-sized, heavy-bottomed saucepan and set aside.
Blondie dough
With a paddle attachment, cream the butter and sugar together until light and fluffy

Add in the egg mixture and mix until smooth.

Slowly add in the dry ingredients, mixing just to combine.
Salted Caramel
Turn the heat on to medium low and stir constantly while the butter and sugar melt.

Once melted, turn the heat up to medium high, stirring often.

Bring the mixture to 235F or until it's thickened and is a medium caramel brown. (I measured the temperature with an instant read thermometer because the caramel isn't deep enough for a candy thermometer).

Take the caramel off the heat and let cool for a minute.
Assembly
Place half of the dough in the baking pan and smooth with an offset spatula.

Pour half of the caramel in the baking pan.

Scatter the white chocolate on top of the caramel (be careful the caramel will still be very hot).

Dot the pan with spoonfuls of the remaining dough.

Pour remaining caramel on top.

Sprinkle the cashew halves onto the caramel.

Using a measuring cup, press the top of the blondies to even out the dough.

Place the baking pan in the bottom rack of the oven and bake for 45-50 minutes or until the center no longer jiggles when you shake the pan.
Notes
Order is very important for these blondies...if you place the white chocolate or caramel on top they are likely to burn.
These blondies are the start to an awesome sundae! You can make an extra batch (or two) of salted caramel sauce to serve with blondies and vanilla ice cream.
To make the caramel sauce more stable for sundaes, add a pinch of baking soda after the sauce has reached 235F. The sauce will bubble up again, so be careful! This should keep the caramel from separating. 
Nutrition
Calories:
359
kcal
|
Carbohydrates:
45
g
|
Protein:
4
g
|
Fat:
18
g
|
Saturated Fat:
10
g
|
Cholesterol:
59
mg
|
Sodium:
283
mg
|
Potassium:
131
mg
|
Sugar:
29
g
|
Vitamin A:
440
IU
|
Calcium:
48
mg
|
Iron:
1.4
mg
You might also like: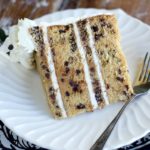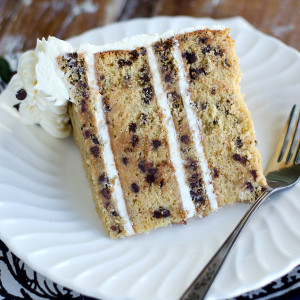 Chocolate Chip Cookie Cake
Layers of cookie flavored cake alternating with vanilla bean, browned-butter chocolate chip cookies and fluffy, vanilla buttercream!
Pumpkin Spice Beer Cake
This cake takes the fuss out of making a cake from scratch. In about an hour you can put together this delicious dessert.
Lemon Icebox Pie

Lemon Icebox Pie is sweet, tart, creamy, nutty and best served cold! This mouthwatering icebox pie hits the spot when the thermometer soars!