Learn how to make a tombstone prop from a vintage mirror! Make your Halloween extra spooky!
---
This fun tutorial will teach you how to make a tombstone prop by repurposing an old mirror. With a few tools and some paint you can make realistic looking tombstones for your Halloween graveyard!
Halloween is a really big deal in our house. I mean HUGE! So when we moved into a neighborhood that embraces Halloween, we knew that we had found the right place to live!
Kevin and I are theatre people, and although we've both changed careers, Halloween in our chance to use our skills. So each year we set up a prop cemetery in our front yard. It doesn't stop there. We light it, put out fog machines and dress up.
Because we live in a fixer-upper Victorian, it's truly a frightening scene. So much so, we normally have to have someone not in costume to lead the children back down the walkway when they are too scared to leave!
It's all in good fun and the kids love it..normally about 300 of them. Since the kids keep coming, I keep adding to the prop collection.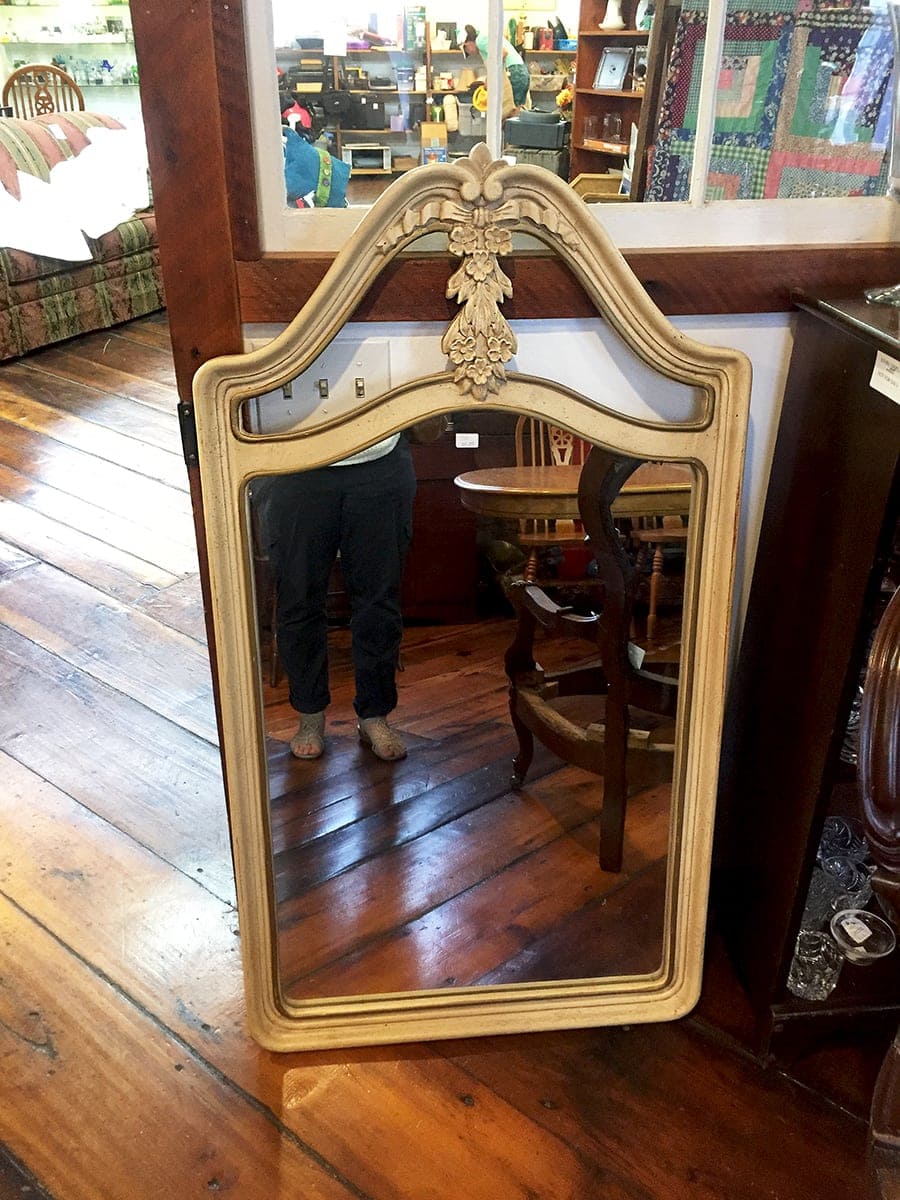 Years ago I stumbled onto a vintage dresser mirror in a thrift store and realized that it looked a lot like a tombstone. Now, we're not talking about your grandma's priceless heirloom. I'm talking about those plastic 1970s and 80s dresser mirrors.
Can't let a good idea pass you by, so, I bought it, removed the mirror and painted it to look like a tombstone. And an obsession was born! These mirrors make the BEST tombstones because they are tall enough for an adult to hide behind (mwahaha!) and they usually have details that make them look so real, people will wonder if they are!
Recently, I found the mirror above at thrift store (on sale for $15)and knew I had to do a tutorial on how to make a tombstone!
How to make a tombstone prop from a vintage mirror
Supplies:
primer
grey exterior paint
white craft paint
sand
paint brushes
caulk
paper towels
painters tape
sponges
2- 1 inch by 2 feet pvc pipes
2 pvc caps
rebar
glue
sand paper
1/8" thick plywood
screws
spray paints in black, brown, moss green
Tools:
jigsaw
cordless drill
drill bits
clamps
mallet
tape measure
caulking gun
hack saw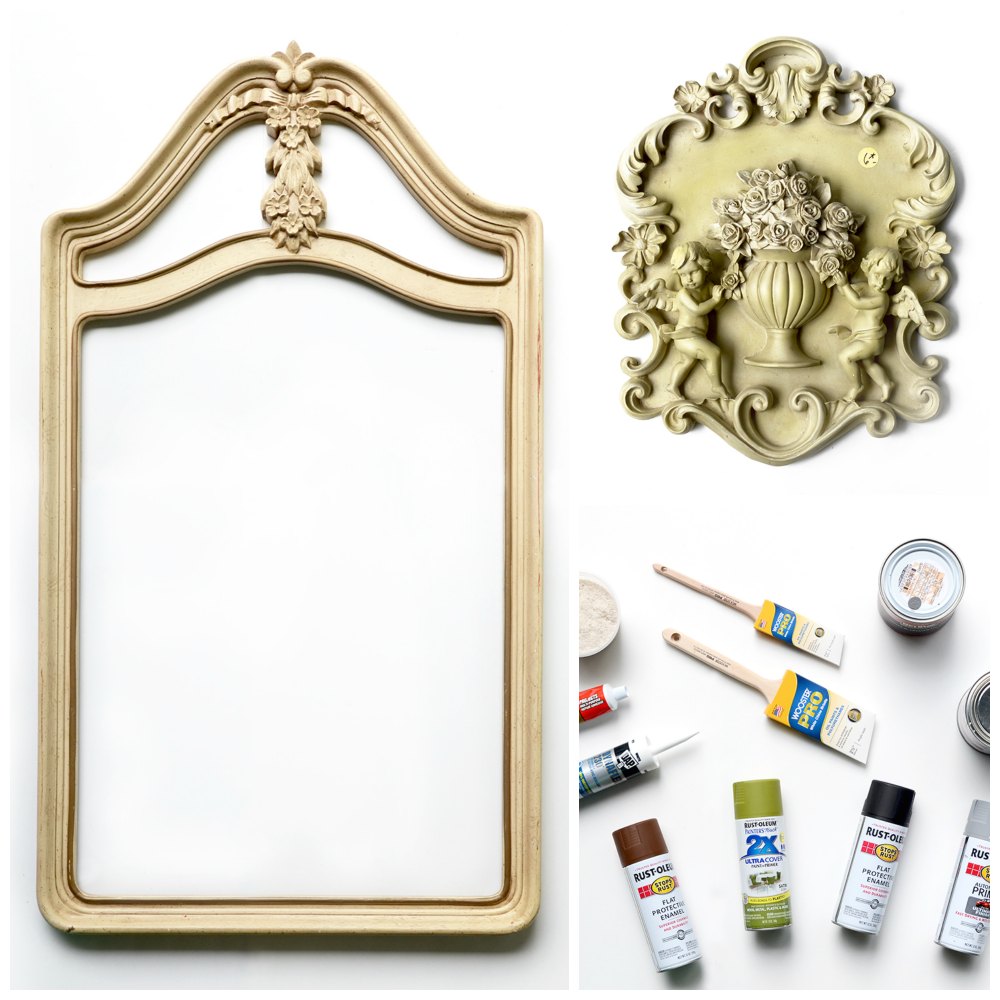 1) Shop for a vintage mirror, design elements and supplies.
2) Remove back from mirror frame, any mounting hardware and the mirror.
3) Place the frame on the plywood and trace the outline.
4) Repeat previous step with the mirror.
5) Cut out plywood pieces with a jigsaw.
6) Sand any rough edges on the plywood.
7) Glue plywood into mirror section following glue instructions and clamp down until completely dry.
8) Glue plywood back on, clamp and let dry.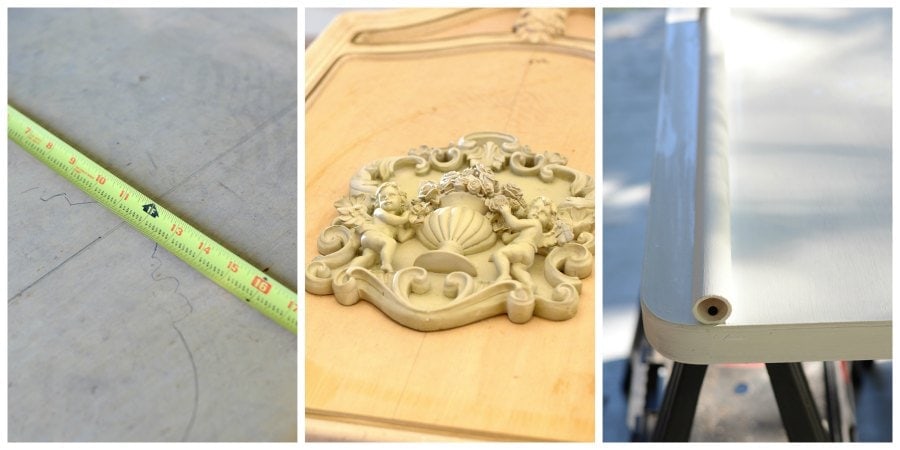 9) Measure the placement of any decor you wish to attach and attach it with glue.
10) Attach pvc to the back of tombstone by pre-drilling a hole diagonally into the pvc (top and bottom of each pipe) and mirror and then screwing through the pvc into the mirror frame.
11) Using a hacksaw, saw of about a ¼ inch of the caps and place caps on the top of pipes.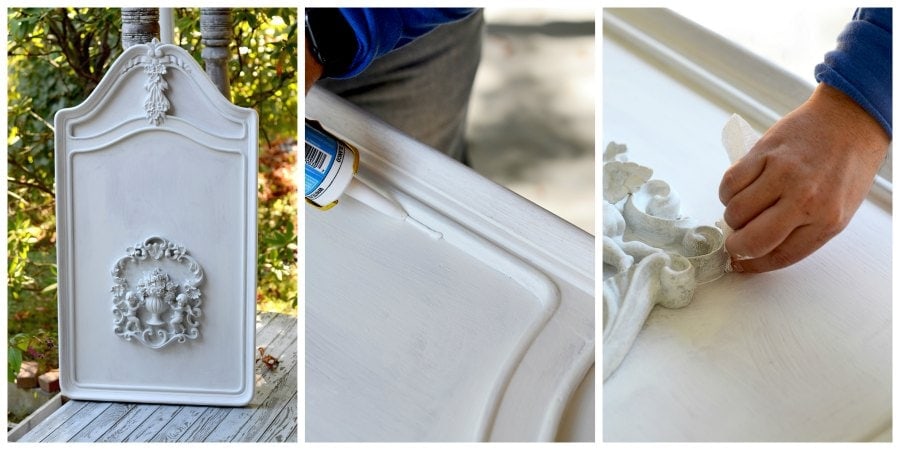 12) Once all the pieces are glued together, prime coat the entire tombstone.
13) Caulk any gaps, paying particular attention to plywood seams and around décor.
14) Smooth caulk with a wet paper towel and let dry.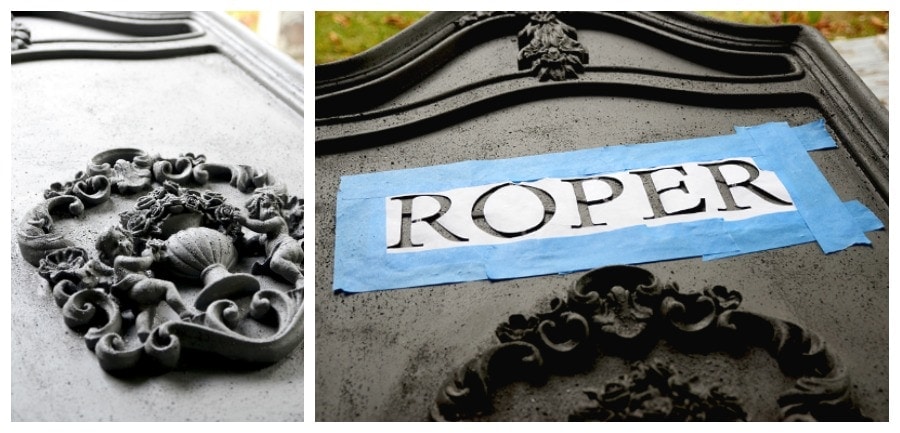 15) Paint each side with a top coat of grey paint.
16) In a small disposable container, mix together about a ½ cup of sand a cup of grey paint.
17) Use prepared paint to paint a second top coat on both sides of tombstone.
18) While paint dries, make a stencil for the name you wish to have on the tombstone.
19) Cut out stencil, making sure to leave connecting pieces for letters like o's and r's.
20) Tape down stencil and paint on name with black paint (I used black spray paint which I lightly sprayed onto a sponge)
21) Lightly spray indentations in the tombstone design with black paint.
22) Using a paintbrush or sponge, dry brush the tombstone with white paint.
23) Figure out which side of your tombstone will face north and spray some areas on that side lightly with green paint to mimic moss.
24) Lightly spray those same areas with brown paint.
25) If necessary, dry brush any over spray with white paint.
26) With a small brush, hand paint the letters with black paint and then go back and highlight it with white paint.
27) With a mallet, hammer rebar into the ground and slide tombstone over it.
Viola! Here is my pièce de résistance! Now that you've learned how to make a tombstone from a vintage mirror, I'd love to see yours! Upload a picture to Instagram and tag me @vintagekittyblog
You might also like: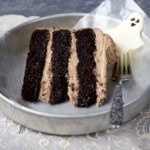 Dancing Ghosts Chocolate Coconut Cake
Mocha coconut buttercream tops layers of rich, fudgy chocolate coconut cake. Hauntingly delicious!
Hickory Marshmallow S'mores
Made from scratch with artisan hickory syrup and whiskey, fine chocolate has met it's match with these fluffy confections.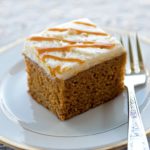 Pumpkin Spice Beer Cake
This cake takes the fuss out of making a cake from scratch. In about an hour you can put together this delicious dessert.