This crock-pot Pumpkin Chicken Chili recipe is spicy, hearty and extra delicious. Making dinner from scratch just got easier!
---
Pumpkin adds a natural sweetness that counterbalances the spiciness of this Pumpkin Chicken Chili. It's a stew full of healthy vegetables, lean proteins and an abundance of flavor.

We're at the tail end of the growing season here. In fact, last night we had our first frost warning, so I was out at midnight picking vegetables by flashlight. Yeah, I'm a little crazy like that. Luckily, the plants survived the night, but any day now mother nature will take out my beautiful little plants.
Until then I've got fresh tomatoes and fresh peppers on hand. Perfect for making chili. But it's also pumpkin season and pumpkin is great in chili too! It adds a nice, natural sweetness that counterbalances the heat of the jalapenos. But it also adds body to the broth as it breaks down.
Then there are the awesome nutritional benefits of pumpkin. It's loaded with vitamin A, beta-carotene, potassium and many more nutrients. And tons of fiber which I recently talked about in my post on Pumpkin Spice Dog Treats.
Since it's so healthy, its a no-brainer to eat your fill of pumpkin during the fall season. Maybe that's what Kevin had in mind when he came home with a HUGE pumpkin on a recent grocery run. I'm not quite sure what he was thinking since there are only two of us, but I'm not letting it go to waste.
After sending some to the neighbors, I made pumpkin granola, this chili and tonight we had pumpkin fried rice for dinner… and there's still about 5 quarts left. Geesh!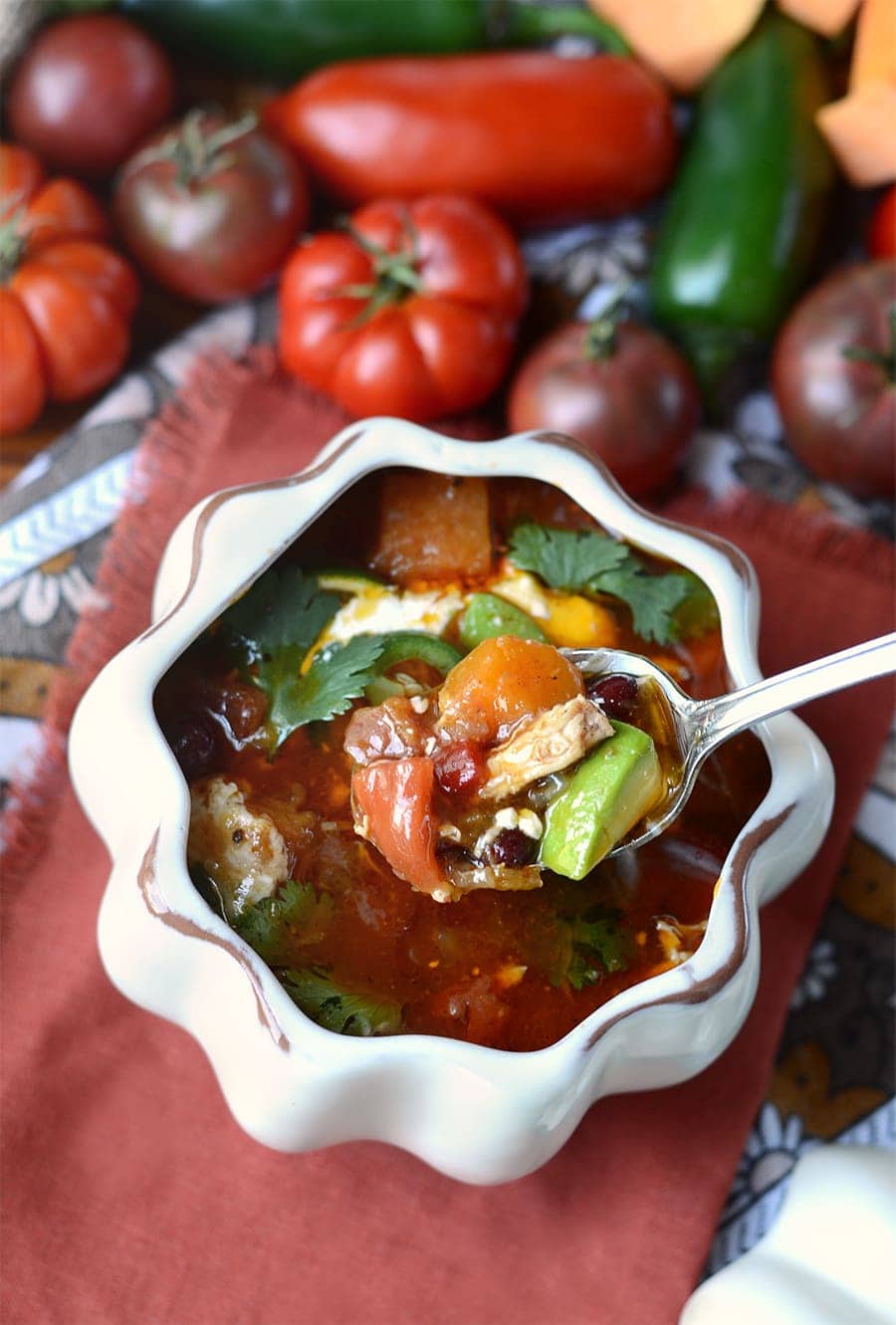 It's a good thing I LOVE this chili. With all the pumpkin in the fridge and the tomatoes and peppers I picked last night, guess I'll be making another batch of this Pumpkin Chicken Chili for the freezer.
Since this is a crock-pot recipe that's really no problem. I can go about my day while the soup simmers and fills the house with enticing, savory smells. And boy are things busy with Halloween right around the corner. I've got tons of decorating to do, so it's nice to not have to watch the stove.
When it's all done, you end up with this warming, colorful soup. It's spicy, rich, and so hearty because of the kidney beans and large pieces of chicken. Just the thing for chilly fall nights. That's why I'm planning to serve it next time we light up the fire pit. We'll sit around the fire with some friends, have some chili and cocktails and hopefully get to enjoy our Halloween graveyard. Fun times!
Crockpot Pumpkin Chicken Chili
This is my favorite fall chili. Not only is it easy on the calories, but the pumpkin and spices give this chicken chili a robust flavor balanced between sweet and spicy.
Print
Pin
Rate
Ingredients
Pumpkin chicken chili:
1

tablespoon

olive oil

3½

cups

onion

, diced

6

cloves

garlic

, thinly sliced

4

cups

pumpkin

, cubed

2

cups

tomatoes

, seeded and diced

2

cups

red bell pepper

, diced

1 1/2

cups

jalapeno

, coarsely chopped

15

ounce can

kidney beans

6

skinless, bone-in chicken thighs

2

tablespoons

ancho chili powder

2

teaspoons

cumin

2

teaspoons

paprika

2

teaspoons

oregano

1

tablespoon

sea salt

1

teaspoon

black pepper

4

cups

chicken stock

or water
Optional garnish:
sour cream

cheddar

cilantro

avocado

limes
Instructions
In a skillet, heat up olive oil on medium.

Add onions and garlic and saute until golden brown.

Transfer onions and garlic to crock-pot and add the rest of the ingredients.

Cook on low until chicken thighs reach 165F on an instant read thermometer (about 5-6 hours).

Remove thighs and a couple cups of the vegetables.

Turn up crock pot to high and cook until tomatoes and pumpkin have mostly broken down (about 2 more hours).

Meanwhile, using forks, pull chicken from the bone and shred it.

Once the soup is done cooking, use a wooden spoon or a potato masher to mash some of the vegetables and beans. This will make the soup thicker.

Add back in chicken and reserved veggies and cook until they are reheated.

Serve with garnish if desired.
Notes
I'm finding the calorie calculators are extremely off for this recipe, so I went to supertracker.usda.gov/myrecipe.aspx to manually get the calorie count. This recipe makes a GALLON of chili which I broke down into 8 portions. So, with a 2 cup bowl of soup it's only 256 calories without garnish. It's packed full of vegetables so super good for you! Add a tablespoon of each garnish and you add just 86 calories. That's a total of 342 calories.
The spiciness of peppers vary and soups have a tendency to change flavors the longer the flavors are left to mingle. At first this soup is quite spicy but once it sits in the fridge overnight, the heat mellows quite a bit. If you are serving this straight out of the crockpot for dinner, have some sour cream or avocado on hand just in case.
Nutrition
Calories:
298
kcal
|
Carbohydrates:
34
g
|
Protein:
25
g
|
Fat:
7
g
|
Saturated Fat:
2
g
|
Cholesterol:
76
mg
|
Sodium:
1155
mg
|
Potassium:
1110
mg
|
Fiber:
8
g
|
Sugar:
10
g
|
Vitamin A:
7469
IU
|
Vitamin C:
85
mg
|
Calcium:
85
mg
|
Iron:
4
mg
Tried this recipe?
Let us know how it turned out for you! Scroll down to leave a comment below.
You might also like: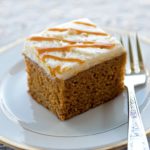 Pumpkin Spice Beer Cake
This cake takes the fuss out of making a cake from scratch. In about an hour you can put together this delicious dessert.
Thai Pumpkin Corn Soup
This creamy and satisfying Thai Pumpkin Corn Soup recipe combines a bounty of fresh vegetables and can be adjusted to accommodate omnivore, vegetarian and vegan diets.
Hickory Marshmallow S'mores
Made from scratch with artisan hickory syrup and whiskey, fine chocolate has met it's match with these fluffy confections.