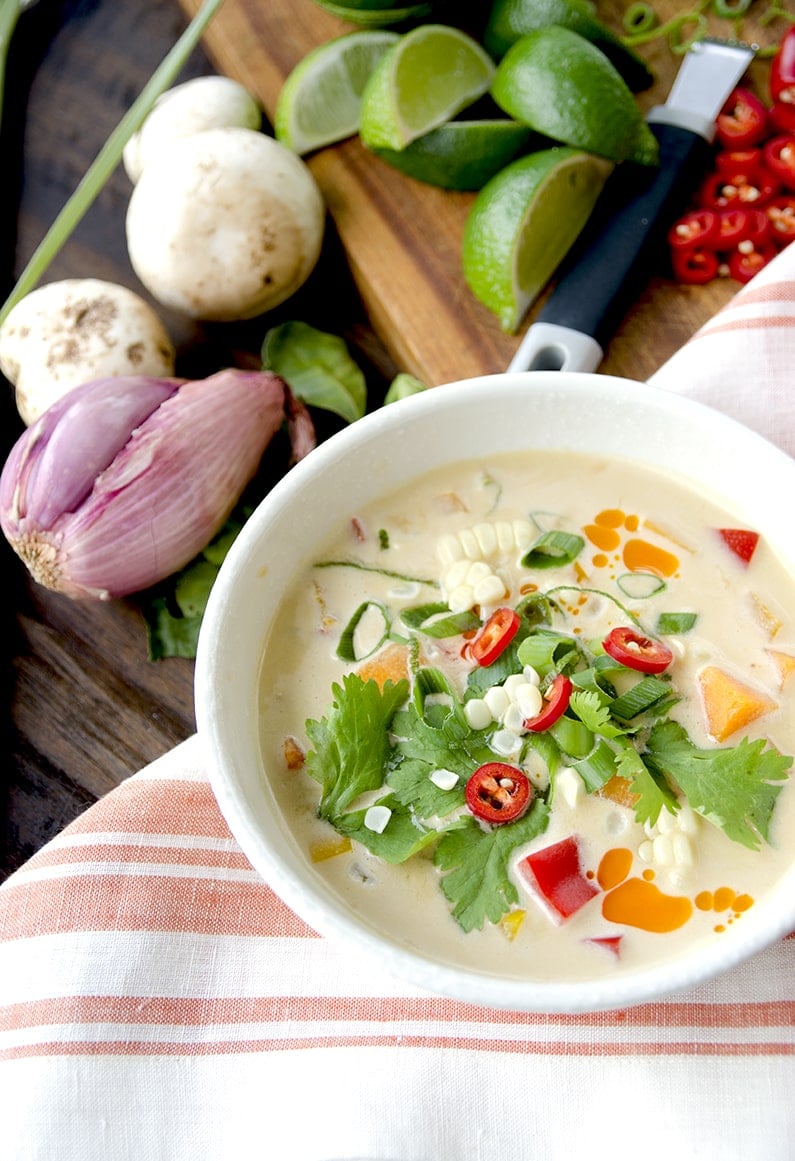 This creamy and satisfying Thai Pumpkin Corn Soup recipe combines a bounty of fresh vegetables and can be adjusted to accommodate omnivore, vegetarian and vegan diets. It starts with an aromatic broth base flavored with Thai cooking staples: galangal, lemongrass and kaffir lime leaves and is finished table-side with fresh garnishes so it can be tailored to individual tastes.
---
What I love about fall is the availability of fresh veggies. You can still find many summer veggies like corn on the cob but winter squash abounds . Summer herbs are enjoying the dry, hot Indian summer days and my yard is bright with peppers, both sweet and spicy. It's a perfect time to make a vegetable soup.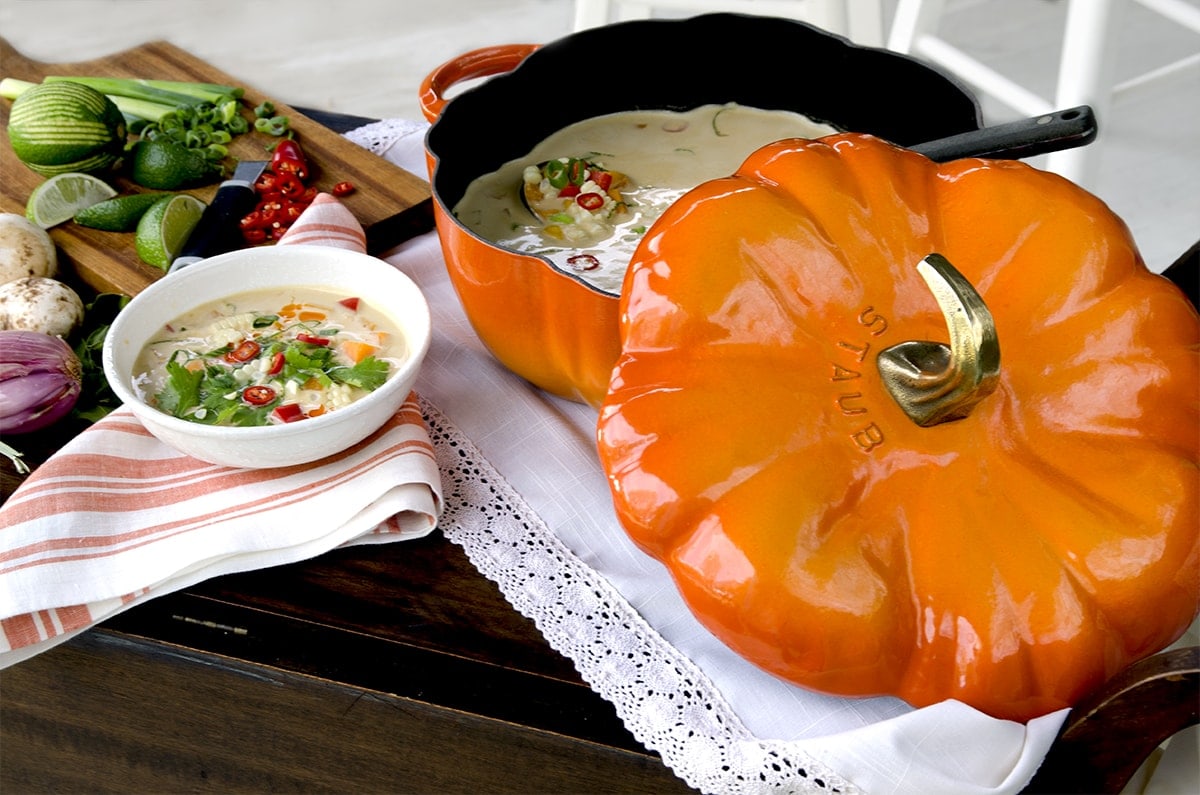 Corn chowder is one of my favorites, but I've been on a coconut kick and decided a spicy Thai inspired soup would be a great way to combine all the veggies I had on hand. If you've ever had Tom Kha Gai, you know how velvety and complex a Thai coconut soup can be. Spicy, sweet, rich and hearty, its all in there.
Because I wanted to make this Thai Pumpkin Corn Soup into a dish my many vegetarian friends would enjoy, I decided to skip the chicken broth and upped the aromatics. Since I had to skip the fish sauce, I shopped around for a substitute. For the first batch I just used soy sauce but I wanted that slightly funky flavor that fish sauce provides. I discovered a soybean sauce called Golden Mountain Seasoning Sauce which had the salty, pungent flavor I was looking for.
But like I said earlier, this Thai Pumpkin Corn Soup can be customized. If you are a meat eater, use chicken stock in the broth and add a bit of cooked chicken or shrimp to the soup. For vegans and vegetarians, if you are eating this as your main dish, you can add tofu to the soup for protein. Hate cilantro? This soup is fantastic with Thai basil!
But as a meat-eater, I will say that this recipe is satisfying as is due to the coconut milk which is rich and filling. It would be perfect as a holiday appetizer or as a casual main course. And its a soup, so its freezable for easy, fast meals, whether its a weeknight or you need to serve up a quick lunch to your overnight holiday guests.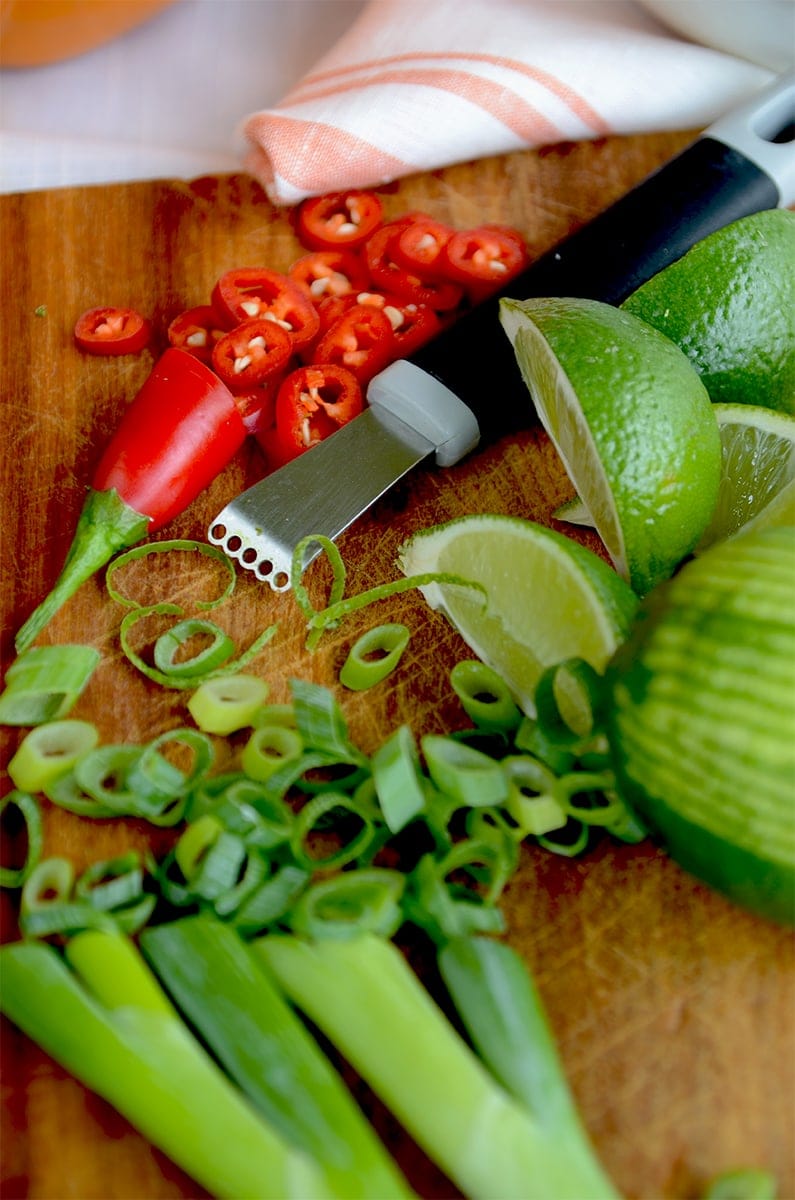 When serving this Thai Pumpkin Corn Soup, set out a condiment tray with cilantro, Thai basil, chili oil, lime wedges, scallions, sliced hot peppers, soy sauce, fish sauce and soybean sauce. Everyone likes a make-your-own option because no one wants to be a bother to the host. Some people hate onions, others don't like too much spice and everyone gets just what they like!
You can make your spread extra stylish by serving the soup in this Staub Pumpkin Enameled Cast Iron Pan. I got mine a few years ago at the Williams Sonoma Outlet and love how it goes from stove, to oven to table and how easily it cleans up. And its cute too! Beauty and function is always a win-win, right? That's why it keeps ending up on on our Halloween (a BIG deal here) and Thanksgiving buffets!
Shopping Tips
Asian/International markets have the best prices. Your average grocery store will mark up "exotic" ingredients like they are specialty items.
Get a good quality coconut milk that isn't watered down. You can tell this by the amount of calories listed on the nutrition label. I used a coconut milk with 150 calories in a 1/3 cup serving. If you are watching your weight/calorie intake, you can use less coconut milk and replace the rest of the liquid with stock or water, but don't pay for added water!
I used a HUGE crookneck type of butternut squash. It cuts down the prep time because it has less seeds and more flesh. In a hurry? Buy pre-cut butternut squash.
Galangal (sometimes called Thai ginger) is similar to ginger and can be found in many international grocery stores, either fresh or frozen. If you cannot find it, substitute fresh ginger.
Lemongrass is a long stalk and is being carried in many grocery stores now, but I find the prices are better in International or Asian markets.
If you can't find fresh corn, use frozen.
Kaffir lime leaves can be found fresh, frozen or dried like a bay leaf. If you can't find them, saute strips of lime zest with the pumpkin and peppers.
Check labels to make sure that MSG has not been added to items like soy sauce and fish sauce!
Thai Pumpkin Corn Soup
This soup can be customized. If you are a meat eater, use chicken stock in the broth and add a bit of cooked chicken or shrimp to the soup, if desired. For vegans and vegetarians, if you are eating this as your main dish, you can add tofu to the soup for protein. Hate cilantro? This soup is fantastic with Thai basil!
Print
Rate
Ingredients
Broth
8

cups

water

4

ears of corn *see note

20

leaves

kaffir lime

4

inch

lemongrass stalks

tops and bottoms removed and sliced into 1/2 rounds

8

inches

galangal root

sliced into thin rounds

1

large shallot

sliced

1

bunch scallions

divided, whites and light green chopped, tops sliced for garnish

1

leaves

bunch cilantro stems

reserved for garnish

1/2

pound

mushrooms
Soup
1-2

tsp

coconut oil

1

tsp

coconut palm sugar

2

cups

diced fresh pumpkin or butternut squash

2

cups

diced sweet peppers

2

dried Thai chili

2

cans coconut milk

2

TB

Golden Mountain Seasoning Sauce
Garnish
Cilantro

Sliced scallions

Sliced chiles

Thai basil

Chili oil

Lime wedges

Lime zest

Soy Sauce

Golden Mountain Seasoning Sauce

Fish Sauce
Instructions
In a large stock or dutch oven, bring water to a boil.

Add corn and cook until water reaches a rolling boil.

Remove corn and set aside.

Add galangal, shallot, kaffir leaves, lemongrass, scallions, cilantro stems, and mushrooms and bring to a boil.

Meanwhile, cut corn off the cob.

Scrape the cobs with a knife and reserve the milky corn.

In a blender or food processor, blend the corn cob scrapings, about a cup of corn and the coconut milk until very smooth.

By now your broth should be boiling. Reduce heat and let simmer, uncovered for an hour, or until aromatics are soft.

Strain broth and set aside.

Over medium heat, melt coconut oil.

Add coconut sugar and pumpkin and stir fry for 2-3 minutes, or until squash has darkened in color and begins to soften.

Add sweet peppers and cook 2 minutes.

Crush the dried chili and add it to the pan.

Add 4 cups of the broth to the pan.

Add in coconut milk and Golden Mountain Seasoning Sauce and cook until vegetables are soft.

Garnish and serve.
Notes
If corn on the cob is not in season, replace with 2 cups frozen corn.
If you have trouble finding Kaffir lime leaves, omit them. Substitute 8 large lime zest strips (with pith removed) and saute them with the pumpkin and peppers. Remove before serving.
Tried this recipe?
Let us know how it turned out for you! Scroll down to leave a comment below.
You can save this recipe to Yummly by using the Yum button below. It's a great way to save all your recipes in one place, including your personal recipes and ones from other blogs. It's also a helpful tool because you can look for your favorite Vintage Kitty recipe by going directly to our Yummly publisher page.
You might also like: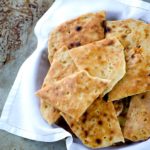 Naan with Candied Carrots, Cashews and Coconut
This naan recipe will surprise and delight guests with its sweet taste and tender crust.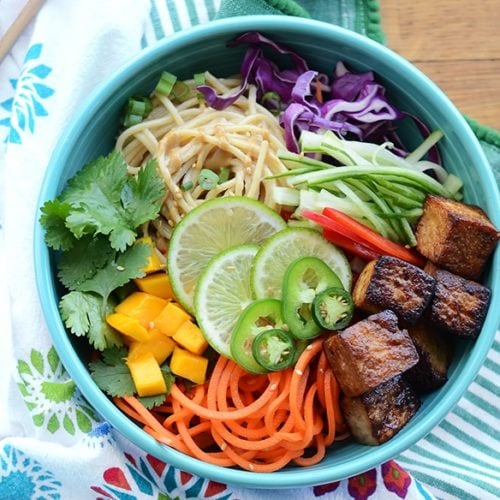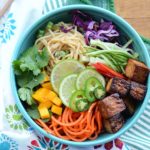 Sesame Cashew Noodle Salad Bowls
Sesame Cashew Noodle Salad Bowls are just the thing for hot summer mealtimes. They are loaded with a rainbow of colorful fruits and vegetables.
Spicy Thai Basil Cucumber Cocktail
With hot peppers and savory Thai basil, this drink is cool and refreshing, with a nice, slow jalapeno burn at the finish.