Making chicken stock from scratch is easy with this oven roasted method! Learn how to get a rich broth, the best cuts of meat to buy and what you should (and shouldn't) put in your stock!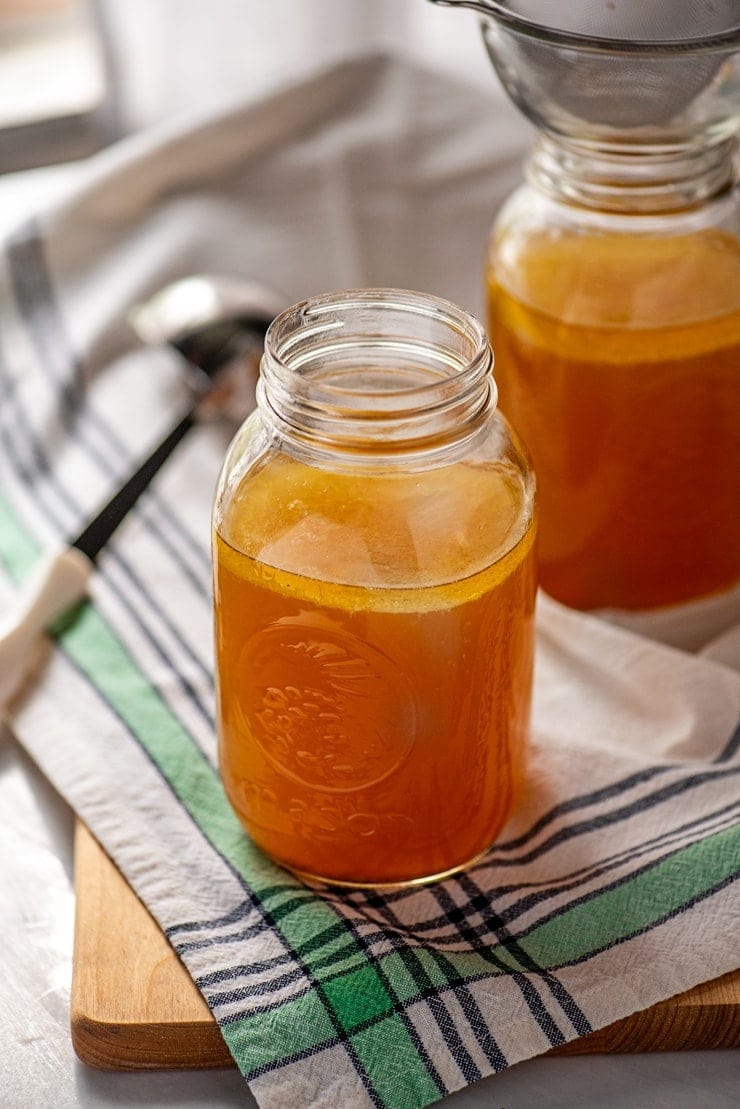 Making chicken stock from scratch is a very vintage concept. It's that waste not, want not approach to cooking that aims to make use of the whole vegetable or chicken. Restaurants regularly practice this concept, and it's important to adopt this mindset in the home kitchen as well.
There are many ways to make chicken stock. You can make it on the stove top or in a pressure cooker, or you can simply roast your chicken stock! Today, we're going to talk about the latter approach.
Starting from scratch
If you already have chicken (or turkey bones), you can skip this step. But sometimes you may need a rich broth but not have the scraps to make one. In this case, I typically use the cheapest chicken I can find. That may be chicken backs, necks, wings, legs or a whole chicken.
Recently, chicken leg quarters have been the easiest to find and the most economical. At $1.29 a pound, four legs will cost about five bucks. I gently roast the chicken before making stock and then save the meat for recipes like Mexican quinoa salad or lemon chicken noodle soup.
Why not throw in the whole piece of meat into the stock pot? Because it's a waste of money and chicken! By the time the stock is rich and flavorful, whatever meat that was attached to the bones will be dry and overcooked.
A better way is to roast the chicken pieces first and just use the leftover bones to make stock.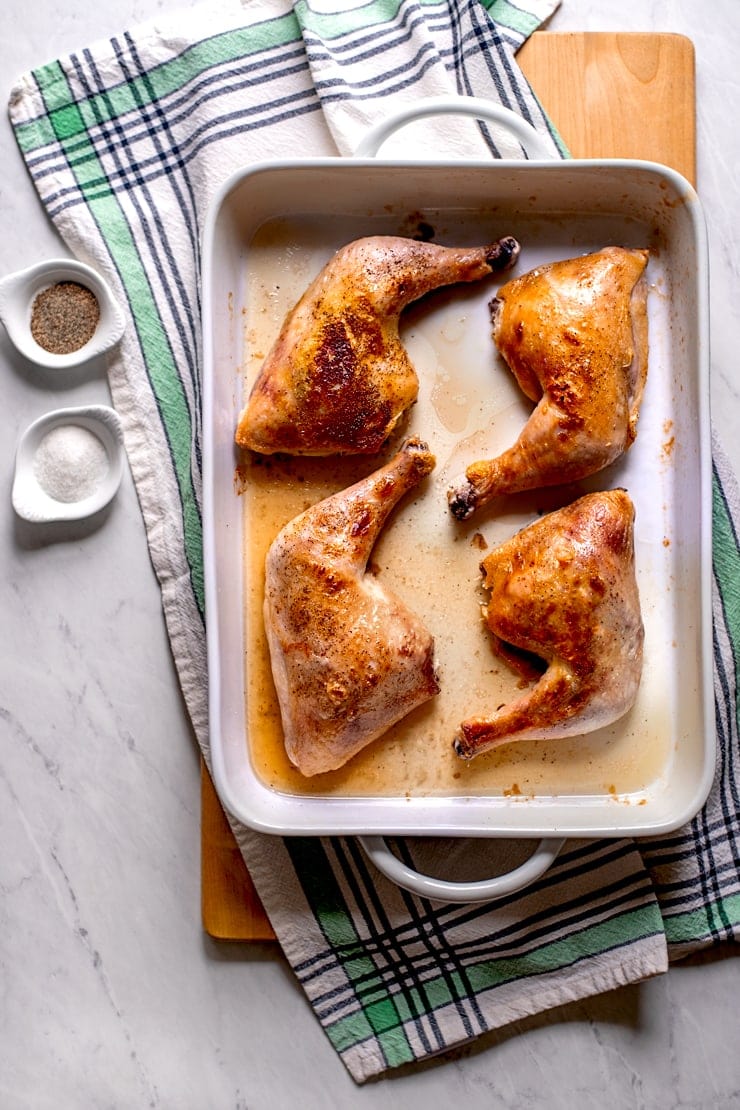 Roasting chicken stock
Next, the bones are loaded into a dutch oven with celery and carrots to make stock. This is the way I make my broth if I want to share it with my pets since onions and garlic are toxic to cats and dogs. Our border collie Pixel happens to be a very picky eater, so a little bone broth can entice her to eat her kibble!
If you don't want to share your homemade chicken broth with furbabies, add in an onion to the pot, cover with water and then roast for about 3-4 hours.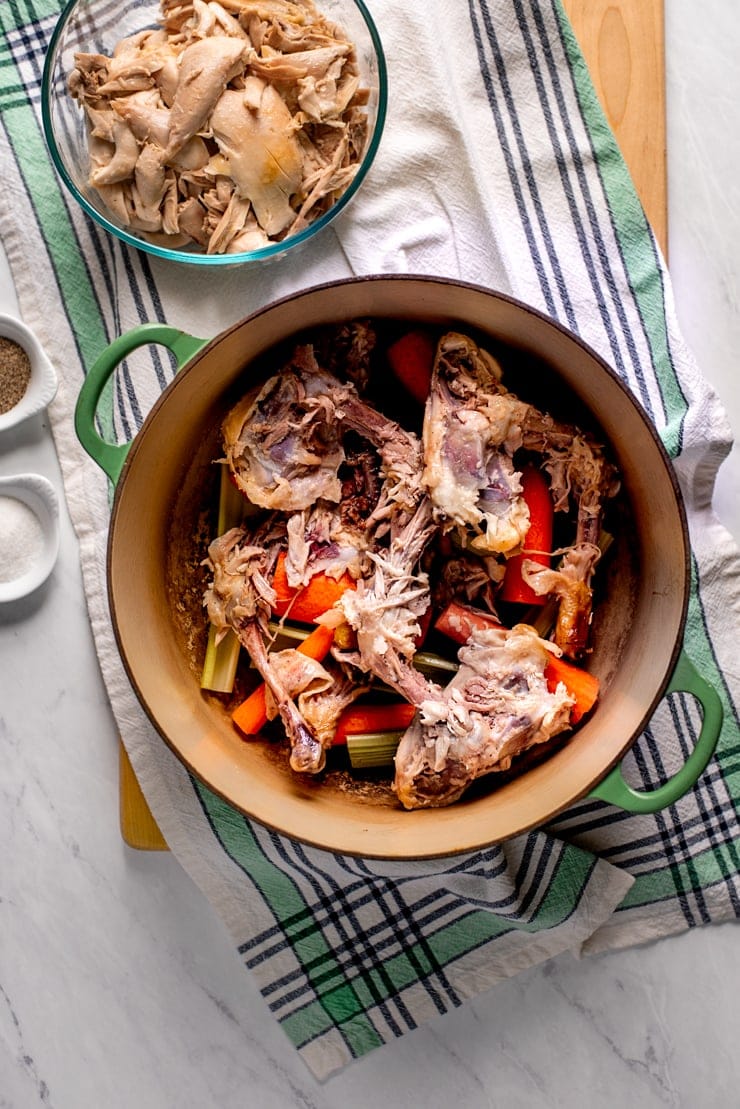 Unlike the stove top method, you don't have to worry about how much water is being lost. Keep it covered and monitor it about every 90 minutes to make sure it's gently simmering.
This is important because if you cook your bone broth too hard, the collagen will break down. Overcooking bone broth can also give it off flavors or make it go rancid. I roast my stock at 350F but oven temperatures can vary so adjust the temp as needed.
The stock is ready when the vegetables are very soft and the bones and cartilage have broken apart. It won't be pretty! You'll have a pot of mushy vegetables and fatty broth resembling evidence on an episode of Bones. But that icky pot holds delicious golden chicken stock!
To get a clear broth, strain the stock through a fine mesh sieve. If I've made the roasted chicken stock without onions and garlic I'll save the veggies for the dog, but otherwise I discard everything after I've pressed the liquid from the remaining meat and veggies.
I like to store my roasted chicken stock in mason jars, leaving head room in case I want to freeze the stock for later.
I also leave the fat in the broth. That fat layer keeps the stock from getting freezer burnt. But that fat is also yummy in soups giving them a more balanced flavor and making them more filling too!
If the recipe calls for a fat free broth, it's easiest to remove once the broth has chilled.
Tips for making chicken stock from scratch
Always save bones, necks and other poultry parts for soup! Keep them in a bag in the freezer until you're ready to make stock.
Also save herb stems and vegetable peels in the freezer. This is the most affordable way to make broth!
Only save bones and scraps that are in good condition. Onion peels that are moldy, vegetable ends that are starting to go, or bones on your dinner plate should be discarded for safety reasons.
Many ingredients can be used in a stock. Some of my favorites are parsley, cilantro, lovage, parsnips, onions, mushrooms, ginger, zucchini, bay leaves and peppercorns. But always think of the recipe you plan to make and whether the ingredients you're adding will add or detract from the final dish. For instance, ginger is great for Asian dishes but maybe not the best for tomato soup.
Ingredients to avoid are broccoli, cabbage, cauliflower, tomatoes, potatoes, sweet potatoes, citrus, bitter greens, and organ meat. These ingredients can make your broth bitter, sour, acidic and cloudy.
When in doubt, stick to a mirepoix and bones which will make a clean flavored broth that will go with any recipe.
Don't overcook your broth. Too long, and the flavor can get sour or go rancid. I've had this happen using a slow cooker that was too hot. Very sad to throw out a whole pot of stock!
Always leave the fat in the chicken stock. It creates a protective barrier that will keep your broth fresh. If you want to remove it, do so when you're ready to use the stock in a recipe.
Use a canning funnel to avoid spilling. It also holds the sieve for easy straining!
Roasted Chicken Stock Recipe
There are many ways to make chicken stock, but this easy roasting method is one of my favorites because it's more hands off. Plus the stock comes out of the oven richer in flavor and color!
Print
Rate
Ingredients
Roasted Chicken Thighs
4

chicken leg quarters

cooking oil

salt and pepper
Chicken Stock
chicken bones

4

carrots

4

celery ribs
Optional additions
herbs

onions

bay leaves

parsnips

lovage

black peppercorns

zucchini
Instructions
Roasted Chicken Thighs
Preheat oven to 350F and lightly oil a large lasagna or roasting pan.

Place the chicken leg quarters in the pan, then baste with a small amount of oil and sprinkle with salt and pepper.

Roast chicken until it reaches 160F, about 40-50 minutes.

Let meat rest until its cool enough to handle, then pull meat and skin off and refrigerate for other recipes.
Roasted Chicken Stock
Place the bones and any drippings into a large dutch oven or roasting pan. Add carrots, celery and any other ingredients you'd like. Cover with water, leaving at least 2 inches at the top so it doesn't boil over or spill when you move it!

Roast covered 3-4 hours until the bones are breaking apart and the veggies are very cooked.

Strain broth through a fine mesh sieve and place in heat proof containers, such as mason jars.

Refrigerate up to a week or freeze up to 6 months.
Notes
For this recipe I did not add onions because I frequently add broth to our pets' food.
Instead of fresh veggies or bones, you can save herb stems, chicken necks, vegetable scraps and onion peels when you're cooking dinner and place them in a bag in your freezer. When the bag is full, it's time to make stock!
When I roast chicken for stock, I save the chicken skin for chicken skin cracklings. They are great in place of croutons in salads!
The "leftover" meat can be used in chicken enchiladas, cottage pie or used in soups!
For reference I used a 5 quart Dutch oven, which yields between 6-8 cups of broth.
Nutrition
Calories:
171
kcal
|
Carbohydrates:
3
g
|
Protein:
12
g
|
Fat:
12
g
|
Saturated Fat:
3
g
|
Cholesterol:
71
mg
|
Sodium:
78
mg
|
Potassium:
251
mg
|
Fiber:
1
g
|
Sugar:
1
g
|
Vitamin A:
5161
IU
|
Vitamin C:
2
mg
|
Calcium:
16
mg
|
Iron:
1
mg
Tried this recipe?
Let us know how it turned out for you! Scroll down to leave a comment below.
Love this chicken stock? Check out all our recipes!
You might also like:
Vegetable Soup
This roasted vegetable soup is abundant with fresh vegetables that are caramelized in the oven for a robust flavor. Perfect for soup season!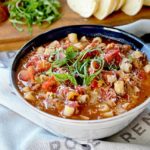 Pizza Soup with Peppers, Italian Sausage and Spices
Pizza Soup is a hearty, robust tomato soup filled with Italian flavors and ingredients. It's supremely delicious and can be served as an appetizer or as an entree with a side salad or grilled cheese sandwich.
Sausage Kale Soup
Sausage Kale Soup with Heirloom Carrots is an easy 30 minute meal that's comforting and delicious. Plus get our tips on how to make the recipe your own!