This refreshing Skinny Iced Tea Cocktail clocks in at just 140 calories! Make it with your favorite tea.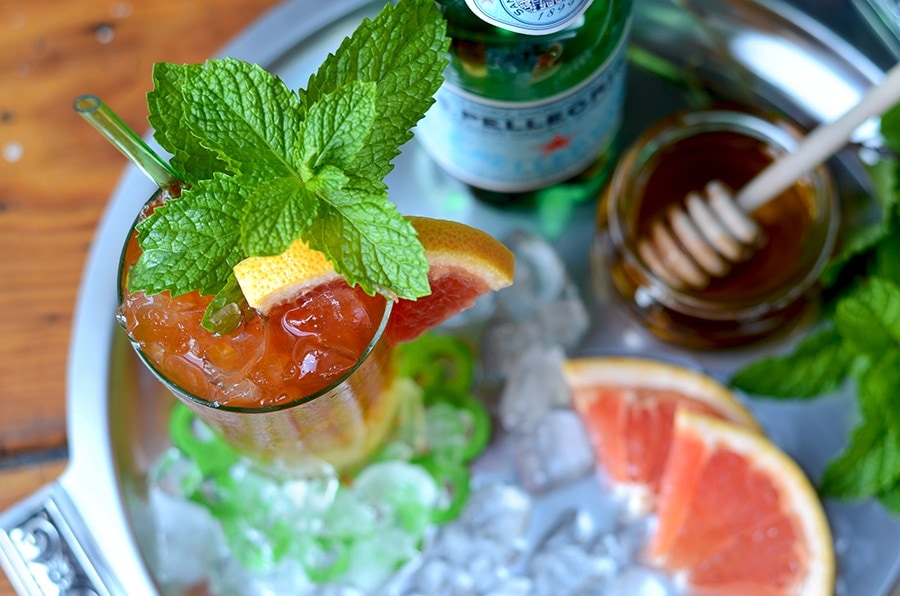 Commercial iced tea vodka is loaded with sugar, but you can make your own for this Skinny Iced Tea Cocktail and save your waist line. Very easy and delicious too!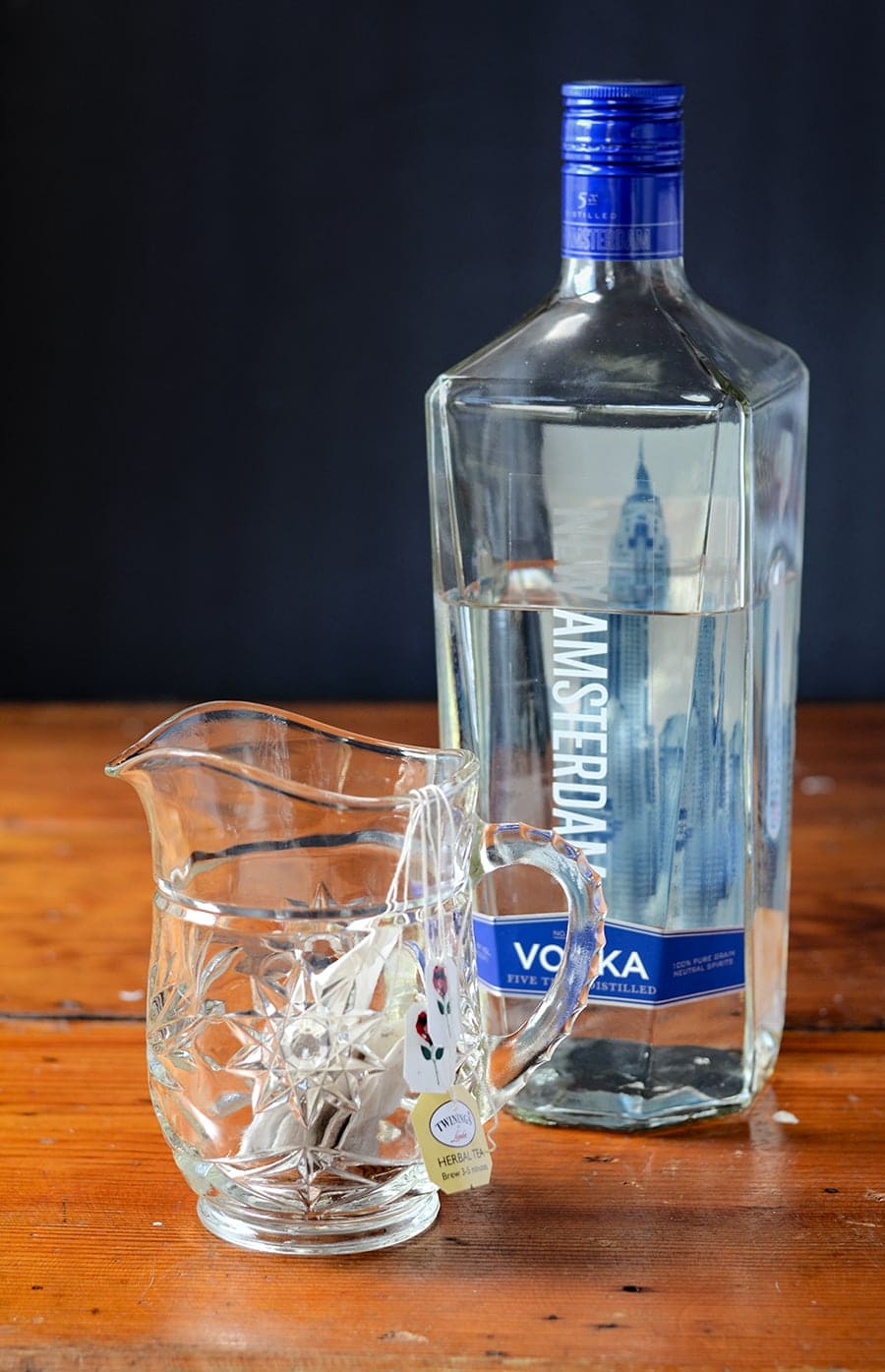 I've never spoken about it here on the blog, but I have Hashimoto's and Graves' Disease. If you don't know about these two conditions, I'll give you the briefest run-down. They are both autoimmune diseases that affect the thyroid. Hashi's tends to slow down your metabolism while Graves speeds it up.
I take medicines to manage things, but its a lot of ups and downs on the scale. While I love the months that pounds just fall off effortlessly, there are also times that I look at food and gain weight. So recently, despite lots of exercise and eating normally, I recently packed on about 10 pounds in addition to the bit I gained on a series of vacations.
To compensate, I've been trying to eat smarter and make compromises without making life no fun.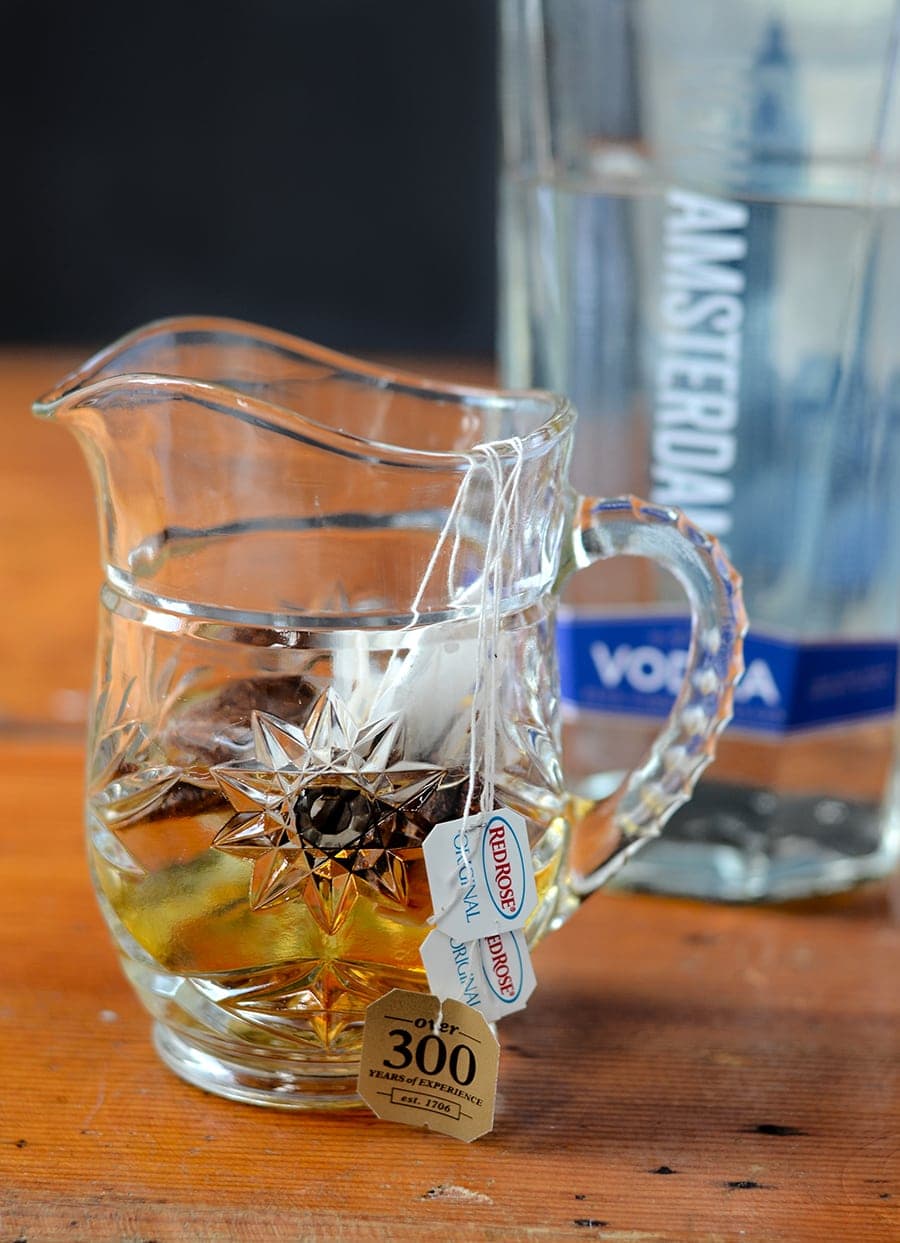 Vodka sodas get really boring really fast so I decided to change it up and make a vodka tea and soda. If you want to watch the calories, you can't use the sweet tea stuff you find at the liquor store. Most brands are super duper sweet.
But you can make your own unsweetened tea vodka. All you need are tea bags or loose leaf tea and decent vodka (seriously don't break the bank but don't get the cheapest thing you can find either). I tried this with about 6 different types of tea and they were all good. So if you want to do herbal, green, black, they all work nicely.
My favorite was Rooibos Tropica from Teavana with Harney and Sons Chamomile and Lavender coming in at a close second. This batch is a half and half blend of Twining's Rooibos and Red Rose Original.
I found that 4 hours is about how long it takes to cold brew the tea in vodka, and too much more than that will make an overly strong concoction. Black tea or tea with spices tended to be stronger, while the herbal varieties were more delicate. So if you want to make a large quantity of tea vodka, do a small test batch first to test your brand of tea's potency.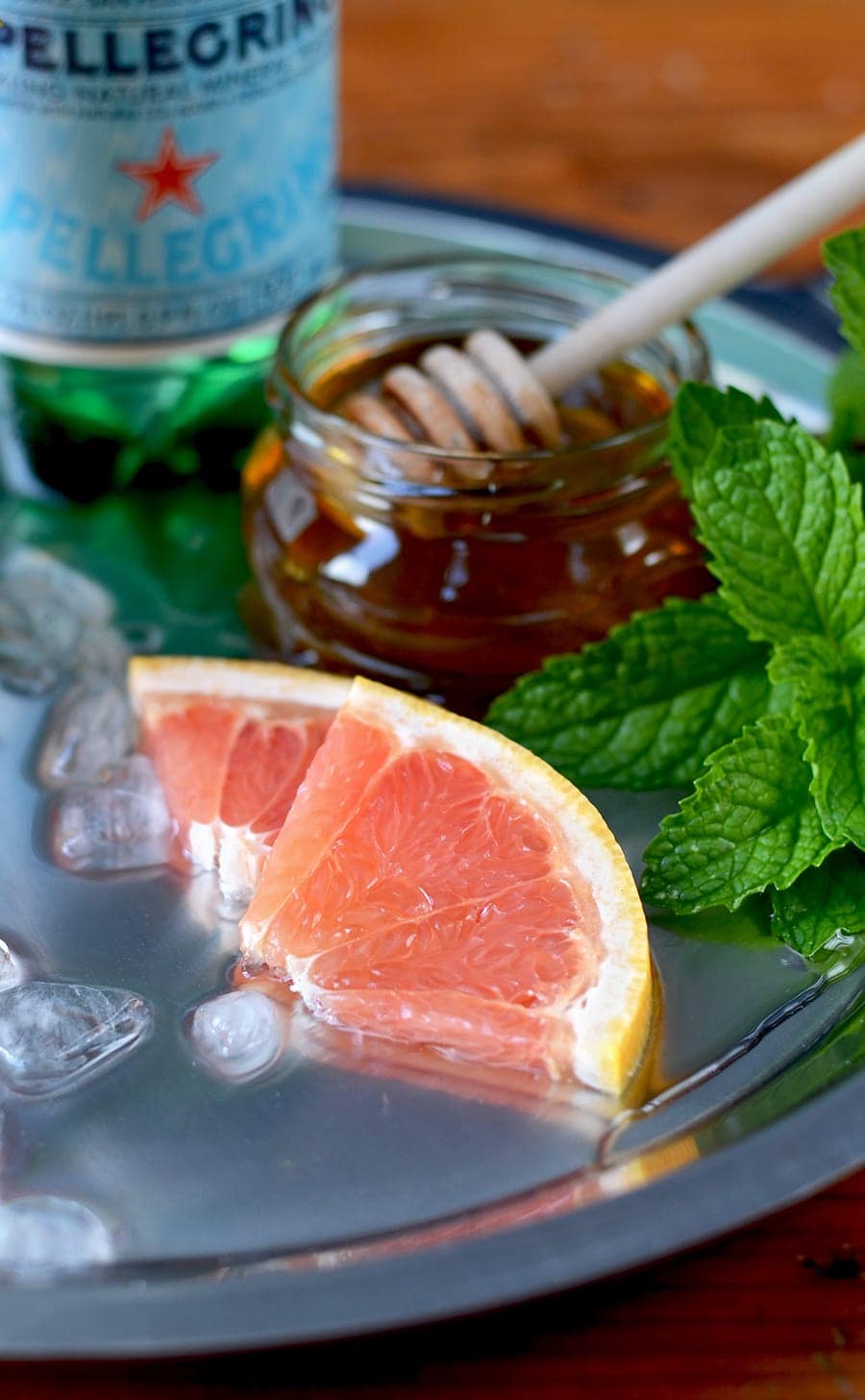 Now, I've never been into unsweetened tea, so I add a couple teaspoons of honey to my drink. You have to mix the honey and tea vodka first then you top it off with ice (I like mine crushed because I have the bad habit of eating the ice and I'm trying not to crack all my teeth).
The last ingredient is fizzy water. If you want to you can add a wedge of citrus or a sprig of mint, but really there are just 4 ingredients total: tea leaves, vodka, honey and seltzer.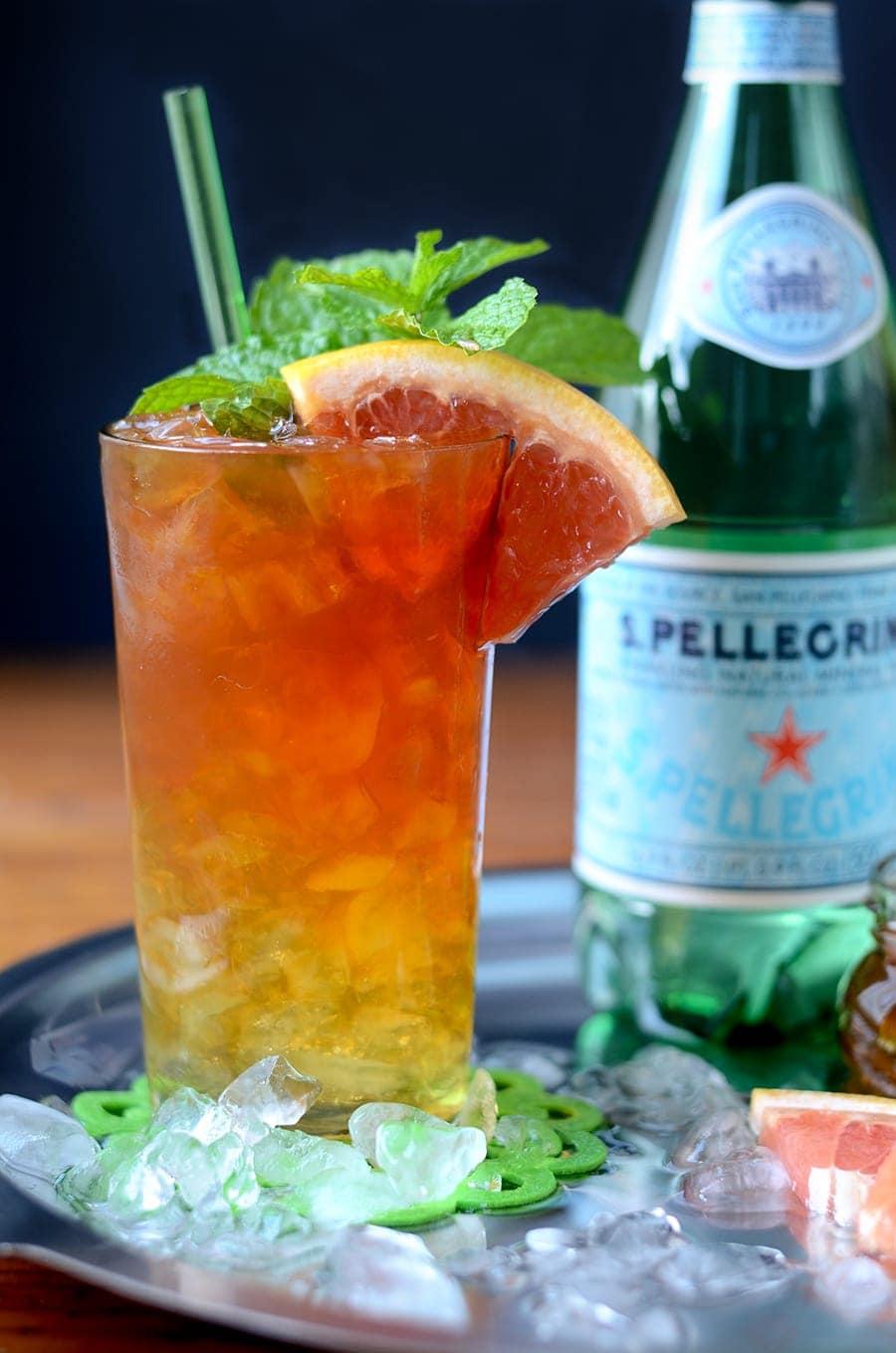 It's refreshing, bubbly and with so many teas to choose from, it doesn't get boring like a vodka soda. And with a nice, smooth vodka, it's just like drinking iced tea. I also love that I can enjoy some wind down time without worrying about the calories.
Do you have a favorite tea? Give it a try and let me know how it goes!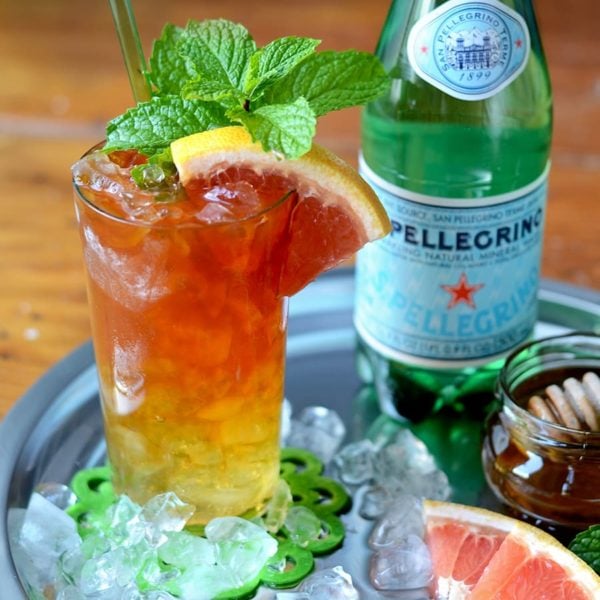 Skinny Iced Tea Cocktail
Stronger teas (black tea, ones with spices) might take less time to brew, so check on your tea vodka periodically as it steeps.
Print
Rate
Ingredients
Unsweetened Tea Vodka
2

TB

loose leaf tea

1

cup

vodka
Skinny Iced Tea Cocktail
1.5

oz

unsweetened tea vodka

(recipe follows)

2

tsp

honey

soda water
Instructions
Unsweetened Tea Vodka
Combine tea and vodka in a jar or pitcher and stir.

Cover and let steep 3-4 hours

Strain through a coffee filter and place in an airtight container.
Skinny Iced Tea Cocktail
In a 12oz glass combine honey and tea vodka and stir until honey dissolves.

Fill glass with ice and top with soda water.
Notes
If your tea vodka ends up being too strong, you can always "water" it down with a little plain vodka.
Nutrition
Calories:
695
kcal
|
Carbohydrates:
12
g
|
Protein:
1
g
|
Sodium:
4
mg
|
Sugar:
12
g
Tried this recipe?
Let us know how it turned out for you! Scroll down to leave a comment below.
Love a great drink? Make sure to check out all our cocktail recipes!
You might also like:
Orange Chai Iced Tea
Orange Chai Iced Tea will make your summer cool and sweet. There isn't a more classic way to relax with friends on a hot day.
Fall Cider Sangria
You will love this festive, sweet and fruity Fall Cider Sangria! It is elegant while still being fun.

Spicy Thai Basil Cucumber Cocktail
With hot peppers and savory Thai basil, this drink is cool and refreshing, with a nice, slow jalapeno burn at the finish.