These foodie Hickory Marshmallow S'mores with Lindt Chocolate are an exquisite #Choctoberfest treat. Made from scratch with artisan hickory syrup and whiskey, fine chocolate has met it's match with these fluffy confections. And not to be outdone, cute homemade graham crackers finish off the trio.
---
When I heard that Lindt Chocolate was a #Choctoberfest sponsor, I just knew that I'd have to make a fancy schmancy s'more! I love making marshmallows. It's not just that they are super easy to make. I like the reaction I get when people learn that the marshmallows are homemade. The response is normally, "you can make marshmallows?'


And then they eat one and realize what they have been missing! Store bought marshmallows are dry and flavorless, but fresh ones are soft and just heavenly! So when my neighbors came over tonight to try some, there were lots of oohs and ahs over these toasty puffs of yum.
Now I bet you're wondering how to get hickory flavor into a marshmallow…Years ago we discovered Falling Bark Farm's Hickory Syrup at a local festival. It's a sugary syrup that is infused with real hickory bark and this stuff is pure magic. It's like putting a campfire into a bottle. So, inspired to create a s'more worthy of Lindt Chocolate, I thought I should give a go at making hickory marshmallows. So we went to the festival to get more syrup.
But when we got there we found out they have a new, even fancier syrup. So you know George Washington, right? Well, like any good colonial entrepreneur, our first president had a distillery at Mount Vernon for whiskey. A very profitable one. And now his distillery is back up and running, making small batches of rye whiskey and brandies…in very small and expensive quantities.
Falling Bark Farm had the pleasure of making a special syrup for Mount Vernon and in exchange they got some of the whiskey barrels from Mount Vernon's Distillery. So the new hickory syrup is barrel aged in whiskey barrels…and its freaking ah-mazing! It's oaky, smokey and very distinctive. So I used this liquid gold and whiskey to make the marshmallows.
Both the kids and adults loved them, although there were differing opinions on the two batches I made. One with the plain hickory syrup and a little bit of whiskey and one batch with lots of whiskey and the barrel aged syrup. Some of us loved the barrel aged variety, some liked the regular. But if you're wondering, my fave was definitely the one with more whiskey!
Now I couldn't use packaged graham crackers for these high class s'mores! This awesome recipe is from Donna over at Cookistry and they worked out great. I used a cookie cutter with scalloped edges and pierced them with a heart. Truly baked with love!
We made a couple of trays of s'more fixings and included Lindt CLASSIC RECIPE milk chocolate and Lindt EXCELLENCE dark chocolate so everyone could choose their favorite type of chocolate. While I was snapping photos I kept hearing the word chocolate followed by mmmmmm, so I think Lindt really made everyone's day. My neighbor kid was so happy, he kept hugging me! An ordinary night, turned into a fun neighborhood social gathering all because of a roaring fire and some foodie s'mores! I'm loving my #bloglife.
DISCLAIMER: This post is sponsored by Lindt Chocolate. They sent me delicious chocolate to eat and and a gift card to pay for recipe ingredients. Lindt is also giving chocolate to the lucky winner of the #Choctoberfest giveaway. All opinions are my own. Thanks for supporting the brands that make Vintage Kitty possible!

Hickory Marshmallow S'mores with Lindt Chocolate
These s'mores are so deliciously foodie! Hickory syrup is the secret ingredient that can match fine Lindt chocolate.
Print
Rate
Ingredients
Marshmallows
2

envelopes gelatin

6

tablespoons

water

1½

cups

Imperial turbinado sugar

6

tablespoons

water

or whiskey

½

cup

plus 2 tablespoons hickory syrup

⅛

teaspoon

sea salt

2

teaspoons

whiskey

1

cup

confectioners sugar

Vegetable oil
S'mores
Lindt Chocolate

Hickory Marshmallows
Instructions
Hickory Marshmallows
Line an 8 inch square pan with parchment paper and then oil the paper.

In the bowl of a mixer with a whisk attachment, combine gelatin, 6 tablespoons of water and let bloom for at least 5 minutes

In a small, but deep sauce pan, combine turbinado sugar, 6 tablespoons water (or whiskey), hickory syrup and salt.

Attach a candy thermometer and melt sugar over medium heat, stirring often.

Once the sugar is melted, stop stirring and turn up the heat.

Boil until the mixture reaches 235F.

Turn off heat and add 2 teaspoons whiskey (mixture will boil up).

Turn on mixer on low and in a slow steady stream add sugar syrup to gelatin.

Turn up the mixer and beat the marshmallows for 15 minutes (mixture should double in size).

Immediately pour into prepared pan.

Cover and let set up for at least 3 hours, or overnight.

Turn out marshmallows onto a cutting board dusted in confectioners sugar.

Cut into squares. (You will have to clean your knife between cuts with hot water. Rinse dry, repeat for nice clean cuts).
S'mores
Create a tray of s'more ingredients so guests can make their own. Include a variety of Lindt chocolates, marshmallows and graham crackers.

Marshmallows should be lightly toasted as fresh marshmallows are soft and melt easily. Place a square of chocolate on a graham cracker and then place toasted marshmallow on top the chocolate. Use the top cracker to help remove the marshmallow from the roasting stick.
Notes
1/8 cup is equivalent to 2 tablespoons
Nutrition
Calories:
127
kcal
|
Carbohydrates:
31
g
|
Protein:
1
g
|
Fat:
1
g
|
Sodium:
20
mg
|
Potassium:
5
mg
|
Sugar:
31
g
|
Calcium:
2
mg
|
Iron:
1
mg
Tried this recipe?
Let us know how it turned out for you! Scroll down to leave a comment below.
You might also like: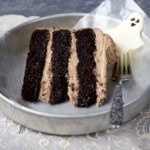 Dancing Ghosts Chocolate Coconut Cake
Mocha coconut buttercream tops layers of rich, fudgy chocolate coconut cake. Hauntingly delicious!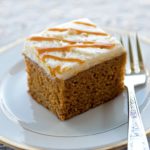 Pumpkin Spice Beer Cake
This cake takes the fuss out of making a cake from scratch. In about an hour you can put together this delicious dessert.
Fall Cider Sangria
You will love this festive, sweet and fruity Fall Cider Sangria! It is elegant while still being fun.
---