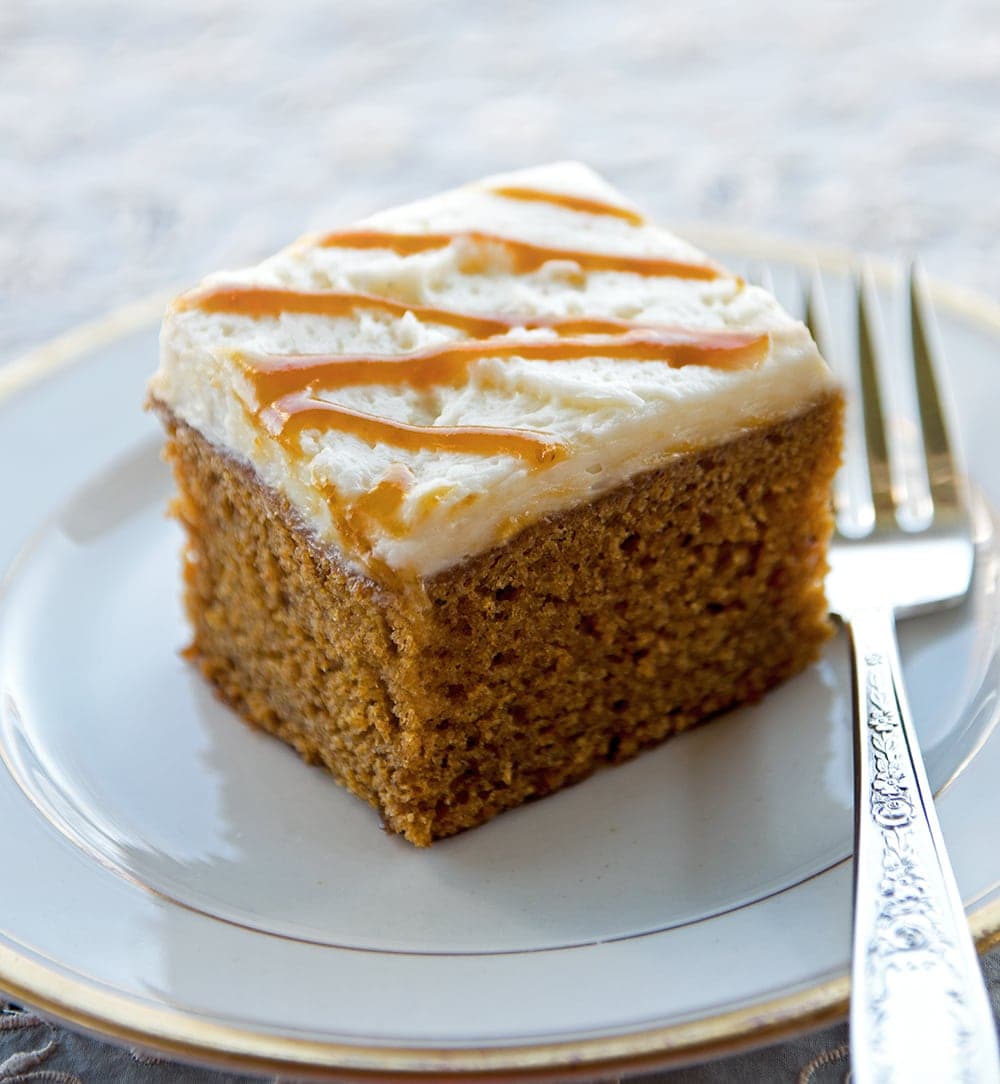 This Pumpkin Spice Beer Cake takes the fuss out of making a cake from scratch. In about an hour you can put together this delicious dessert, which features maple, orange, and PUMPKIN BEER!!!!
---
The holidays are busy, busy so I've been working on a scratch beer cake that is tasty and fast. No piping bags, no complicated decorations…just real ingredients. This is the kind of cake that you can make on a weeknight just because…but its good anytime.
Some of my favorite cakes are made with booze! Champagne, whiskey, stout beer… If I actually did a tally, I think the percentage of my boozy recipes would be a bit shocking. Alcohol adds gusto to foods, but when it comes to adding carbonated beverages to baking recipes, you are getting more than flavor. The carbonation helps your baked goods have a nice fluffy texture because all those bubbles add air to your batter.
Now, I must confess that I don't like beer…at all. Like really, I keep trying it but there is something about the aftertaste I can't get over. But beer in cake is the bees knees. The bitterness complements cake's sweetness and adds depth to the taste. And like previously stated, all those bubbles help the cake rise so nicely!
In this Pumpkin Spice Beer Cake I used Hardywood's Farmhouse Pumpkin Ale which is 8.5% alcohol by volume and 21 IBUs (the International Bittering Units scale for beer). There are many pumpkin ales on the market so I'm sure you can experiment with other beers but I would suggest trying to match the alcohol content and IBUs as closely as possible.
To highlight the pumpkin-y flavors of this ale, I used maple syrup, pumpkin pie spice, pumpkin puree and fresh orange zest to round out the flavors. Its baked in a simple 8 by 8 pan and then frosted with Easy Vanilla Buttercream right in the pan with an offset spatula. Easy peasy pumpkin squeezey…
To make it pretty, it's topped with a quick pumpkin caramel sauce. That might sound a bit fussy but let's break down the numbers here. The cake batter takes about 15 minutes to make. Then it goes into the oven for 40 minutes. During that time you make the buttercream (which takes about 20 minutes) and the caramel which comes together in about 10 minutes. So if you are me, you have about 10 minutes left to drink a glass of wine. Or if you are more organized than me, I guess you could load the dishwasher…but where's the fun in that?
You can serve this Pumpkin Spice Beer Cake like a sheet cake directly from the pan or cut them into squares like pumpkin bars. But no matter how your serve it, everyone one will love this moist, homey cake.
So kiss those fussy pants cakes goodbye and say hello to this boozy beauty of a beer cake!

Pumpkin Spice Beer Cake
The only thing stopping this cake from being ready in an hour is the cooling time. You must wait until the cake is cool to frost it... but in active minutes (the time you actually have to be making something) you can have this ready in an easy 60 minutes.
Print
Rate
Ingredients
Cake
1-3/4 plus 1/8

cups

all purpose flour

sifted

1/2

tsp

baking soda

1

tsp

baking powder

1/8

tsp

salt

2

tsp

pumpkin pie spice

Pinch finely ground black pepper

3

TB

coconut oil

, not melted

1/2

cup

dark brown sugar

1/2

cup

organic sugar

1/4

cup

maple syrup

preferably Grade A Dark Color, Robust Taste Maple Syrup

1

egg

room temperature

1/3

cup

pumpkin puree

Zest of an orange

3/4

cup

pumpkin beer

, room temperature
Caramel
1

cup

light brown sugar

1/2

cup

butter

1/4

cup

heavy cream

1/2

cup

pumpkin puree

Pinch salt

2

tsp

vanilla extract
Instructions
Cake
Preheat oven to 325F and line an 8 by 8 sheet baking pan with parchment paper.

Lightly oil the parchment paper.

Combine dry ingredients (flour, baking soda, baking powder, salt and spices) in a bowl and stir to combine.

In the bowl of an electric mixer, beat coconut oil until soft and fluffy.

Add dark brown sugar and organic sugar and beat for 2-3 minutes.

Add pumpkin puree, orange zest, maple syrup and egg and beat until thoroughly mixed.

Add the flour mixture and the pumpkin beer in three alternating additions, starting and ending with the dry ingredients.

Pour batter into prepared pan and bake for 35-40 minutes, or until a toothpick comes out cleanly.
Caramel:
In a large sauce pan, combine light brown sugar, butter, heavy cream, pumpkin puree and salt.

Bring to a boil over medium-high heat, stirring constantly.

Continue to cook (and stir constantly) for about 5-7 minutes, or until the sauce is thickened and all sugar is melted.

Turn off heat, add vanilla extract and stir.

Pour into a squeeze bottle to decorate cake. (Alternatively you can place cooled caramel in a heavy zip top bag and cut a corner).
Frosting
Using an offset spatula, frost the cooled cake with vanilla buttercream.

Drizzle caramel on top of frosting.

Cut into 12 pieces and serve.
Notes
Make sure to have all your cake ingredients at room temperature. This includes the beer, which for best results, shouldn't be opened until you're ready to add it to the batter. I love these flip top stoppers for fizzy beverages. Pop one on and refrigerate the beer so you can drink the leftovers!
You will have extra caramel. Try drizzling it over ice cream!
1/8th a cup equals 2 tablespoons
Nutrition
Tried this recipe?
Let us know how it turned out for you! Scroll down to leave a comment below.
You might also like: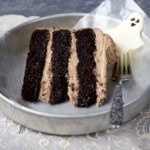 Dancing Ghosts Chocolate Coconut Cake
Mocha coconut buttercream tops layers of rich, fudgy chocolate coconut cake. Hauntingly delicious!
Chocolate Chip Cookie Cake
Layers of cookie flavored cake alternating with vanilla bean, browned-butter chocolate chip cookies and fluffy, vanilla buttercream!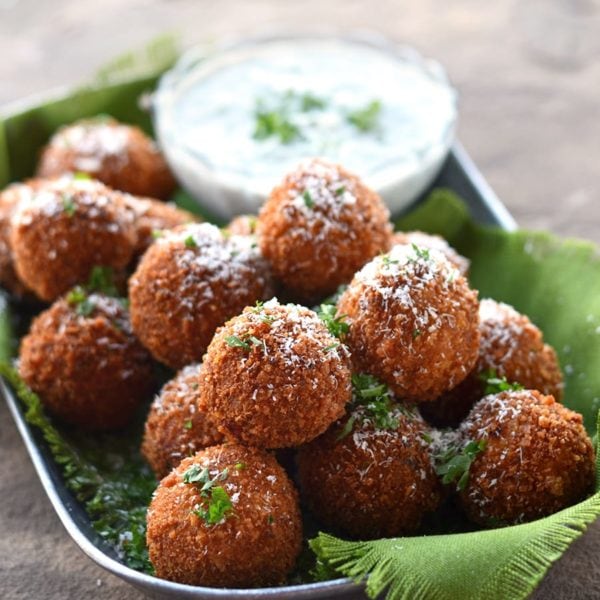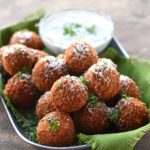 Fried Mozzarella Balls with Pumpkin, Sage and Caramelized Onions
Take your party to the next level with these Fried Mozzarella Balls. They are crunchy on the outside, gooey on the inside and served with Yogurt Herb Dip.