This easy recipe for Zucchini Bread has a tender crumb and loads of home baked flavor. It tastes just like mom pulled it out of the oven!
---
Zucchini Bread is a breakfast classic! This version made with fresh zucchini, walnuts and honey makes two loaves so you can eat one now and freeze one for later!

I'm a huge fan of breakfast pastries. One reason is because you can make them in advance, so no cooking is required in the morning…very important to this night owl. The other reason is how good pastries taste with a huge mug of coffee. No matter what season, a baked treat loaded with carbs just feels like a cozy and relaxed way to start the day. This is especially true when its a hot slice of zucchini bread.
But as much as I love quick breads, I'm trying to reduce my carb intake. So I've been working on this recipe for a quite a while to make a classic tasting zucchini bread that is more breakfast than dessert.
It all started with this Mom's Zucchini Bread recipe that calls for over two cups of sugar. I absolutely love this version but to me it was more like cake than bread. In fact, I used it for cupcakes for this awesome Winnie the Pooh Baby Shower and no one was the wiser.
Sugar has its place in baking. It helps to keep pastries moist, works as a preservative and makes a nice, brown, caramelized crust. So remaking this quick bread recipe with less sugar was tricky.
After more than a year and so many test batches I lost count, here is the ultimate Zucchini Bread! I'll be honest, it is not as low calorie or low carb as I'd like it to be, but it's a great compromise. It is hearty, moist and has less sugar. It is also packed with all the flavors you want in a breakfast bread from the warmth of cinnamon and ginger to the wholesomeness of fresh zucchini.
And it still has that amazing cake-like crumb. It's tender with bright green flecks of zucchini and the toothiness of chopped walnuts. You'll also notice the taste of honey and vanilla. Refreshingly simple, handmade, and delicious!
I like to spread a bit of butter on a slice of toasted zucchini bread, but it's good plain, straight out of the oven, just like you remember your mom making.
Zucchini Bread
This zucchini bread can be frozen. Wrap tightly in aluminum foil and plastic wrap and freeze up to one month.
Print
Rate
Ingredients
3

cups

all purpose flour

(13.5 oz)

1

tsp

salt

1

tsp

baking soda

1

tsp

baking powder

5

tsp

cinnamon

1

tsp

ginger

1/8

tsp

cardamom

3

eggs

3/4

cup

sugar

2/3

cup

honey

1 1/4

cup

vegetable oil

(or light olive oil)

4

tsp

vanilla extract

2 1/4

cups

grated zucchini

1 1/4

cups

walnuts

coarsely chopped
Instructions
Preheat oven to 350F

Grease and flour 2 loaf pans and set aside.

Combine flour, soda, salt, baking powder and spices in a bowl and whisk thoroughly.

In a large mixing bowl whisk together eggs, sugar, honey, oil, and vanilla extract until smooth.

With a spatula, stir in zucchini.

Dump in flour mixture and stir until almost all the flour has been incorporated.

Add in walnuts and stir just until nuts are dispersed (don't over mix!)

Divide batter between prepared pans.

Bake for 45-60 minutes, or until a toothpick comes out clean.
Tried this recipe?
Let us know how it turned out for you! Scroll down to leave a comment below.
You might also like: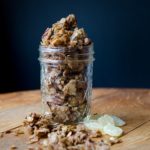 Gingerbread Granola
This Gingerbread Granola is super easy to make and great for snacking, yogurt parfaits or as a thoughtful homemade gift.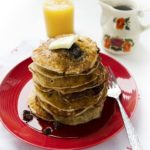 Chocolate Cherry Pancakes
Take your breakfast from ordinary to sweet with these from scratch Chocolate Cherry Pancakes.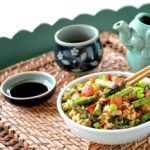 Breakfast Fried Rice with Bacon, Eggs and Asparagus
This breakfast fried rice is super easy, only requires 7 basic ingredients, and you can make it before the coffee is done brewing,…well almost.