These Bakery Style Strawberry Muffins bake up tall and moist just like the ones you buy at your favorite coffee shop. Sweet, fruity and so tender!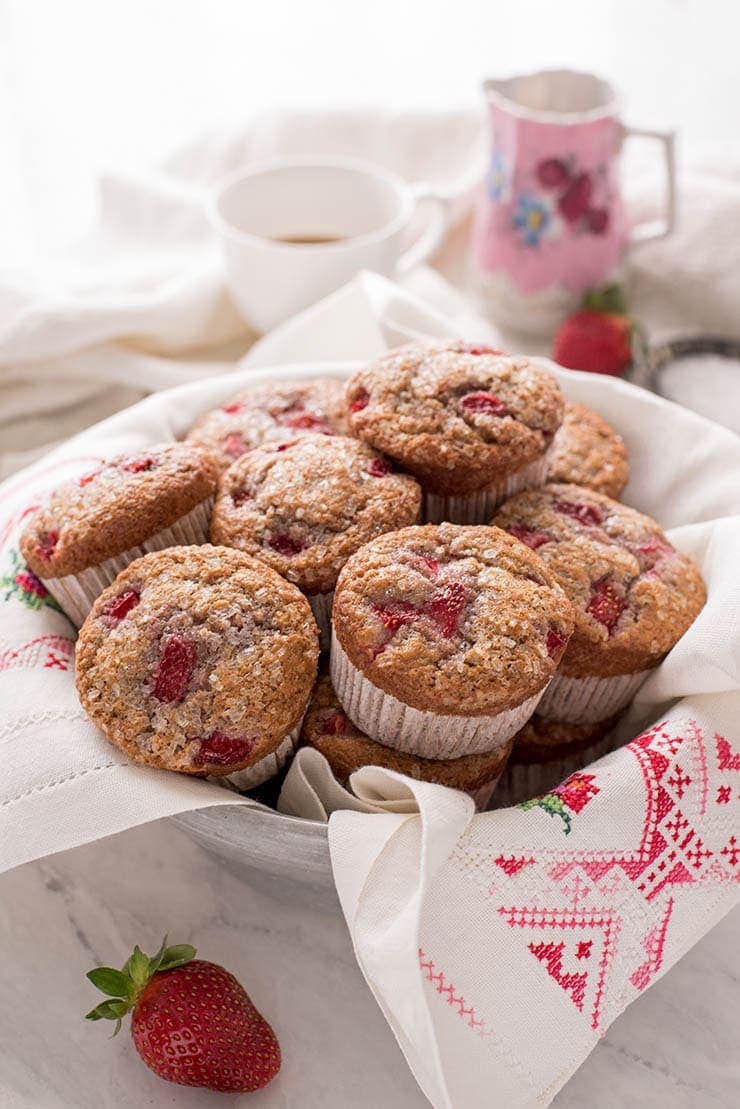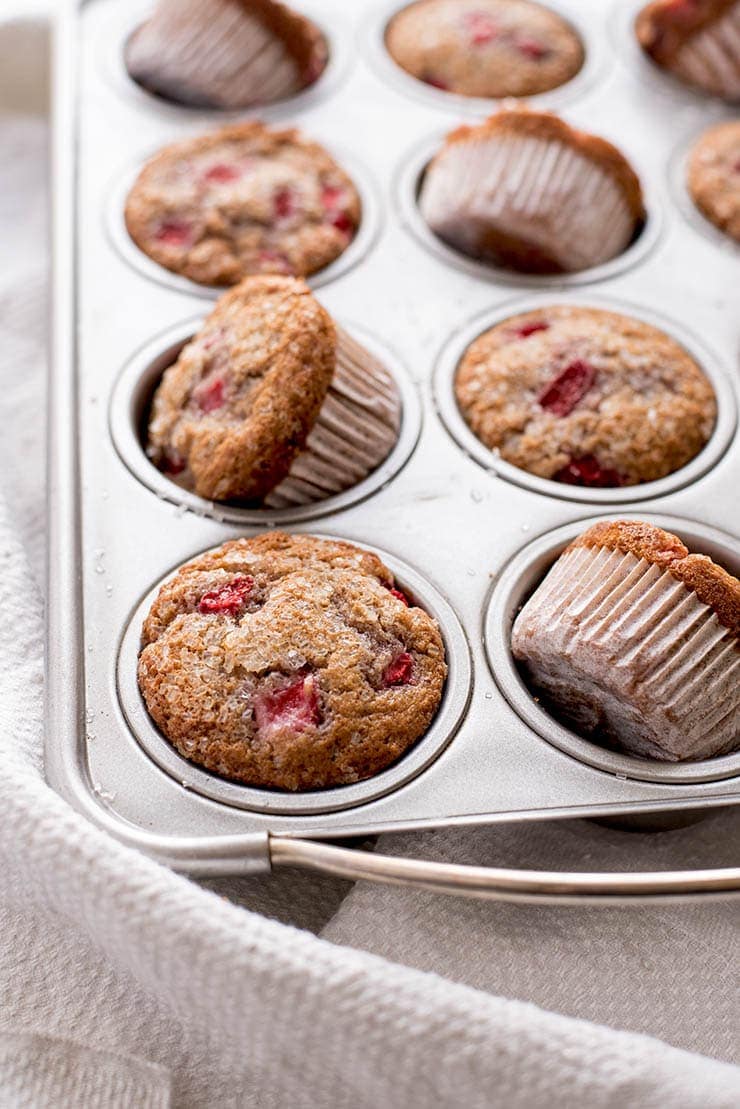 The inspiration for creating these bakery style strawberry muffins came from the strawberry puree leftover from my strawberry pate de fruit recipe. I figured why not make applesauce style muffins with the leftovers? It was worth a try, but must admit the first attempt wasn't a stellar. They weren't strawberry enough for me and I really wanted to be overwhelmed with sweet, fruity flavor.
Back to the drawing board… I added fresh strawberries in addition to the puree the second time around. The second time around was better… the strawberry flavor was there but the muffins were kinda rubbery.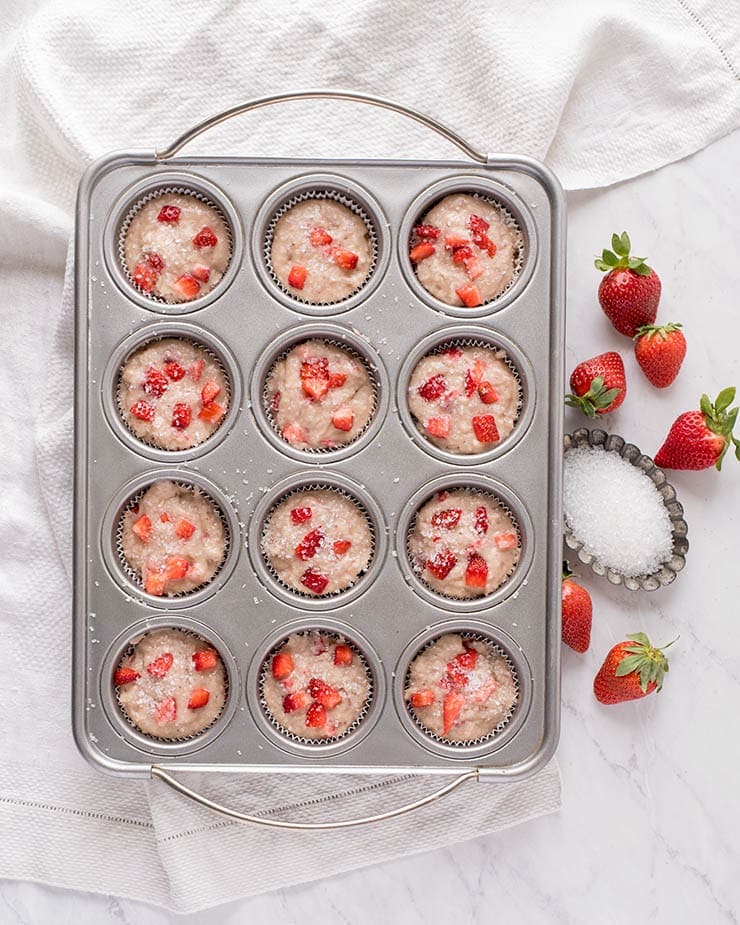 Frustrating, right? Well, I pulled an old trick out of my book. Sour cream, buttermilk and yogurt are all baking miracle workers. There's science at play I don't understand… but I'm guessing it's something about the cultures. They can be used interchangeably to make baked goods more tender and tasty.
So I replaced some of the strawberry puree with Greek vanilla yogurt and added more freshly chopped strawberries to the mix. These muffins were tender and sweet just like I was craving.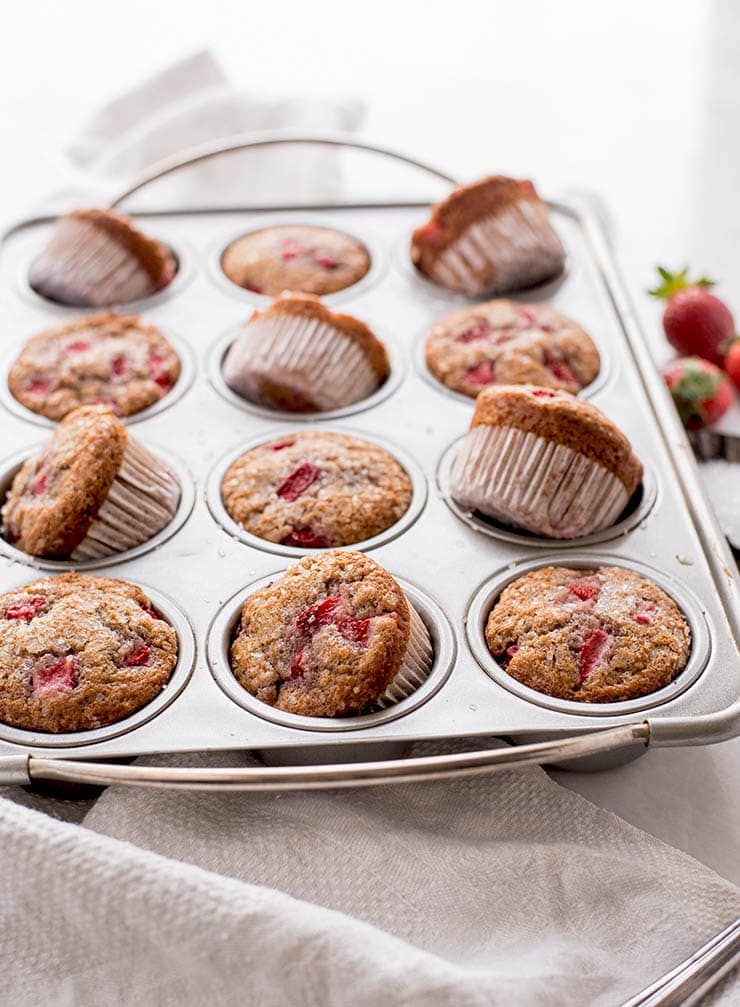 You'd think I'd stop there, but no! I tested the recipe a few more times adjusting baking temps and figuring out how full to fill the cups. I also tested the different baking pans:
Unsurprisingly, the dark pan baked the fasted, but they also ended up the tallest.
The pan pictured also turned out nicely baked muffins, but they did not dome as well as the dark pan. However, this pan had a skinnier, deep cup which made sure there was no spill over.
My worst batch was baked in muffin pans with a light brown enamel coating (unfortunately, my go to pans). Without tulip cups the muffins spilled over onto the top. I think these pans have a smaller cup size but I surmise that the difference in color resulted in a flatter top muffin. With tulip cups the batter was forced upwards and everything was a-o-kay.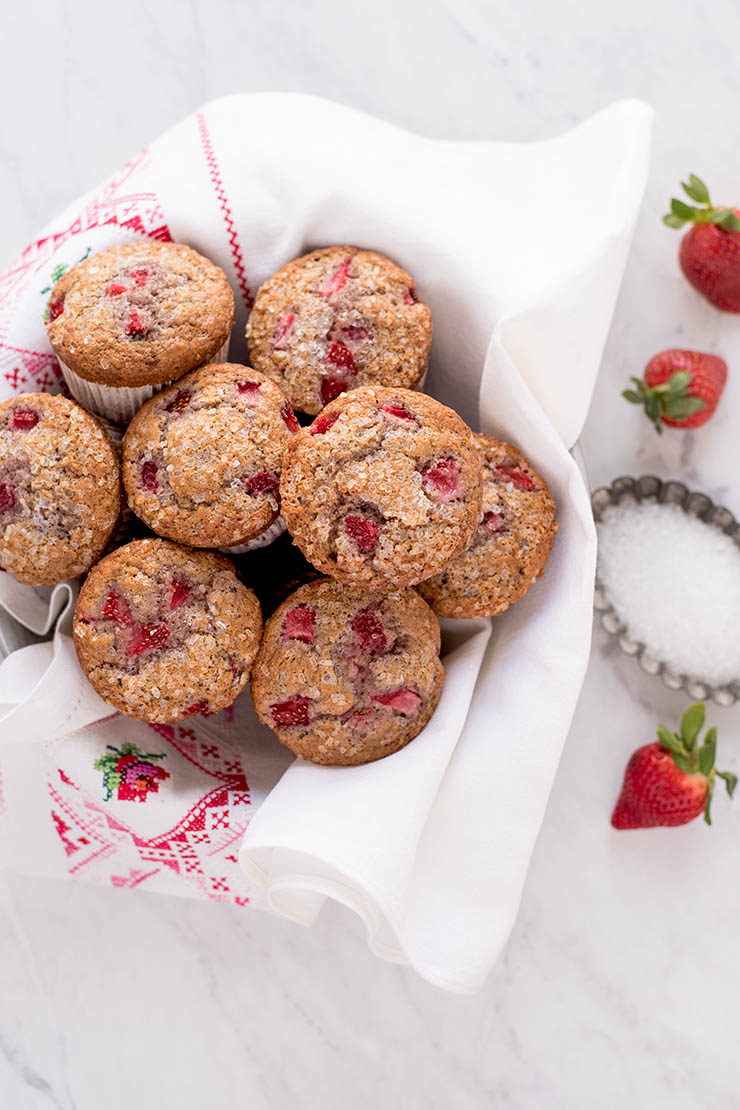 I actually prefer tulip cups for muffins, but I made them in standard muffin cups for the photos so you can see how pretty these strawberry muffins are. They turn out a beautiful golden brown with a crunchy, sugary top just like the ones you buy from the bakery. Inside they are full of strawberry bits and you'll definitely catch a whiff of vanilla as you open a steamy, hot muffin.
They're super moist and tender. You know what that means? They will still be tasty day two… or even three if you refrigerate them. Now these aren't skinny muffins. The reality is that healthy muffins are only good freshly baked. You know the kind of muffins that once they've cooled they resemble hockey pucks?
Yeah, those are not the kind of muffins I want to eat. If I'm watching my diet, I'll choose a different type of breakfast. The butter and sugar are absolutely necessary for a moist tender muffin. Anyone who says otherwise is lying to you!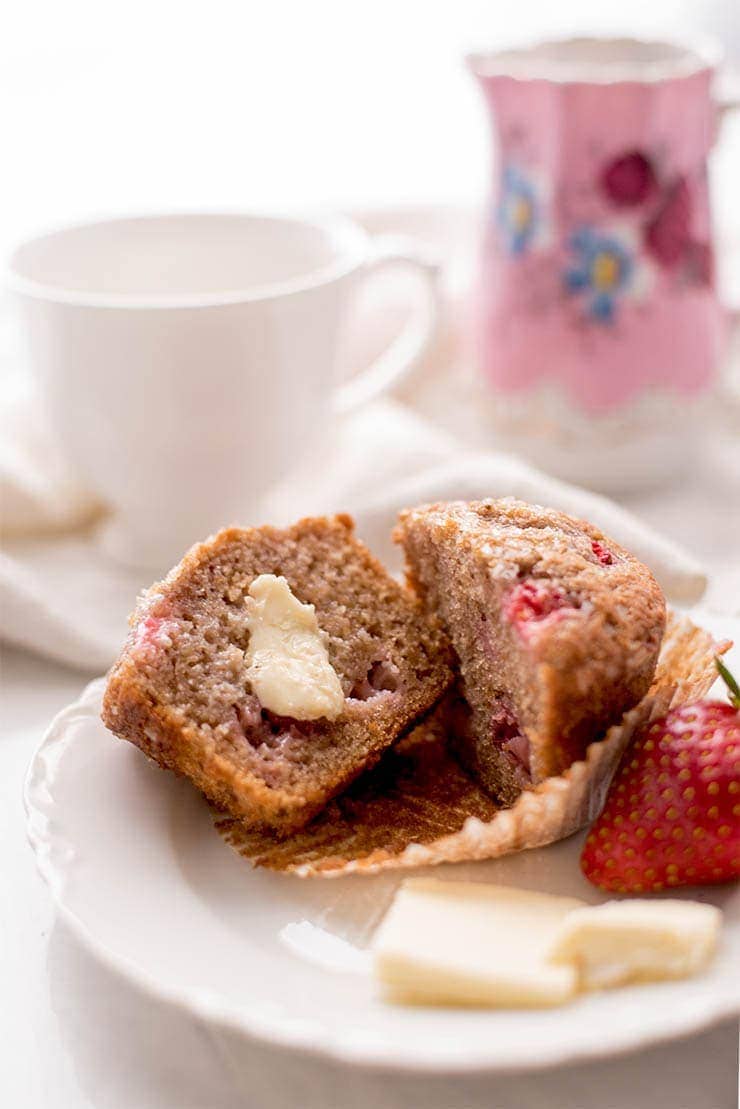 But in moderation, these muffins won't ruin your diet either. For me it's a small morning indulgence that starts my day with a warm, cozy feeling. Because I'm not a morning person, I bake a batch of these, wrap each individually and freeze them. To reheat, I place them in the toaster oven at 250F for about 25 minutes and they come out just like freshly baked muffins.
But if you make these for the family on the weekend, you're unlikely to have leftovers! Maybe make two batches?
How to make bakery style strawberry muffins
A dark muffin pan performed the best in our recipe tests.
When in doubt, use tulip liners, they will force the batter upwards resulting a taller, more domed muffin.
Make them pretty! Topping the batter with extra diced strawberries and decorating sugar makes a beautiful, crunchy top.
Don't overmix your muffins! If you see some unmixed flour in the batter, that's okay.
You can use frozen strawberries for the puree, but for best results use fresh strawberries for the diced.
After you turn the oven heat down, watch the muffins closely. When the tops look done, test the muffins immediately.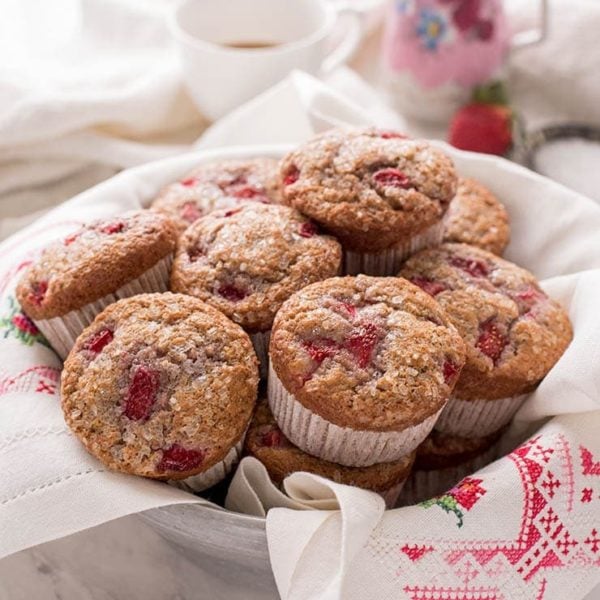 Bakery Style Strawberry Muffins
These strawberry muffins are tall and moist like the ones you buy at your favorite bakery. We love them because they freeze well and stay soft and tender even after reheating. Perfect for busy mornings!
Print
Rate
Ingredients
Strawberry Muffins
2

cups

all purpose flour

1

tablespoon

baking powder

1

teaspoon

baking soda

1/4

teaspoon

sea salt

1

cup

sugar

1/2

cup

strawberry puree

2

teaspoons

vanilla extract

1/2

cup

vanilla Greek yogurt

1/2

cup

melted butter

2

large

eggs

1

cup

diced strawberries
Topping
1/4

cup

diced straberries

Decorating sugar
Instructions
Preheat oven to 450F and line a 12 cup muffin pan with tulip liners. If possible start with room temperature ingredients.

Combine the flour, baking powder, baking soda and salt in a bowl and whisk to combine.

In a second bowl, whisk together the sugar, strawberry puree, vanilla extract and greek yogurt.

Add in the melted butter, whisking fast so it doesn't reharden, and then add the eggs and mix thoroughly.

Fold in the flour mixture until mostly combined. It's okay if you still see some flour.

Fold in the strawberries. Don't overmix though or your have tough muffins.

Scoop the batter into the muffin pan. I used a yellow Zeroll disher which is the perfect size for muffins

Dot the top of the muffins with the remaining strawberries and then sprinkle with decorating sugar.

Bake for 7 minutes at 450F, then reduce the temperature to 375F. It should take an additional 6-7 minutes. Bake until a toothpick inserted the the middle of a muffin comes out clean, Keep in mind that pans make a big difference in cooking times, so see the post above for additional notes.
Notes
These muffins are tall! Unless you have a deeper muffin pan, I strongly suggest using tulip baking cups. I love to use them because they keep the batter off my pans, which means easy cleanup!
Fresh fruit muffins will mold easily, so I suggest storing these muffins in the refrigerator or better yet the freezer. We wrap our muffins individually and freeze them up to one month.
Nutrition
Calories:
247
kcal
|
Carbohydrates:
38
g
|
Protein:
4
g
|
Fat:
8
g
|
Saturated Fat:
5
g
|
Cholesterol:
55
mg
|
Sodium:
225
mg
|
Potassium:
182
mg
|
Fiber:
1
g
|
Sugar:
21
g
|
Vitamin A:
285
IU
|
Vitamin C:
14.5
mg
|
Calcium:
57
mg
|
Iron:
1.3
mg
Tried this recipe?
Let us know how it turned out for you! Scroll down to leave a comment below.
Love Vintage Kitty? Never miss a post by subscribing.
You might also like:
Strawberry Panna Cotta Tart
Juicy, sweet strawberries are the star of this icebox dessert. It's a splendid way to highlight the beauty and sweetness of fresh strawberries.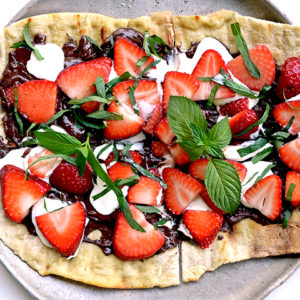 Chocolate Strawberry Dessert Pizza
Topped with mint and whole-milk ricotta cheese, this recipe lies at the intersection of easy and unbelievably delicious!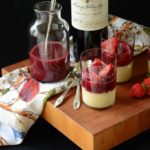 Elegant Cabernet Strawberry Rhubarb Pudding
This Elegant Cabernet Strawberry Rhubarb Pudding makes great use of the season's bounty and elevates pudding beyond a children's dessert.