This delicious ratatouille flatbread pizza is loaded with grilled summer vegetables, whipped goat cheese and topped with a drizzle of basil oil. Perfect as an appetizer or a casual dinner.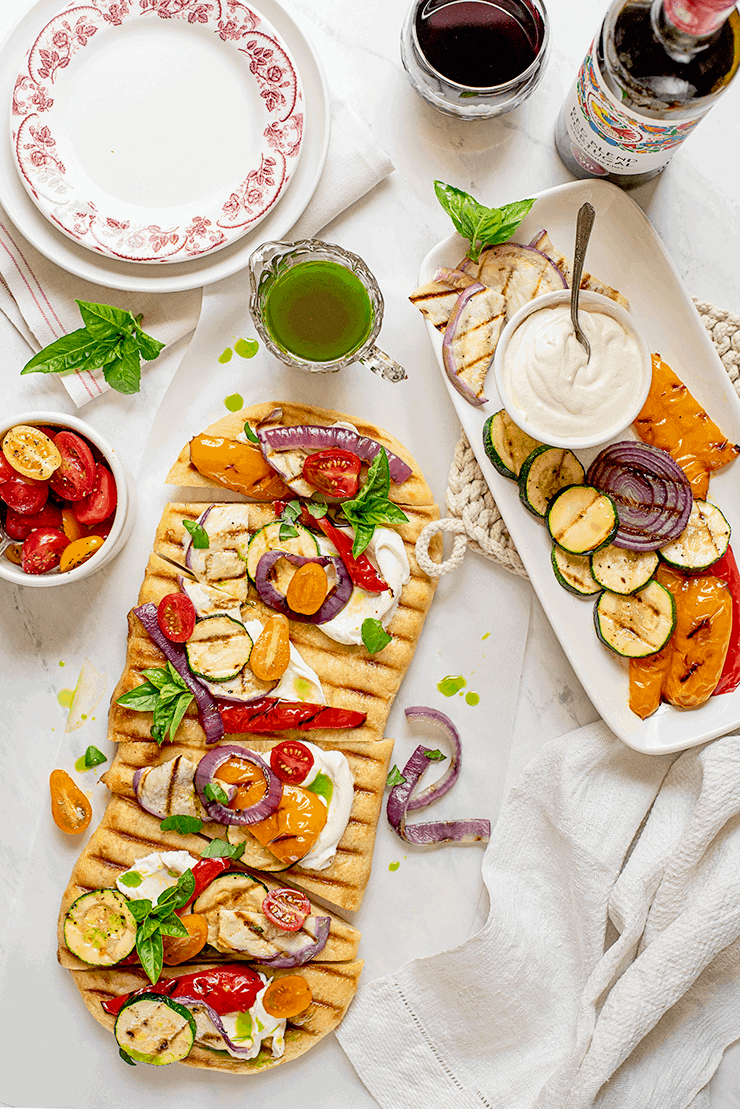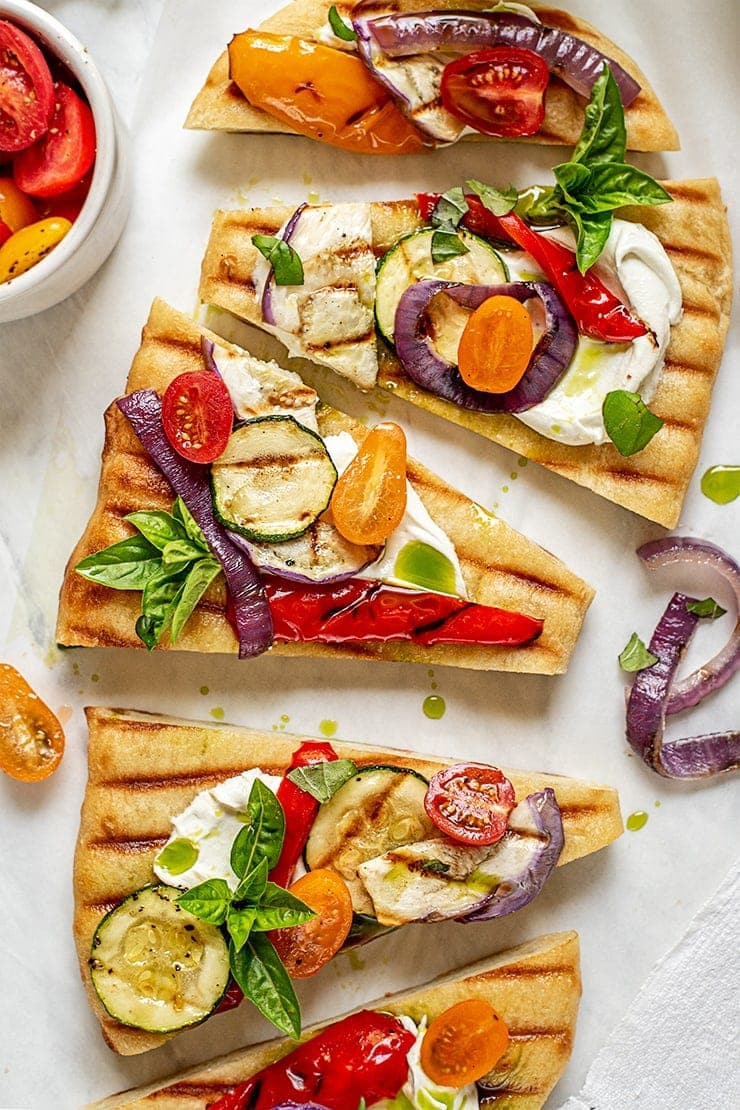 When summer is in full swing, so many beautiful vegetables are ripe and ready to harvest! Long green zucchini, shiny aubergine eggplants, and juicy tomatoes just begging to be plucked from the garden! Ratatouille is one of the best recipes to use these veggies together, but I've been craving something a little lighter and more summery.
Lauren over at Hunger Thirst Play makes the most amazing flatbreads. She has flavors like honey fig flatbread and cranberry brie flatbread, and it inspired me to create this ratatouille flatbread pizza recipe.
This recipe makes the most of summer's bountiful produce while using the traditional flavors of a classic French ratatouille . So glad for the inspiration because this flatbread pizza is so pretty and so simple, but also so satisfying!
How to make ratatouille flatbread
For the cheese, I made a simple whipped goat cheese with fresh garlic and olive oil. It adds a lovely tang to the flatbread but it also acts as the sauce.
It's super easy to make in the food processor, basically, just drop the ingredients in and let it whip! I don't even bother to chop the garlic, but it does take about 15 minutes to go from oily and grainy to a perfectly smooth whipped cheese. I just let it run while I cut up the veggies and grill them.
Speaking of grilling, you can do this outside on the grill, or use my favorite trick, using a grill pan in the oven. I turn up my oven to about 450 and put in my grill pan. This method makes the kitchen less smoky than using the grill pan on the stove top. Plus it heats very evenly.
Grilling the veggies is super easy. Just a little oil, salt and pepper and about 3-4 minutes per side. I like them to be just fork tender so when they cook a second time on the flatbread they don't turn to mush.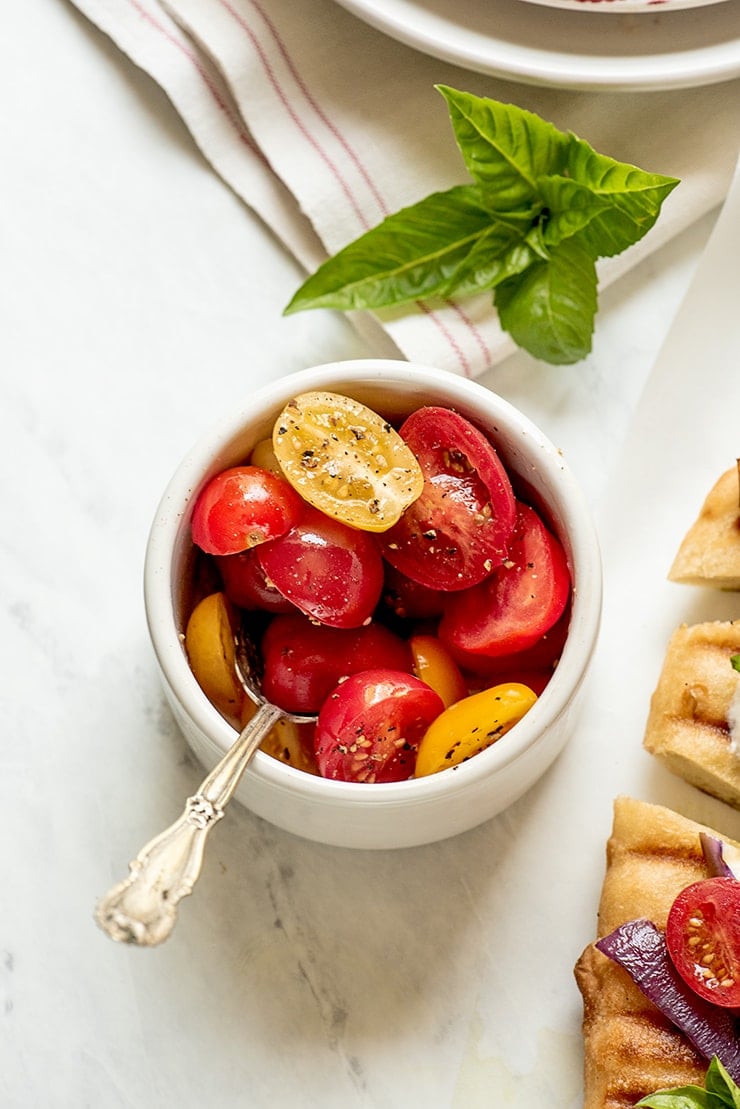 For these photos I used cherry tomatoes, but I've also used sliced tomatoes. You can use whatever tomatoes you have on hand. And they can be any color too! It's a great way to show off heirloom varieties since the tomatoes don't get cooked before adding them to the pizza.
For garnish I used both basil oil and fresh basil. But you can use either or. Since all these vegetables are available year round in the supermarket, you can use just basil oil if fresh isn't available. Kevin and I started testing this recipe during the winter and trust me, a summery pizza was a welcome addition to winter!
Really you can eat this any time of year, but for me, it's extra special when I can make it with home grown veggies and basil. Homegrown always tastes more delicious! Yard to table is how my summers roll!
Finally, let's talk flatbread! Sometimes flatbread isn't available at our grocery store, so we have used frozen pizza dough as well. So, if you can't find flatbread, roll out pizza dough, oil it and grill it just like I do with my strawberry dessert pizza. Both ways are great!
I've been tempted to make pizza boats with a french baguette which I also think would work really well. But for ease, a precooked flatbread wins every time!
You're going to love this flatbread pizza recipe! It's fresh and bright at the same time it's savory. The whipped goat cheese is my favorite part, with the garlic coming through pungent and flavorful. But the whole thing is a winner! And it's perfect with a glass of wine to wind down on a busy weeknight! Hope you love this recipe as much as we do!

Grilled Ratatouille Flatbread Pizza Recipe
We love making this ratatouille pizza on busy weeknights. If I have a little extra time, I grill extra veggies to save for lunch or dinner the next day. Super easy way to make dinner and meal prep too!
Print
Rate
Ingredients
Whipped Goat Cheese
8

oz

goat cheese

1/4

cup

olive oil

4

cloves

garlic

salt to taste
Grilled Vegetables
1/4

cup

olive oil

1

small

zucchini

, sliced

1

small

eggplant

, sliced

1

small

red onion

, sliced into 4-5 rounds

1

sweet bell pepper

, cut into large pieces

1

cup

cherry tomatoes

, sliced in half
Flatbread
2

large

flatbreads

1

tablespoon

basil oil

fresh basil
Instructions
Whipped Goat Cheese
Preheat your grill or grill pan.

Place goat cheese and garlic in a food processor and pulse.

Add the oil and process until goat cheese is smooth.

Season with salt to taste.
Grilled Vegetables
Place oil in a large bowl and add a generous pinch of salt and pepper.

Add the zucchini, eggplant and sweet pepper and toss.

Use a basting brush to oil the red onion slices.

Grill vegetables about 2-3 minutes on each side.

Coat cherry tomatoes in the remaining oil, but do not grill.
Ratatouille Flatbread
Brush each side of the flatbreads lightly with oil.

Grill one side of flatbread, then with the grilled side facing up, smear with whipped goat cheese and arrange grilled vegetables and cheery tomatoes on top.

Place the flatbreads back on the grill and cook until hot, about 3-5 minutes.

Garnish with basil oil and fresh basil if desired.
Notes
It can take up to 15 minutes to get a smooth whipped goat cheese. Just keep the food processor running while you grill the vegetables. You'll know it's ready when it no longer looks grainy.
Do not pull apart the onion slices before grilling. It's easier to grill one large slice and separate the onion after cooking.
If you cannot find prepared flatbread, you can grill pizza dough instead.
Nutrition
Calories:
538
kcal
|
Carbohydrates:
25
g
|
Protein:
15
g
|
Fat:
43
g
|
Saturated Fat:
13
g
|
Cholesterol:
26
mg
|
Sodium:
310
mg
|
Potassium:
584
mg
|
Fiber:
7
g
|
Sugar:
9
g
|
Vitamin A:
1785
IU
|
Vitamin C:
57
mg
|
Calcium:
113
mg
|
Iron:
3
mg
Tried this recipe?
Let us know how it turned out for you! Scroll down to leave a comment below.
Still craving more ratatouille? Check out my friend Kristen's take on ratatouille! Her ratatouille pies are rustic and so beautiful!
You might also like:
Tomato Tart
This Heirloom Tomato Tart is what summer tastes like! It's full of bright, savory flavors that compliment heirloom tomatoes of any size or color.
Zucchini Bread
This easy recipe for Zucchini Bread has a tender crumb and loads of home baked flavor. It tastes just like mom pulled it out of the oven!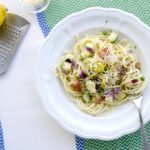 Easy Summer Garden Pasta
This is the perfect late summer, weeknight dinner. It's fresh, bright, savory and filling without being heavy.