Winnie the Pooh would love this honey inspired baby shower dessert buffet, complete with vintage illustrations in chocolate!
---
I recently had the pleasure of making a Winnie the Pooh dessert buffet for my sister-in-law. Its always fun to create a smorgasbord of sugary treats in a theme. And boy (ha ha ha, it's a boy!) did the illustrations of Winnie the Pooh come to life in these whimsical cupcakes! Pooh would have loved it since almost all of the treats featured honey!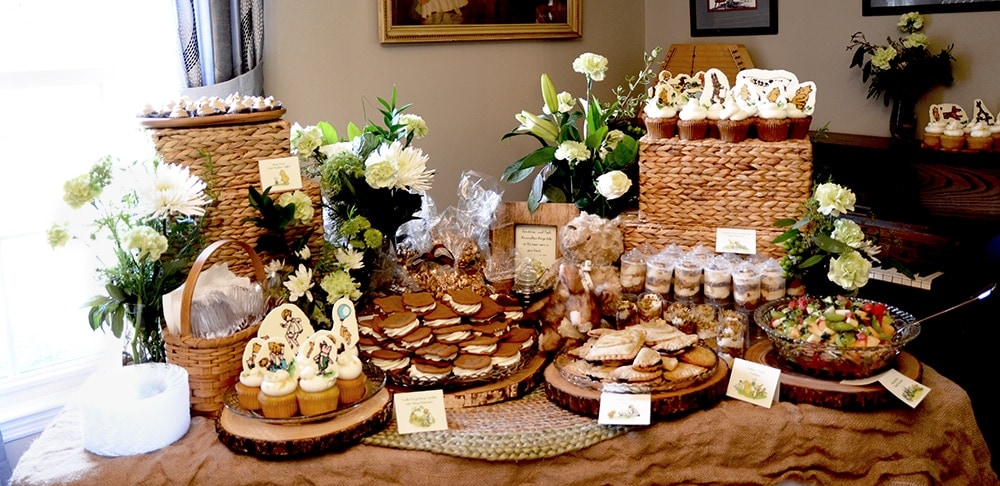 Hundred Acre Wood provided the table inspiration. We used a mix of tree slabs, burlap, greenery and flowers to create a forest for Pooh to sit in, complete with a honey pot. There were hand pies, baklava cheesecake push pops, tropical honey lime fruit salad, salted caramel popcorn…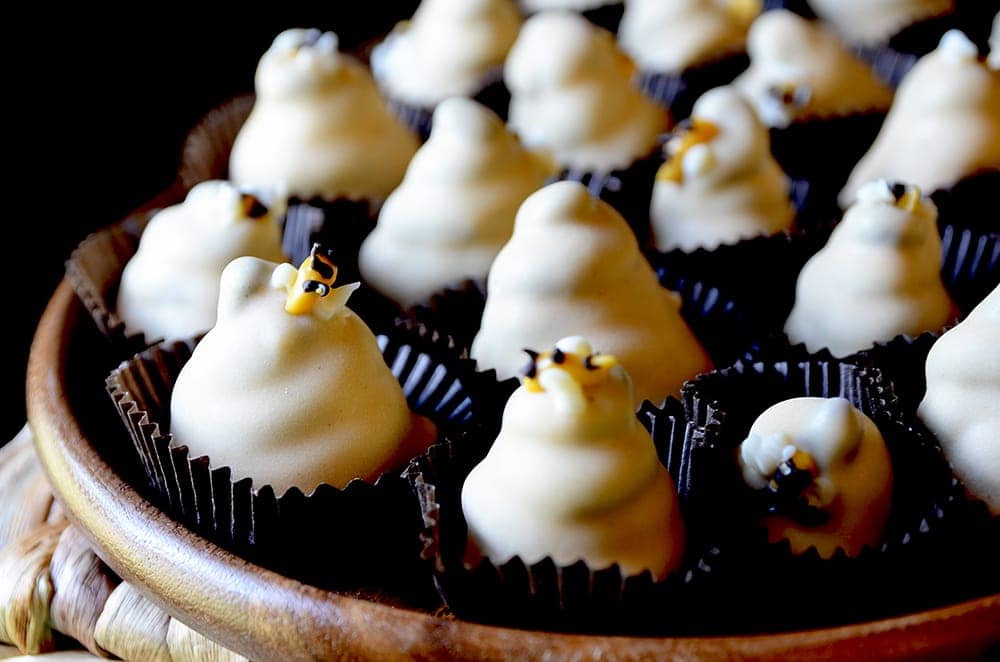 …and the most adorable beehive truffles ever!!! They were made with a honey dark chocolate ganache and filled with a honey peanut butter filling. Then they were dipped in a white chocolate and peanut coating and topped with little chocolate bees! Okay, I've already hit my exclamation quota for this post, but really everything was so cute, it gets a baker excited!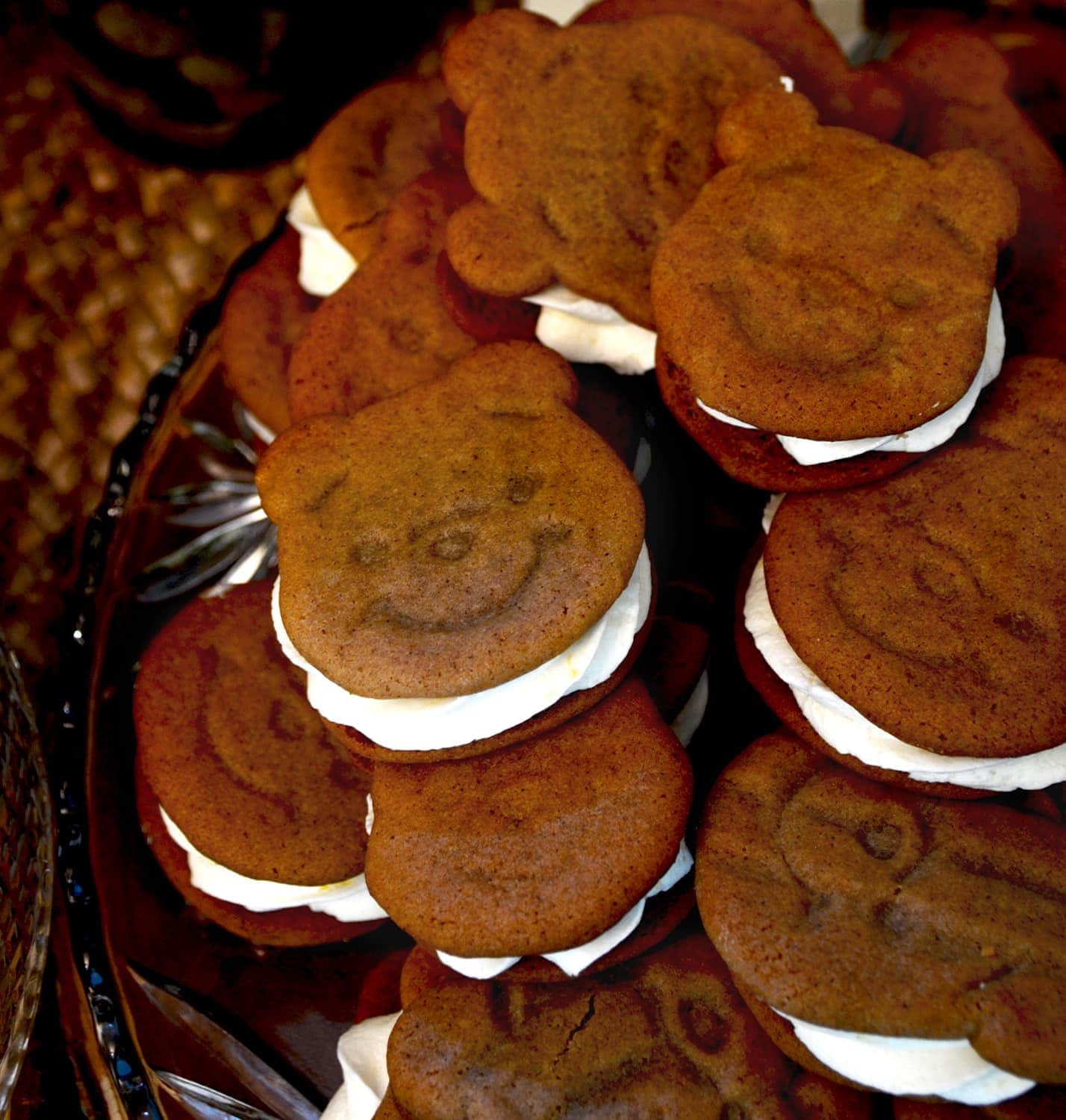 And did I mention the Ginger Lemon Cookie Sandwiches? I used honey in the gingersnaps and lemon zest and ginger syrup in the buttercream filling. Super yummy and almost too cute to eat!
Everything was good, I mean you can't go wrong with honey, but the vintage Pooh chocolate cupcake toppers really made the buffet special. E. H. Shepard's illustrations have a relaxed quality that makes them easy to replicate in chocolate. The designs do not have to be a perfect copy to get the right feel and look.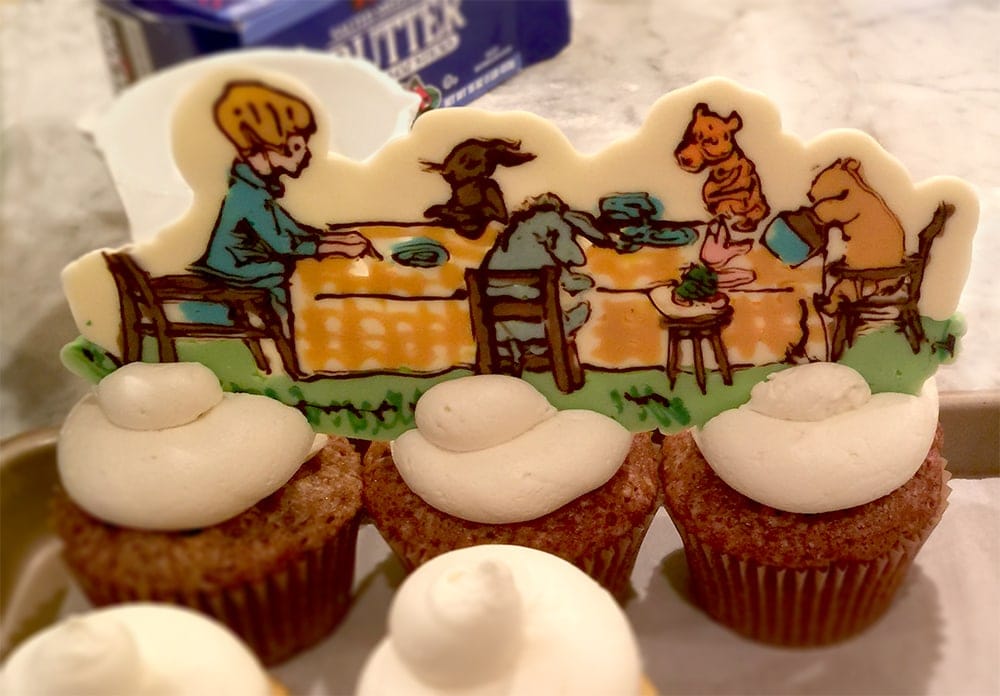 These chocolates were done in reverse, starting with the outlines, then filling them in with color. Finally the white chocolate background is added.You let them dry, cross your fingers and flip them over! Luckily only one broke. Just a bit of Christopher Robin's chair was lost, but I don't think anyone noticed!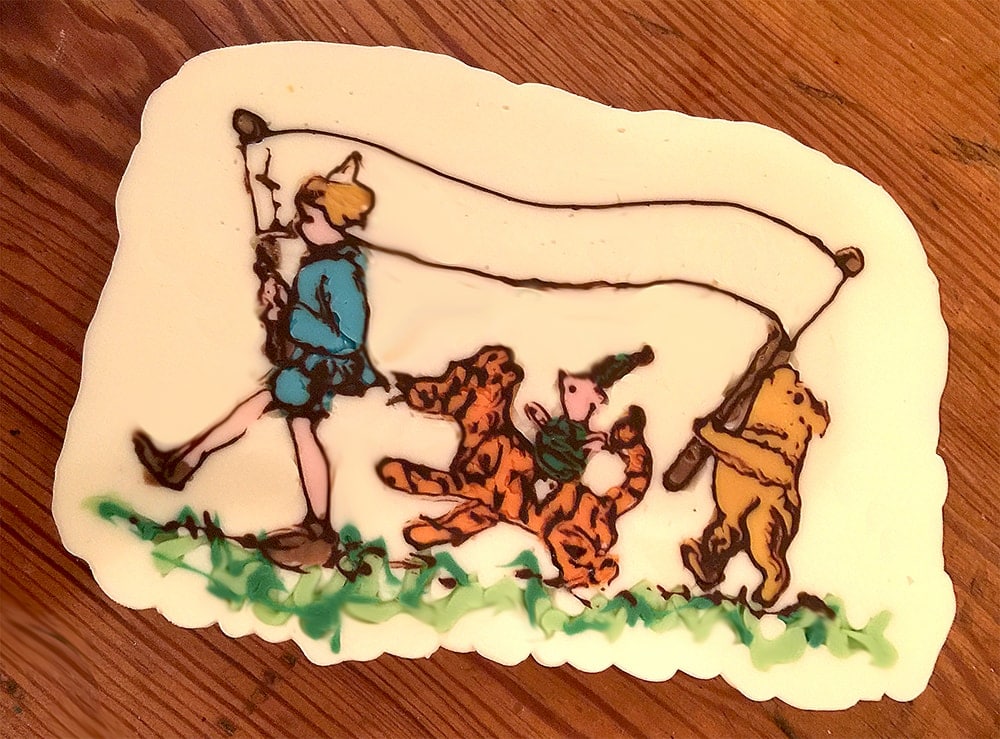 These larger chocolates took gobs of chocolate to make, but they came out better than I had expected them to. In the past, I've made chocolate decorations (check out these cupcakes from back in the day when I had a blogspot blog called Sweet Charity's Chocolates http://sweetcharityschocolates.blogspot.com/2011/03/shamrock-delights.html) but this is the first time I've done reverse chocolate work.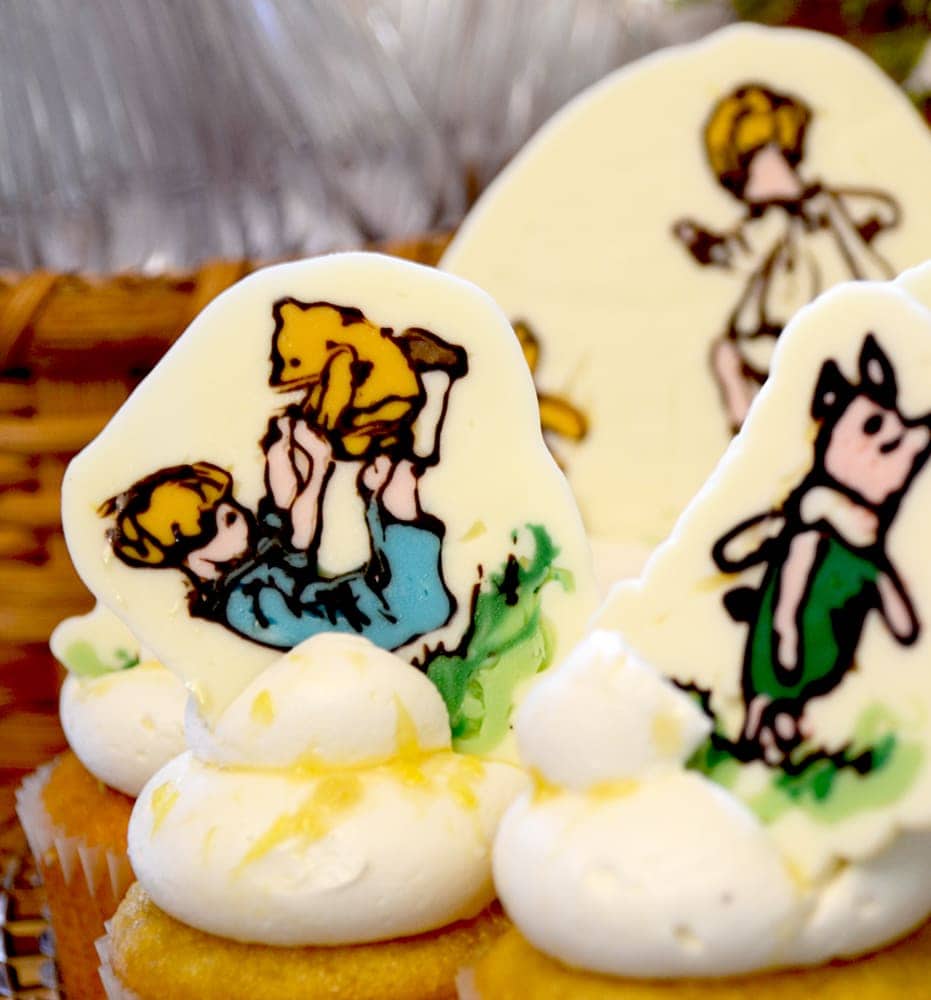 As impressive as the larger chocolates are, the small scenes were may favorite.
This one of Pooh with the balloon might be my favorite. It's from a vintage sheet of Hallmark stickers. I'm sure some of the pictures I used were more recent illustrations by Mark Burgess, but they all fit seamlessly together.
Now we have to wait for the little guy to arrive. It will be any day now! Can't wait to meet him and see if he gets a Winnie the Pooh nickname. Will he be a Piglet, or an Eeyore, or maybe he will take after his uncle and be a Rabbit!