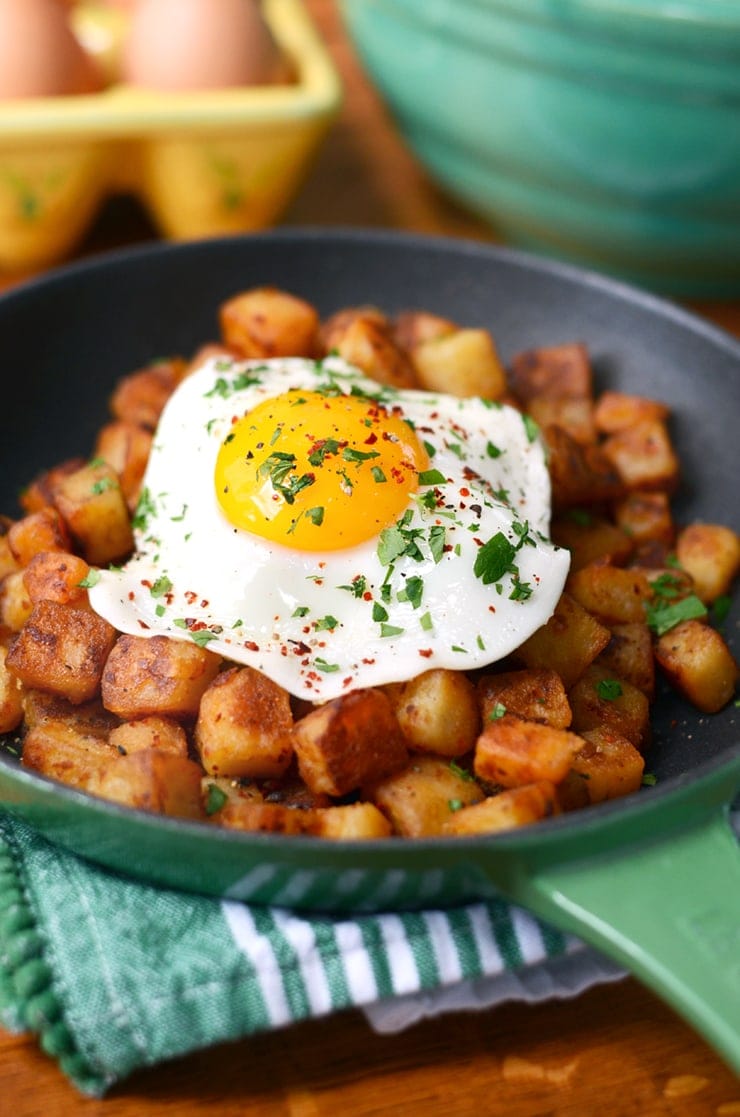 Make mornings brighter with these Crispy Aleppo Pepper Breakfast Potatoes with Sunny Side Up Eggs.
---
A healthy breakfast is the recipe for a good start to your day! Get our tips on how to make perfectly crispy breakfast potatoes and sunny side up eggs!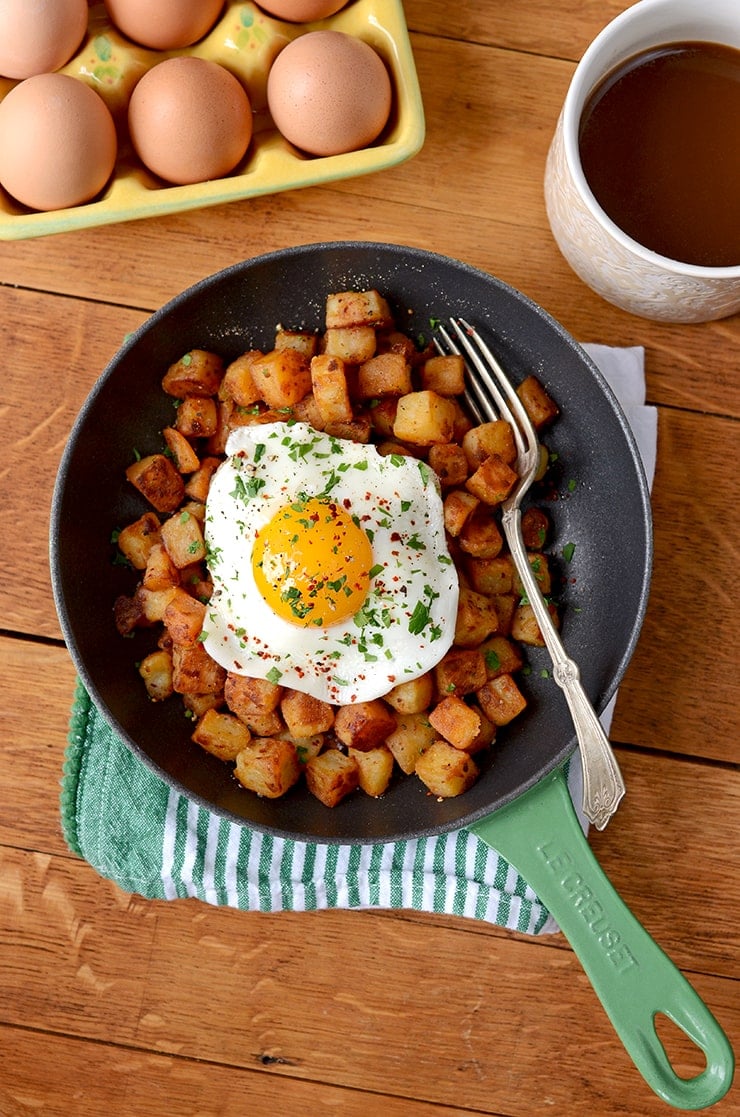 If you've read my post on Breakfast Fried Rice, you know I'm not a morning person. The idea of mornings is great…sunrise, new beginnings, coffee- but does it have to happen so early? This night-owl wants some extra ZZZs. But I do love a hearty breakfast, no matter what time it's served.
I have a weakness for breakfast potatoes, you know those crispy skillet kind that are crunchy on the outside and soft on the inside? Call them a potato hash or home fires… just make sure they are delicious! To that end I usually add a spice.
In this case I've used Aleppo Pepper which is a mildly spiced hot pepper native to Syria and Turkey. I find that it adds a ton of flavor without being fiery, which in my book is a good thing. I used to have terrible acid reflux, and old habits die hard… I don't want my breakfast to taste like a 5-alarm fire! But I do want it to be so darn delicious!
And did I mention fast? That might seem impossible because the crispiest pan-fried potatoes are a low and slow maneuver- but it's really all in the dice! The cuter (and smaller) you make those potato cubes, the faster they will cook. But it also takes a roomy pan where the potatoes aren't crowded. Many recipes call for par-boiling or steaming the potatoes first. I seriously don't have the patience for that! But it's also total overkill. I follow two rules:
1) a nice thin coat of oil in the pan
2) keep those potatoes moving because you want them to brown on the outside but not stick to the pan
It's really that easy! So no more buying ready made breakfast potatoes in the freezer aisle! Seriously it only takes about 20-25 minutes to make 'em homemade!
See that perfection? You'll know when the potatoes are done because they will be fork tender but crispy. If they aren't crispy, "Patience you must have, my young padawan". Once they're good and browned, move them to the side to make room to fry your perfectly runny sunny side up eggs!
I've got two rules for this maneuver too.
1) Make sure the pan is scraped clean and there's a THIN layer of oil
2) Crack the eggs into the pan and cook on LOW heat.
Now just a little more patience as the egg white cooks through. When the egg is almost done, place the breakfast potatoes on two plates (or small cast iron skillets if you want to do it country style). Now, gently remove the eggs with a thin spatula and place them on top of the breakfast potatoes.
OMG doesn't this make you drool? The breakfast potatoes are warm in heat and flavor and the egg just oozes onto the hash. Maybe it's worth waking up for? So buy yourself some potatoes and eggs (totally check out Foodal's article on understanding egg carton labeling before you go). You know you want this!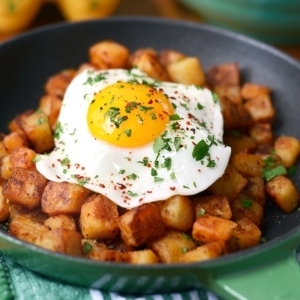 Crispy Aleppo Pepper Breakfast Potatoes with Sunny Side Up Eggs
Making your morning sunny (and tasty) just got easier! See our blog post for tips of making the perfect breakfast potatoes and sunny side up eggs.
Print
Rate
Ingredients
1-2

tablespoons

vegetable or canola oil

2

large

Russet potatoes,

diced into small1/4-1/2 inch cubes

1/2

teaspoon

Aleppo pepper

2

eggs

salt and pepper to taste
Instructions
Heat 1/2 to 1 tablespoon oil in a large skillet over medium low heat.

When the oil is hot, add the potatoes, Aleppo pepper and a couple generous pinches of salt.

Cook the potatoes stirring often, making sure the potatoes are in a single layer.

When the potatoes are fork tender and browned and crispy on the outside, push them aside and turn the heat to low.

If the pan is dry, add a little more oil.

Crack the eggs into the pan and cook until the egg whites are opaque and the egg yolk has a thin cooked film but is not cooked through.

Transfer the potatoes to two plates and gently place the sunny side eggs on top.

Garnish with a sprinkle of salt, Aleppo pepper and parsley if desired.
Nutrition
Calories:
416
kcal
|
Carbohydrates:
67
g
|
Protein:
13
g
|
Fat:
12
g
|
Saturated Fat:
7
g
|
Cholesterol:
164
mg
|
Sodium:
89
mg
|
Potassium:
1599
mg
|
Fiber:
5
g
|
Sugar:
2
g
|
Vitamin A:
386
IU
|
Vitamin C:
21
mg
|
Calcium:
73
mg
|
Iron:
4
mg
Tried this recipe?
Let us know how it turned out for you! Scroll down to leave a comment below.
You might also like: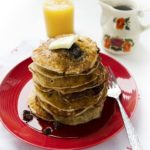 Chocolate Cherry Pancakes
Take your breakfast from ordinary to sweet with these from scratch Chocolate Cherry Pancakes.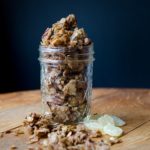 Gingerbread Granola
Gingery, sweet, crunchy, nutty and so good, you'll want to eat this granola all year long!
Zucchini Bread
This easy recipe for Zucchini Bread has a tender crumb and loads of home baked flavor. It tastes just like mom pulled it out of the oven!