Vegan Peanut Butter Cookies that taste like the traditional recipe? Yes please! No one will know this peanut butter cookie recipe is vegan unless you tell them!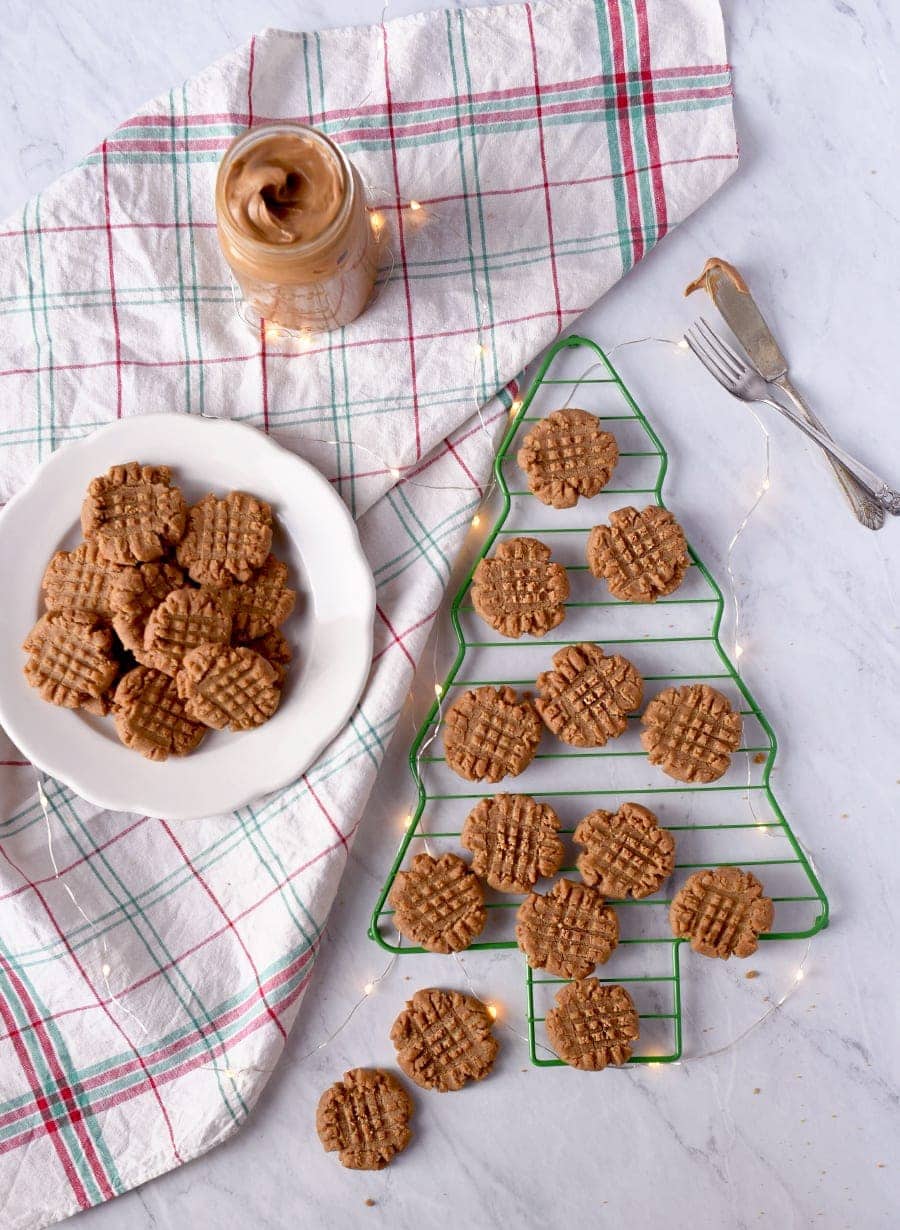 Scroll down to learn all the tricks we used to create this delicious cookie that's crisp on the outside, chewy inside and so nutty!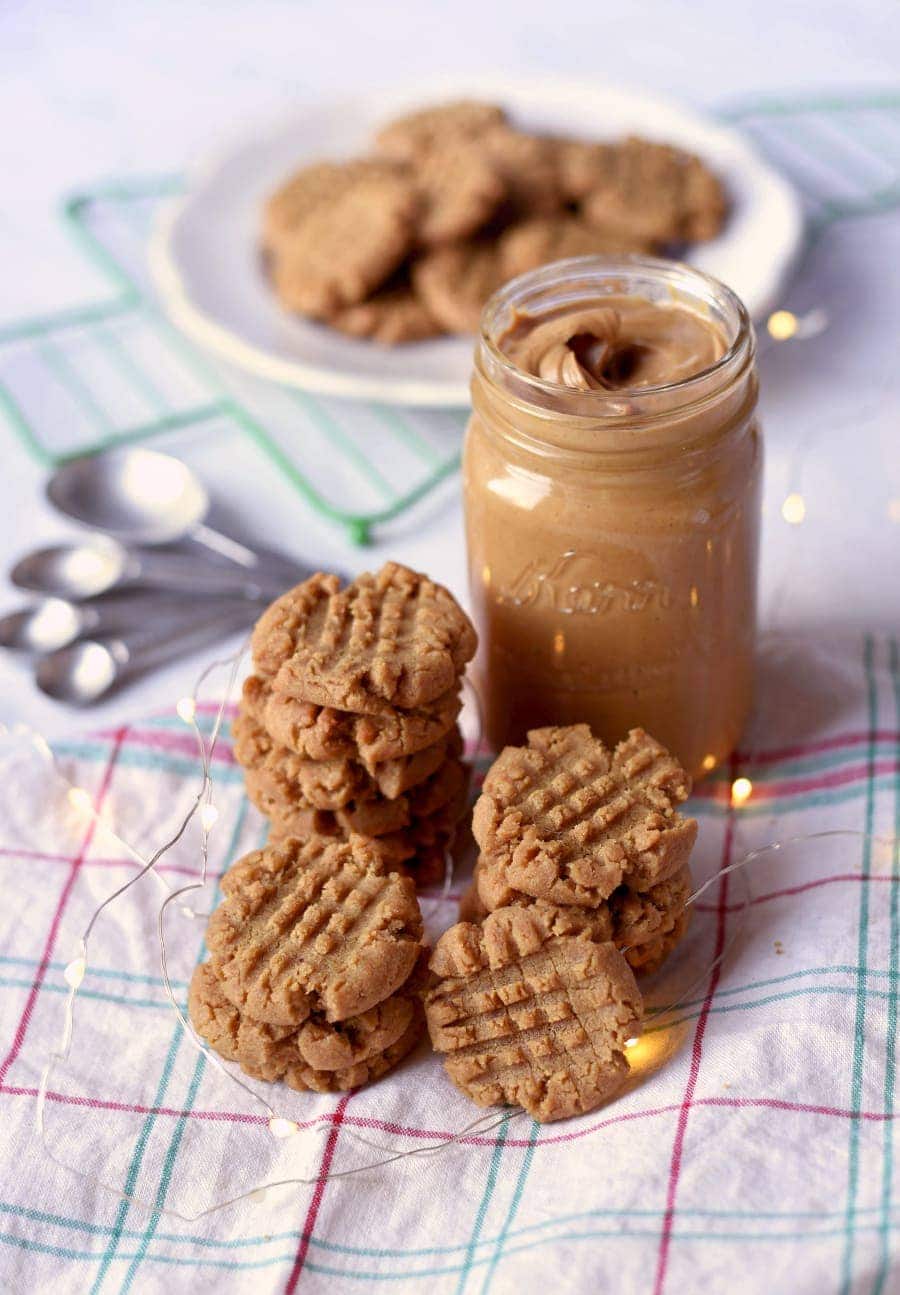 I creating vegan recipes, but vegan baking is not really my forte. The truth is I totally understand the science and technique of traditional baking and vegan baking breaks all those rules. But sometimes I'm able to ignore my instincts screaming at me and create a vegan WINNER! Maybe it was my love of peanut butter or maybe all the research I did, but these vegan peanut butter cookies turned out awesome!
How to make egg free peanut butter cookies
In the past I've used flax seeds as the binder for vegan baking recipes, but I'm not fond of the flavor or texture of a flax egg in cookies. Enter aquafaba! You know the bean water you normally pour down the drain after you open a can of chickpeas? It's an amazing egg replacement that makes perfect meringues, pancakes and brownies.
Making olive oil cookies
The other thing I did differently was use olive oil instead of a solid fat. It's inspired by this vegan chocolate chip cookie recipe. I was really intrigued by the idea of using a liquid oil in cookies. For this recipe I used light olive oil because it can withstand high cooking temperatures. It's not light in calories so it still gives the cookies that round, rich taste that fat gives a cookie. But, it is light in flavor unlike a extra virgin olive oil which has bitter notes.
Resting the dough
Another interesting part of the recipe is that it calls for resting the dough. This isn't a new concept. It's often done with cookies with a high butter content because you don't want the fat melting quickly in the oven, making flat cookies
.But beyond solidifying the liquid fat, resting the dough also improves the flavor and texture of the cookies. This is because of a process called hydration where the water and flour in a recipe chemically bond making stretchier, chewier baked goods. The best description I've found is this little article from Guy Crosby. It explains the science behind this phenomenon.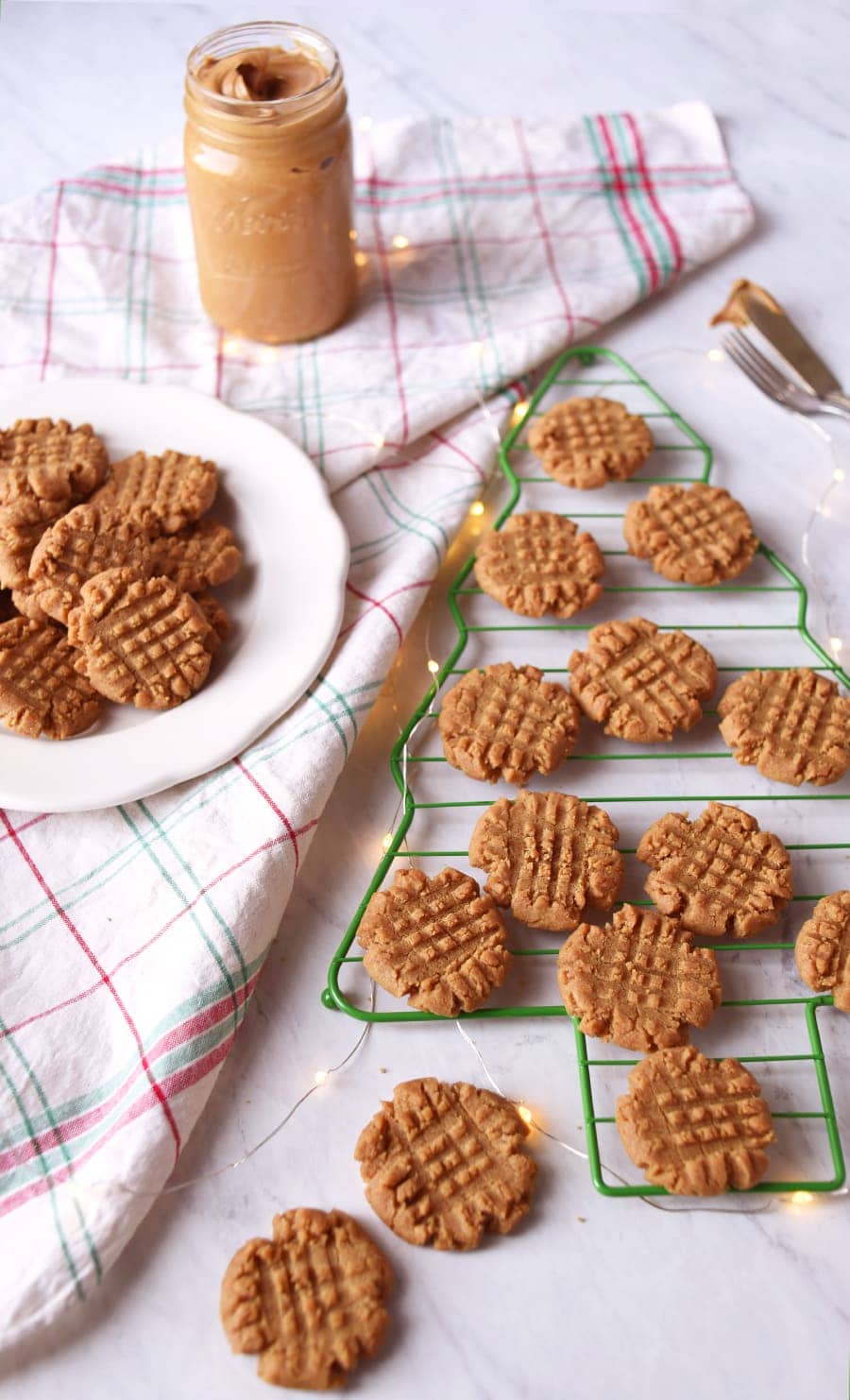 How to make soft and chewy peanut butter cookies
But who cares about science? You want your vegan peanut butter cookies to taste fantastic! Good news is these do. They are crisp on the outside and delightfully soft and chewy inside. Plus the peanut butter flavor! Oh my it's so pronounced! I made the unusual choice to use both peanut butter and peanut powder in this recipe because of the liquid fat. Instead of adding more flour into the recipe, I opted for peanut powder so the signature flavor wouldn't get diluted.
The result is a vegan cookie that tastes just like the traditional recipe. I even tested them on Kevin's coworkers and they were blown away! That being said, just because the cookie tastes traditional does not mean the dough behaved traditionally!
The dough after hydration is quite crumbly. I tried a number of things to combat this, adding water, changing sugars, and thickening my aquafaba. In the end I went back to original recipe because it looked the best although they all tasted about the same. So know the dough will be crumbly when you roll it into balls. If after hydration it refuses to hold a ball shape, add a little more aquafaba, but it should still be pretty dry. As the dough warms up in your hand, it should come together enough to roll.
Couple more things to note: First, this cookie doesn't really rise or spread much, so the they'll come out of the oven in the same shape and size they went in. The second is that the cookies should cool on the pan. When they come out of the oven they will be quite soft but they should look dry on the outside. Unlike cookies with eggs where you can press into the cookie and it will bounce back when it's done, these won't behave that way.
Resist the desire to overcook them. Just like chocolate chip cookies, this recipe has better flavor and texture if the center is slightly underdone. If you or someone you bake for is pregnant, elderly or has health issues, you can toast your flour to make sure the cookies are safe to eat. But that would be an overabundance of caution.
I hope I haven't lost you with all these details! You want to jump right into the recipe, right? Give me just one more minute!
Those leftover chickpeas and extra peanut powder don't have to go to waste! Here are some recipes to make with your leftovers.
Peanut Powder Recipes
Chickpea Recipes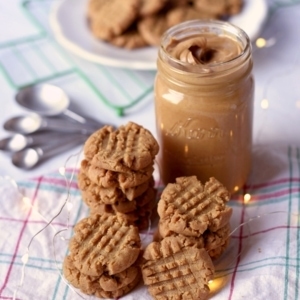 Vegan Peanut Butter Cookies Recipe
Although these cookies are vegan, they have all the classic flavor and appearance of traditional peanut butter cookies. They're crisp on the outside and chewy on the inside and so nutty!
Print
Rate
Ingredients
Dry ingredients
1-1/4

cups

flour

(5.625 ounces)

2

tablespoons

peanut powder

1/4

teaspoon

fine sea salt

3/4

teaspoon

baking powder

3/4

teaspoon

baking soda
Wet ingredients
1

cup

light brown sugar

1/2

cup

plus 2 tablespoons creamy peanut butter

1/4

cup

olive oil

(not extra virgin)

2

teaspoons

vanilla extract

3-4

tablespoons

aquafaba
Instructions
Combine together all of the dry ingredients and whisk them together.

In a large mixing bowl or stand mixer, combine the sugar and peanut butter and beat until smooth.

Whisk in olive oil, vanilla extract and three tablespoons of the aquafaba.

Fold in the flour mixture and mix until all the flour is incorporated.

Wrap the dough in plastic wrap and let it rest in the refrigerator at least 6 hours or up to 24 hours.

After the dough has rested, pull it out to warm up a little while your oven is heating to 350F.

Line two cookie sheets with parchments paper.

Roll the dough into quarter sized balls and press hashmarks into the top with a fork.

Let the cookies cool on the baking sheets.

Store cookies in an airtight container (if you can keep from eating them all immediately!)
Notes
Resting the dough helps the flour absorb the wet ingredients and enhance the flavor.
The first two batches I used 3 tablespoons of aquafaba. The third batch was too crumbly to roll so I added an extra tablespoon of aquafaba.
The dough will feel really oily and be a bit crumbly when you roll it. Although the dough behaves very differently from traditional cookie dough, it bakes beautifully.
If your fork sticks to your dough when you press it down, dip your fork in peanut powder before making your hashmarks.
If you're using natural peanut butter (that's what I used) make sure to really stir it good before measuring.
Nutrition
Calories:
70
kcal
|
Carbohydrates:
8
g
|
Protein:
1
g
|
Fat:
3
g
|
Sodium:
67
mg
|
Potassium:
44
mg
|
Sugar:
7
g
|
Calcium:
12
mg
|
Iron:
0.2
mg
Tried this recipe?
Let us know how it turned out for you! Scroll down to leave a comment below.
Love baking from scratch? Check out all our dessert recipes!
You might also like:
Peanut Butter Sheet Cake
This peanut butter cake is to die for! It's a rich, moist cake topped with creamy peanut butter frosting. Absolutely THE BEST CAKE for peanut butter lovers!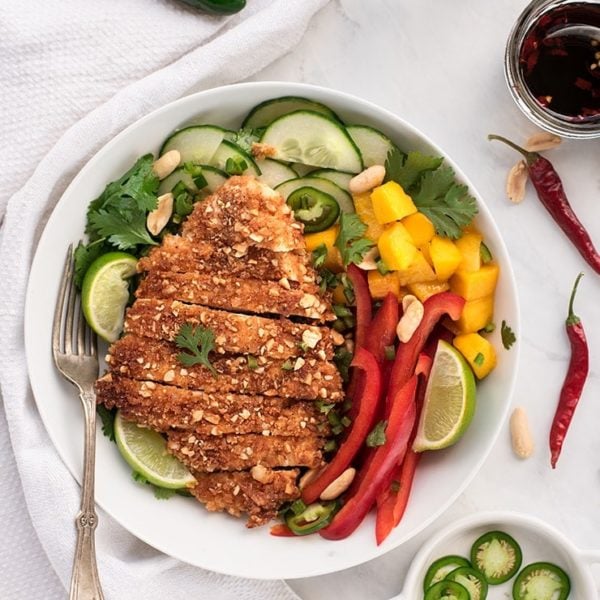 Peanut Chicken
Keep the salad routine from getting boring with this pan-fried, crispy peanut chicken recipe.
Peanut Brittle Popcorn Topping

Everyone loves popcorn, so this holiday make this Peanut Brittle Popcorn Topping for the people on your list. It's sweet, salty and sure to be appreciated!