This PEANUT BUTTER SHEET CAKE is to die for! It's a rich, moist cake topped with creamy peanut butter frosting. Absolutely THE BEST CAKE for peanut butter lovers!
Hello lovelies!!!! You know what time of year it is? It's Vintage Kitty's blogiversary! Which means CAKE!!! You know I always reward you with an original cake recipe. Year one was chocolate chip cookie cake, year two was snickerdoodle cupcakes and last year was blueberry lemon cake.
This year… drum roll… it's PEANUT BUTTER SHEET CAKE!!!!!
It's time to celebrate all of the triumphs of the last four years…you know… the recipes, the craft projects, the successes and even the failures that helped me learn and grow.
But mostly I'm celebrating the friendships. I've had the awesome opportunity to connect with you, the readers and collaborate with some really fun brands and bloggers along the way.
In a time when the internet can be super divisive (and sometimes downright ugly), I feel that Vintage Kitty is a place we can all meet on common ground. We all love homemade food right? I LOVE that we can all sit down at this virtual table together.
We all want our house to be filled with made from scratch, DIY memories. That's what makes it a home! So, I'm fulfilling my purpose by sharing my love of homemaking and the tips and tricks I've learned over the years.
I'm kind of an emotional person and I get teary just thinking about how much has been accomplished over these last four years. But there's still so much more to come! I have an endless list of ideas to make your home life more fun and fulfilling!
As a solopreneur, I'm looking forward to growing the blog so I can outsource some of the technical tasks (Search Engine Optimization I'm looking at you!) allowing me more time to create more great content. As a gift to Vintage Kitty, please share this post. Tell your friends about Vintage Kitty so we can grow together! After all, a rising tide lifts all ships!
Now on to this delicious peanut butter cake recipe! As always, each cake recipe is a labor of love. That's because creating a cake recipe isn't an easy task. It takes recipe test after recipe test to create a scratch cake recipe that works.
Change one ingredient or the baking method and the whole recipe might flop. This is definitely true of peanut butter. It's an ingredient that tastes so good but is also tricky because it's oily, heavy and each brand varies in it's sugar to peanut ratio.
But after trial and error, I'm tickled pink with this sheet cake!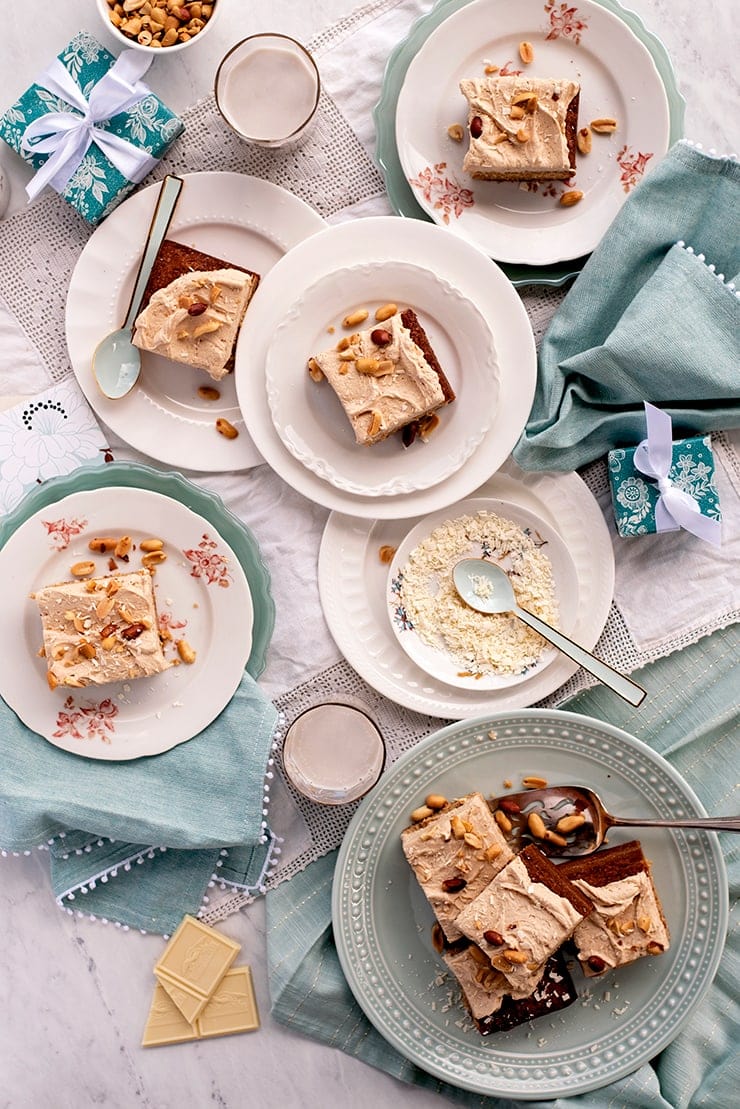 HOW TO BAKE PEANUT BUTTER BIRTHDAY CAKE
The first thing I'll say is that I used Jiff Natural Peanut Butter in all but one test. I personally love this peanut butter because it's super creamy and doesn't separate as much as other natural peanut butter brands.
During testing I ran out of peanut butter and Kevin bought a conventional, store brand peanut butter. Well, the cake didn't rise and it browned unevenly. After baking the cake we did a peanut butter taste test. Despite similar calories, sugar and fat content on the labels, the Jiff Natural tasted like peanuts while the store brand was overwhelmingly sweet.
Sugar is a liquid and cakes are a delicate science. Needless to say, I went back to the natural peanut butter I had created the recipe with. If you can find this peanut butter, for consistency, I'd suggest using it. If you can't, go with a natural peanut butter that is creamy (not granular) and mix it really well before measuring.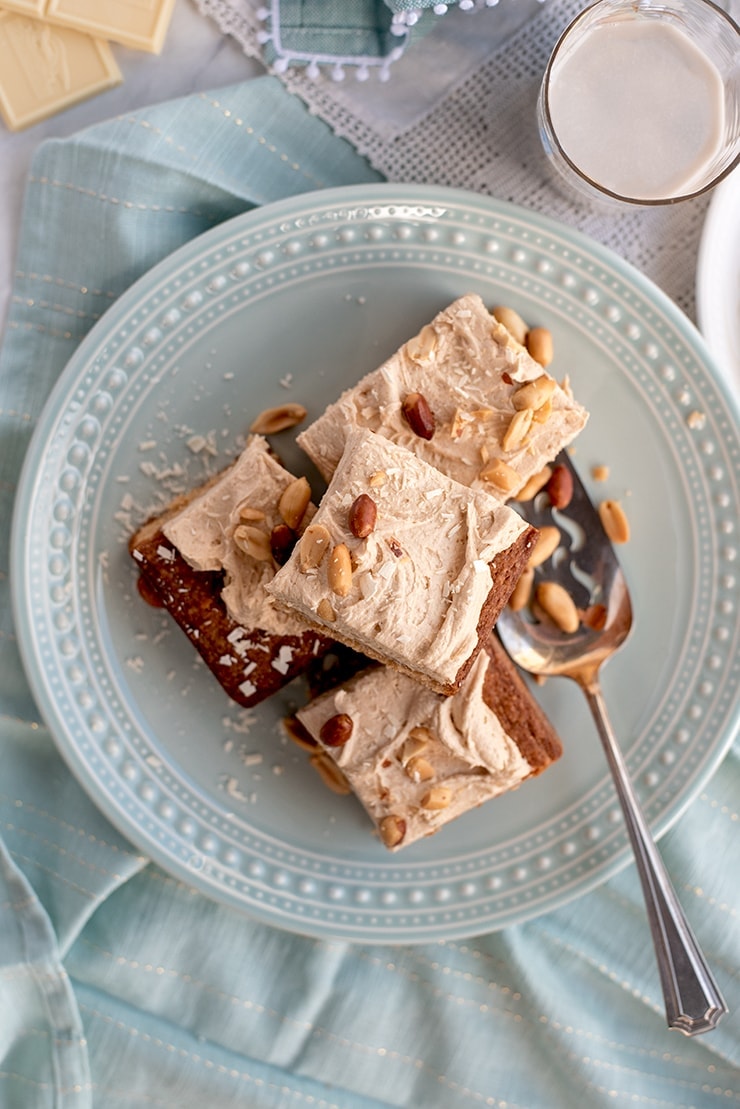 The next tip is that temperature matters. I started testing this recipe during the last throws of winter. If you're a regular reader you know that my fixer-upper house is cold when it's cold and hot when it's hot.
I thought I had a perfectly tested recipe! Then when the photoshoot came around it was quite warm. So, you'll see in these pictures that the cake fell a bit.
I was afraid that I let my butter get too warm and I was right. If the butter gets too warm, there will be less air bubbles which means less rise. It was still delicious and beautiful but I'm a perfectionist. A sunken cake is subpar.
Naturally, I retested the recipe. This time I made sure to not let my butter (or the buttermilk and eggs for that matter) get above room temp (68-72F) and all was well. Perfect rise and results!
Believe it or not, before creating this recipe I didn't have a proper sheet cake pan, so testing started in a glass lasagna pan. Not a good choice because the outside of the cake got done so much faster than the inside. The result was a dry cake with an over-baked exterior.
So, I did a ton of research and decided to buy this Calphalon 9×13 pan. I liked the square corners and the fact that it came with a lid for travel and storage. It's a GREAT pan that produces an even bake and I'm so happy I bought it.
PEANUT BUTTER SHEET CAKE BAKING TIPS
Weigh your ingredients. This is super important for flour and in this case brown sugar. It will achieve more consistent results.
Measure first, then make your batter.
Always use fresh eggs, not egg carton eggs!
Sift, baby sift! This is especially true in humid climates!
Make sure your baking powder is fresh.
Don't over mix! This can be true of fluffing butter and adding in the flour mixture. Less is more!
NEVER EVER level cake batter by smacking it on the counter. Your cake does not need to be burped! Level thick batters with an offset spatula.
Bake the cake in the middle of the oven.
Leave the cake alone until it's almost done! Opening the door before the cake has risen can make it fall.
To those new or casual bakers out there, YOU CAN DO THIS! I just like to explain the science of baking a cake so you get the best results possible! Even when my own results were not perfect, my taste testers loved the cake.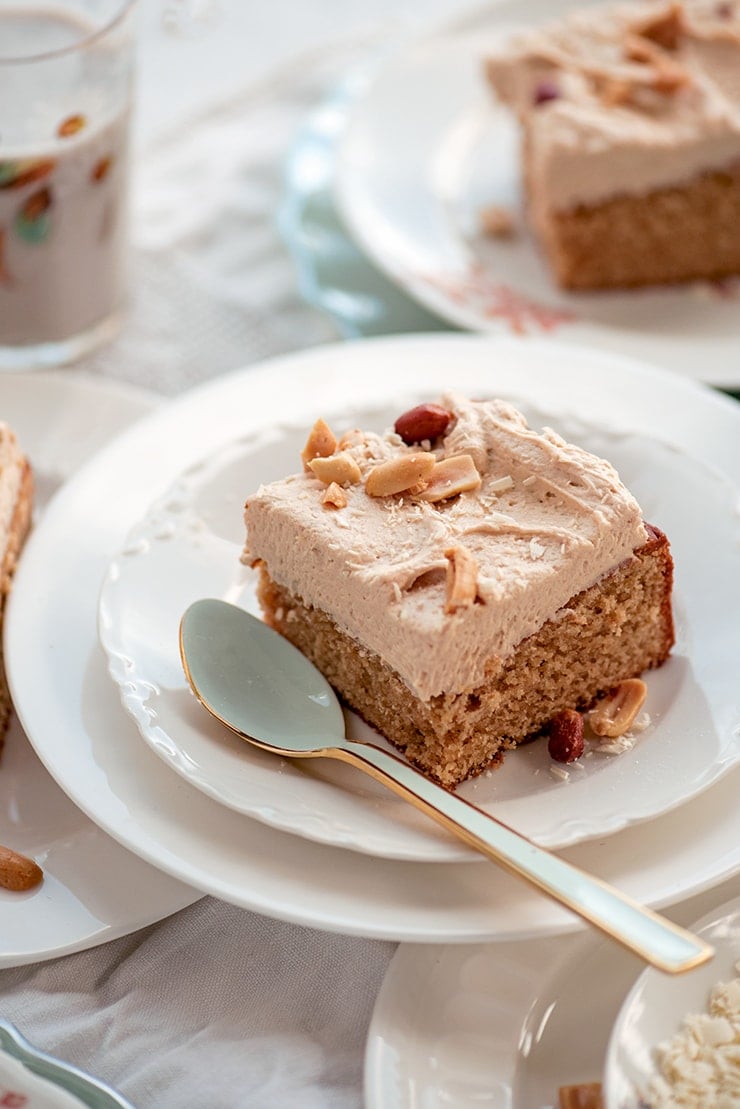 This cake has a beautiful, moist crumb but is similar in texture to a pound cake. It's dense and very rich. Which is why I paired it with a peanut butter buttercream that is sweet but not overwhelmingly peanut butter flavored.
The frosting is fluffy and creamy to complement the rich flavor of the cake. And if I do say so myself, the total package is an A+. It's decadent, not too fussy but has that all-American appeal.
It's the kind of sheet cake that can feed a crowd. The 9×13 cake pan made 15 generous pieces of cake. Given the richness of the cake, you could cut those piece in half and serve the cake with ice cream for picnics, office birthdays, Labor Day or any occasion where you NEED TO EAT CAKE but must also feed a crowd.
Like blogiversaries! Unfortunately I have to serve each of you a virtual piece of cake but this recipe is my gift to you! From the bottom of my heart I thank you for reading and being a part of this fantastic journey.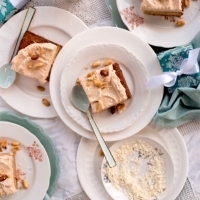 Peanut Butter Sheet Cake Recipe
Peanut butter cake plus peanut butter buttercream? This sheet cake recipe is over the top delicious! Super great for celebrations like Vintage Kitty's four year anniversary, but it's great for birthday parties and potlucks too!
Print
Pin
Rate
Ingredients
Peanut Butter Sheet Cake
3

cups

all purpose flour

(13.5 ounces) , sifted

1

teaspoon

baking powder

1/2

teaspoon

baking soda

1

teaspoon

sea salt

12

tablespoons

salted butter

, room temperature

2-1/2

cups

light brown sugar

(17.5 ounces)

1/2

cup

natural peanut butter

1/4

cup

olive oil

2

large

eggs

, room temperature

1-1/3

cup

buttermilk

, room temperature

2

teaspoon

vanilla extract
Peanut Butter Buttercream
12

tablespoons

salted butter

, room temperature

1/4

cup

peanut butter

2

teaspoons

vanilla extract

3

cups

powdered sugar

, sifted

6

tablespoons

heavy cream
Optional Garnish
cocktail peanuts

grated white chocolate
Instructions
Peanut Butter Sheet Cake
Measure out all ingredients and let them come to room temperature before beginning. Combine the flour, baking powder, baking soda and salt in one bowl. Combine the buttermilk and vanilla in another.

Preheat oven to 350F then grease and flour a 9 by 13 inch cake pan.

Whip butter with brown sugar until light and fluffy then add peanut butter and mix to combine.

Add in the eggs one at a time, beating each just to combine.

With mixer running, pour in oil in a slow steady stream.

Add dry ingredients alternating with buttermilk mixture in three intervals, beginning and ending with the flour. With the last addition of flour, be careful to not overmix. A little unmixed flour is okay!


Spread batter into prepared cake pan and transfer to preheated oven. Bake 40-45 minutes or until a toothpick comes out clean.

Let cake cool at least 15 minutes before turning out cake (if desired). Let cake cool completely before frosting.
Peanut Butter Buttercream
Cream butter with peanut butter then add in vanilla extract.

Slowly add in sifted powdered sugar, whipping between each addition.

Add in heavy cream, 2 tablespoons at a time, mixing thouroughly each time.

Once all the heavy cream has been added, whip buttercream until light and fluffy.

With an offset spatula, frost cake and sprinkle with chopped nuts and grated white chocolate if desired.
Notes
I found the Kitchen Aid whisk attachment was preferable to the paddle for this recipe.
Peanut butter is sticky and heavy. Make sure to scrape the bottom of your bowl with a spatula between additions.
See more tips in the blog post!
Nutrition
Calories:
640
kcal
|
Carbohydrates:
83
g
|
Protein:
7
g
|
Fat:
32
g
|
Saturated Fat:
15
g
|
Cholesterol:
86
mg
|
Sodium:
457
mg
|
Potassium:
235
mg
|
Fiber:
1
g
|
Sugar:
61
g
|
Vitamin A:
725
IU
|
Calcium:
89
mg
|
Iron:
1.9
mg
Tried this recipe?
Let us know how it turned out for you! Scroll down to leave a comment below.
Love this recipe? Then you'll also love these made from scratch cake recipes!
You might also like: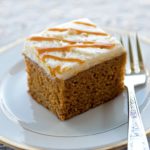 Pumpkin Spice Cake
This cake takes the fuss out of making a cake from scratch. In about an hour you can put together this delicious dessert.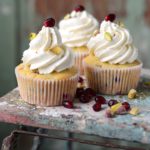 Pomegranate Cupcakes
Pomegranate Pistachio Cupcakes with Greek Yogurt Buttercream are a sweet and tangy spin on the classic yellow cake.
Asian Pork Tenderloin
This juicy Asian Pork Tenderloin with Peanut Sauce is fast enough for weekday meals but its so spicy, savory and succulent, you'll crave this every night!