Swirled peppermint meringues are a sweet treat perfect for the holidays! We've whipped up this recipe using aquafaba, which makes a vegan, egg-free and gluten-free cookie everyone will enjoy.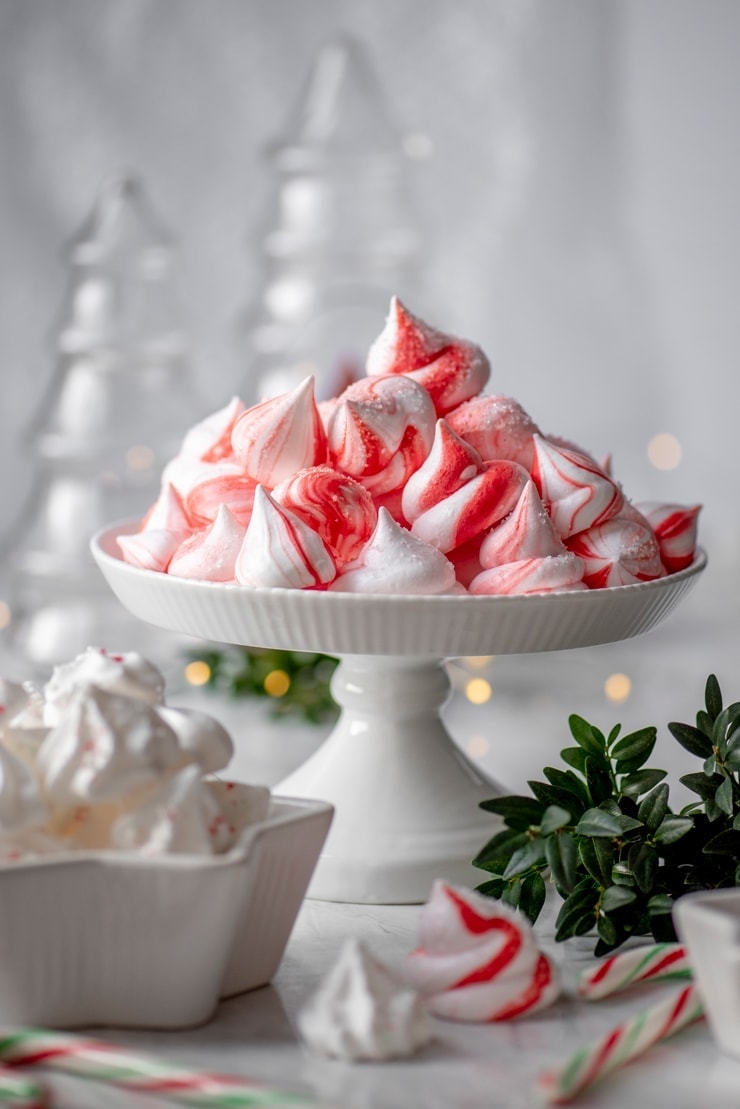 The holiday season is upon us. It's a time for catching up with loved ones over a cup of coffee or Christmas cocktail. You never know who's going to pop into town unexpectedly, so having treats on hand to serve or gift is a must.
This peppermint meringue recipe has become a favorite because it's so pretty, festive, and super easy to make. In about 20 minutes these sweet little kisses can be whipped and in the oven. That's because they only require 4 ingredients.
But I also love that this recipe is vegan, egg-free and gluten-free so you don't have to fret about having a dessert everyone can eat.
To make these treats allergy and vegan friendly I've used aquafaba which is just a fancy way of saying bean water. It sounds unappealing, but let me assure you that aquafaba is an excellent replacement for egg whites. It's virtually tasteless and whips to firm peaks, so it's ideal for making meringues. In fact, if you don't tell them they're made with aquafaba, they won't have a clue.
Another benefit of this recipe is you can make it with or without food coloring. I made half of the batch swirled like peppermint candies and the second half I left white and decorated with crushed candy canes.
The meringue is very easy to make but piping is a little tricky. If you're not an expert with a pastry bag, no worries. This recipe makes a lot of meringues so if you have some misshapen ones, set them aside to melt in hot cocoa. It's also an inexpensive recipe, so if you want to practice piping, you won't break the bank.
But unfortunately you cannot double this recipe. One recipe will fill up a standard sized oven.
Fortunately, they can be made in advance. If stored properly in an airtight container, these peppermint meringues will stay fresh for weeks. So this is the type of gift you can make and package early. A huge plus for the busy holiday season!
These vegan peppermint meringues are light and sweet with just the right amount of sharp, peppermint flavor. If you're like me and think that more is more, you can also decorate the meringues with sanding sugar. It makes them glitter like they're covered in snow.
Aren't they pretty piled high on a cake platter? One more thing to note is that in rainy, humid weather they can get soft and sticky, so if you're making a cookie spread, put these meringues out at the last minute or place them in a pretty glass jar.
Tips for making peppermint meringues
I used my Kitchen Aid Mixer with a whisk attachment to make these meringues. It's the friction between the whisk and the bowl that breaks down the granulated sugar, so do not attempt to make these meringues by hand.
If you don't have a pastry bag or tips, using a zip top bag with a corner snipped off will do in a pinch.
The number of meringues you get will depend on the size of your pastry tip.
For the swirled meringues I used an Atecco 809 pastry tip.
For the white meringues sprinkled with candy canes I used an Atecco 825 tip.
Gel food coloring is best! I used Americolor Super Red which does not water down the meringue.
I used McCormick peppermint extract and 1/8th a teaspoon was the perfect amount. If you use another brand, I suggest adding a drop at a time until you get the level of peppermint flavor you find pleasing.
Don't overload your pastry bag! With a small bag you'll need to refill it 3-4 times. Too much and it will ooze out the back.
If you are gifting these peppermint meringues, make sure to use an airtight container! Something that snaps closed rather than a box! They are very sensitive to moisture.
Peppermint Meringues
You have to be a little patient with meringues, as they need to bake slowly and dry overnight. But the results are magnificent! It's a treat peppermint lovers will adore. They can be swirled to look like peppermints or made plain and sprinkled with crushed candy canes.
Print
Rate
Equipment
Stand or hand mixer with whisk attachment

Large piping bag

Plastic wrap
Ingredients
Meringues
1/2

cup

aquafaba

(we used chickpea aquafaba)

1/4

teaspoon

cream of tartar

2/3

cup

granulated sugar

1/8

teaspoon

peppermint extract
Decorations
Red gel food coloring

Crushed candy canes

Sugar sprinkles
Instructions
Preheat oven to 175F and line three cookie sheets with parchment paper.

Combine aquafaba and cream of tartar and whip to stiff peaks.

Slowly add in a spoonful of sugar at a time. Make sure to whip meringue at least 30-60 seconds between each addition.

Whip until meringue is stiff and glossy then add peppermint extract and whip again.

For plain meringues, load meringue into a large pastry bag.

For swirled meringues mix about 3/4 cup meringue with a couple drops of red gel food coloring, then lay out a large piece of plastic wrap. With a spoon, spread two long lines of red meringue on the plastic wrap then place white meringue on top. Fold the plastic wrap into a roll and gently press out air bubbles. Twist ends of plastic wrap and slip into piping bag. Pull one end through the tip and cut with scissors.

Pipe meringues onto cookie sheets and if desired, sprinkle with crushed candy canes or decorating sugar.

Turn off the oven and leave the meringues in the oven overnight.

Place meringues in an airtight container and store in a cool location.
Notes
For the swirled meringues I used an Atecco 809 tip
For the white meringues sprinkled with candy canes I used an Atecco 825 tip.
Don't overload your pastry bag! With a small bag you'll need to refill it 3-4 times. Too much and it will ooze out the back.
For more tips please read the blog post!
Nutrition
Calories:
11
kcal
|
Carbohydrates:
3
g
|
Protein:
1
g
|
Fat:
1
g
|
Sodium:
1
mg
|
Potassium:
3
mg
|
Sugar:
3
g
|
Calcium:
1
mg
Tried this recipe?
Let us know how it turned out for you! Scroll down to leave a comment below.
Looking for more cookie inspiration? Check out all of our dessert recipes!
You might also like: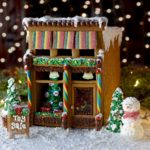 Gingerbread House Template
Download our gingerbread house template to make this cute toy store! It's competition worthy but it's boxy design makes construction simple. It's a great way to get into the holiday spirit!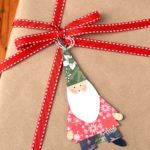 Christmas Gnome Craft
This Christmas Gnome Craft is a fun project for kids and adults! Use these paper gnomes as gift tags, Christmas ornaments or make into a holiday garland.
Peanut Brittle Popcorn Topping
Peanut Brittle Popcorn Topping is an easy and tasty homemade Christmas gift. Perfect for movie night!