Peanut Brittle Popcorn Topping is an easy and tasty homemade Christmas gift. Perfect for movie night!
---
Everyone loves popcorn, so this holiday make this Peanut Brittle Popcorn Topping for the people on your list. It's sweet, salty and sure to be appreciated!

When it comes to the holidays, I love to give homemade gifts that come from the heart. Being an avid baker and candy maker it's normally something sweet, but I've created a number of themed baskets over the years. There have been pasta baskets, cookie jars, breakfast baskets. but a popcorn gift basket is a winning idea that can't be overplayed.
Nothing brings the family together like a movie night, so this Peanut Brittle Popcorn Topping is the start to quality family time. You can go as big or small as you want with this idea. Sometimes I'll fill a large bowl with toppings, gourmet popcorn, candy, hot cocoa and pair it with a warm throw blanket and a movie, but this Peanut Brittle Popcorn Topping is also an excellent stocking stuffer.
I don't know if you've seen the bags of peanut powder that have been popping up in grocery stores… supposedly, you add water and to make peanut butter but I haven't tried that yet. I have been using it in baked goods and an occasional smoothie.
So when I was thinking about popcorn toppings recently, the peanut powder came to mind. One of my favorite toppings for popcorn is caramel, so when you put caramel and peanuts together you get peanut brittle. Genius right?
To make this simple topping, you cook up a brittle without the peanuts, pulverize the candy and add peanut powder! So easy! The result is a sweet and salty topping that is full of nutty, caramel flavor! It's sure to be a winner this holiday season!
Peanut Brittle Popcorn Topping
Peanut Brittle Popcorn Topping makes an excellent holiday gift!
Print
Rate
Ingredients
1

cup

white granulated sugar

1/2

cup

corn syrup

1/4

tsp

sea salt

1/4

cup

water

2

tbsp

salted butter

1

tsp

baking soda

1

tsp

vanilla extract

3/4

cup

peanut powder
Instructions
Line a cookie sheet with parchment paper greased with small amount of vegetable oil.

In a heavy bottomed two quart pot, combine sugar, corn syrup, salt and water.

Over low heat, melt the butter and sugar while stirring constantly.

Attach a candy thermometer to the pan, and turn up the burner to medium-high.

Stir constantly as the mixture boils, bring the syrup to hard crack stage (300 F).

Once you've reached 300, turn off the heat and stir in the butter, baking soda and vanilla (the mixture will foam up).

As soon as the butter has melted, pour brittle onto the prepared cookie sheet.

Once the brittle has completely cooled and hardened, break it into small pieces and pulverize it in a food processor with the peanut powder until very fine.

Store in an airtight jar until ready to use.
Notes
Makes about 2 cups of topping which I divided into 5 tall spice jars for gifting.
Nutrition
Tried this recipe?
Let us know how it turned out for you! Scroll down to leave a comment below.
You might also like: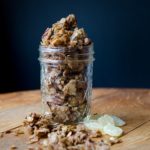 Gingerbread Granola
Gingerbread Granola is super easy to make and great for snacking, yogurt parfaits or as a thoughtful, homemade gift. Gingery, sweet, crunchy, nutty and so good!
Hickory Marshmallow S'mores
Made from scratch with artisan hickory syrup and whiskey, fine chocolate has met it's match with these fluffy confections.
Orange Cranberry Patties
Orange Cranberry Patties make excellent Christmas gifts! Nothing says "I love you" like homemade candy!