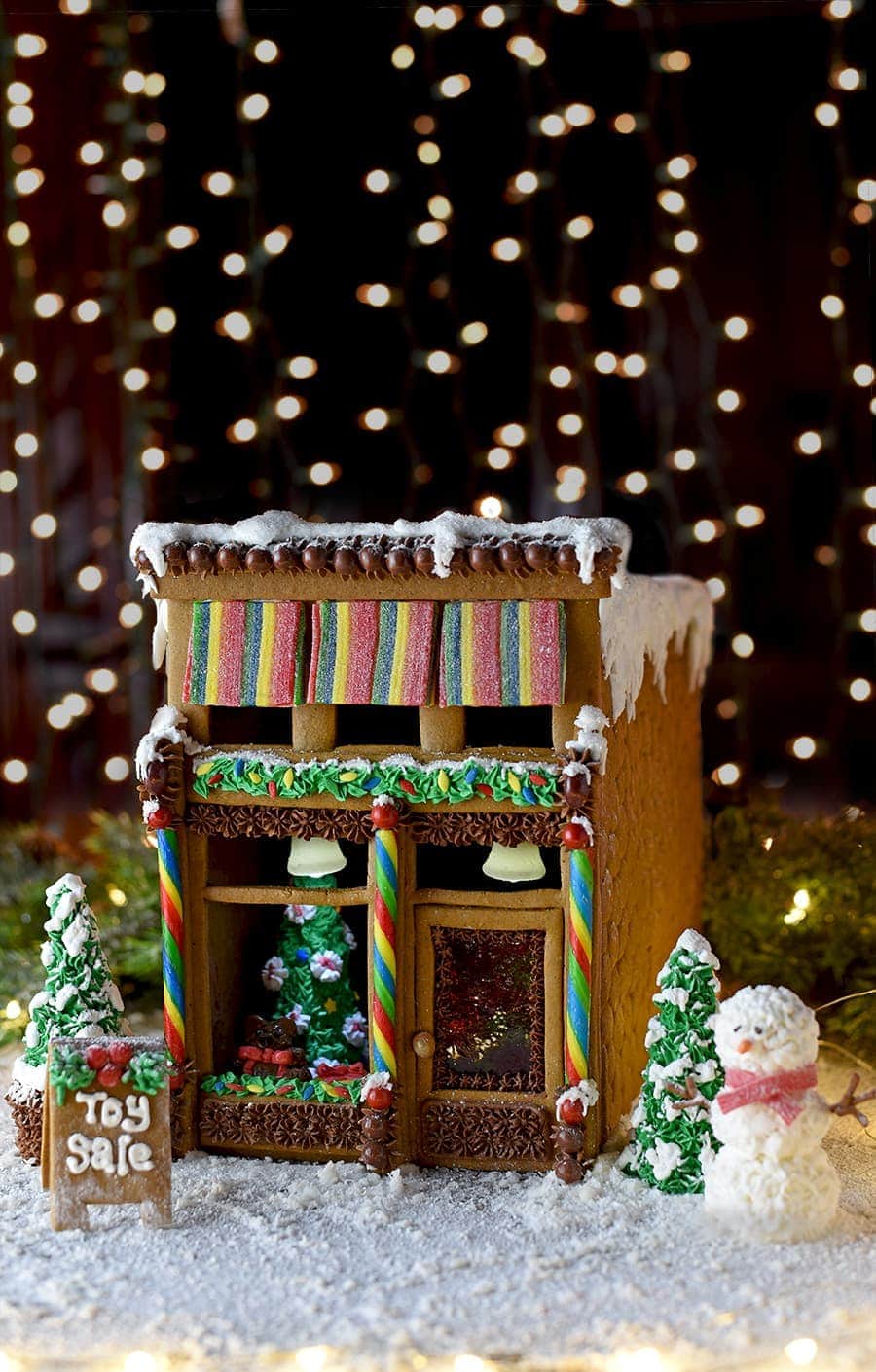 Our Victorian Storefront Gingerbread House brings the magic of a historic downtown to your house!
---
Download our gingerbread house template to make this cute toy store! It's competition worthy but it's boxy design makes construction simple. It's a great way to get into the holiday spirit!



You might know from the name of the blog that I like old school charm. What you may not know is that I'm very into historic preservation. I've served on my town's Historic Landmarks Commission as well as our Mainstreet organization so remembering to shop small, local businesses is very important to me.
When I decided to create a gingerbread house template for the blog, I thought that a quaint downtown shop would be fun to build plus I thought it would remind my readers of the joy that comes with visiting a historic downtown business district during the holiday season.
You know the downtowns… the street lamps are covered in garland and holiday lights, there's a huge Christmas tree twinkling near the town hall and the stores invite you into their warmth with scents of cinnamon and spice. It's the time of year when you might see a horse drawn carriage, carolers in 19th century costume and Santa's jolly laugh is making all the kids BELIEVE!
It's about community and spreading joy and there's no place better to find that sense of wonder than a historic downtown filled with mom and pop shops. And so I'm going to shout this message from the top of my little gingerbread rooftop. Please #shopsmall this holiday season!!!!
To inspire you, I built this beautiful gingerbread house that emanates downtown magic! I had planned to have this post out weeks ago before Small Business Saturday or even Thanksgiving but even with a month of planning beforehand, I underestimated the time it would take to design, shop, bake, build, decorate and ultimately photograph this Victorian Storefront Gingerbread House.
I should have known better because years ago I tried to make gingerbread houses with my niece in one day and by the end of that day, they weren't completed and I was bedraggled with exhaustion. So this Victorian Storefront Gingerbread House Template comes to you with lots of advice! It takes days to make a gingerbread house, but this way it's more fun. You can spend a little time over a few days rather than one terribly long day where your pieces collapse because you haven't let the icing dry properly. Learn from my mistakes!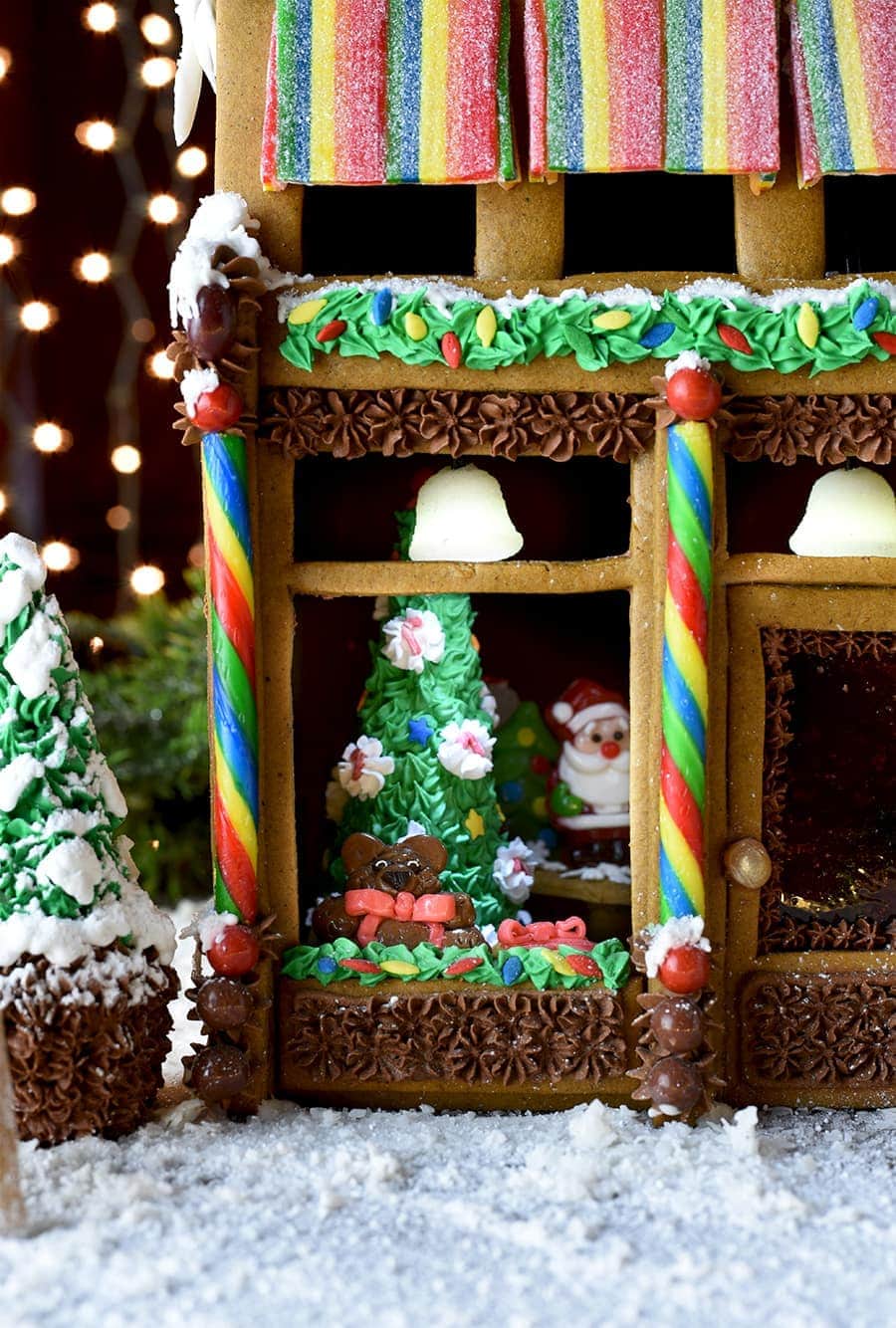 My first tip before you get started is put this house on something moveable. As far as gingerbread houses go, this one is quite large….maybe not like the ones the pastry chefs at the White House create…but it's big like a downtown building. We built ours on a countertop remnant I use for photography. You can use a painted piece of plywood or a marble pastry board but make sure it's sturdy but not too heavy for two adults to carry. It's best to start in the kitchen for the messy royal icing parts then once it's completed you'll want to move it somewhere to display your work!
The next step is shopping for all that candy. I bought most of my candy at the Dollar Tree because the prices can't be beat. Buy more than you think you'll need because when you are decorating you don't want to run out! Leftover candy can be used for Christmas tree decorations or as stocking stuffers.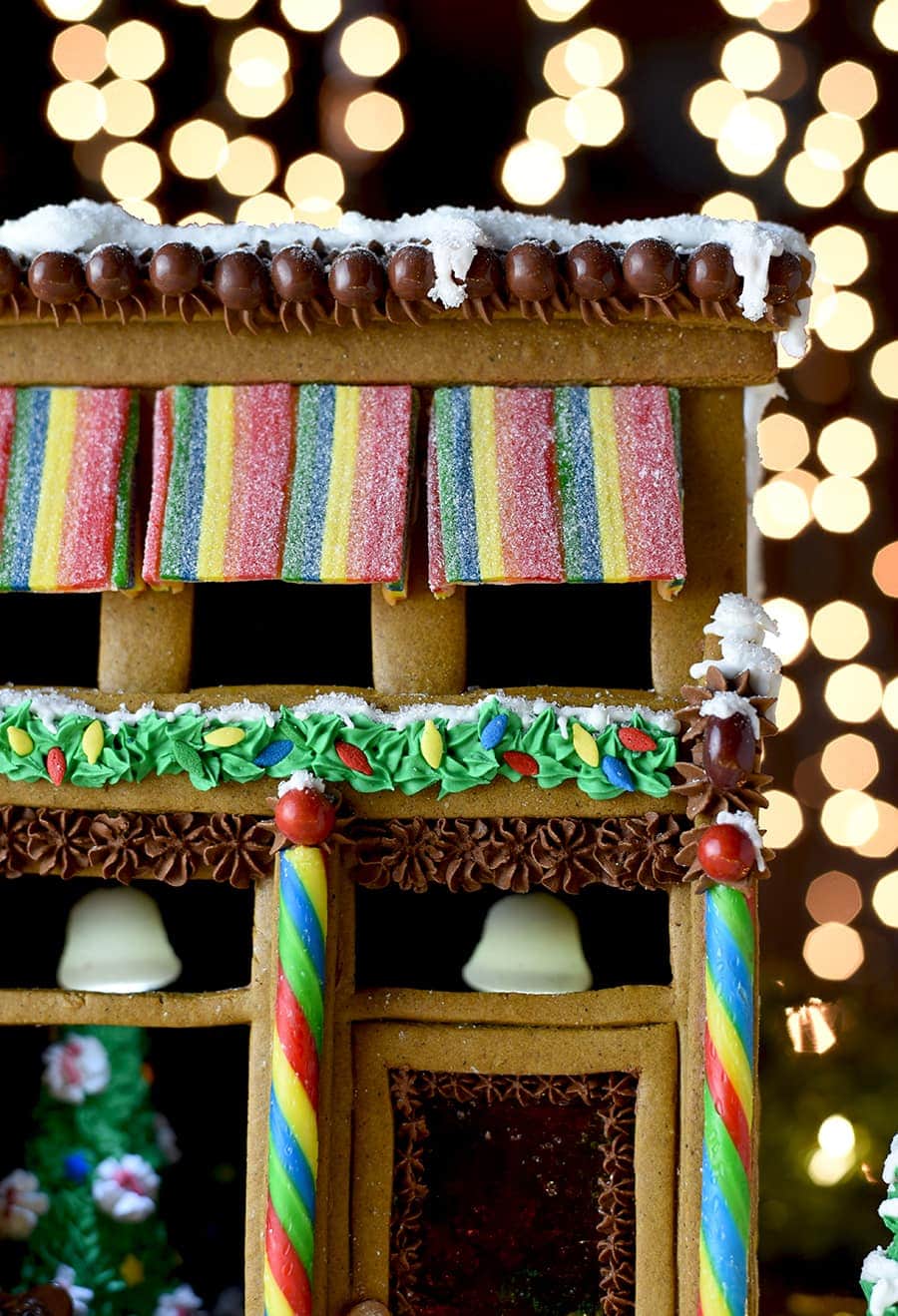 But my most important tip before you start this gingerbread house is to have fun making it! While you bake and decorate, listen to Christmas music and drink hot chocolate or for adults totally make yourself one of these Candied Cranberry Whiskey Smash cocktails. Get into the spirit and trust me your creativity will flow!
Now for the recipe and instructions. Make sure to scroll all the way down because there's a huge list of tips and info at the bottom of the post. If I've forgotten anything or you have questions, please leave me a note below in the comments section. I'd love to see your gingerbread masterpiece so share by tagging me on Facebook (@vintagekittyblog) or Instagram (@vintagekittyblog)!
XOXO and Happy Holidays to all my lovelies!
-Kitty
Victorian Storefront Gingerbread House
This recipe will make a very large gingerbread house with extras for decorations. It's a very structural recipe, so eating is not recommended.
Print
Rate
Servings:
1
gingerbread house
Ingredients
Gingerbread House Dough
1-1/2

cups

sugar

1-1/2

cups

molasses

4-1/2

teaspoons

ground ginger

1

tablespoon

ground allspice

1

tablespoon

cinnamon

1

tablespoon

ground clove

1-1/2

cups

vegetable shortening

3

eggs

, beaten

10-1/2

cups

all-purpose flour
Royal Icing
6

egg whites

9-1/2

cups

powdered sugar

1

teaspoon

cream of tartar
Instructions
Geting ready
Cut out template pieces and place them all in a large ziplock bag so you don't lose anything.
Baking your gingerbread house
In a large dutch oven or heavy bottomed pot, combine sugar, molasses and spices.

Bring to a gentle boil, stirring constantly until sugar has melted.

Turn off the heat and stir in the shortening

Once the shortening is mostly incorporated, add in the flour a little bit at a time.

When you reach the point your arms are too tired to keep stirring in flour, transfer to a lightly oiled work surface ( I did this on my marble countertop) or to a very large bowl.

Knead in the remaining flour and then make a well in the center of the dough.

Add in a little bit of egg and knead until incorporated.

Keep adding a little egg at a time until it's all incorporated and the dough is smooth.

Separate the dough into 4 or 5 disks and wrap all but one in plastic wrap (but do not refrigerate).

Roll out the first disk between two sheets of parchment paper to about 3/8th inch thickness.

Lay your template over the dough and with a sharp knife, cut out the template.

Using the parchment paper under the dough, transfer the gingerbread piece to a cookie sheet.

If necessary, trim the parchment so it all fits on the cookie sheet, then place the dough in the refrigerator to chill, 30-60 minutes.

Repeat the process above for your remaining gingerbread house pieces.

If you have any gingerbread dough left over, wrap it tightly and refrigerate it in case you need it later.

Once your pieces are cut and chilled, preheat your oven to 325F.

Bake one or two cookie sheets at a time, baking until they are hard and the dough bounces back when your touch it lightly, about 12-20 minutes depending on the size.

Cool cookies on the tray, transferring only once they have cooled completely.

Let cookies dry out for a day or two before decorating for best results.
How to make royal icing
In the bowl of a stand mixer, combine egg whites and cream of tartar.

Whip egg whites until they form stiff peaks.

Slowly sift powdered sugar into egg whites, mixing between additions.

Once the icing is completed, cover with plastic wrap, pressing into the icing to keep it from hardening.

To color, place some of the frosting in a bowl and add gel color and mix with a spoon.

To pipe, place icing in a piping bag and place a rubber band on the end to keep the air out.

Place the bag in a glass with a damp paper towel at the bottom to keep your pastry tip from clogging while you work. Store any icing you aren't using currently in the refrigerator.
Building your gingerbread house.
Gather a bunch of canned food from your food pantry.

Add icing to the seams of two side pieces and place them together, using the cans to hold the pieces in place.

Make sure to smooth out any unwanted icing before it dries.

Keep adding walls, until you four walls are glued together then let it dry until the royal icing is completely dry...about 12-24 hours.

Meanwhile you can assemble or decorate smaller items to place inside your gingerbread house, things likes trees, wreaths, snowmen, and sandwich board

Gather your decorations and organize them in a cupcake tin so you can easily grab them while you decorate.

Cut small pieces of parchment to place under the decorations you're making so they're easy to move later. Remember that this stiff royal is like glue!

Any decorations made with royal icing should be left to dry completely before moving around but make sure to add any sprinkles before it starts to set.

Once the house walls are dry, decorate the outside of your gingerbread house.

Place decorated figures inside your house and then glue on the roof.

Ice the entire roof, making dangling icicles and scattering sanding sugar on top before the icing dries.

Once the house is decorated, thin a little white royal icing by adding a 1/4 teaspoon of water at a time until it flows nicely. Spread it around the ground of the gingerbread house to make snow. This will also keep the house from sliding around when you move it.

Place any outside decorations around your house while the royal icing is still wet.

Give the entire piece a dusting of powdered sugar and step back to marvel at your creation!
Nutrition
Calories:
7366
kcal
|
Carbohydrates:
1267
g
|
Protein:
177
g
|
Fat:
179
g
|
Saturated Fat:
49
g
|
Cholesterol:
2711
mg
|
Sodium:
1449
mg
|
Potassium:
5106
mg
|
Fiber:
25
g
|
Sugar:
759
g
|
Vitamin A:
3935
IU
|
Vitamin C:
2.4
mg
|
Calcium:
1018
mg
|
Iron:
52.6
mg
Tried this recipe?
Let us know how it turned out for you! Scroll down to leave a comment below.
Gingerbread House Tips
Don't expect to make this Victorian Storefront Gingerbread House is one day. We built this over several days, leaving plenty of drying time in between additions. It's also more fun that way because it takes many hours to complete. A little over a few days is less tiring.
You'll need scissors, piping bags, piping tips, fine mesh sieve or sifter, offset spatula, rolling pin, parchment paper, sharp straight edge knives, and a mixer with whisk attachment.
Have on hand a variety of decorations. We used jelly beans, starburst, taffy, ice cream cones, red hots, candy canes, jolly ranchers, sixlets, gumdrops, tootsie rolls, sprinkles, and decorating sugar. Much of this we purchased at the Dollar Tree to save money.
It's helpful to choose a color scheme for your house before you start. Having too many colors on a house can make it look messy rather than coordinated.
The front of a storefront is always the most elaborate on a downtown building, so we decorated it while it could lie flat and then let it dry overnight. When assembling the house, we protected the front with bubble wrap so the cans wouldn't break any of the decorations.
We tinted our royal icing brown using Americolor's chocolate brown gel so that the royal icing holding together the house wouldn't be visible. We used this same color for decorative piping around the doors and windows. We also used Americolor gels for the green. This pack of gels is ideal to have any color on hand.
The stained glass front door was made with melted jolly ranchers. I smashed them into little pieces, placed them in a plastic cookie cutter on a piece of parchment in a pyrex dish and melted the candy in the microwave. Let cool completely before trying to remove!
For the sides of the building I used a textured mold that looks like stone. I couldn't find the one I have online but this set will do the same thing.
The snowman is filled with rolled up starburst candies. I made three balls and piped each with a star tip. After they dried, I glued them together using more icing.
The bear is sculpted from tootsie rolls.
We lit the inside using the same led lights we used in our Harry Potter Wand Tutorial. The shades are bell shaped gumdrops. The switch and battery are hidden in the roof icing.
The awnings were made with starbursts mashed together and rolled thinly. I then pasted on striped taffy with corn syrup and molded them on cardboard. Once they started to dry out, I took off the awning and backed it with royal icing to give it structure.
I also used cardboard to hold the sandwich board while the royal icing dried.
The trees were made with ice cream cones.
Gaps and mishaps can be covered up with snow.
You might also like: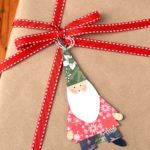 Christmas Gnome Craft
This Christmas Gnome Craft is a fun project for kids and adults! Use these paper gnomes as gift tags, Christmas ornaments or make into a holiday garland.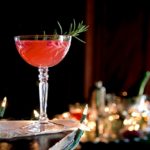 Saucy Santa Cider Cocktail
Bubbly hard cider, fresh pomegranate seeds and springs of rosemary come together to make a festive holiday drink. Let's toast to the season!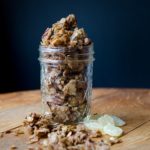 Gingerbread Granola
This Gingerbread Granola is super easy to make and great for snacking, yogurt parfaits or as a thoughtful homemade gift. Gingery, sweet, crunchy, nutty and so good, you'll want to eat this granola all year long!