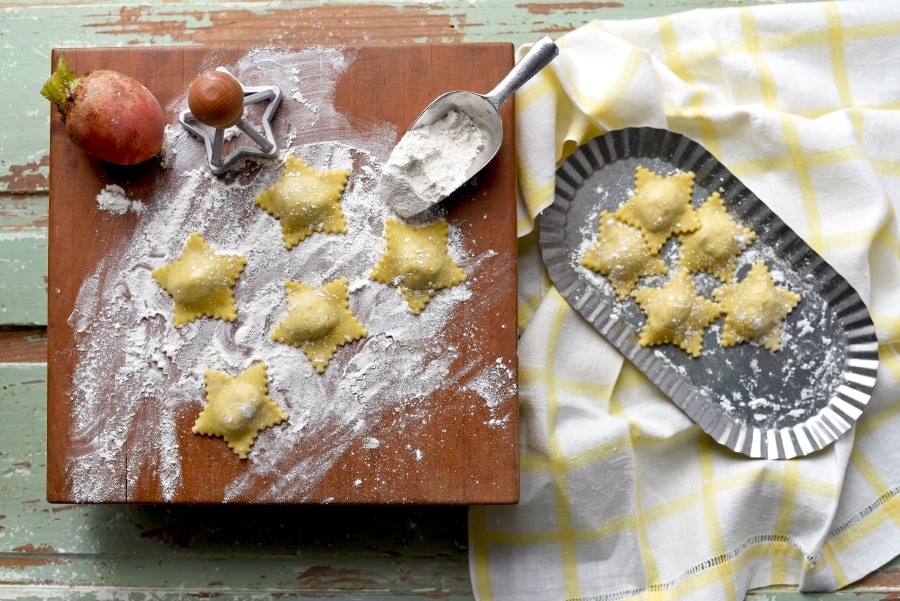 This festive and delicious Golden Beet Ravioli will be the star of your dinner or your party.
---
This great recipe combines fresh, from scratch pasta, with an easy cheesy savory filling that makes enough for a party or to save for later. The amount of golden beet ravioli you get from the recipe makes it worthwhile to pull out your pasta roller, but you'll have to check your self control to keep from eating it all.
Making ravioli is a fun activity.
Hi there Kitty fans, this is Kevin writing about Kitty's amazing new recipe.
The first memory that I have of making fresh pasta was, in hindsight, my mom coming up with activities to keep three kids entertained or at least together, during an extended power outage. She pulled out the her hand crank pasta roller (I've since absconded with the very same roller and we used it to make this recipe), flour, and salt and sifted them together and then added egg to a well she made in the center of the flour. It was amazing to see that turn into a dough. By the time we went to bed, the power was still off, but the kitchen had a string run across it three times and it was covered with fresh pasta noodles.
To this day, whenever we make fresh pasta it always feels like a good time. Not only is making pasta super fun, Charity and I often use 'pasta night' as a date night. We get to spend some quality time together with each other, some flour and a bottle of wine, I highly recommend it.
Making fresh pasta can seem daunting, particularly when you can just buy a box of dried pasta from the grocery store. But believe me, the difference between fresh, from scratch pasta and store bought is incredible and worth the time. Fresh pasta is so much more tender and flavorful when compared to store bought. When you make your own pasta, it is as much a part of the flavor of the meal as the sauce you put on it, the store bought stuff is just a vehicle for sauce.
I know that I wasn't sure how it would turn out the first time I tried making pasta as an adult. It seemed easy when someone else makes it and you just have to work the roller, like when I was a kid. I had to learn a few tricks to make it easier, like don't skip steps including "flour your work surface", its no joke fresh pasta dough can be crazy sticky in the beginning and you don't want it all stuck to your counter top. I also learned that dipping your hands in flour can keep the same stickiness from getting your hands irretrievably gunked up with dough. Taking off any rings you wear isn't a bad idea either unless you like cleaning your jewelry.
This recipe has a lot of parts to it, but using the food processor and mixer really makes the most tedious steps pretty easy. Once you have got your dough out of the mixing bowl and rested, it is time for the magic to happen. The key to making a great pasta is working the dough so that it is an even consistency throughout. You'll get this by running a bit of the pasta through the roller on progressively smaller settings, but you'll want to roll it then fold it in half and roll it through on the same setting a couple of times before you ratchet the setting down and then repeat. This repeated rolling is a critical step in the process, it continues to knead the dough and lets gluten form. The dough, when it is done will be pliable but not sticky. It can be easy for new pasta makers to add too much flour to the dough when working it and end up with a stiff and brittle dough. Adding a little water can help loosen that up, but its always better to not have to do so.
Once you have the dough pliable, consistent and the right thickness it is time to fill and cut your ravioli:
Lay your pasta out on a lightly floured work surface
Cut the pasta sheet into two equal size sheets (fold the dough over itself the long way and then cut it in to two roughly equal sized sheets)
Lay the sheets back out on the floured work surface.
Lightly press the stamp into one of the sheets to mark out where the ravioli can go
Add the filling to the center of each piece
Lay the second sheet over top
Gently press down around the filling to remove excess air from the center
Cut out the ravioli with the filling in the center of the stamp
With the work done you get to taste these amazing ravioli! This isn't a quick recipe, but it is totally worth the wait. I love how this recipe brings together the sweetness of the beets with the bright acid of orange juice.
It already sounds amazing (and it is) but we haven't even talked about the filling yet! The filling of the ravioli is surprising, it has the creaminess of ricotta but also the tooth and bite of Parmesan and the zip of orange zest added to the sweetness of the onion and the titular golden beet. This is golden beet ravioli is an irresistible new take on a classic pasta. Make sure you try it with this brown butter orange sauce with walnuts and fennel.


Golden Beet Ravioli
We've made these gorgeous ravioli into star shapes, but any color beet or shape ravioli can be used with this recipe.
Print
Rate
Ingredients
Roasted Vegetables
1

large

golden beet

(or two small beets)

1

medium

yellow onion

1

tablespoon

olive oil

sea salt
Pasta
1/3

cup

roasted beet

1

tablespoon

olive oil

1

tablespoon

orange juice

1

tablespoon

water

2-1/4

cup

all purpose flour

(plus more for rolling)

3/4

teaspoon

sea salt

2

eggs
Ravioli Filling
1/3

cup

roasted beet

1

roasted onion

8

oz

ricotta cheese

1

cup

finely grated parmesan

1

teaspoon

orange zest

salt and pepper
Instructions
Roasted vegetables
Preheat oven to 325F and line a pan with parchment or aluminum foil.

Wash beetroot thoroughly and pierce with a fork.

Cut onion in half and discard outer skin.

Place both the onion and beet with oil on the prepared pan and baste with oil and sprinkle with sea salt.

Roast until the beet is easily pierced with a fork and the onion is golden and soft.
Pasta
Slice open beet and scoop out 1/3 a cup of the flesh.

In a small food processor, blend together the beet, olive oil, orange juice, and water. (Alternatively, mash, rice or very finely chop the roasted beet and whisk together with the other wet ingredients).

In the bowl of a mixer with a dough hook, mix together flour and salt.

Add in the eggs and mix to combine.

Pour in the beet mixture and kneed the dough for a few minutes on medium speed.

Since beets contain varying amounts of water, the dough may be sticky. If it is, keep adding flour one tablespoon at a time until it is stretchy but not too sticky to the touch.

Tightly cover the dough in plastic wrap and let it rest for 30 minutes.
Ravioli filling
While the dough is resting, finely chop 1/3 a cup or roasted beet and the roasted onion.

In a bowl mash together the ricotta and parmesan with a wooden spoon.

Stir in the orange zest, beet, and onion.

Season with salt and pepper to taste.
Forming beet ravioli
Cut off about a quarter of the pasta dough and roll it out in a flat sheet with a pasta roller, starting with the number one and ending with the number four.

Lightly flour your work surface and lay the sheet out.

Cut the sheet in half and with your ravioli stamp, make light marks to plan out where to place your filling.

Mound one level teaspoon of filling in the center of each stamp.

Cover with the other half sheet of pasta and gently press out any air.

Using the ravioli press, cut out the shapes.

Reroll the offcuts of dough and repeat the process until all the dough is gone. In the end you should have about 60 ravioli.
Storing the ravioli
Ravioli can be stored in the refrigerator for 1-3 days. Lightly flour the tops and bottoms of ravioli with parchment between the layers. Tightly cover and refrigerate until ready to cook. Even still, the pasta will absorb moisture from the refrigerator, so it may become a bit sticky.

For longer storage, place ravioli on a parchment lined cookies sheet and freeze until firm. Once the pasta are frozen more to an airtight container.
Notes
A pasta machine makes rolling out the dough a breeze. You can find ones like this on amazon or at kitchen stores.
We used a star shaped ravioli stamp, but you can make these in any shape and size. Keep in mind that a larger stamp or mold will require more filling and make less ravioli.
You can also use red beets for this recipe. I actually started testing these ravioli as a Valentines dish with a heart ravioli stamp. The red beet pasta developed white spots where the moisture from the filling bled through the dough. I would strongly suggest cooking or freezing ravioli made with red beets immediately.
Nutrition
Calories:
24
kcal
|
Carbohydrates:
1
g
|
Protein:
1
g
|
Fat:
1
g
|
Cholesterol:
8
mg
|
Sodium:
59
mg
|
Potassium:
11
mg
|
Vitamin A:
40
IU
|
Vitamin C:
0.3
mg
|
Calcium:
28
mg
|
Iron:
0.1
mg
Tried this recipe?
Let us know how it turned out for you! Scroll down to leave a comment below.
You might also like: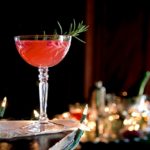 Saucy Santa Cider Cocktail
Bubbly hard cider, fresh pomegranate seeds and springs of rosemary come together to make a festive holiday drink. Let's toast to the season!
Aloo Gobi Baked Potatoes
Large Russet baked potatoes, garam masala spiced cauliflower and a rich and flavorful Indian sauce update this curry.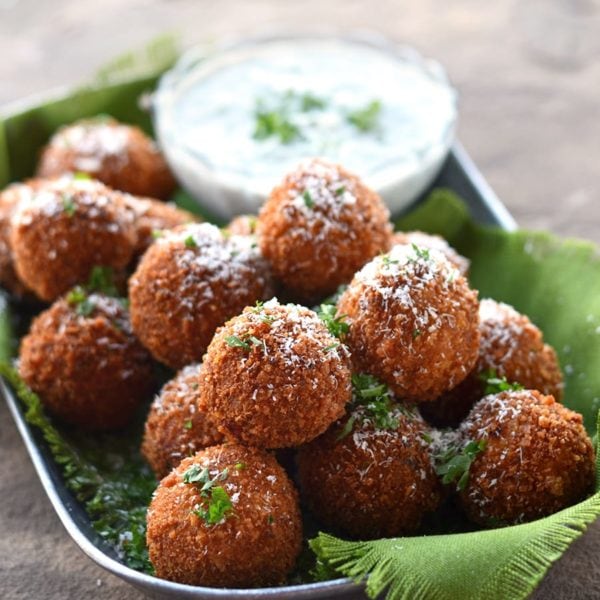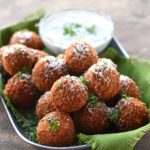 Fried Mozzarella Balls with Pumpkin, Sage and Caramelized Onions
Take your party to the next level with these Fried Mozzarella Balls. They are crunchy on the outside, gooey on the inside and served with Yogurt Herb Dip.