This Autumn Roasted Vegetable Soup is abundant with fresh vegetables that are caramelized in the oven for a robust flavor. Perfect for soup season!
---
You'll love this new twist on vegetable soup! We've topped it lemon balm pesto and served it with toasted bread for a hearty fall meal.
This colorful roasted vegetable soup recipe has been a year in the making. Cue the hazy dream effects…it's September 2016… during a blissful Pinterest sesh I stumbled onto this Panera copycat vegetable soup recipe from Julie at The Little Kitchen. Thanks Pinterest! You knew exactly what was missing in my life! I've never even noticed this soup on Panera's menu because I'm a broccoli cheese soup girl all the way. But I was intrigued by the novel use of pesto as a soup topping.
At the time I had just finished a recipe for Lemon Balm Pesto so a veggie soup seemed like a great use for the leftover pesto in the fridge. Plus, in the fall, there's always a frantic push to eat ALL THE FRESH VEGETABLES because winter is a comin'. That means no more ripe juicy tomatoes, piles of zucchini or vibrant bell peppers straight from the garden.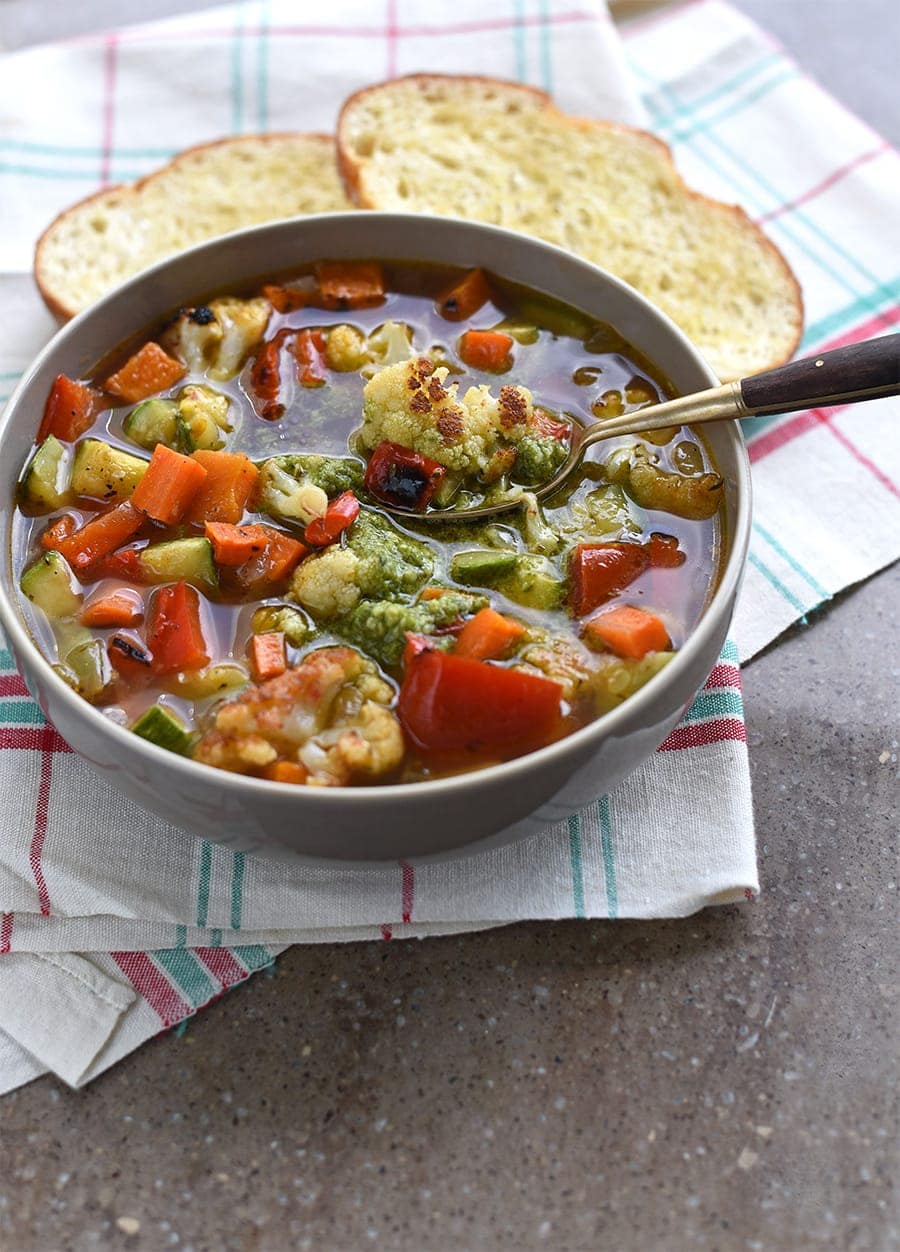 So I took a lot of artistic liberty with the idea, using the veggies I had on hand and roasting them to enhance the vegetable flavor. I skipped the barley and chickpeas because I wanted a rustic garden soup that could theoretically be sourced from a fall garden or farmers market.
Autumn is the vegetable sweet spot here in the mid-Atlantic because it's still warm enough for zucchini and tomatoes to grow but you also have traditional fall veggies like pumpkin and cauliflower coming in. Plus this time of year the herb garden gets a second wind as the nights cool down making pesto an easy choice.
Here it is the end of September 2017 and I'm finally remaking and sharing this roasted vegetable soup recipe. Was it as good as I remembered it? Heck yeah! But a few notes on the cooking method. Make sure you check your veggies often while they're roasting. I turned up the heat on this recipe for two reasons. One was to shave off some cooking time since there's a lot of chopping involved. The second reason was because I wanted the vegetables to be firm on the outside and tender on the inside. The higher oven temperature helps the carrots and pumpkin form a "skin" so they don't turn into mush.
I've suggested that the veggies not be mixed together for roasting. You know how as a kid you wouldn't let your peas touch your mashed potatoes? Like that with everything on the same pans, but separated enough that if your zucchini gets done first you can transfer it to a bowl and pop the rest back in the oven.
This might seem fussy, but early batches of the recipe resulted in a delicious but homely soup because the pumpkin and tomatoes disintegrated. Not pretty at all. That's why I decided to make the broth by itself so when the veggies are done roasting, everything is seasoned and ready to go. If you wait to adjust the seasonings until after the veggies are added, they will cook more in the broth. Plus, since this is served with pesto (which is usually on the salty side) there's no need to heavily season the soup itself.
And oh my this soup is so slurpy good! When it's freshly made, each little diced vegetable is like a savory jewel. As leftovers the soup is a little more stew and less like soup as the roasted vegetables break down. Not as lovey to look at but still scrumptious when you need a premade lunch or dinner option.
We like to have our Autumn Roasted Vegetable Soup with the aforementioned Lemon Balm Pesto, but you can use any variety of pesto you like. For a vegan soup, try this nutty pesto from The Domestic Dietician or for something more traditional, you might enjoy this basil pesto recipe from Foodal.
We also like a generous piece of toasted bread to sop up the rich broth. You won't want to miss a drop of this soup!
Autumn Roasted Vegetable Soup with Lemon Balm Pesto
This delicious soup gets its depth from oven roasting the vegetables and dollop of lemon balm pesto before serving.
Print
Rate
Ingredients
Roasted Vegetables
¼

cup

olive oil

1

teaspoon

Italian seasoning

1

teaspoon

salt

1

pinch

black pepper

1

pinch

red pepper flakes

4

cups

cauliflower florets

1

cup

red bell pepper,

half inch dice

1½

cups

pumpkin or butternut squash,

half inch dice

2

cups

zucchini,

half inch dice

1½

cups

roma tomatoes,

each cut into 8 pieces

1

cup

carrots,

half inch dice
Instructions
Roasting the vegetables
Line two cookie sheets with aluminum foil or parchment paper.

In a small bowl, combine oil, Italian seasoning, salt, pepper and red pepper flakes and stir to combine

On the first prepared cookie sheet, place the carrots, cauliflower and peppers, not mixing the vegetables, but keeping them separated.

On the other cookie sheet, place the pumpkin, zucchini and tomatoes, also keeping them separated.

Give the oil mixture a stir and pour a little on each group of vegetables.

With your hands, gently massage the oil onto the vegetables.

Put the vegetables in the oven and set a timer for 10 minutes.

Check the vegetables at the 10 minute timer and then every 5 minutes thereafter. You want the vegetables to be soft, but not mushy, so if one vegetable gets done ahead of time, transfer it to a bowl and put the tray back in the oven.
Making the stock
While the vegetables are roasting, heat one tablespoon olive oil in a stock pot over medium heat.

When the oil is hot add the onions.

Saute the onions, stirring often until they are golden brown

Add stock and bring to a simmer.

Season broth with salt and pepper to taste.
Serving the soup
When ready to serve the soup, add the vegetables to the stock pot.

Serve each bowl with a spoonful of lemon balm pesto and a crusty piece of toasted bread.
Nutrition
Calories:
259
kcal
|
Carbohydrates:
19
g
|
Protein:
4
g
|
Fat:
20
g
|
Saturated Fat:
3
g
|
Cholesterol:
2
mg
|
Sodium:
1251
mg
|
Potassium:
594
mg
|
Fiber:
5
g
|
Sugar:
9
g
|
Vitamin A:
6579
IU
|
Vitamin C:
82
mg
|
Calcium:
88
mg
|
Iron:
1
mg
Tried this recipe?
Let us know how it turned out for you! Scroll down to leave a comment below.
You might also like:
Aloo Gobi Baked Potatoes
Large Russet baked potatoes, garam masala spiced cauliflower and a rich and flavorful Indian sauce update this curry.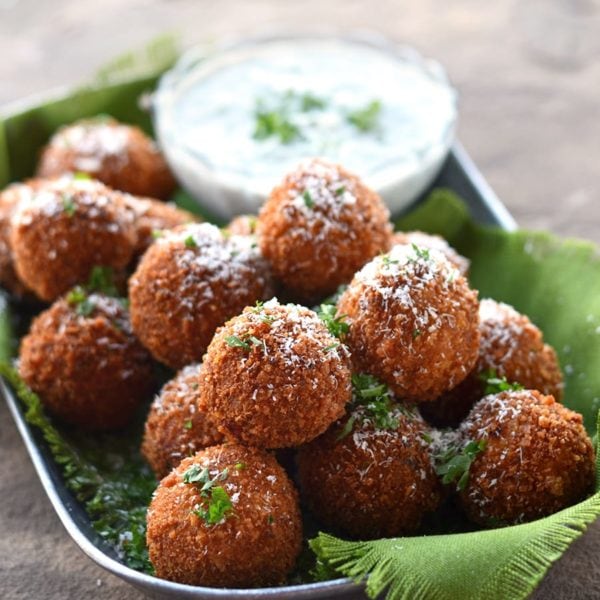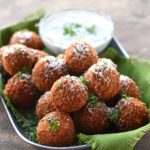 Fried Mozzarella Balls with Pumpkin, Sage and Caramelized Onions
Take your party to the next level with these Fried Mozzarella Balls. They are crunchy on the outside, gooey on the inside and served with Yogurt Herb Dip.
Thai Pumpkin Corn Soup
This creamy and satisfying Thai Pumpkin Corn Soup recipe combines a bounty of fresh vegetables and can be adjusted to accommodate omnivore, vegetarian and vegan diets.