Sausage Kale Soup with Heirloom Carrots is an easy 30 minute meal that's comforting and delicious. Plus get our tips on how to make the recipe your own!

I've had this Sausage Kale Soup on my to do list for a while. For us it's a go-to weeknight meal because it only takes 30 minutes to make which is AWESOME! So, I finally wrote down the recipe, shot the pictures and here I am starting to write this post the day that kale ends up on this year's dirty dozen list!!!!
If you're not familiar with the dirty dozen, it's a list compiled by the non-profit organization EWG that ranks the fresh fruits and vegetables that contain the most pesticides. They test produce throughout the US to come up with the data.
Over the years EWG has shown consumers that the most popular produce also tend to contain the most harmful amounts of chemicals….things like strawberries, apples and now the very popular kale.
While this might be disheartening (it certainly is to me as I post a recipe including kale), all is not lost. You can still eat your sausage kale pockets, kale salad and smoothies. So let's talk about how to eat smarter!
Pesticides and Kale
Buy organic! Organic produce has less pesticide residue than conventionally grown methods.
Buy local. The fact is you can talk to your local farmer so head to your nearest farmers market and ask them questions. Is the product organic? If not, what is the method they use to treating plants? Some farms only spray when after testing shows a need to spray while others spray preemptively.
Grow your own kale. Purchase heirloom seeds and get in touch with your inner farmer!
Wash your produce to reduce pesticides, dirt and bacteria.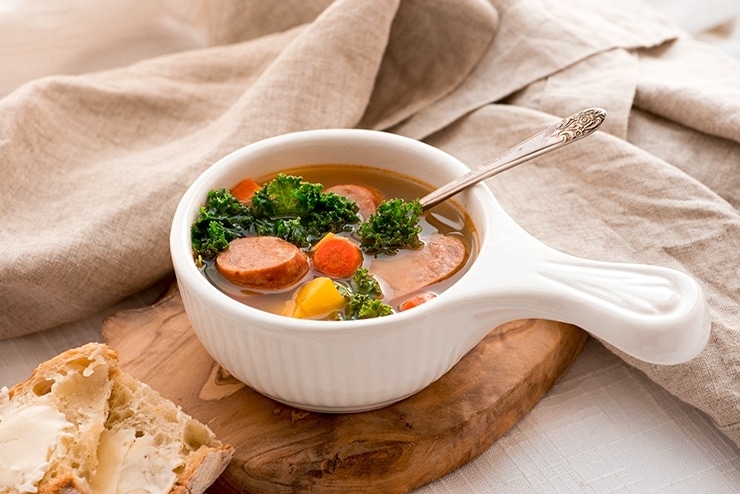 Now back to our regularly scheduled programming… this sausage kale soup with heirloom carrots recipe is delicious, brothy, super easy, and comforting.
We start with onions and heirlooms carrots…you know those colorful carrots you've seen in the stores but haven't known what to do with? This is your recipe!
Not only does eating heirloom carrots help the planet retain its biodiversity, the rainbow of colors have different health benefits. That being said, for this soup recipe choose white, yellow, orange or red varieties as purple will turn your soup an awful hue.
Next we add stock. Homemade is best but store bought is okay IF you choose a really flavorful smoked sausage. You can used any cooked sausage you like from kielbasa to cajun just as long as it's precooked. We've even used chicken sausage with great results.
And finally we add fresh kale! We add it at the very end to retain the bright green color. But even as leftovers when the kale is grey and wilted, it's still yummy!
I kind of like to keep this soup bare bones so I can slurp up all that delicious broth with bread. But if you're a more is more type, that's cool. This is a make-it-your-own type of soup because there's room for personalization.
You can customize this soup by adding white beans, potatoes, tortellini just to name a few of the popular variations I've seen. If you do want to make additions, I'd keep them in the 1-1/2-2 cups range to keep the ratio of ingredients similar.
I'd love to know your favorite add ins, so leave a comment below! Happy Cooking! ~Kitty
Print Recipe
Sausage Kale Soup with Heirloom Carrots
I love to make this soup with a rich, homemade stock because the simplicity of this soup really highlights the broth. If you don't have homemade stock on hand, use a very flavorful sausage which will add depth to the soup.
Ingredients
2

tablespoons

butter

3

large

heirloom carrots

, diced

1

medium

onion

, diced

10

cups

chicken or turkey broth

14

ounces

smoked sausage

, sliced or cubed

1

bunch

kale

, chopped

salt and pepper to taste
Instructions
In a soup pot, melt butter over medium heat

Cook the onions and carrots until the onions are golden

Add the stock, bring to a boil cooking until the carrots are tender.

Add the sausage cooking until the meat is hot.

Stir in the kale then season with salt and pepper to taste.
Notes
This soup is the perfect way to highlight colorful heirloom carrots. You can use red, orange, yellow and white in this recipe but don't use purple, they will bleed into the broth.
You can use any pre cooked sausage links in this soup. We've used kielbasa, andouille, cajun and even chicken flavors. Keep in mind that the more flavorful the sausage the richer the soup will be.
This is a brothy soup that's perfect with crusty bread. But there's room for additions like white beans or potatoes.
Nutrition
Calories:
284
kcal
|
Carbohydrates:
10
g
|
Protein:
11
g
|
Fat:
22
g
|
Saturated Fat:
8
g
|
Cholesterol:
56
mg
|
Sodium:
2061
mg
|
Potassium:
686
mg
|
Fiber:
1
g
|
Sugar:
2
g
|
Vitamin A:
8295
IU
|
Vitamin C:
56.9
mg
|
Calcium:
77
mg
|
Iron:
1.9
mg
Nutrition Facts
Sausage Kale Soup with Heirloom Carrots
Amount Per Serving
Calories 284
Calories from Fat 198
% Daily Value*
Fat 22g34%
Cholesterol 56mg19%
Sodium 2061mg90%
Potassium 686mg20%
Carbohydrates 10g3%
Protein 11g22%
Vitamin A 8295IU166%
Vitamin C 56.9mg69%
Calcium 77mg8%
Iron 1.9mg11%
* Percent Daily Values are based on a 2000 calorie diet.
You might also like:
Vegetable Soup
This roasted vegetable soup is abundant with fresh vegetables that are caramelized in the oven for a robust flavor. Perfect for soup season!
Pizza Soup with Peppers, Italian Sausage and Spices
Pizza Soup is a hearty, robust tomato soup filled with Italian flavors and ingredients. It's supremely delicious and can be served as an appetizer or as an entree with a side salad or grilled cheese sandwich.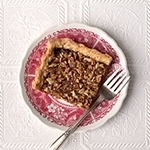 Apple Butter Crumble Slab Pie
This slab pie has everything your sweet tooth desires! Doesn't a flaky cinnamon crust filled with luscious apple butter and an almond oat crumb sound irresistible?