If you're not familiar with the dirty dozen, it's a list compiled by the non-profit organization EWG that ranks the fresh fruits and vegetables that contain the most pesticides. They test produce throughout the US to come up with the data.
Over the years EWG has shown consumers that the most popular produce also tend to contain the most harmful amounts of chemicals….things like strawberries, apples and now the very popular kale.
While this might be disheartening (it certainly is to me as I post a recipe including kale), all is not lost. You can still eat your sausage kale pockets, kale salad and smoothies. So let's talk about how to eat smarter!
Now back to our regularly scheduled programming… this sausage kale soup with heirloom carrots recipe is delicious, brothy, super easy, and comforting.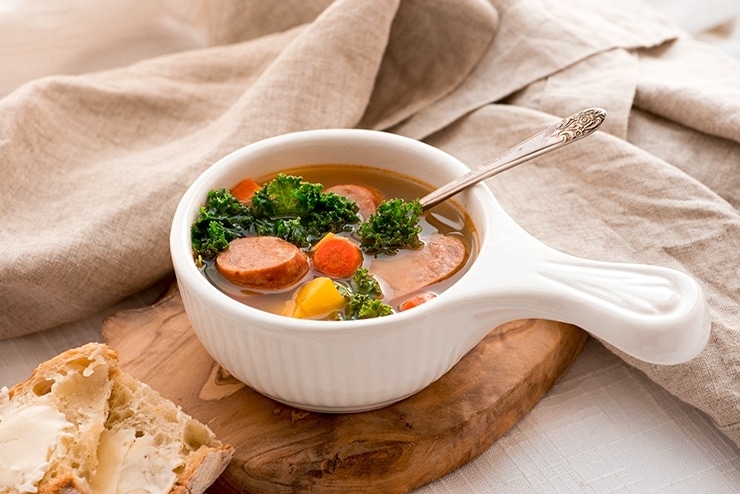 How to make Sausage Kale Soup
We start with onions and heirlooms carrots…you know those colorful carrots you've seen in the stores but haven't known what to do with? This is your recipe!
Not only does eating heirloom carrots help the planet retain its biodiversity, the rainbow of colors have different health benefits. That being said, for this soup recipe choose white, yellow, orange or red varieties as purple will turn your soup an awful hue.
Next we add stock. Homemade is best but store bought is okay IF you choose a really flavorful smoked sausage. You can use any cooked sausage you like from kielbasa to cajun just as long as it's precooked. We've even used chicken sausage with great results.
And finally we add fresh kale! We add it at the very end to retain the bright green color. But even as leftovers when the kale is grey and wilted, it's still yummy!
I kind of like to keep this soup bare bones so I can slurp up all that delicious broth with bread. But if you're a more is more type, that's cool. This is a make-it-your-own type of soup because there's room for personalization.
You can customize this soup by adding white beans, potatoes or tortellini just to name a few of the popular variations I've seen. If you do want to make additions, I'd keep them in the 1-1/2-2 cups range to keep the ratio of ingredients similar.
I'd love to know your favorite add ins, so leave a comment below! Happy Cooking! ~Kitty
Love this recipe? Check out all our soup recipes!