Inspiration struck when I ran across this jar of aioli. I LOVE everything that Stonewall Kitchen makes. Their gourmet condiments are interesting and nuanced, so if I'm in a hurry, I know that I can pick up a sauce or salsa rather than make it myself. You know Stonewall is good because I am PICKY!
The combo of mango and habanero sounded like the perfect compliment to spicy sausage, so in my cart it went!
Then I went to Target for household items and found ripe mangoes and avocados in the grocery section on sale. Suddenly, I had a plan in mind! A simple fresh salsa combined with the chorizo and aioli seemed perfect.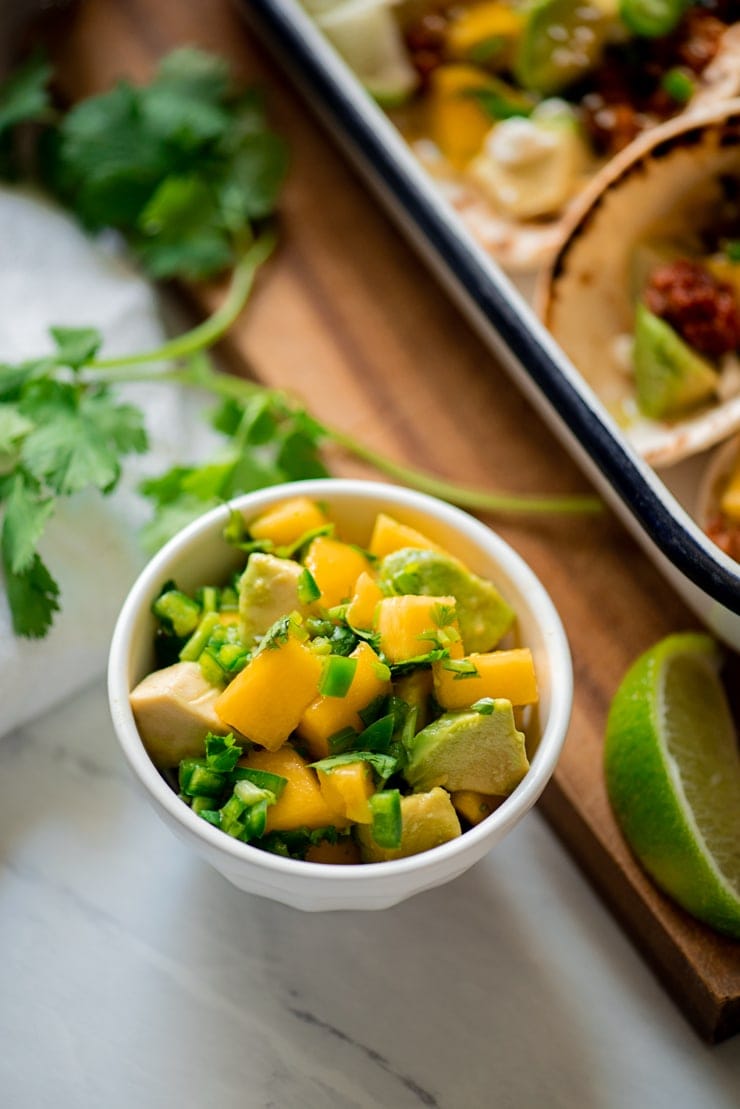 Add some flour tacos and dinner is so easy! I love that street sized tortillas are now available at the grocery store because they are the perfect size.
But with all the time I have on my hands right now, I feel like I should make my own tortillas! Someday…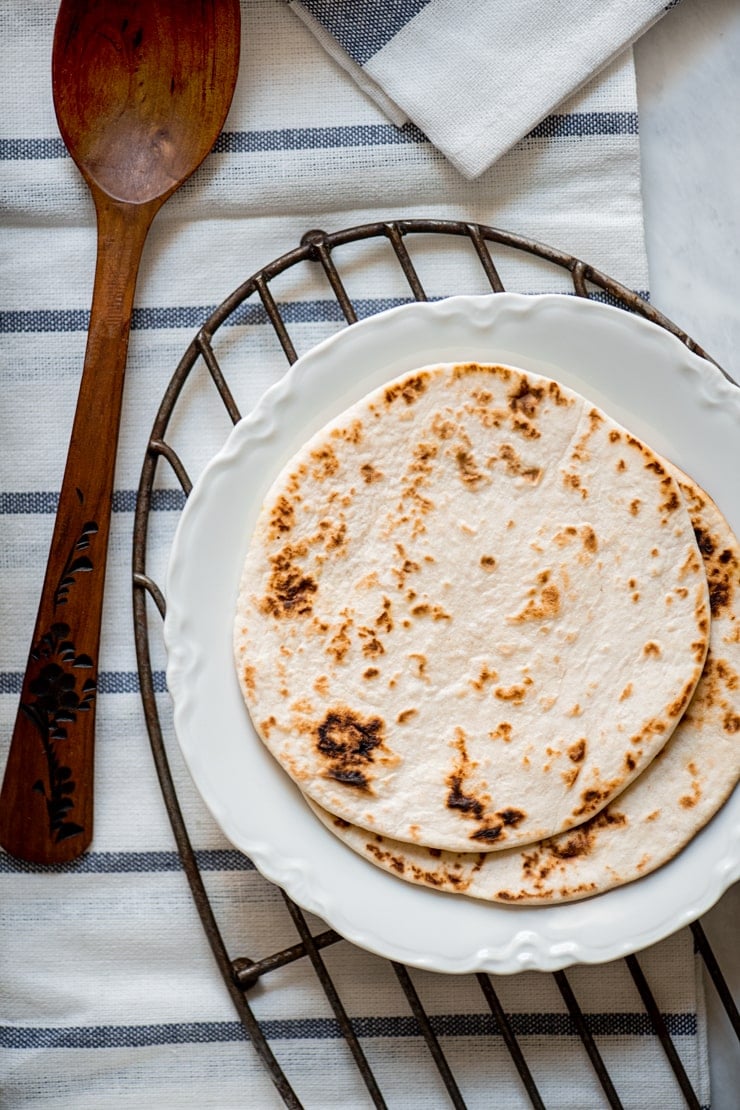 The tacos were delicious the first time I made them. Perfect in fact! The aioli was not spicy, but rich with a flavor I can't quite explain..almost slightly mustard like? Such a nice sauce to balance out the spiciness of the chorizo.
The fresh mango avocado salsa added a cooling sweetness to the tacos but also a tropical vibe. Queso fresco was like the icing on top. Kevin loved them so we tried them a couple more times before the pandemic hit.
Overnight, our store shelves were empty! I couldn't find avocados and I wondered when I would be able to make chorizo tacos again!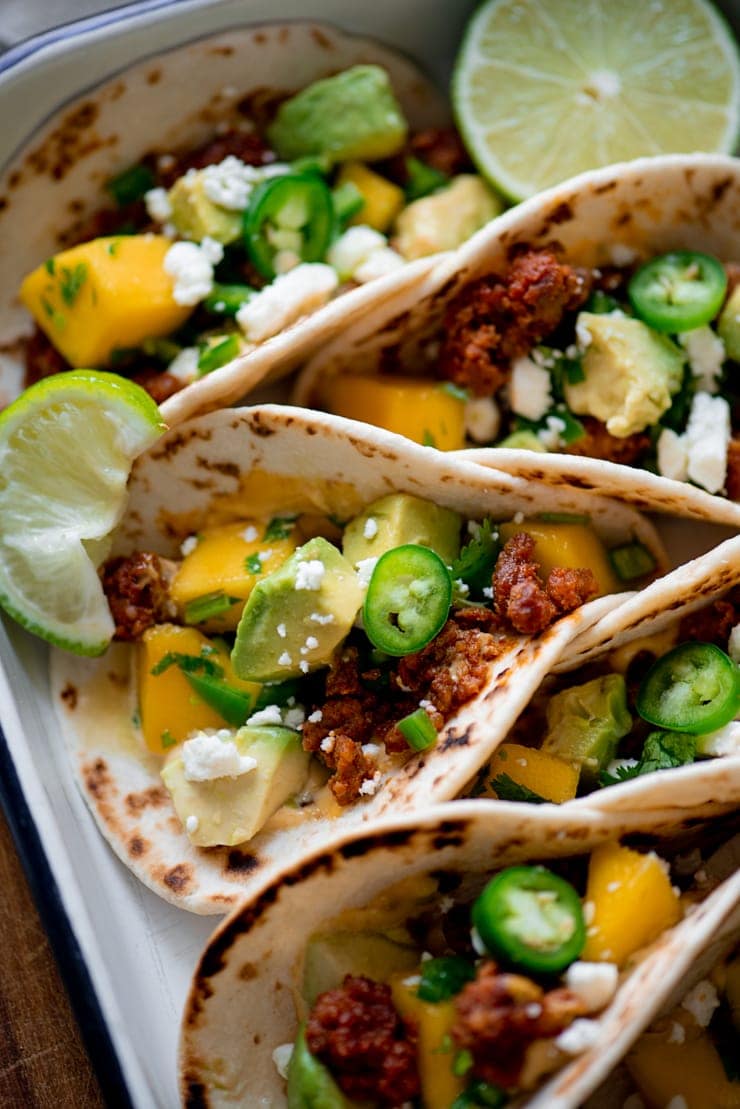 Luckily, stores are mostly back to normal now. The produce section of my usual store is full of fruits and veggies, so I was able to find the mangoes, avocados, limes, jalapenos and cilantro I need to make the salsa.
I already had the chorizo in the freezer and leftover aioli (one jar will make 2-3 recipes). It's been a challenge lately, but being able to make and photograph this taco recipe is a little slice of normalcy. And tacos make me so happy! Who knew that #tacotuesday combats those stress demons?
I hope you can find the ingredients to make these chorizo tacos, but just in case I've listed possible alternatives below.
Hope you and yours are well and eating well :-)
~Kitty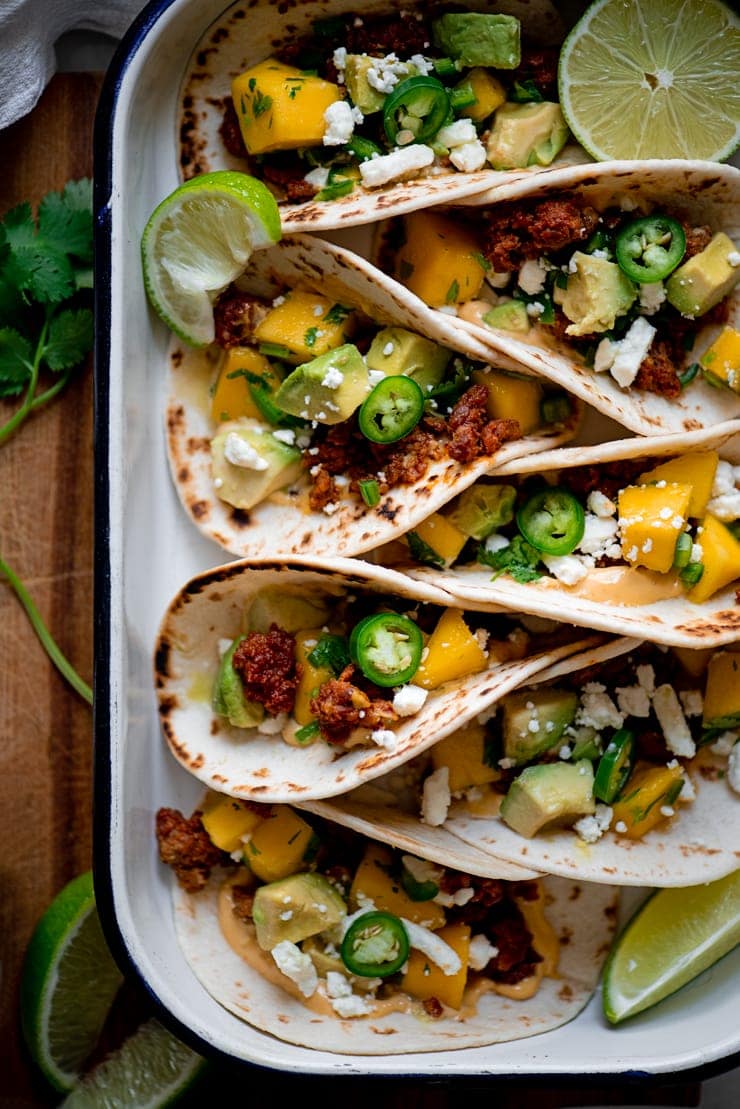 Love easy dinner recipes? Make sure to check out all our weeknight meals!