Pizza Soup is a hearty, robust tomato soup filled with Italian flavors and ingredients. It's supremely delicious and can be served as an appetizer or as an entree with a side salad or grilled cheese sandwich.
---
Inspired by a supreme pizza, this meaty Pizza Soup is a nourishing meal that feeds a crowd. Its great for lunch or dinner and an excellent freeze ahead meal because it makes a gallon of soup!

Last fall, it got cold fast, which meant that I had to harvest what I could from the garden before everything froze. So I ended up with tons of tomatoes, peppers and basil. Sounds like a pizza, right? But when it gets cold I go into a soup making frenzy. Nothing is as comforting in cold weather as a hot bowl of soup. It warms you from the inside out.
So being the soup whisperer, I made this soup without a recipe using what was on hand. And that's just how Pizza Soup was invented. Trouble is when you just wing it, you can't share the recipe!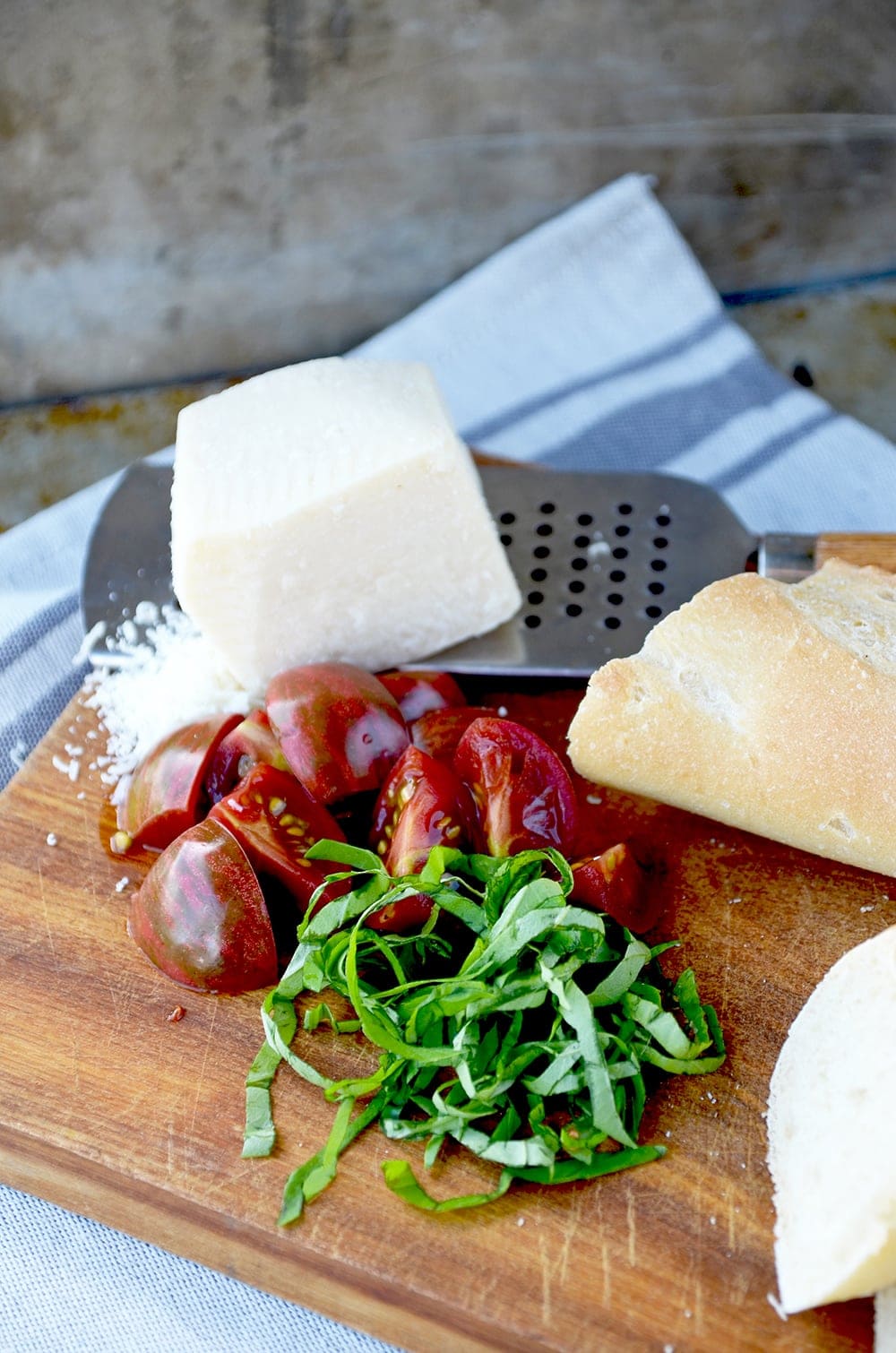 Lucky for you, it's that soup making time of year again and this time around, the pizza soup was even better! But unfortunately I wasn't able to use produce from the garden this year. There was not much to harvest because the garden did not produce as well as I would have liked.
See those tomatoes? They came from a volunteer plant that did better than all my other tomato plants this year, most of which produced NOTHING! This little plant that could grew up through weed block plastic late in August. I just couldn't pull it, so when the cold weather came, I took mercy upon this little plant and covered it in plastic. It has repaid me by continuing to produce these gorgeous cherry tomatoes. Not enough to make soup, but enough to garnish it!
I moved my potted basil plant inside too late, but it's in a sunroom trying to make a comeback. So this basil came from the grocery store, as did everything but a few purple peppers. It's a sad time of year for me as the little garden I've planted slips quietly into winter. I love that garden where I sow my tears of joy and sadness.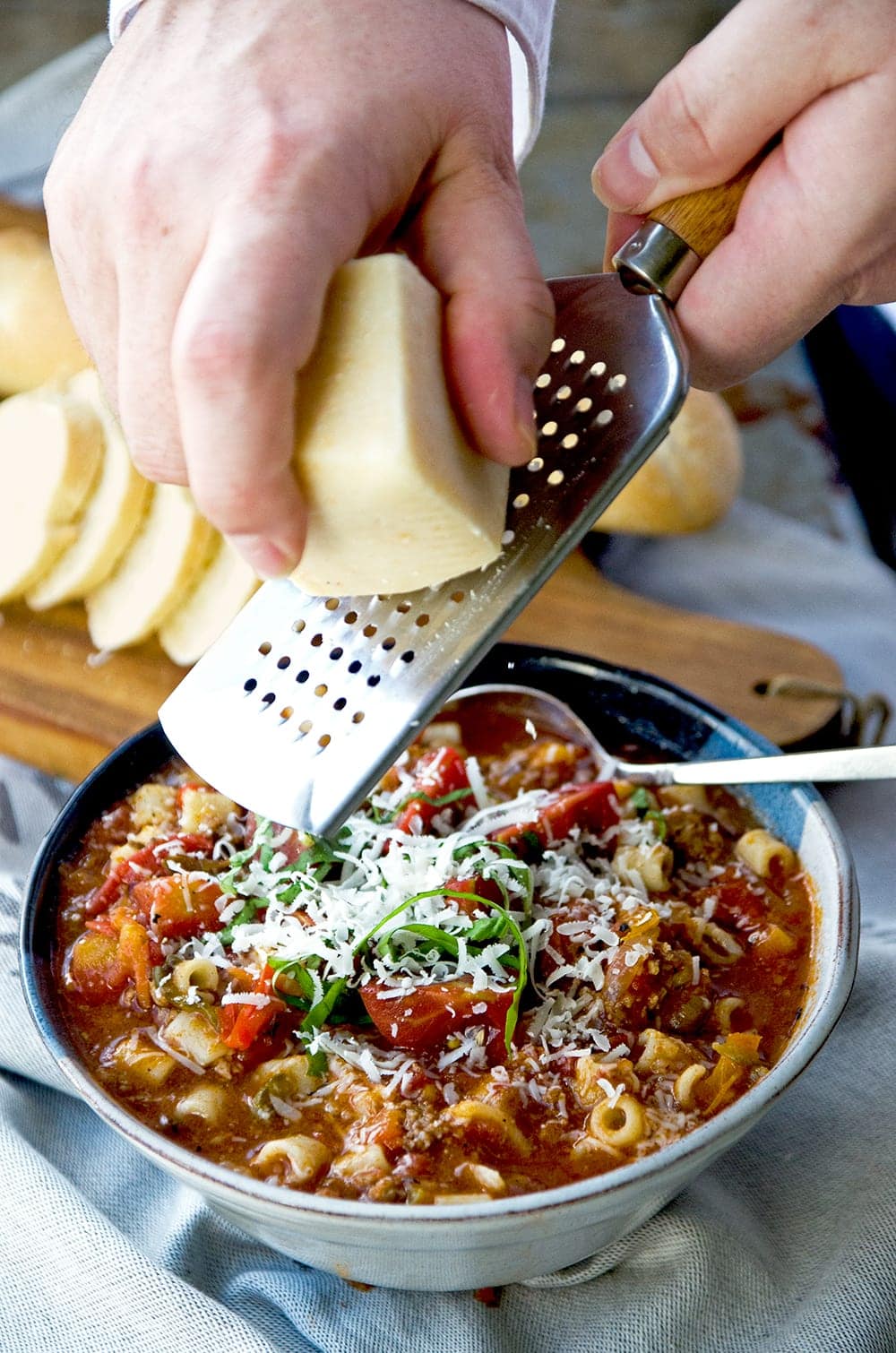 So now starts the time of year where I start obsessively cooking and baking. The kitchen is cozy and the warmth helps during these short days.
It being November, I am very thankful for grocery stores. We are lucky to be able to find fresh ingredients year round…things like fire roasted canned tomatoes, because nothing is as sad as winter tomato if you're a cook! Fresh peppers, onions, sausage, ready made pasta….Simple ingredients can become a tasty pot of soup that the family gathers around to ward off the chill.
And this soup will warm your belly with yum! It's meaty, rich, and full of pizza flavor! The broth is slightly sweet thanks to all the onions and the red wine PLUS all those glorious peppers make the soup delightfully chunky. But as good as the taste is, the best part might be that this soup is surprisingly low in calories.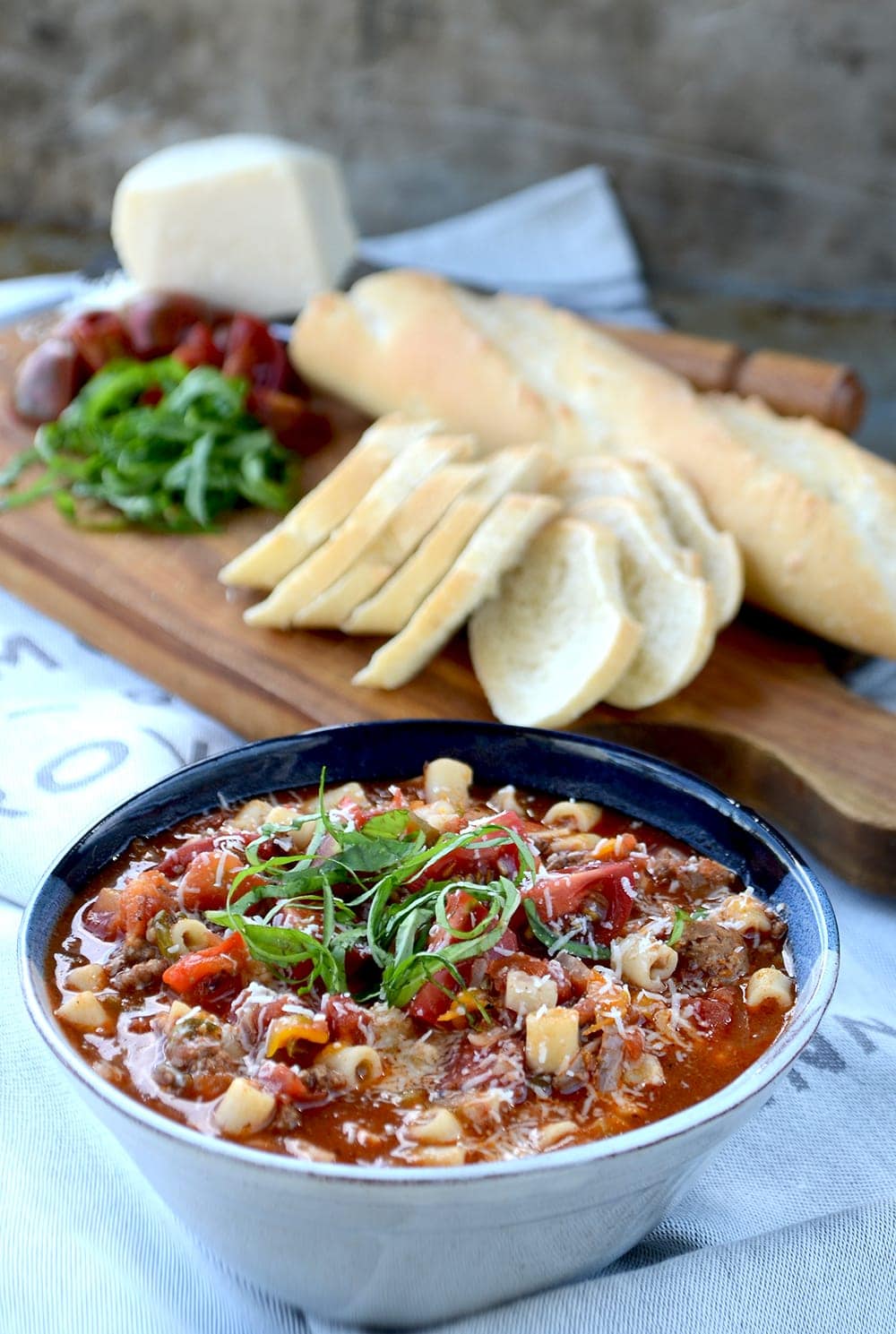 I hope this recipe will bring you and your family warmth during this chilly season. And hopefully you will find joy in the process of making soup! Stir some love into it!

Pizza Soup
This hearty soup is inspired by pizza flavors. Feel free to add extra toppings like mushrooms and olives!
Print
Rate
Ingredients
1

lb

sweet Italian sausage

removed from casings

1

lb

lean ground beef

8

cups

thinly sliced green and red peppers

3

cups

thinly sliced onions

5

cloves

garlic

thinly sliced

2 28

oz

cans fire roasted diced tomatoes

5

cups

beef stock

or more

1

TB

Italian seasoning

see notes

1/4

cup

red wine

2

cups

ditalini pasta

Salt and pepper to taste

Parmesan cheese

grated

Fresh basil or parsley
Instructions
In a large soup pot, brown Italian sausage and ground beef over medium heat until mostly cooked.

Remove meat with a slotted spoon, leaving behind pan drippings.

Turn heat up to medium-high and sauté peppers, onions, garlic and spices until onions are translucent.

Add tomatoes, wine and beef stock and bring to a boil.

Return meat to the pan and reduce heat to a gentle simmer.

Meanwhile, cook ditalini according to package instructions, drain and set aside.

Let soup simmer until tomatoes have broken down and the flavors have come together, about 1-2 hours.

Add ditalini to soup and season with salt and pepper to taste.

Serve garnished with parmesan cheese and fresh herbs.
Notes
I used an Italian seasoning that contained oregano, marjoram, thyme, rosemary, basil, sage, red pepper flakes, and parsley. If your seasoning does not include red pepper flakes, make sure to add at least ¼ teaspoon to your soup. It won't make it spicy, but it will enhance the tomato flavor.
Nutrition
Tried this recipe?
Let us know how it turned out for you! Scroll down to leave a comment below.
You might also like: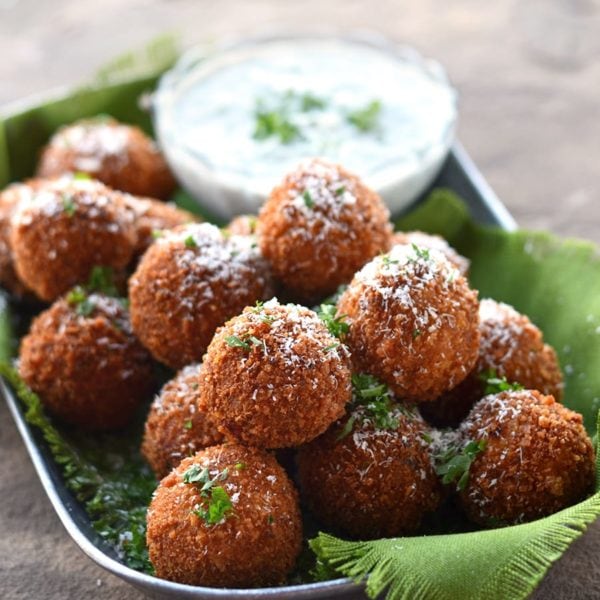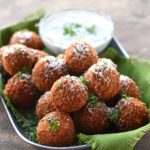 Fried Mozzarella Balls with Pumpkin, Sage and Caramelized Onions
Take your party to the next level with these Fried Mozzarella Balls. They are crunchy on the outside, gooey on the inside and served with Yogurt Herb Dip.
Cream of Mushroom Soup from Scratch
Ditch the can this holiday season by making Cream of Mushroom Soup from scratch for all your casserole needs.
Italian Vegetable Casserole
This Italian Vegetable Casserole is a hearty and healthy main course dish that will satisfy even the pickiest of vegetable eaters! So cheesy and flavorful!