This Heirloom Tomato Tart is what summer tastes like! It's full of bright, savory flavors that compliment heirloom tomatoes of any size or color.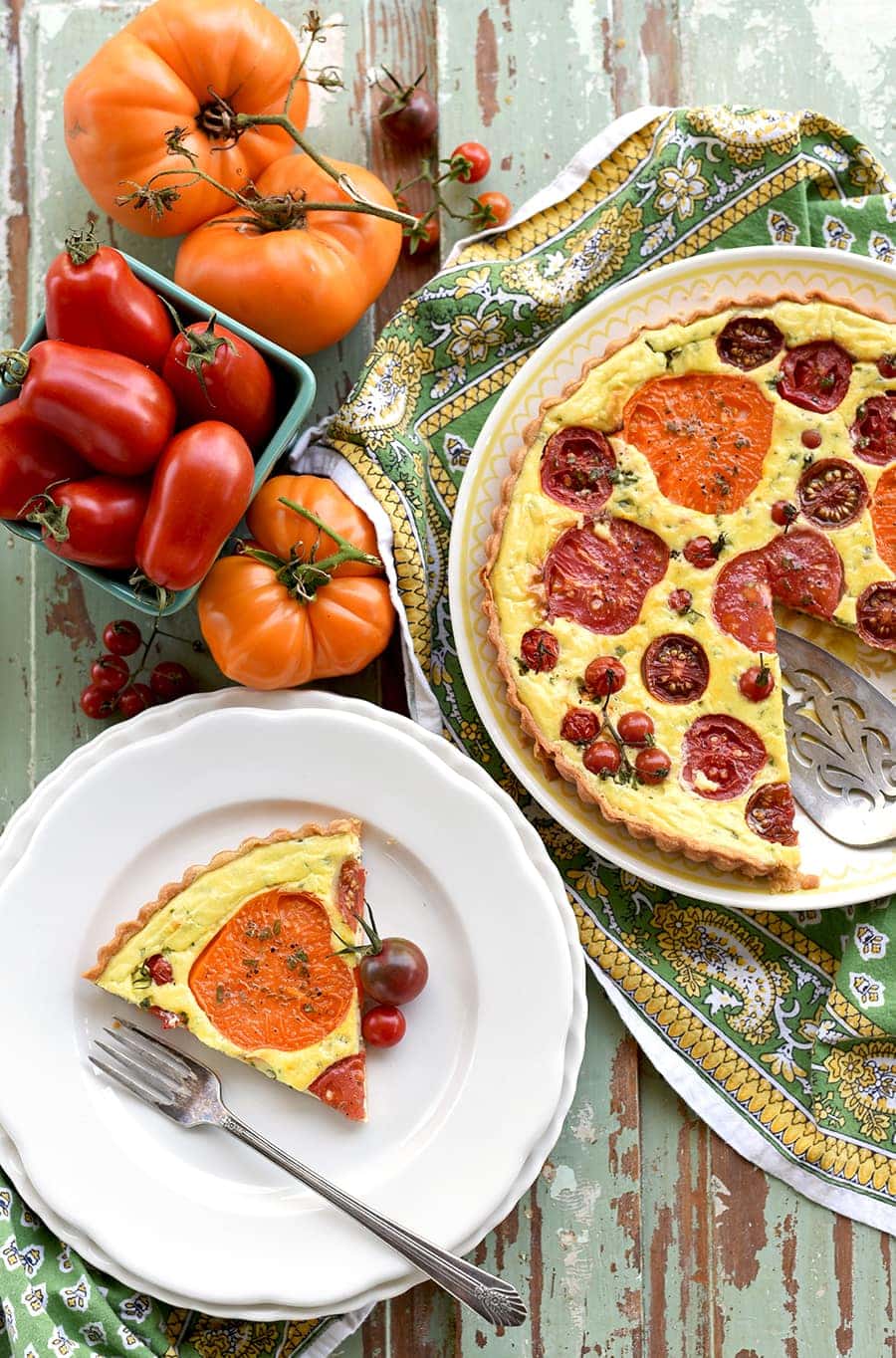 You'll love how easy it is to make this heirloom tomato tart. It has a simple cream cheese filling with chives and lemon zest that gets topped with juicy ripe tomatoes.
If you're a regular follower of the blog, you know I'm not a morning person. I rarely find any reason to be awake early enough to make breakfast. I usually opt for things I can make ahead like zucchini bread or granola or simply make a smoothie. But my friend Justin came for a weekend in July.
What can I say about Justin? He's one of my oldest friends… he taught me how to drive, hosted of all the best parties of my youth, was the man of honor at my wedding (because I can only manage to be so traditional) and has continued to be one of my favorite people as I've gotten*ahem* older.
Justin is the yin to my yang. He's easy going while I'm constantly stressed out. He's a beer connoisseur while I can only stomach a shandy. I have seriously zero ability to be funny but Justin has the best sense of humor.
But we do have things in common too, like a love of photography, cooking, and nature. He always recommends the best books, makes me laugh, knows the best gastro pubs throughout my home state of Pennsylvania… and really the only thing I can say bad about him is that he's a morning person.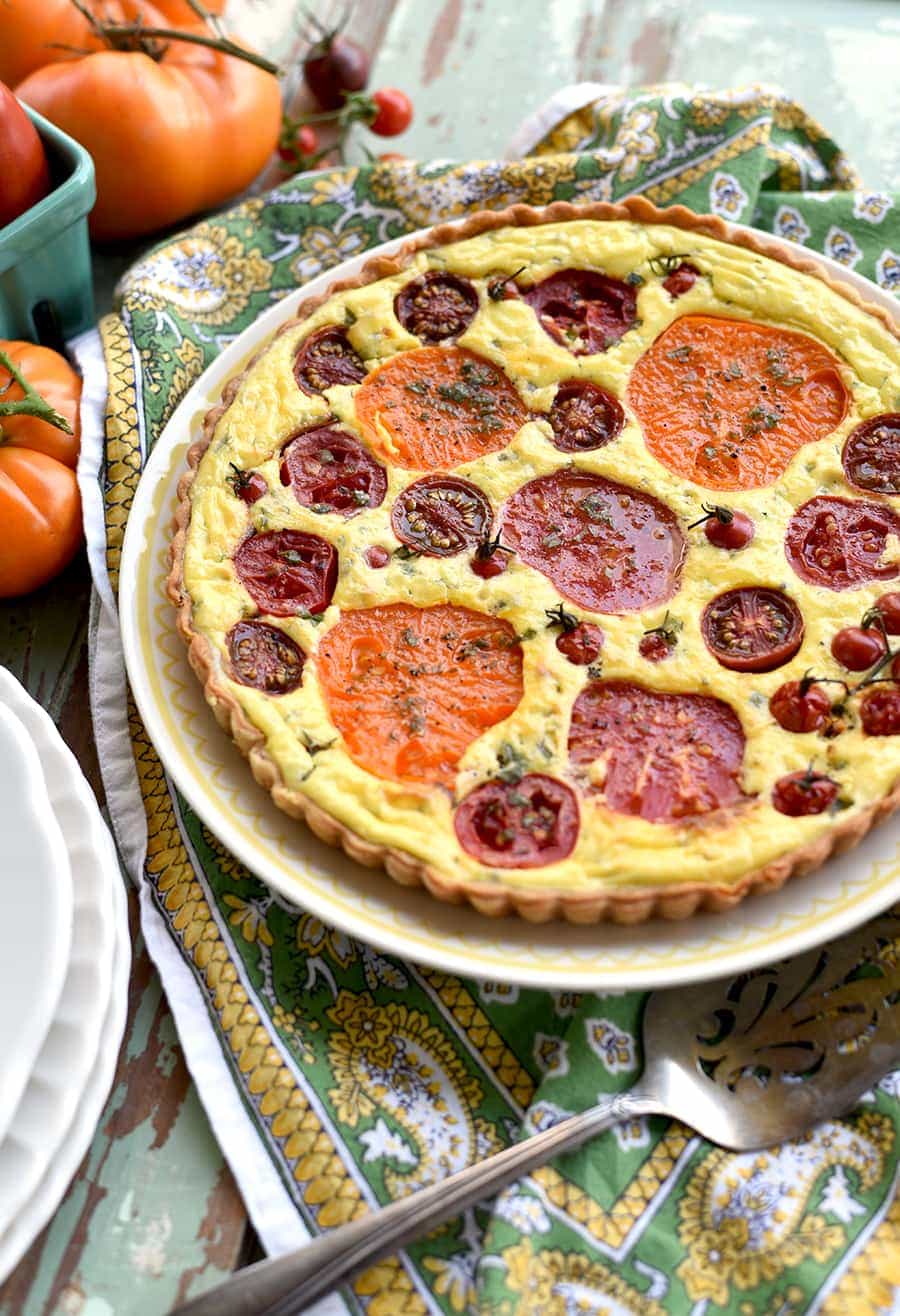 Like wake up at dawn and drink decaf coffee morning person… So when Justin comes to visit, we both have to give a little. He stays up late to play board games with me and Kevin, and I get up my butt early to make him breakfast (upon reading that last sentence I realized I flip flopped the words around PA Dutch style…not fixing it #sorrynotsorry #lovemyPAroots).
So nightowl meets morning is a sleepy haze. You know Justin has to be awesome to get this special treatment (ladies, he's single ;-) But just cause I'm up doesn't mean I'm awake. So, I totally winged this heirloom tomato tart made with chives and tomatoes from my garden. I made the dough the night before so I could catch a few extra zzzzzs in the morning then whipped up the filling sans recipe in the AM.
It's nice because while the crust blind baked I drank enough coffee to safely use a knife. Hahaha…but I'm not joking! The filling is so easy you could literally make it in your sleep…but you do have to chop the chives and slice the tomatoes. But it wasn't too hard for this night owl.
Totally worth the effort because Justin and Kevin both loved it despite not being tomato fans. Justin wanted the recipe immediately (remember I winged it because I was sleep walking), so I made it again paying closer attention to the ingredients . I then had a couple neighbors try it. They both asked for the recipe too!
Guess I should wake up early more often! It's really such a simple recipe, but the combination of ingredients is so satisfying. There's the crust that is buttery and flaky, but also contains enough shortening to make it stand up to blind baking. Then the filling which is the simplest custard made of cream cheese and eggs with lemon zest and chives to give it flavor. And, of course, homegrown heirloom tomatoes. The best part here is you can use whatever you have on hand. I had romas, beefsteaks, gorgeous dark cherries and teeny tiny midget tomatoes that made for a gorgeous tart.
It's the kind of meal that's great any time of day. For breakfast we had it with a fruit salad but for lunch or dinner it's great with a side of veggies or fresh greens. If you want to save time like me, make the dough a day or two ahead since it needs to chill. After that, it takes just a little over an hour, including baking time. Hope you love it as much as we did! Bon appetit!
Heirloom Tomato Tart
This tart is great for gardeners. You can use whatever tomatoes you have on hand, mixing and matching cherry tomatoes in with big juicy beefsteaks.
Print
Rate
Ingredients
Tart dough
1 1/2

cups

AP flour plus more for rolling

1/4

teaspoon

salt

4

tablespoon

butter

4

tablespoon

shortening

3

tablespoon

cold water

1

tablespoon

apple cider vinegar
Filling
8

oz

cream cheese softened

Bunch chives finely chopped

about 1 tablespoon, divided

Zest of 1 lemon

2

eggs

1

tablespoon

extra virgin olive oil

heirloom tomatoes

(about 2-3 large, or one large, one medium and a handful of cherry tomatoes)
Instructions
Tart dough
Mix together flour and salt

Cut butter and shortening into flour until fat is pea sized

Slowly add water and vinegar

Wrap and chill dough. (This can be overnight in the fridge or in the freezer for about an hour. You want a firm, but not frozen dough).

Roll out dough and place in a tart pan

Refrigerate dough until firm (about 15 minutes in freezer or 30-45 in fridge)

Preheat oven to 400F

Lightly flour the tart dough and line with foil (matte side down)

Fill with dried beans or rice

Blind bake 15-20 minutes

Take out foil/ beans

Blind bake for 10 minutes more
Filling
Whisk together cream cheese, eggs, 3/4 of chives, and lemon zest

Season with salt and pepper to taste

Slice large tomatoes into 1/4 inch slices, or cut cherry tomatoes in half. If you have tiny cherry tomatoes, no need to cut them at all.

Fill tart with filling and top with tomatoes, leaving a little space between them.

Mix together remaining chives and the olive oil. If you want you can also add a little salt and pepper

Gently brush tomatoes with oil mixture

Bake 20 minutes or until custard is set
Notes
I didn't use the top or bottom slices of my beefsteak tomatoes or roma tomatoes because they're not so pretty. Save those leftovers for a salad.
Don't overcrowd the tart with tomatoes, less is more!
Nutrition
Calories:
320
kcal
|
Carbohydrates:
19
g
|
Protein:
5
g
|
Fat:
24
g
|
Saturated Fat:
11
g
|
Cholesterol:
87
mg
|
Sodium:
230
mg
|
Potassium:
79
mg
|
Sugar:
1
g
|
Vitamin A:
615
IU
|
Calcium:
39
mg
|
Iron:
1.4
mg
Tried this recipe?
Let us know how it turned out for you! Scroll down to leave a comment below.
You might also like: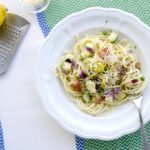 Summer Pasta
This easy Summer Garden Pasta is the perfect summer, weeknight dinner. It's fresh, bright, savory and filling without being heavy.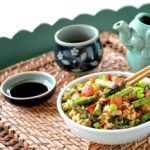 Breakfast Fried Rice
This breakfast fried rice is super easy, only requires 7 basic ingredients, and you can make it before the coffee is done brewing,…well almost.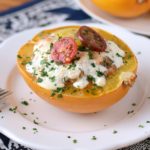 Stuffed Spaghetti Squash
These Stuffed Spaghetti Squash Boats will get a nutritious dinner on the table without a lot of fuss. It's a healthy and fast dinner with big taste!