This easy recipe for blackberry sangria mingles red wine and orange brandy for a sweet and charming summer cocktail. Make one glass or a pitcher!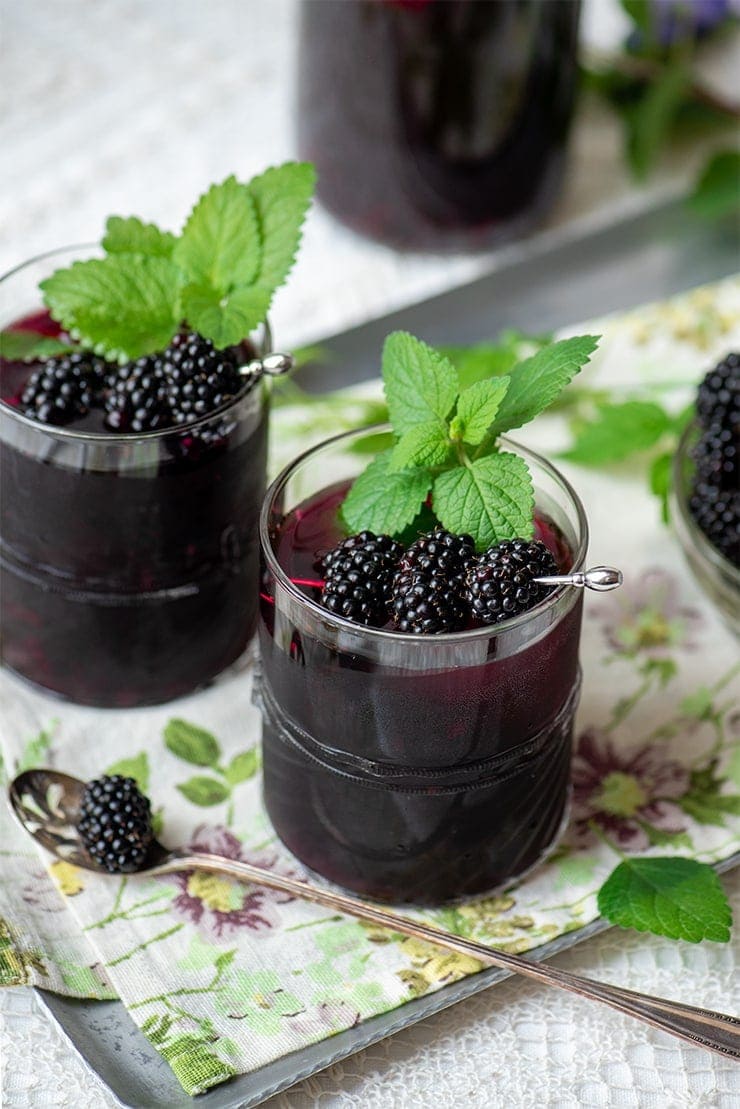 Whether you are looking for a refreshing porch sipper or a party starter, this very berry sangria is the cocktail for you. It's refreshing break from the heat of summer!
Is there anything better than juicy, ripe blackberries? Black as night and so delicate hanging on the thicket… who could pass by vine-ripened berries and not steal a taste?
When I was a kid, I lived in an apartment complex that bordered old farm land. The farm was slowly being taken out by shopping mall developments, but a long stand of blackberries escaped demolition and lay unclaimed. My friend Gina and I picked buckets full for her mom. I don't know what became of them after we picked them, but I vividly recall eating as many berries as we plucked, our hands and clothes stained from the whole endeavor.
This experience, coupled with picking strawberries at my Great Aunt Martha's house, began my love of fresh picked fruit. You see, before my parents' divorce we lived in the suburbs of DC. My dad grew some tomatoes in the backyard (which at that age gave me a rash if I dared to touch the plants) but I guess you could say I was a city kid. Fruit came from the grocery store…
As we started a new life, I started to embrace my wild West Virginia roots.
It did not take long to fully immerse myself in country life. Gina and I roamed the pastures nearby, braving the electric fence that separated our apartments from cows that lived next door. Daily, we would take these unsanctioned journeys eating any flower or fruit in reach. In hindsight, I see how stupid this may have been… but at the time, we feared nothing and enjoyed our little mischiefs.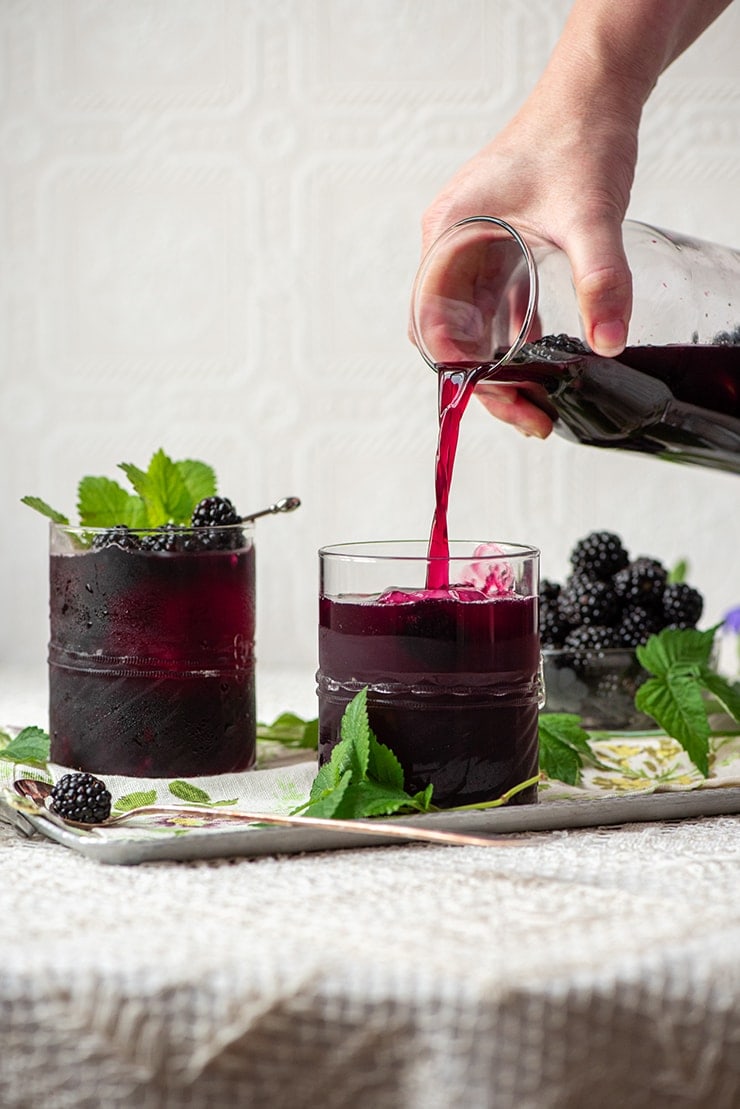 Those days were short lived. As I said, development bulldozed its way in and our illicit playground was replaced with a Zayre's. Not long after that, we up and moved again. But those memories have always stuck with me. So, a couple years ago we planted our own blackberry bushes. They aren't producing much yet, so I make regular trips to a local farm stand in the meantime.
Memories aside, I cannot get enough fresh blackberries! I add them to my mixed berry pie, this watermelon blackberry salad and for happy hour, I love this blackberry bourbon smash.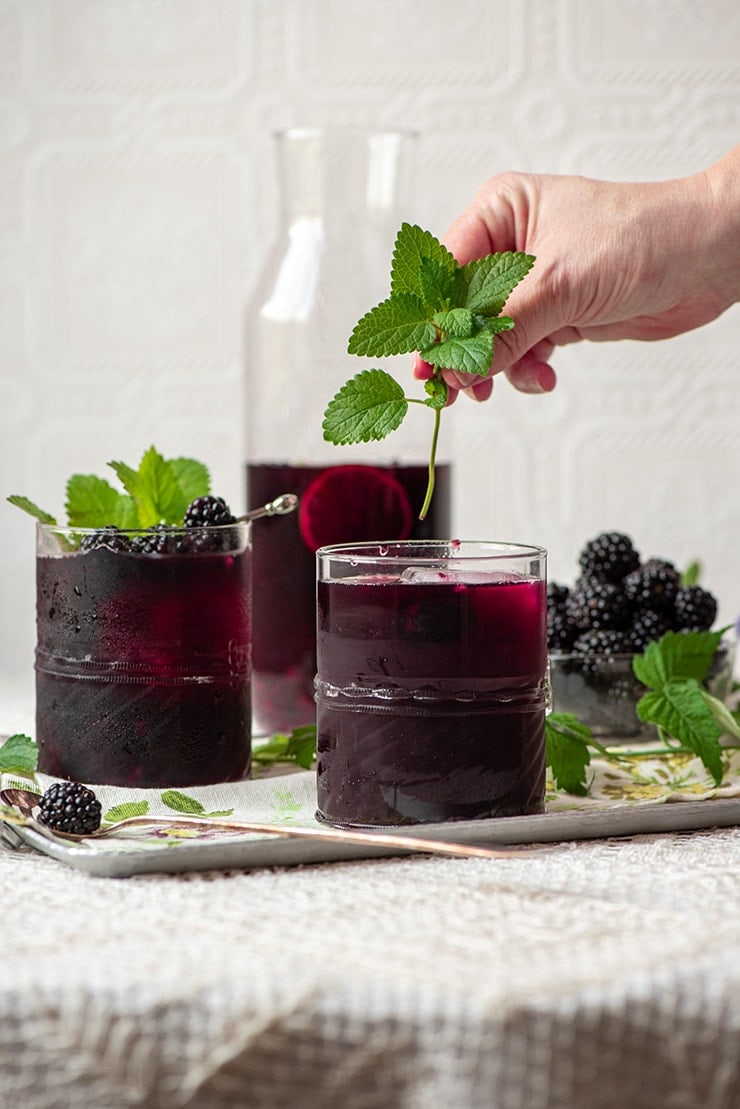 Never enough blackberries, right?
A recent party inspired me to create this stunning blackberry sangria. My friend Angela hosted a summer get-together, complete with smorgasboard of gourmet food and cocktails. I wasn't surprised, as Angela is elegant in every way imaginable. But the spread of delicious food was amazing even for Angela. I think there may have been 30 dishes she made by herself! Everything yummy and delicious, like lemon couscous, fruit salad, shrimp…seriously amazing. And all inspired by her neighborhood's summer concert series. Perfect because the band played just a few feet from Angela's back yard. So fun.
Well, at this party Angela served a blackberry sangria that really struck a chord with me. It was sweet and fruity and very summery. So, I came home and started to tinker with a recipe. I started with farm stand blackberries so plump and ripe that I almost felt bad smashing them with my muddler!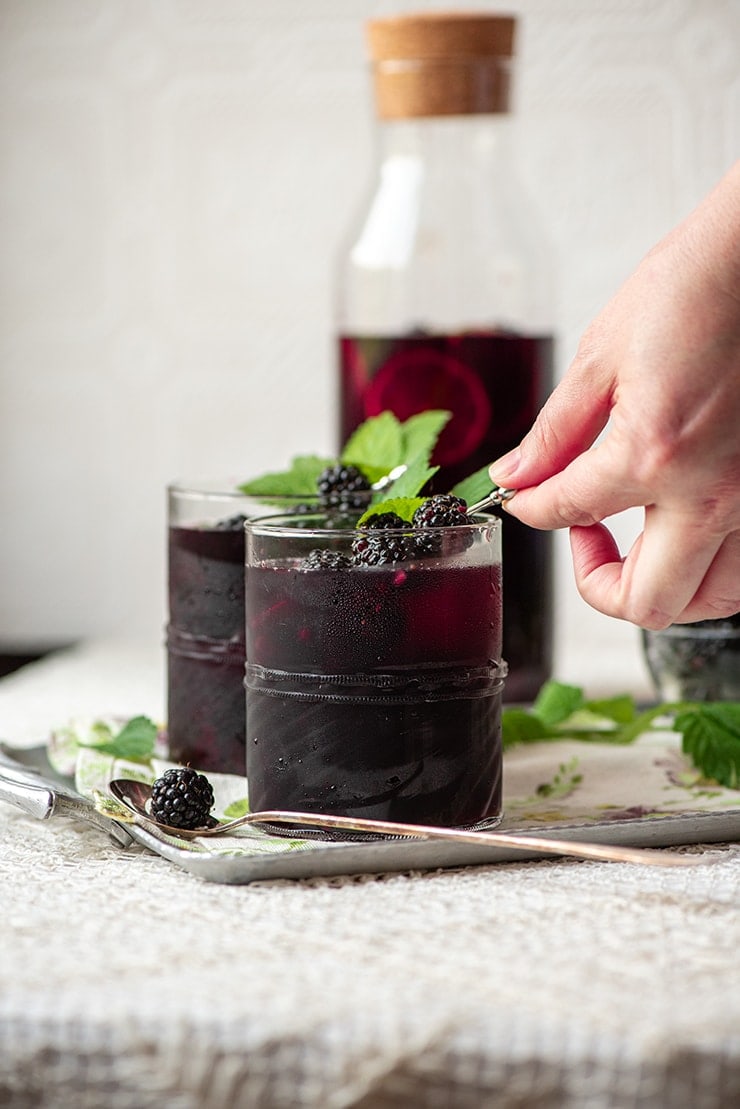 But once I realized how much easier it is to make a blackberry sangria than the traditional sangria, I murdered lots of blackberries in the name of cocktail hour!
How to make blackberry sangria
This recipe only takes a handful of ingredients: blackberries, sugar, red wine, orange brandy and sparkling water.
The best part of this recipe is that you can make an individual glass or a pitcher full in minutes. That's because the fruit is muddled intead of soaked in the wine. No waiting around all day for the flavors to mingle!
This blackberry sangria is sweet, fruity, and dare I say, pretty darn boozy? I tested two wines: Beringer Paso Nobles The Waymaker Red Wine 2016 and Red Blend Portugal by Carlos Santos Lima. Neither was expensive and they both complimented the blackberry flavor nicely. Bottom line, don't break the bank for a mixed drink.
I served the sangria with a large ice cube to keep the sangria cold, but not water it down too much. The garnish I used is lemon balm from the garden and of course a cocktail pick with more blackberries. If you'd like a more traditional looking sangria, you can add berries, apples or citrus to the sangria before serving. No matter how you dress it up, this sangria cocktail is a refreshing porch sipper. I'm sure you're going to love it! Cheers!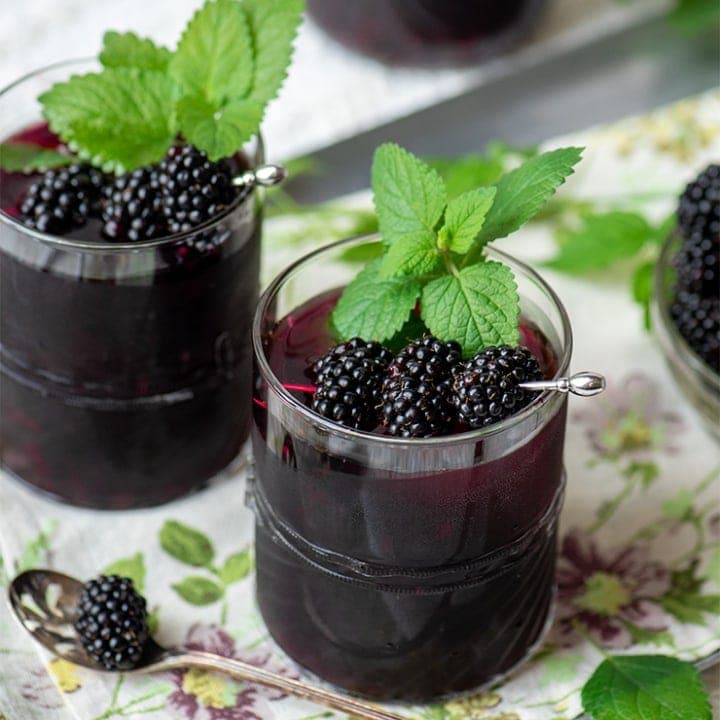 Blackberry Sangria Recipe
This easy blackberry sangria is faster and easier than the traditional recipe. Make an individual glass for yourself, or a pitcher for friends!
Print
Rate
Ingredients
Blackberry Sangria
40

blackberries

(about 2 cups)

1/2

cup

sugar

1

cup

orange brandy

(such as grand marnier or gala gala)

3

cups

red wine

soda water or sprite
Garnish
Blackberries

Mint or lemon balm
Instructions
In a pitcher, muddle together blackberries and sugar.

Add orange brandy and red wine, then stir.

Let sit about 15 minutes to let sugar dissolve.

Serve over ice, topped with a little soda water or sprite.

Garnish with fresh blackberries and mint.
Notes
No need to break the bank on the wine, a red blend will do. Lean towards a medium bodied wine with plum, pomegranate or berry notes.
Make sure to let the sugar dissolve before serving the sangria. A gritty sangria is unpleasant. It should only take 10 to 15 minutes for the sugar granules to dissolve in the alcohol.
For an single glass of blackberry sangria follow the instructions above using these measurements: 5 large blackberries, 1 tablespoon sugar, 1 oz orange brandy, 3 oz red wine, splash of soda water
Nutrition
Calories:
220
kcal
|
Carbohydrates:
25
g
|
Protein:
1
g
|
Fat:
1
g
|
Saturated Fat:
1
g
|
Sodium:
6
mg
|
Potassium:
139
mg
|
Fiber:
1
g
|
Sugar:
23
g
|
Vitamin A:
21
IU
|
Vitamin C:
2
mg
|
Calcium:
10
mg
|
Iron:
1
mg
Tried this recipe?
Let us know how it turned out for you! Scroll down to leave a comment below.
Love mixology? Discover all our awesome cocktail recipes!
You might also like: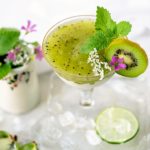 Kiwi Daquiri
Frozen kiwi daiquiris are the perfect summer drink! These tart, sweet and tropical batch cocktails are freezer ready for any party!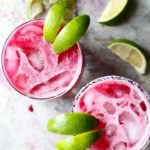 Margarita Flavors
You don't need an excuse to shake up a fruity margarita from scratch! Here are some of our favorites!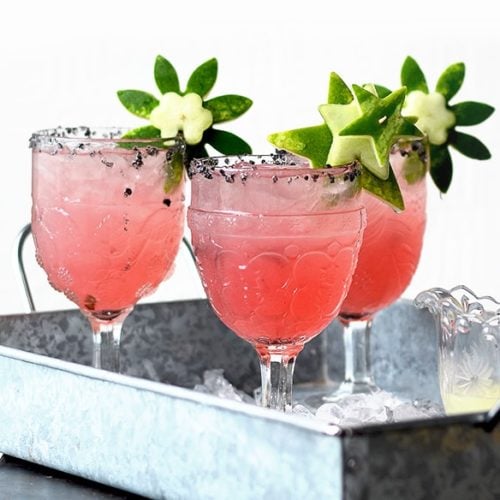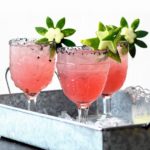 Watermelon Margaritas
When it's crazy hot outside, fresh watermelon makes the sweetest, most cooling margaritas.