Easy Summer Garden Pasta is the perfect late summer, weeknight dinner. It's fresh, bright, savory and filling without being heavy.
---
This Easy Summer Garden Pasta recipe features a vinaigrette style pasta sauce with fresh tarragon and chives over spaghetti with veggies and bacon…. and bacon makes everything yummy, right?


You might think that here at vintagekitty.com we make fancy dinners every night, but the truth is that evening hours are a commodity. There's always more to do than the meager hours provide, so dinner has to be fast and use the ingredients in the fridge and garden. And pasta can be the perfect medium to throw a bunch of ingredients together into a meal.
So, that is the story of how this recipe was created. What did we have on hand? Copious amounts of summer squash, peas, and tons of fresh herbs in the garden. And we ALWAYS have bacon, Parmesan, and lemons in the fridge… But the good news is you don't need an extensive garden to make this pasta dish. I'm sad to say that squash bugs took out our zucchini, the peas are out of season until fall and the tarragon is waning in the dry, summer heat.
Luckily, there are frozen vegetables, farm stands and grocery stores! But the beauty of this recipe is that you can use whatever herbs and vegetables you have on hand… tomatoes, garden beans, parsley, basil, oregano, peppers, they are all great substitutions and will make a tasty pasta dish.
Because here is the magic equation: fat + acid + seasonings = flavor!!! So you should feel free to play with your food. Try different combinations of oils and herbs and see what works and more importantly, what you like! So what if it doesn't turn out perfectly, you learn from your mistakes.
And we make lots of kitchen blunders! So much so that we have a saying in our house that is so un-food-bloggy, "Sometimes dinner is just dinner," which means that we are eating because we have to nourish our bodies with the food we have already made and paid for!!! The reality is that sometimes it's just about getting dinner on the table and using what you have on hand, not whether it's yummy, or what you were craving….
But then sometimes you come up with a winner like this dish that is tasty on the first try and becomes a standard. We hope that you like it as much as we do and that it makes at least one of your busy weeknights a little easier.

Quick Summer Garden Pasta
I love this recipe because I can use a little of this and that from my garden. Plus it's super easy for weeknights!
Print
Rate
Ingredients
1

pound

spaghetti

4

slices

thick cut bacon

cut into 1/2 inch pieces

Juice of one lemon

Zest of one lemon

¼

cup

olive oil

2

teaspoon

fresh tarragon

chopped

2

teaspoon

fresh chives

chopped

3

cloves

garlic

minced

1

red onion

diced

1

large

zucchini

diced

½

cup

fresh or frozen peas

1

cup

Parmesan

shredded

Sea salt and freshly ground pepper to taste
Instructions
Cook spaghetti according to package instructions.

Place large skillet on medium-low heat and fry bacon.

Meanwhile, while bacon is cooking, combine lemon juice, zest, oil, chives, and tarragon and set aside.

Once bacon is crispy, transfer bacon with a slotted spoon to a plate covered with a paper towel.

Add garlic to bacon fat and cook for one minute.

Add zucchini and red onions and cook until tender but still crisp.

Add in peas and cook another 1-2 minutes.

Turn off heat and add pasta, bacon, lemon-herb mixture and Parmesan.

Toss to combine and season with salt and pepper to taste.
Nutrition
Calories:
829
kcal
|
Carbohydrates:
94
g
|
Protein:
31
g
|
Fat:
36
g
|
Saturated Fat:
11
g
|
Cholesterol:
41
mg
|
Sodium:
653
mg
|
Potassium:
599
mg
|
Fiber:
6
g
|
Sugar:
7
g
|
Vitamin A:
509
IU
|
Vitamin C:
20
mg
|
Calcium:
354
mg
|
Iron:
3
mg
Tried this recipe?
Let us know how it turned out for you! Scroll down to leave a comment below.
If you give this recipe a try, tell us what you think by leaving a comment below or tagging us in your favorite social media forum! We love to hear your thoughts! And thanks in advance for sharing this post with your friends ;-) …every share helps a little blogging Kitty make a living!
You might also like: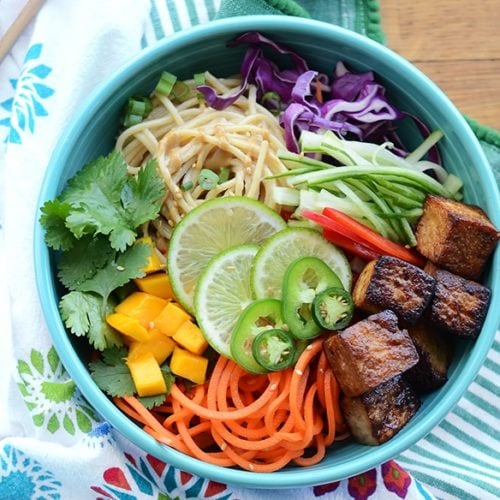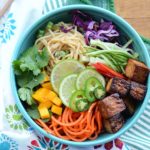 Sesame Cashew Noodle Salad Bowls
Sesame Cashew Noodle Salad Bowls are just the thing for hot summer mealtimes. They are loaded with a rainbow of colorful fruits and vegetables.
Summer Rolls with Tropical Sweet Chili Garlic Sauce
This is the perfect finger food for your next cookout. Serve them as an appetizer or replace the traditional bowl of salad for a cool, crunchy side dish.
Autumn Asian Noodle Salad
This salad is a delicious cold dish that brings freshness and crunch to your holiday table. Candied butternut squash, walnuts, baby arugula, and sweet bell peppers top noodles coated in a black bean dressing.