Chocolate Strawberry Mint Dessert Pizza with whole-milk ricotta cheese! This recipe lies at the intersection of easy and unbelievably delicious!
---
From scratch Chocolate Strawberry Mint Dessert Pizza! Need I say more?


UPDATE: I created this Chocolate Strawberry Mint Dessert Pizza in the summer of 2015 but as Valentines Day is approaching, I'm craving this luscious pizza. It is a grilled pizza, but it can just as easily be made on a stove top grill pan. Perfect for a date night in or a special treat for the kids. If you want to make it extra thematic for Valentines Day, use a small heart shaped cookie cutter to cut out strawberry halves!
The first time I ate this, I seriously moaned the entire time I ate my ooey-gooey dark chocolate slathered pizza slices! This recipe lies at the intersection of easy and unbelievably delicious, so in terms of recipe creating, I should really stop here because this really is perfection!
But this story requires some exposition… Once upon a time I worked at this pizza joint…it was a really good pizza joint. But when you smell one type of food 40+ hours a week, you get really, really sick of smelling (and eating) that food. So, for many years, I just didn't eat pizza very often.
And then Mr. Bunny and I took a class on grilling pizza at Sur la Table… The class was awesome and it totally reawakened my love for gourmet pizza. Since the class, we have made pizza completely from scratch at least once a week. It's a whole new culinary world here… glorious yeast dough grilled to thin crusty perfection topped with super fresh toppings and unique homemade sauces… This is not your ordinary pizza…not even in the same universe.
And really its all about two things. One, the homemade dough, which is so tender and delicious. And two, the quality of the ingredients cannot be matched.
So in our pizza fervor, we dreamed up this gorgeous number. It has five simple toppings, dark chocolate, strawberries, whole milk ricotta cheese, mint and a dusting of powdered sugar. And of course we used a fresh dough. We have tried dough several recipes since our class and we still agree that the Sur la Table recipe is the best so far. You have to prepare the dough in advance, but it is worth the wait.
We have also tried several varieties of dark chocolate in this recipe. The best has been Hershey's Special Dark. The worst, due to no fault of its own, Lindt Extra Dark. I made the mistake of sending Mr. Bunny to the store and not checking the package of chocolate before we served this pizza to our friends… so let our mistake be a great lesson for everyone out there: check the cacao content of your chocolate! The Hershey's Special Dark is 45% cacao while the Lindt Extra Dark was 85%. Huge difference! But any semi-sweet to bittersweet chocolate should be fine in this recipe. I would however avoid milk chocolate. It would be awfully sweet with the combination of strawberries and powdered sugar.
So why not omit the confectioners' sugar? There is a great reason. It keeps the sliced strawberries from drying out and gives them a beautiful glazed look. And oh my goodness do they look beautiful in a pool of whole milk ricotta cheese and finished with a chiffonade of fresh mint.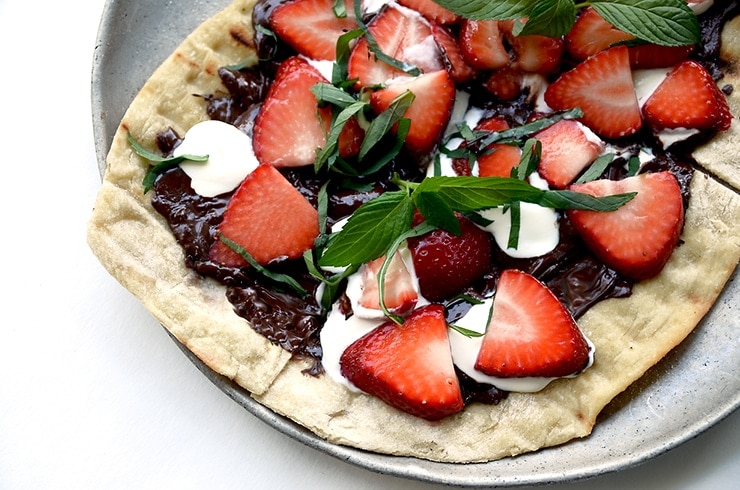 So if you are looking for an easy dessert that will impress at your holiday barbeque, look no further than the chocolate strawberry mint dessert pizza. It may not be red, white and blue, but it is a a melting pot of flavors and cuisines, so I cannot imagine a dessert that would better embody the American culinary spirit!


Strawberry Chocolate Mint Dessert Pizza
This pizza is sure to impress and please at your next barbecue!
Print
Rate
Ingredients
1

Pizza dough,

personal pizza size

Semolina and AP flour for rolling

Coconut oil

5-10

strawberries

, sliced

1

tablespoon

confectioner's sugar

3-4

ounces

semi-sweet to dark chocolate bar

, broken into small pieces

¼

cup

whole milk ricotta cheese

6

leaves

mint

, chopped
Instructions
Prepare pizza dough and let rise overnight.

Lightly oil grill with oil then preheat.

In a small bowl toss strawberries with powdered sugar.

Cut dough into four pieces and roll out one portion on a floured surface. Transfer pizza dough to a pan dusted with semolina or flour.

Grill one side of pizza dough until bubbly and firm, then pull off onto pan.

Top the cooked side of pizza dough with chocolate and return to the grill. Cook until the chocolate begins to melt.

Remove pizza and spread chocolate with a spoon or offset spatula. Dollop with ricotta.

Return to the grill and heat pizza for a couple more minutes, or until cheese and chocolate are soft and gooey.

Remove pizza from heat and top with strawberries and fresh mint. Cut and serve immediately.
Notes
Leftover pizza dough can be frozen
Nutrition
Calories:
403
kcal
|
Carbohydrates:
61
g
|
Protein:
11
g
|
Fat:
13
g
|
Saturated Fat:
7
g
|
Cholesterol:
9
mg
|
Sodium:
722
mg
|
Potassium:
160
mg
|
Fiber:
3
g
|
Sugar:
17
g
|
Vitamin A:
68
IU
|
Vitamin C:
9
mg
|
Calcium:
45
mg
|
Iron:
4
mg
Tried this recipe?
Let us know how it turned out for you! Scroll down to leave a comment below.
You might also like:
Magnificent Mixed Berry Pie
Not only is this mixed berry pie tender, flaky, and fruity, it is also beautiful. Learn how to make this pie from scratch using simple ingredients and cookie cutters.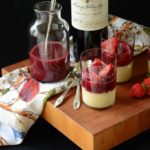 Elegant Cabernet Strawberry Rhubarb Pudding
This Elegant Cabernet Strawberry Rhubarb Pudding makes great use of the season's bounty and elevates pudding beyond a children's dessert.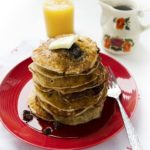 Chocolate Cherry Pancakes
Take your breakfast from ordinary to sweet with these from scratch Chocolate Cherry Pancakes.