Pineapple Rum Tartlets are rich, buttery and filled with a rum, brown sugar pastry cream…so delicious!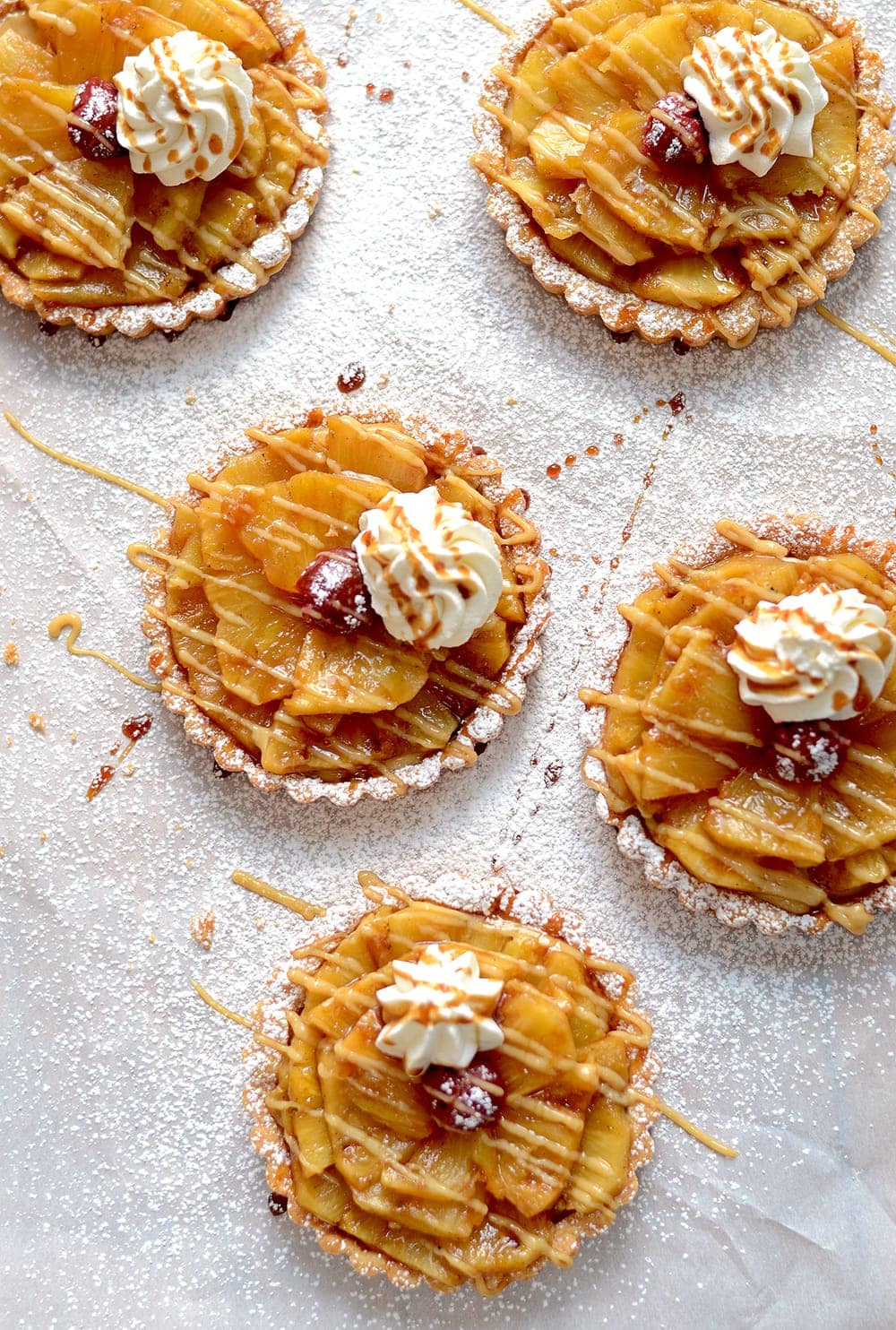 These small pastries pack a punch of flavor! Fresh pineapple gets drenched in a sugary, rum concoction and layered into a sweet and crumbly crust. The pineapple itself is a symbol of welcome and hospitality, so perfect to serve guests for holidays or special dinners.

My husband's family loves pineapple, so much so that their family birthday cake is Pineapple Upside Down Cake. When I first learned of this tradition, I was dumbfounded. A birthday cake requires frosting!!!!
But they are adamant about this tradition so for many years I endured birthdays without buttercream (#birthdayswithoutbuttercream #sadness #passthewine). Maybe it was hard for me because I have a love hate relationship with pineapples. On one hand, I find their tropical flavor to be divine. On the other, I cannot get over the texture. So I usually like my pineapple cooked or pureed, like in a pineapple smoothie or grilled pineapple salsa.
I will admit that something magical happens when you put pineapple slices in a pool of butter and brown sugar and then top it with cake! The sugars in pineapple caramelize so nicely! So the inspiration for this dessert is somewhere between that Pineapple Upside Down Cake and a Pina Colada.
This is not the first time that the humble pineapple upside down cake has inspired a dessert remix. Because I like to break the mold, one birthday, I served up Pineapple Upside Down Cupcakes (yes they included frosting!) to Kevin and his twin sister. They ate them, and I think they liked them, but I could tell that my willful disregard for Long birthday tradition was tolerated more than appreciated.
So, I made these Pineapple Rum Tartlets for a recent holiday rather than a birthday. This time they ate them happily without any of the this-isn't-a-pineapple-upside-down-cake-angst. Everyone loves fancy pie right….maybe I should just say that everyone loves pie….crust+filling= sweet yummy goodness no one can turn down.
These little desserts are a labor of love but they are totally worth the effort. Not only do they look like fruity flowers, but they taste like a tropical party! The pineapple slices are poached in a brown sugar, rum and vanilla bean syrup…mmmm. Then you make a dreamy, caramel-y pastry cream that gets spread onto a crumbly, sweet pate sucree crust. OMG so very, very scrumptious!
These beauties are tasty any time but because they are a bit time consuming to make they are well suited to dinner parties where the aim is to impress! The pineapple itself is a symbol of welcome and hospitality, so kinda perfect to serve guests.
Pineapple also is a natural complement to meals where ham is served. So Christmas, New Years, and Easter come to mind as holidays where these pineapple tarts could grace your table.
Tips for Making Pineapple Tarts
This recipe might appear hard because there are a lot of steps. I assure you it is not. I've broken things down so a novice baker can make these patisserie style tarts.
I used 4.5 inch tart pans with a removable bottom. They don't have to be the exact same size, just in the ballpark.
This recipe calls for fresh pineapple. Frozen pineapple will turn watery, so only use fresh!
Go for a good quality aged rum but not top shelf. But also don't skimp and use white rum. This dessert's flavor depends on the rum!
Make sure you've measured out all your ingredients in advance for the pastry cream. Turn away for a second (or stop whisking) and you'll have cooked eggs! But once you've nailed making a homemade creme patissiere you're going to be so proud of yourself!
Pineapple Rum Tartlets
The components of these tartlets can be made 1-2 days in advance, but are best to assemble shortly before serving.
Print
Rate
Ingredients
Pate Sucree
2.5

cups

all purpose flour plus extra for rolling

3

TB

sugar

1

cup

salted butter

, very cold

2

large

egg yolks

1

TB

vanilla extract
Pineapple filling
1

pineapple

, cut into quarter inch slices

3/4

cup

aged rum

3/4

cup

dark brown sugar

1

vanilla bean sliced lengthwise

1

TB

salted butter
Pastry Cream
3

large

egg yolks

6

TB

brown sugar

2

TB

cornstarch

1/2

cup

heavy cream

1/2

cup

whole milk

2

TB

reserved pineapple syrup

1

TB

salted butter
Garnish
Cherries

Whipped cream

Powdered sugar
Instructions
Dough:
In a large bowl, mix together flour and sugar.

Cut butter into small pieces and add to flour mixture.

Cut butter into flour with a pastry cutter or forks until butter chunks are pea-sized.

Add in egg yolks and vanilla extract and knead with your fingers until combined. If dough is dry and crumbly, add ice water a teaspoon at a time until dough holds together when gently squeezed.

Form dough into a disk and wrap in plastic wrap, wax paper or freezer paper.

Refrigerate for at least 1 hour.

Cut dough into 8 equal parts.

Roll each piece between two pieces wax paper or plastic wrap.

Place in tart pan and press into the bottom with sides rolling over pan edges.

Run the rolling pin over the pan to cut off excess dough.

Repeat with remaining dough.

Chill for 30-60 minutes.

Preheat oven to 350F.

Line chilled crusts with foil (shiny side up) and fill with dried beans or rice.

Bake for 25 minutes and then remove foil and beans.

Bake for another 15-25 minutes or until crust is golden and set.

Let cool for 15 minutes and then remove crusts from tart pans.
Pineapple filling
In a medium sauce pan combine rum, sugar, vanilla bean and butter and bring to a gentle boil.

Once the sugar has melted, poach pineapple slices in small batches for 7-10 minutes, or until golden brown but not falling apart.

Remove pineapple and place on a cooling rack placed over cookie sheet.

Once all pineapple is poached, return any liquid that has drained off the pineapple to the pan.

Reduce the poaching liquid until it is thick and syrupy and set aside.

Place pineapple in an airtight container and refrigerate until ready to assemble tarts.
Pastry Cream
In a small bowl combine egg yolks and brown sugar and whisk to combine.

In a medium sauce pan combine cornstarch, milk and heavy cream and whisk to combine.

Place over medium heat and bring to a gentle boils while whisking constantly.

Once the mixture starts to thicken, temper the eggs by adding a half cup of the milk mixture to the eggs and whisk.

Now add the egg mixture to the pot and cook until thick and smooth (while constantly whisking).

Add in reserved syrup and whisk until it incorporates.

Remove from heat and strain through a fine mesh sieve into a bowl.

Add butter and whisk until butter is melted and the pastry cream is glossy.

Let cool on the counter for about 20-30 minutes, whisking every few minutes to keep the custard from forming a skin.

Cover with plastic wrap and refrigerate until chilled.
Assembly
Line each tart shell with a thin layer of pastry creme.

Fill with pineapple slices, arranging them in layers to make a flower pattern.

Add a cherry to the center and a dollop of whipped cream.

Drizzle leftover poaching syrup and pastry creme over tartlets and sprinkle with powdered sugar.
Notes
These work best as tartlets. The first time I baked a whole tart and it was difficult to cut and turned into a sloppy mess! We used tart pans similar to these.
Nutrition
Calories:
578
kcal
|
Carbohydrates:
52
g
|
Protein:
3
g
|
Fat:
35
g
|
Saturated Fat:
21
g
|
Cholesterol:
212
mg
|
Sodium:
255
mg
|
Potassium:
213
mg
|
Fiber:
1
g
|
Sugar:
45
g
|
Vitamin A:
1270
IU
|
Vitamin C:
54
mg
|
Calcium:
88
mg
|
Iron:
0.8
mg
Tried this recipe?
Let us know how it turned out for you! Scroll down to leave a comment below.
You might also like:
Rum Old Fashioned
Discover San Juan hot spots and a recipe for the classic Rum Old Fashioned using one of Puerto Rico's fine aged rums.
Hawaiian Steak Sheet Pan Dinner
Discover how to make this easy Hawaiian Steak Sheet Pan Dinner that's cooked perfectly every time! Great for meal prep and busy weeknights!
Lemon Icebox Pie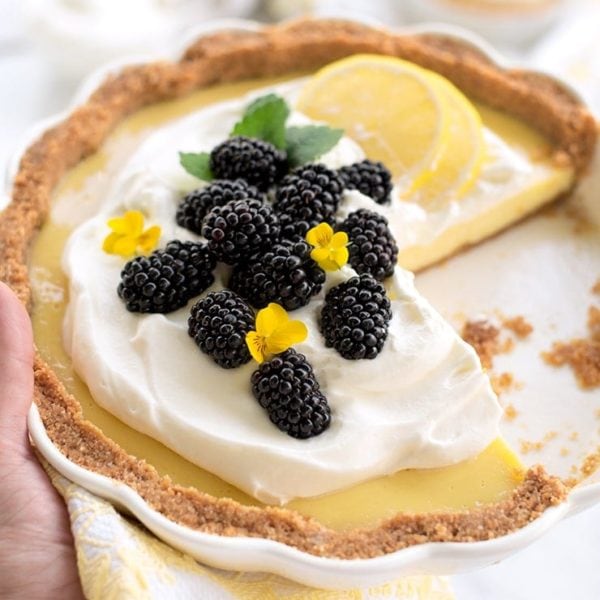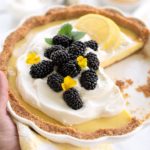 Lemon Icebox Pie is sweet, tart, creamy, nutty and best served cold! This mouthwatering icebox pie hits the spot when the thermometer soars!