An apple butter glaze sears flavor into these juicy grilled pork chops while adding a fresh apple salsa makes this dinner a surefire hit. Weeknight or weekend, this autumn main course might become a staple year-round!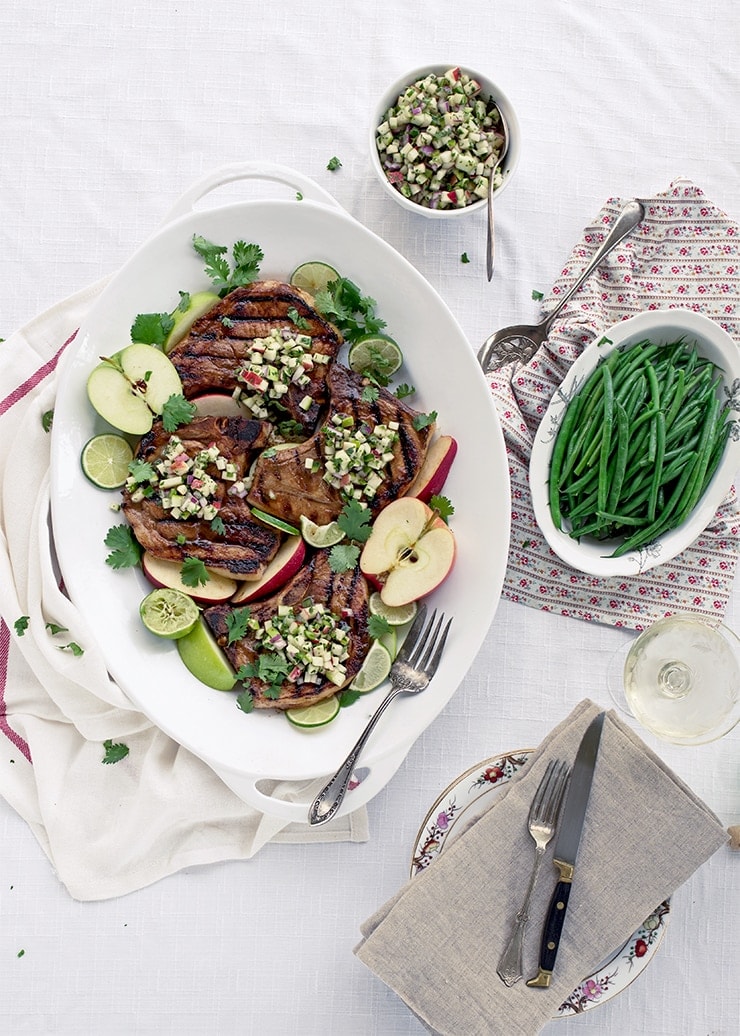 When I think about pork chops I always think of serving them with apple sauce. The classic pairing of flavors is vintage to the core and seemed like a perfect topic for Vintage Kitty to put a modern twist on. Here we turn up the apple flavors by using apple butter as a baste/glaze and making a super fresh apple salsa for some pop.

As summer begins to wane and I watch the neighborhood kids go back to school, it seems time for an early fall recipe that can work on the grill (if the weather is nice) or indoors on a grill pan (if you're trying this later in the season).
Pork is great because it is usually quite affordable and you can get it easily in a variety of thicknesses, and with or without a bone. So when Kevin and I were young, we ate lots of pork. Chicken every night gets boring and steak was not in the budget.
How to grill pork chops
When I was learning to make grilled pork chops I would always end up with a perfectly seasoned slice of shoe leather. In an effort to make sure I had my pork cooked well, I ended up cooking it too hard, too fast and not being patient with it.
Well times have changed. A number of years ago, the USDA dropped the cooking temperature recommendations down so that an internal temperature of 145F on pork chops is considered safe. So now pork is harder to overcook!!!!
But I've learned a number of cooking tricks too! First, I've discovered the joy of having a really nice thick, pork chop. If available, a bone-in chop is even better!
I went to a local butcher for these bone-in beauties and had them cut thicker than what they were displaying in the coolers. This slows down the cooking a bit (important to know if you're trying this on a weeknight) but makes the meal look more impressive and also helps keep the chop juicy.
Another technique, if you've got the time, is to brine the pork chops using our apple cider brine for a more moist and flavorful dish. The secret is to brine just long enough, so about 1 hour for thin chops and up to three hours for thicker, bone-in chops. Too long a brine will result in salty meat so err on the side of caution.
Brining can be done ahead, so if you're like me and buy meat in bulk, you can brine a whole batch and then freeze them individually for later.
Now keep in mind you only want to brine if your meat hasn't already been brined. Check the package… if salt and water is on the list of ingredients, your meat is already brined.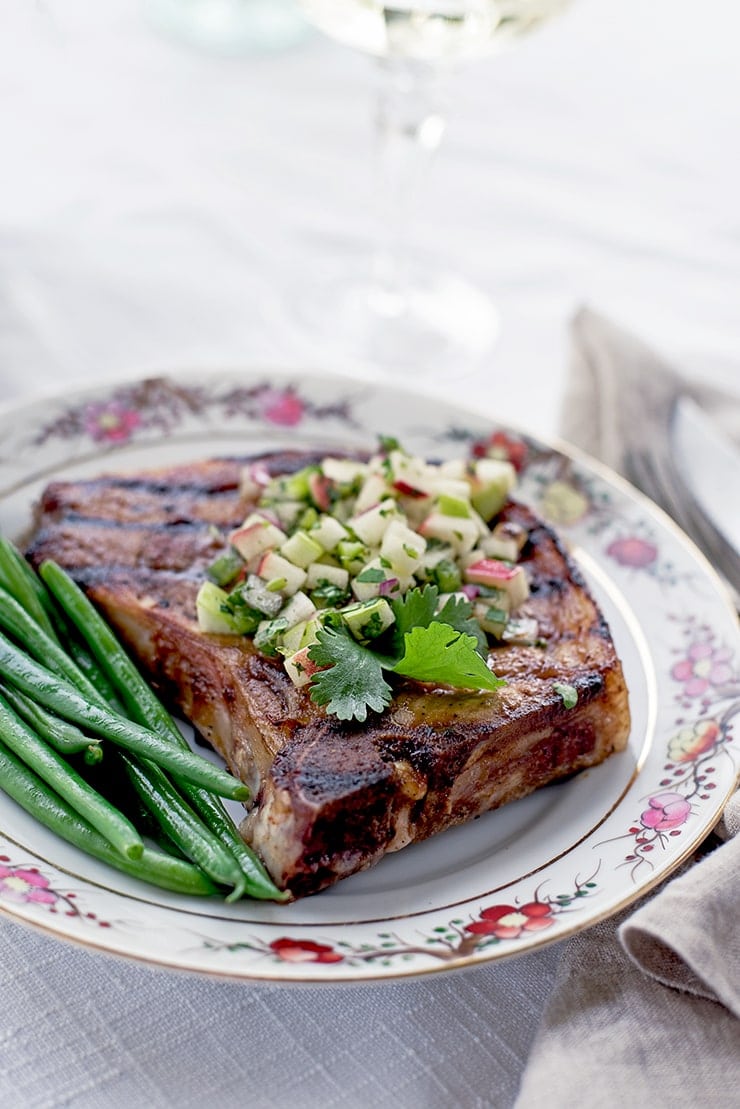 The other trick is to always use a marinade or glaze. Pork chops tend to be a leaner meat, so it never hurts to add a little extra moisture. Here we've glazed the pork chops in an apple butter and butter mixture before and after grilling. It really sets in that apple flavor.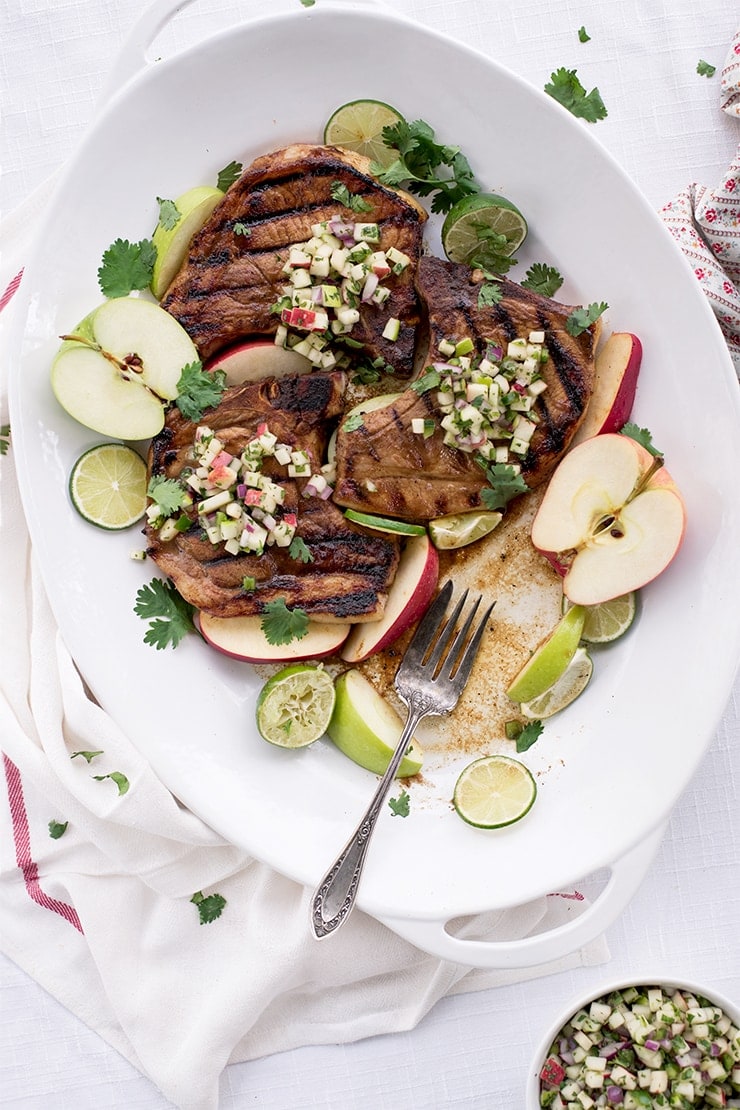 But we didn't stop at the glaze! One of Kevin's favorite things about fall is the abundance of apples so we also topped our grilled pork chops with a refreshing apple salsa.
I love the quick fresh flavor and crunch that a few minutes of chopping gives you with this salsa. I think that it makes this dish special. The different colors of the apples, red onion and cilantro really set off beautifully against the wonderfully grilled chops.
But the salsa isn't just pretty garnish. It adds extra juiciness that is sweet, tart and mildly spicy while still allowing the pork flavor to shine through.
Mostly, I love to have a recipe or two in my back pocket in case I want to impress someone. This recipe for grilled pork chops is one of those dependable and delicious recipes. Weekday birthday, family visiting, impromptu cookout… this recipe is easy, low mess and can be scaled up or down for more or less people.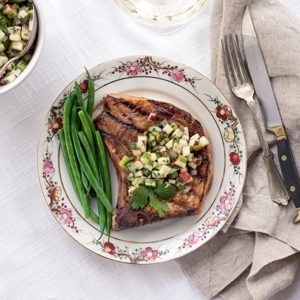 Grilled Pork Chops Recipe
When apple season arrives, pork is natural pairing. But we've kept this dish light and fresh because when apple season starts it's still hot outside.
Print
Rate
Ingredients
Grilled Pork Chops
6

tablespoons

apple butter

6

tablespoons

butter

, softened

1

tablespoon

apple cider vinegar

1/2

teaspoon

sea salt

1/2

teaspoon

black pepper

4

large

pork chops

(boneless or bone-in)
Apple Salsa
2

limes

, juiced

2

teaspoons

sugar

1

sweet apple (such as fuji ot gala)

, finely diced

1

tart apple (such as granny smith)

, finely diced

1

small

red onion

, finely diced

1

large

jalapeno

, finely diced

1/2

cup

cilantro

, finely chopped

salt and pepper to taste
Instructions
Apple Salsa
In a bowl, combine lime juice and sugar and stir to dissolve.

Add the diced apples immediately after cutting to prevent browning.

Stir in the diced jalapeno, onion and cilantro and season with salt and pepper to taste.
Grilled Pork Chops
In a bowl, stir together apple butter and softened butter until smooth.

Add in vinegar, salt and pepper and divide into two portions, one for basting and one for glazing the pork chops after they are cooked.

Dry pork chops with paper towels and baste with half of the apple butter mixture.

On a grill over medium heat (about 350-400F) place pork chops in a location with indirect heat. Halfway through cooking flip chops and cook to 145F.

Before serving, glaze pork chops with the second portion of apple butter using a clean basting brush or spoon.

Serve grilled pork chops topped with apple salsa.
Notes
If you have the time, this apple cider brine adds even more juicy flavor to pork chops.
Nutrition
Calories:
469
kcal
|
Carbohydrates:
29
g
|
Protein:
29
g
|
Fat:
26
g
|
Saturated Fat:
14
g
|
Cholesterol:
134
mg
|
Sodium:
511
mg
|
Potassium:
664
mg
|
Fiber:
3
g
|
Sugar:
21
g
|
Vitamin A:
725
IU
|
Vitamin C:
14.8
mg
|
Calcium:
35
mg
|
Iron:
1.1
mg
Tried this recipe?
Let us know how it turned out for you! Scroll down to leave a comment below.
Love this dinner entree? Check out all our main course recipes!
You might also like: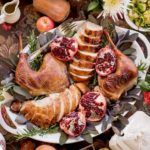 Grilled Spatchcock Turkey
Our recipe for juicy, succulent, maple butter turkey is roasted on the grill, giving it a smoky flavor. Learn how to spatchcock, brine and grill the best turkey you've ever had!
Grilled Pineapple Salsa
Spice up your salsa routine with this grilled pineapple salsa recipe! It's a fresh, tropical way to dress up everything from tacos to tortilla chips!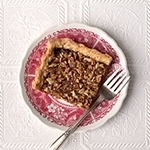 Apple Butter Crumble Slab Pie
This slab pie has everything your sweet tooth desires! Doesn't a flaky cinnamon crust filled with luscious apple butter and an almond oat crumb sound irresistible?