Frozen kiwi daiquiris are the perfect summer drink! These tart, sweet and tropical batch cocktails are freezer ready for any party!
We're rockin the batch cocktails baby! That means, we blend it up and stick it in the freezer overnight and voila! The next day you've got kiwi daiquiris ready to go!

It's summer and HOT and all I can think of drinking a cold beverage! Well that and eating strawberry frozen yogurt and popsicles… Just give me something wet and cold to cool me down PLEASE!
During one of my freezer-cold day dreams, this little kiwi number popped into my head. Doesn't a frozen kiwi daiquiri exclaim SUMMER!? See the frost on the glass? That's what I NEED right now! I'm betting you do too!
And that's why I went through all the trouble to make this recipe. (It's a hard knock life! haha).
The usual MO for me and frozen beverages goes something like this: freeze fruit, then blend a drink later. That's what I do for my strawberry margaritas and pineapple smoothies. But kiwi don't play like that!
As usual I learned this the hard way. I froze the kiwi and attempted to make my daiquiri but to get the kiwi blended ended up pulverizing the kiwi seeds. So I had a tasty cocktail but it looked like a 1970s olive green kitchen with a dark, sickly color. Not appetizing!
So I tried another route. I pureed the kiwi first then mixed the cocktail and placed it in the freezer, granita style. About 4 or 5 recipe tweaks later, I had a mixture that was in between ice cube and unfreezable syrupy sludge.
Have to admit, I didn't see this trouble coming. But I finally worked it out and the end product very closely resembles a granita straight out of the freezer. Scrape it with a fork, then spoon it into a glass and about 5 minutes later it's melting into a nice slushy beverage. Perfect timing for serving the drinks.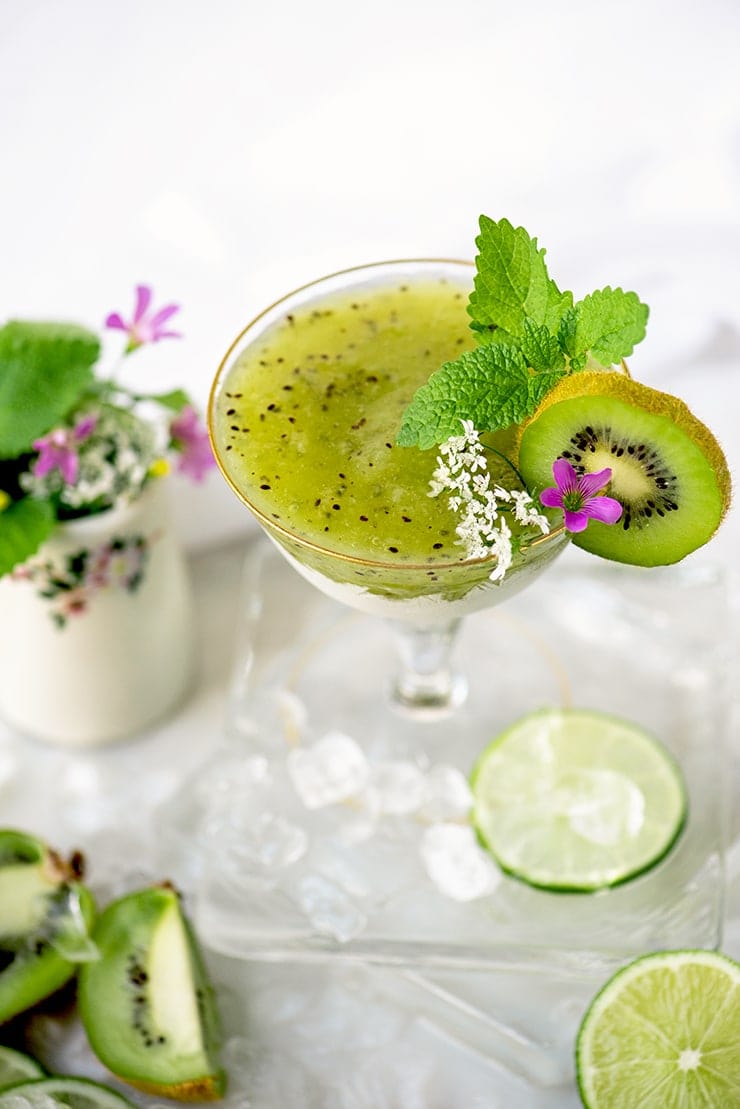 Of course I garnished our daiquiris with a slice of kiwi but I'm also a huge fan of using flowers! Flowers make a drink extra pretty!
Just like the wild violets in this pineapple sorbet float and white orchids in these probiotic kombucha margaritas, I knew this girly drink could use something extra!
But don't assume extra means a lot of work! I literally ran out to the garden and plucked what I could find. For this drink I picked cilantro and wood sorrel flowers and a sprig of lemon balm. But it's important to note that we do not use any pesticides or herbicides in our yard (to the dismay of our lawn guys)! So that's how I have lovely "weeds" to garnish my cocktail recipes. (One man's trash is another man's treasure, I guess).
If you don't have organic, edible flowers on hand, some grocery stores sell them but you can also ask your local florist. The farmer's market is also a great place to look. Chances are, a local farmer supplies edible flowers to restaurants in your area.
But lucky for you, you don't need to go out to make a gorgeous, craft cocktail that will impress all summer long!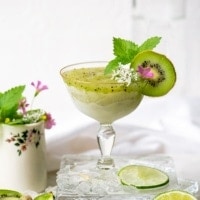 Frozen Kiwi Daiquiri
This frozen daiquiri recipe freezes overnight, so these kiwi cocktails are ready come happy hour! Make a few or big batch like we do! (Hint! Click on the servings to adjust the recipe!)
Print
Rate
Ingredients
10

ounces

pureed kiwi

8

ounces

white rum

3

ounces

lime juice

4

ounces

water

1/2

cup

sugar
Instructions
Puree fresh (not frozen) kiwi in a blender.

Mix together 10 ounces of pureed kiwi with rum, lime juice, water and sugar in a shallow freezer safe dish.

Let mixture sit at room temperature for one hour to melt sugar.

Stir kiwi mixture and cover tightly and freeze overnight.

When ready to serve, fluff cocktail with a fork and spoon it into four glasses. It will have the consistency of a granita, but will quickly melt into a slushy drink.

Garnish with kiwi slices and serve immediately! Cheers!
Notes
It's really important to puree fresh, not frozen kiwi. I learned the hard way that if you blend frozen kiwi, the seeds will get blended turning the drink brown and ugly! That being said, you cannot puree the fresh kiwi too aggressively. Gently pulse the blender until the kiwi so the seeds stay intact.
You'll need about 5-7 kiwi for this recipe plusmore for garnish.
Don't skip the water! Kiwi is sugary and slimy and doesn't freeze well by itself. The water and lime juice are the parts that create the ice crystals.
Nutrition
Calories:
276
kcal
|
Carbohydrates:
37
g
|
Protein:
1
g
|
Fat:
1
g
|
Saturated Fat:
1
g
|
Sodium:
5
mg
|
Potassium:
246
mg
|
Fiber:
2
g
|
Sugar:
32
g
|
Vitamin A:
60
IU
|
Vitamin C:
72.1
mg
|
Calcium:
27
mg
|
Iron:
0.2
mg
Tried this recipe?
Let us know how it turned out for you! Scroll down to leave a comment below.
Love this recipe? Check out all our cocktail recipes!
You might also like: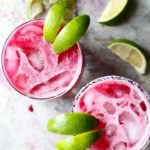 Margarita Flavors
You don't need an excuse to shake up a fruity margarita from scratch! Here are some of our favorites!

Cucumber Cocktail
With hot peppers and savory Thai basil, this drink is cool cucumber with a nice, slow jalapeno burn at the finish.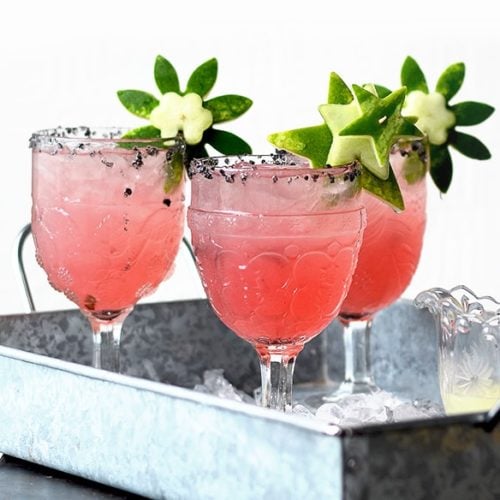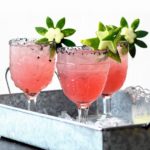 Watermelon Margaritas
When it's crazy hot outside, fresh watermelon makes the sweetest, most cooling margaritas.