Drinking a spicy Thai basil cucumber cocktail is a sweet way to enjoy the heat of late summer! Literally! With hot peppers and savory Thai basil, this cucumber drink is cool and refreshing, with a nice, slow jalapeno burn at the finish.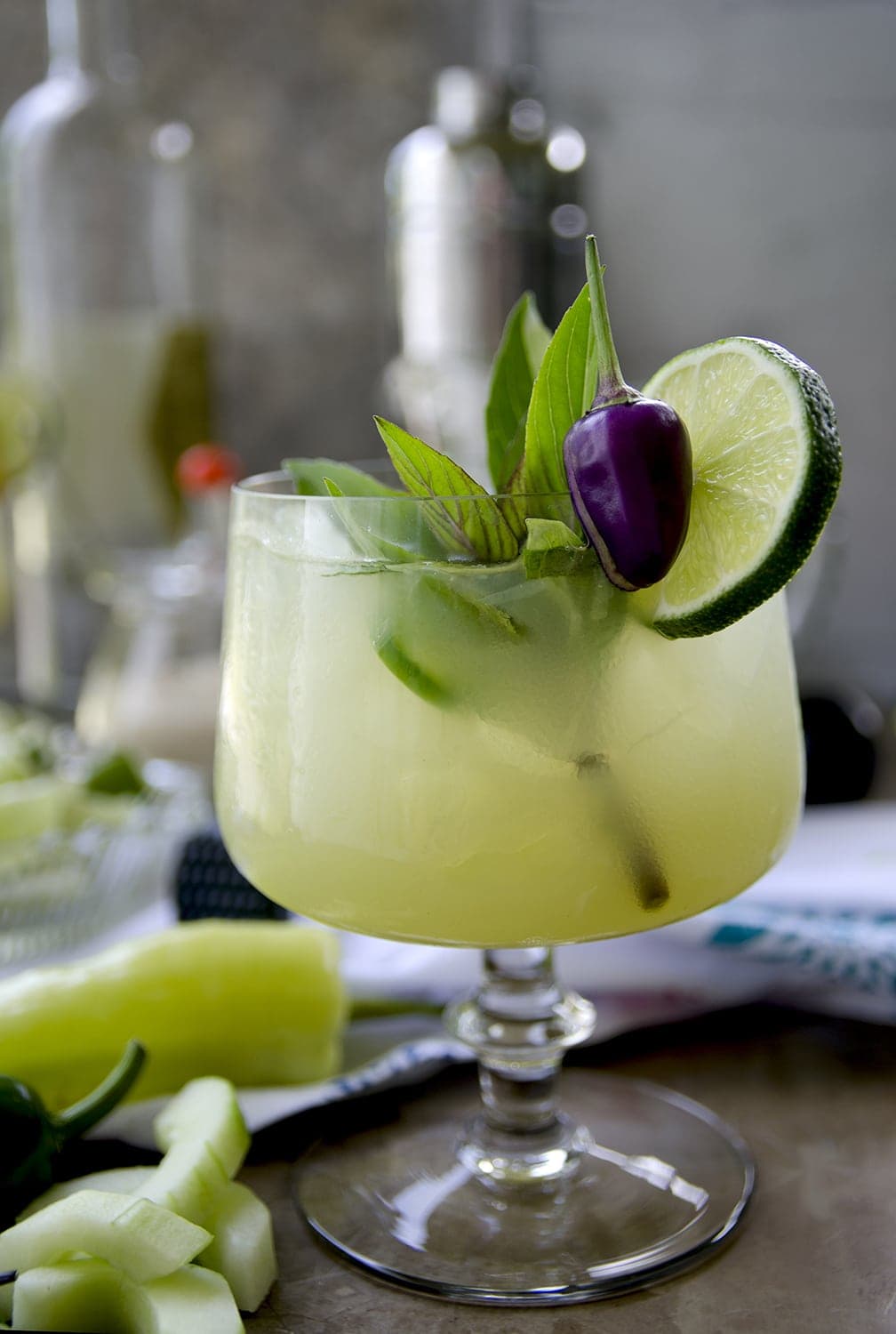 Anyone who knows me, knows I heart Thai food… green curry, coconut soup, drunken noodles… Seriously, ask me what I'd like to have for dinner… 99% chance I'll say Thai, especially in the summer. As a cuisine, it embraces colorful veggies, citrus, basil, and hot peppers! All perfect summer ingredients.
So, I got to thinking about what type of Thai inspired drink I could make with my late summer garden harvest. I settled on cucumber as a base because juiced cucumbers are wonderfully refreshing in a cocktail. It's also the perfect counterbalance to the hot peppers which are ripening all over my garden.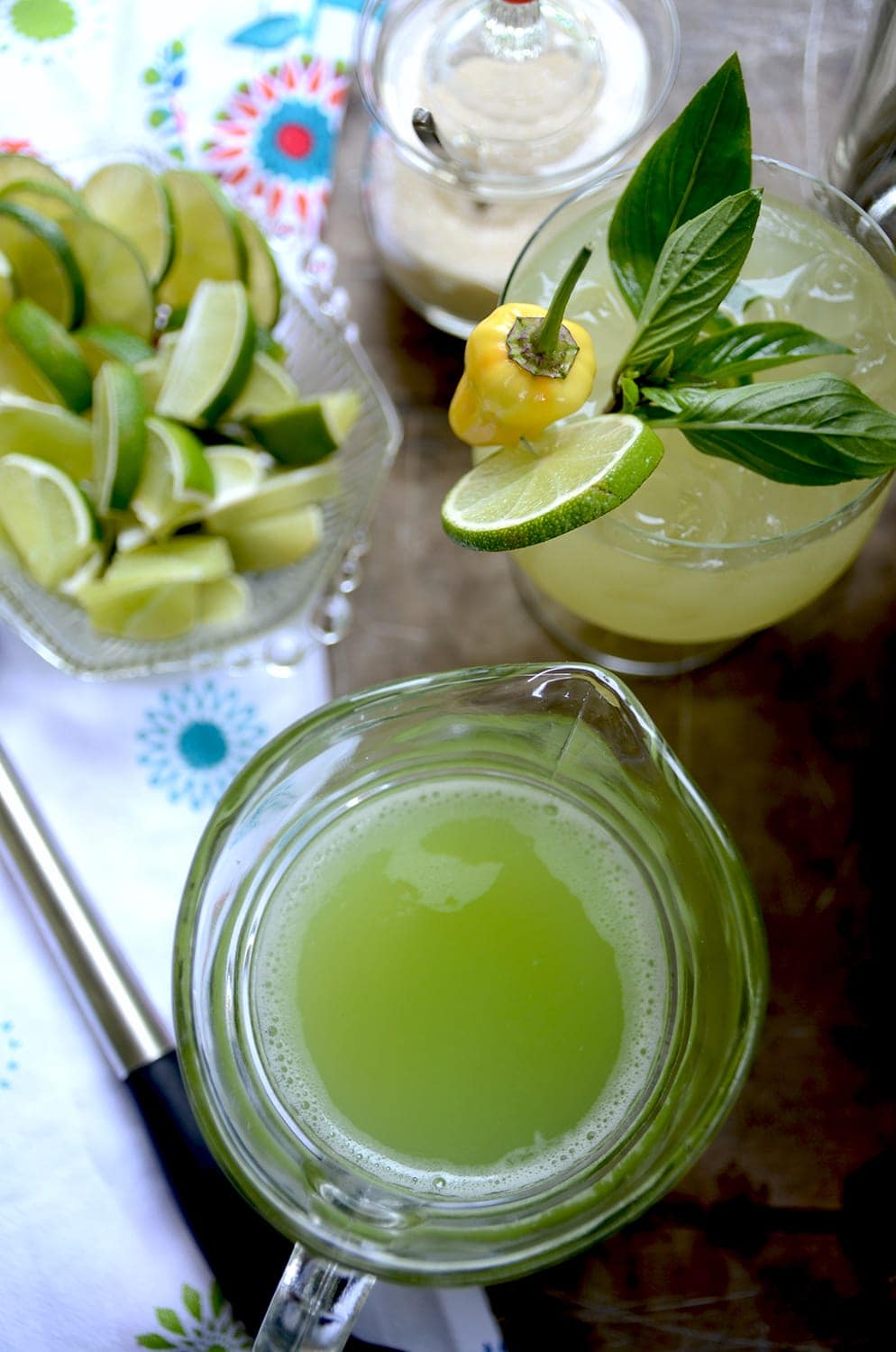 How to make cucumber juice
Good news! You don't need a vegetable juicer to make cucumber juice. It's easy to do if you have a blender and a fine mesh sieve.
I like to start with English cucumbers because they have a sweet flavor, but any variety will do. Simply peel the cucumbers then cut them in half and scoop out the seeds. Chop the cucumber up a bit and use a blender to puree it into a liquid. The last step is straining the puree through a fine mesh sieve so you have a clear green juice.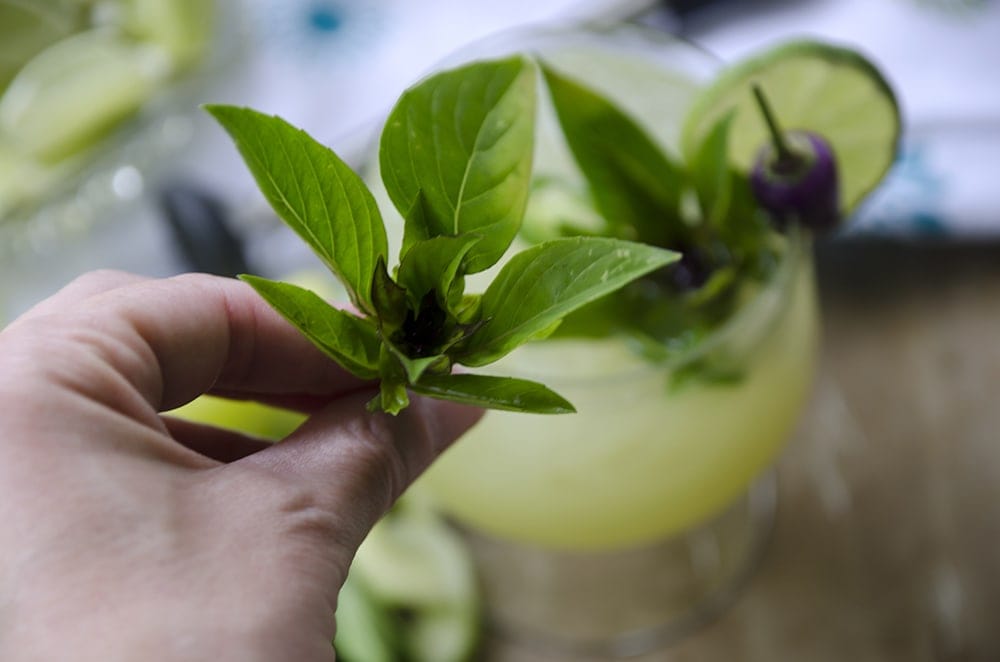 Herbs are the spice of life!
Can you have a Thai inspired drink without Thai basil? Maybe, there are other great choices like cilantro and mint, but the Thai Basil in my herb garden called to me. Its licorice flavor is one of the reasons that Thai cuisine is so distinctive and why I love it so so very much!
Thai basil is easy to find in international grocery stores, but I like to grow my own. It's much like Italian basil in that it grows well during the hot months of summer in a sunny location. Thai basil also grows well in pots if you have a sunny city balcony!

A healthy Thai basil plant will provide many meals, or cocktails, if you simply pinch back the new growth, encouraging the plant to get bushy. This way you also prevent flowering which can slow down the yield. For us, that means four months of Thai basil cocktails!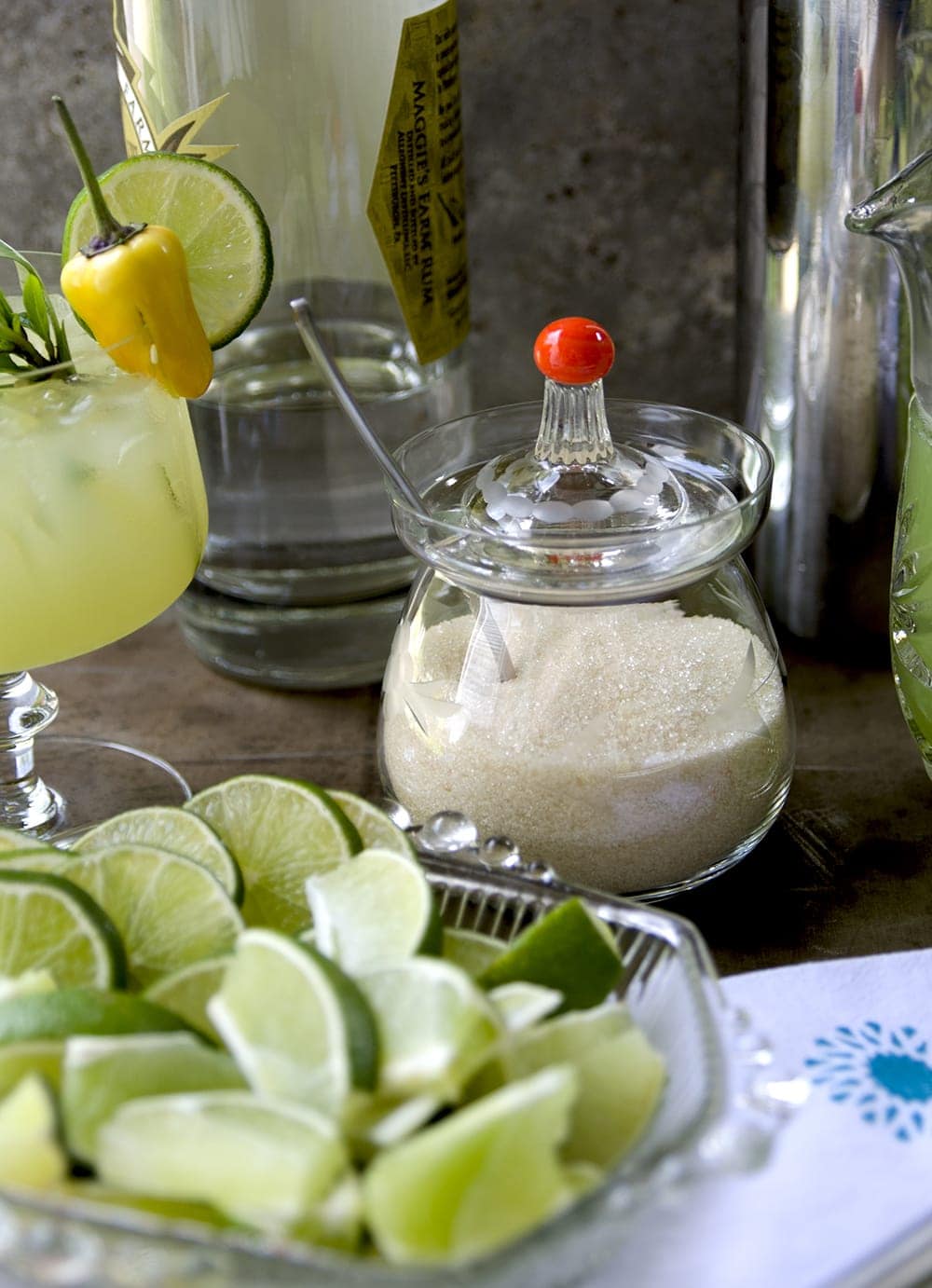 White rum cocktails
What follows? Lime and organic sugar, of course! And would summer be summer without rum? It's like one of those "if a tree falls in a forest" type of questions. If it's summer and there is no rum, I must not be there!
White rum is the perfect liquor for summer. Because it's distilled from sugarcane, it has an undertone of sweet molasses making it delicious in fruity drinks.
Here, we used Maggie's Farm Rum which is a small distillery in Pittsburgh, Pennsylvania. If you get a chance to visit Pittsburgh, I recommend a visit to Maggie's to do a tasting and try sip a craft cocktail or two. It was the highlight of our trip!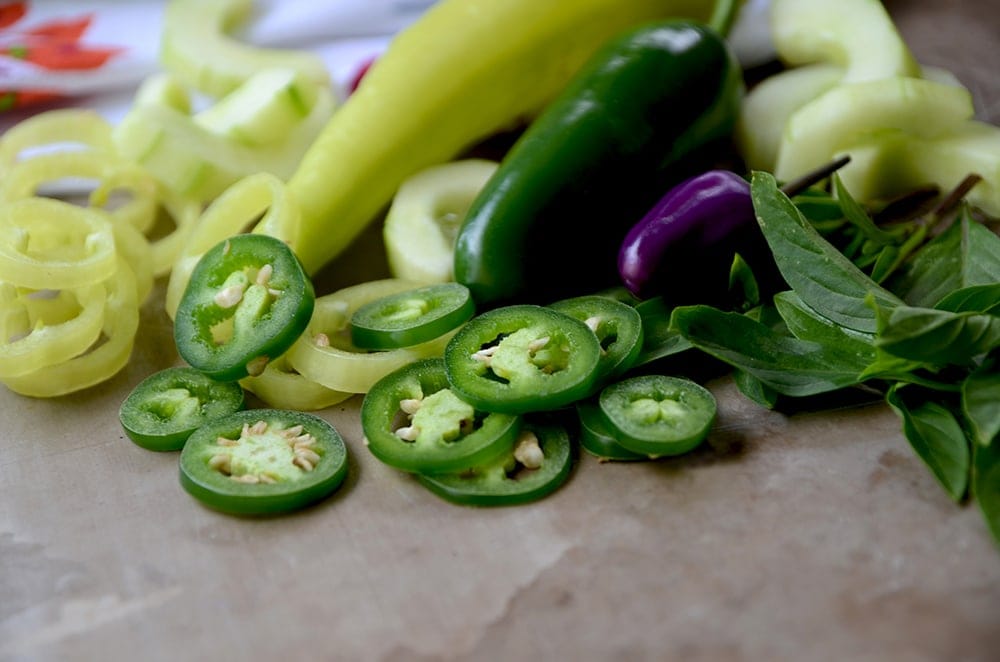 Spicy cocktails are the best!
The final touch for this cocktail is a hint of hot pepper. Just enough for complexity and warmth, but not so much to overpower the fresh flavors of the cucumber, basil and lime. I chose jalapeno for its color and heat, and because I had them on hand, banana pepper for extra flavor.
Because I like to be extra fancy, and because they looked so pretty, I had to pick some Chinese Five Color peppers to garnish this Spicy Thai Basil Cucumber Cocktail. They are EXTREMELY hot, but goodness are they deceivingly cute!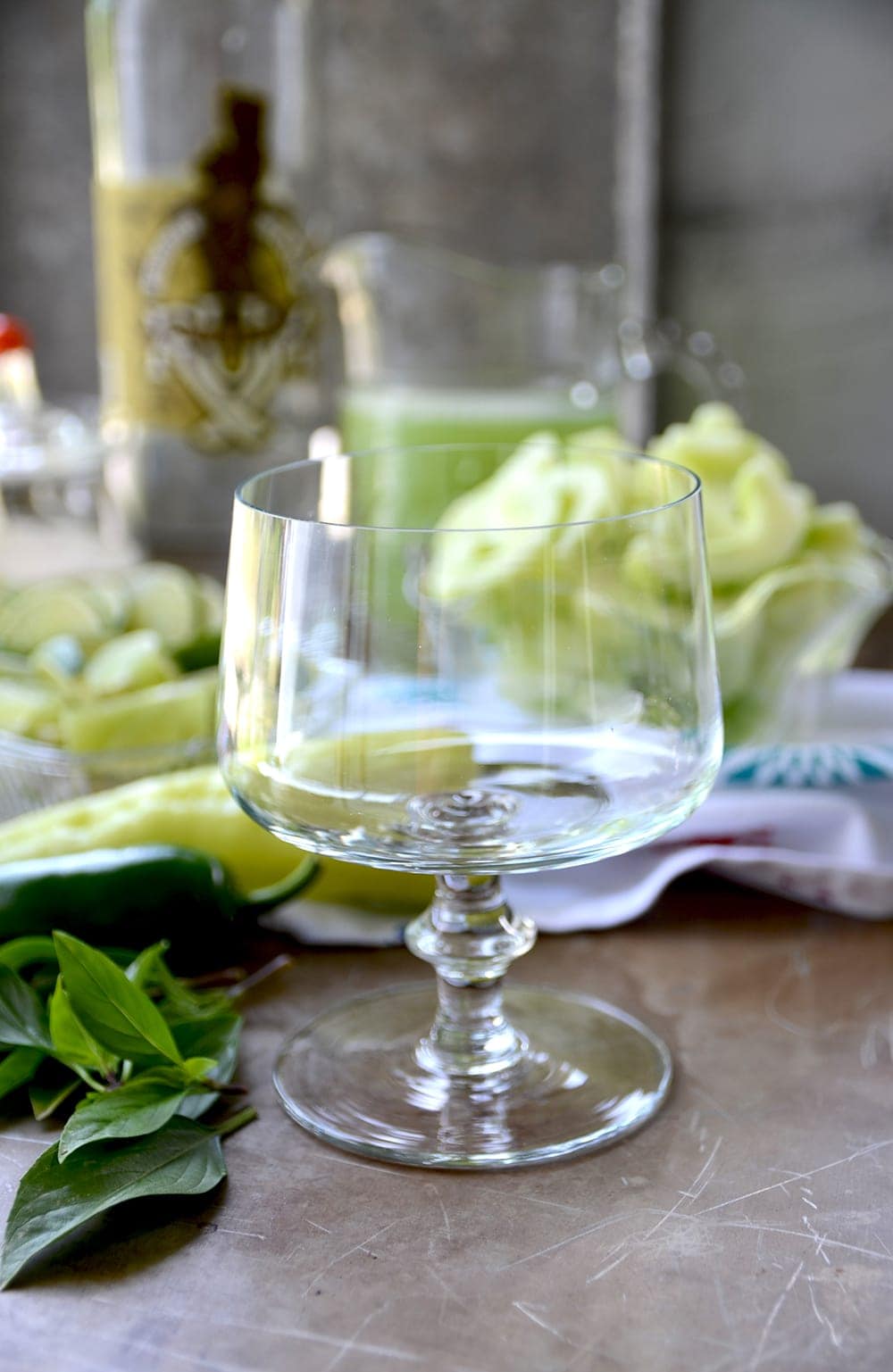 I almost forgot my favorite ingredient… a cute vintage glass! Found 10 of these last weekend at an indoor flea market and thought they had a versatile shape for drinks or dessert. That justifies the extra space in my cupboard, right?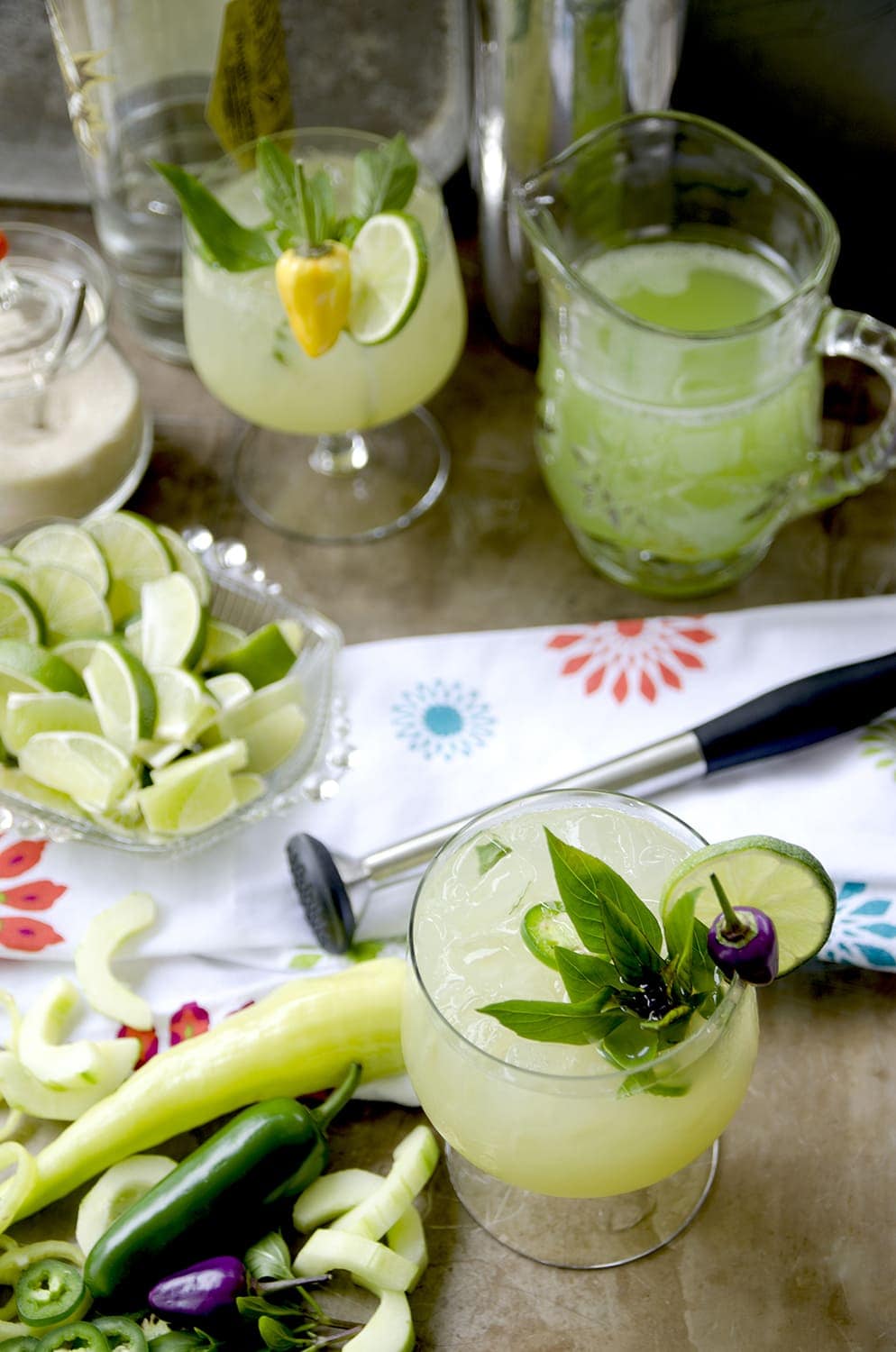 Happy hour prep
Prepping the cucumber juice, lime, basil, and hot peppers in advance will make cocktail hour more fun and less work. Trust me. And gather your cocktail tools in advance too. Muddler, cocktail shaker, measuring cup, check, check check!
I like to place my basil in a little vase and the ingredients in vintage glass dishes so everything is cut and ready to go before my guests arrive. Include a recipe card on the bar and you also have a self-serve cocktail station!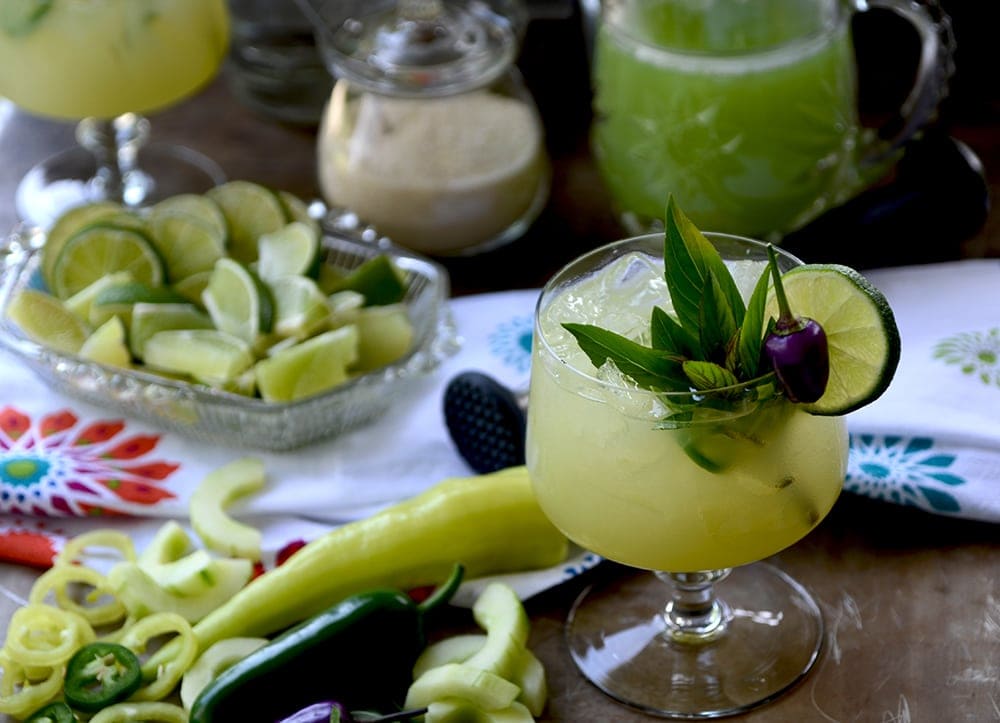 Exotic destination in glass anyone? So good you won't want to share, but you have to serve this to your friends. They will be so impressed with your gourmet bartending skills.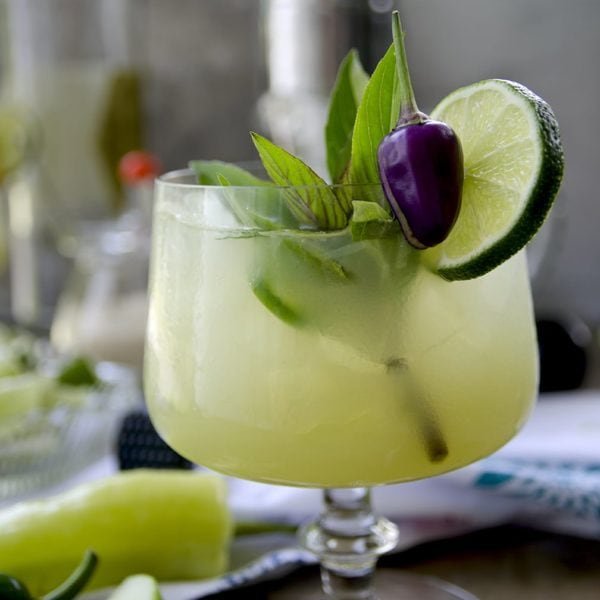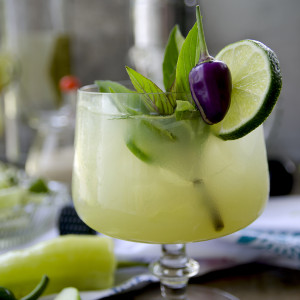 Spicy Thai Basil Cucumber Cocktail
This exotic beverage makes use of late summer produce.
Print
Pin
Rate
Ingredients
8-10

leaves

Thai basil

2

TB

organic sugar

1/2

lime

, cut into four pieces

2- 1/8

inch

slices fresh jalapeno

2- 1/8

inch

slices banana pepper

2

oz

cucumber juice

(see notes)

2

oz

white rum
Instructions
In the bottom of a cocktail shaker, muddle basil, lime, sugar and peppers.

Add cucumber juice and rum and muddle again.

Add ice and shake.

Strain over ice and garnish, if desired.
Notes
To make cucumber juice, peel an English cucumber, then cut it in half a scoop out the seeds. Chop the cucumber and puree in a blender. Strain the puree through a fine mesh sieve. Keep refrigerated until ready to use.
I've suggested English cucumbers because they tend to be sweet and have more meat and less seeds, however almost any cucumber could be used.
Nutrition
Calories:
249
kcal
|
Carbohydrates:
28
g
|
Protein:
1
g
|
Fat:
1
g
|
Saturated Fat:
1
g
|
Sodium:
2
mg
|
Fiber:
1
g
|
Sugar:
25
g
|
Vitamin A:
285
IU
|
Vitamin C:
18.1
mg
|
Calcium:
11
mg
|
Iron:
0.2
mg
Tried this recipe?
Let us know how it turned out for you! Scroll down to leave a comment below.
Looking for a signature drink for your cocktail hour? Check out all our cocktail recipes!
These margaritas are a smoky take on the classic cocktail. Homemade simple syrup. fresh juice and a salty, spiced rim make these drinks special.
Whip up one of these rich, creamy Piña Coladas from scratch and cool down in style! They are frozen, smooth, pineapple-y, sweet, and perfect for summer!
When it's crazy hot outside, fresh watermelon makes the sweetest, most cooling margaritas. Best part is that these margaritas are trimmed with garnish made from the rind! So clever and tasty!