These watermelon margaritas are made from scratch, right down to the fun watermelon rind garnish. Follow the easy tutorial below to make your drinks extra pretty while saving the rind from the trash can!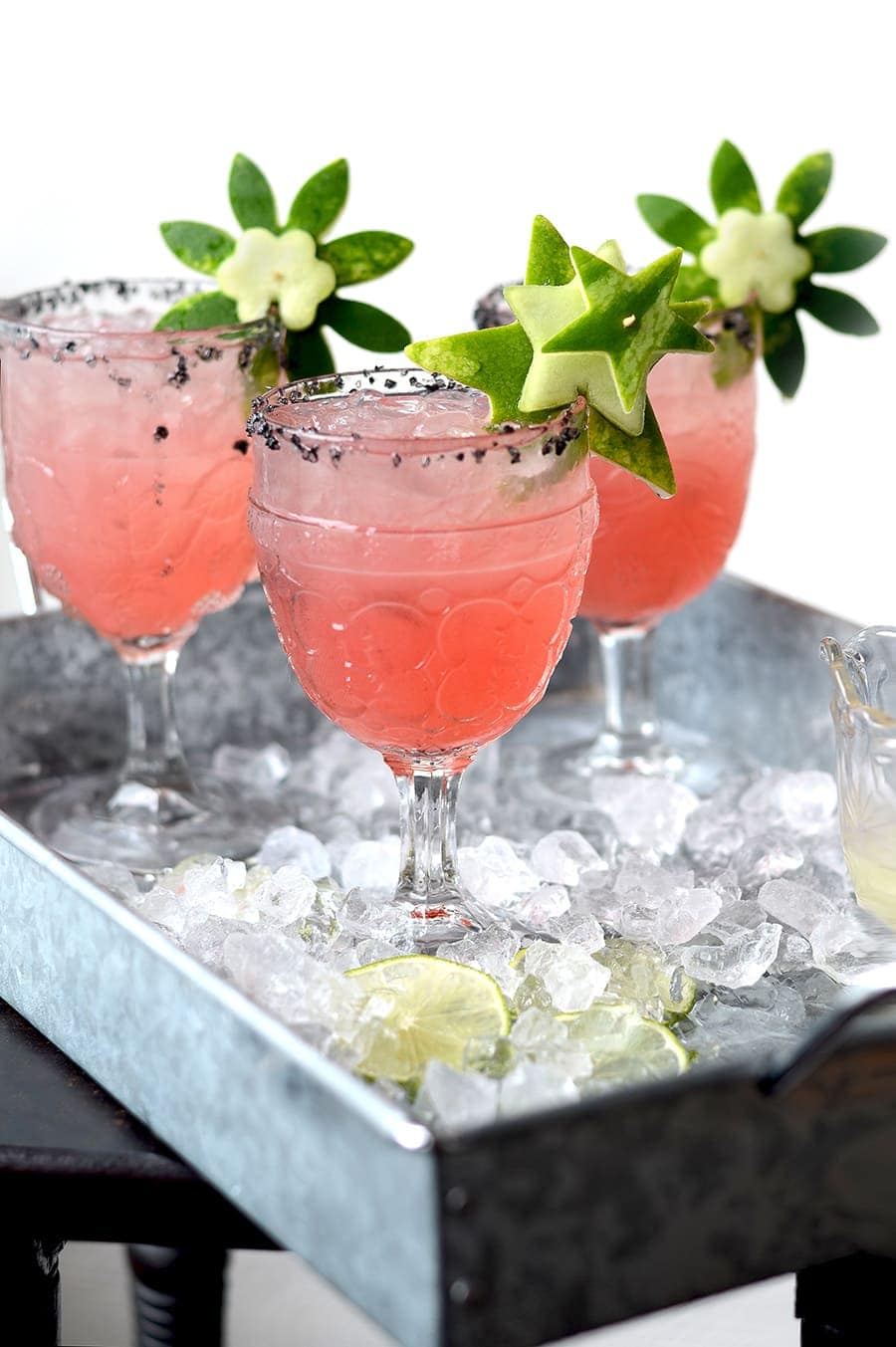 When it's crazy hot outside, fresh watermelon makes the sweetest, most cooling margaritas. Best part is that these watermelon margaritas are trimmed with garnish made from the rind! So clever and tasty!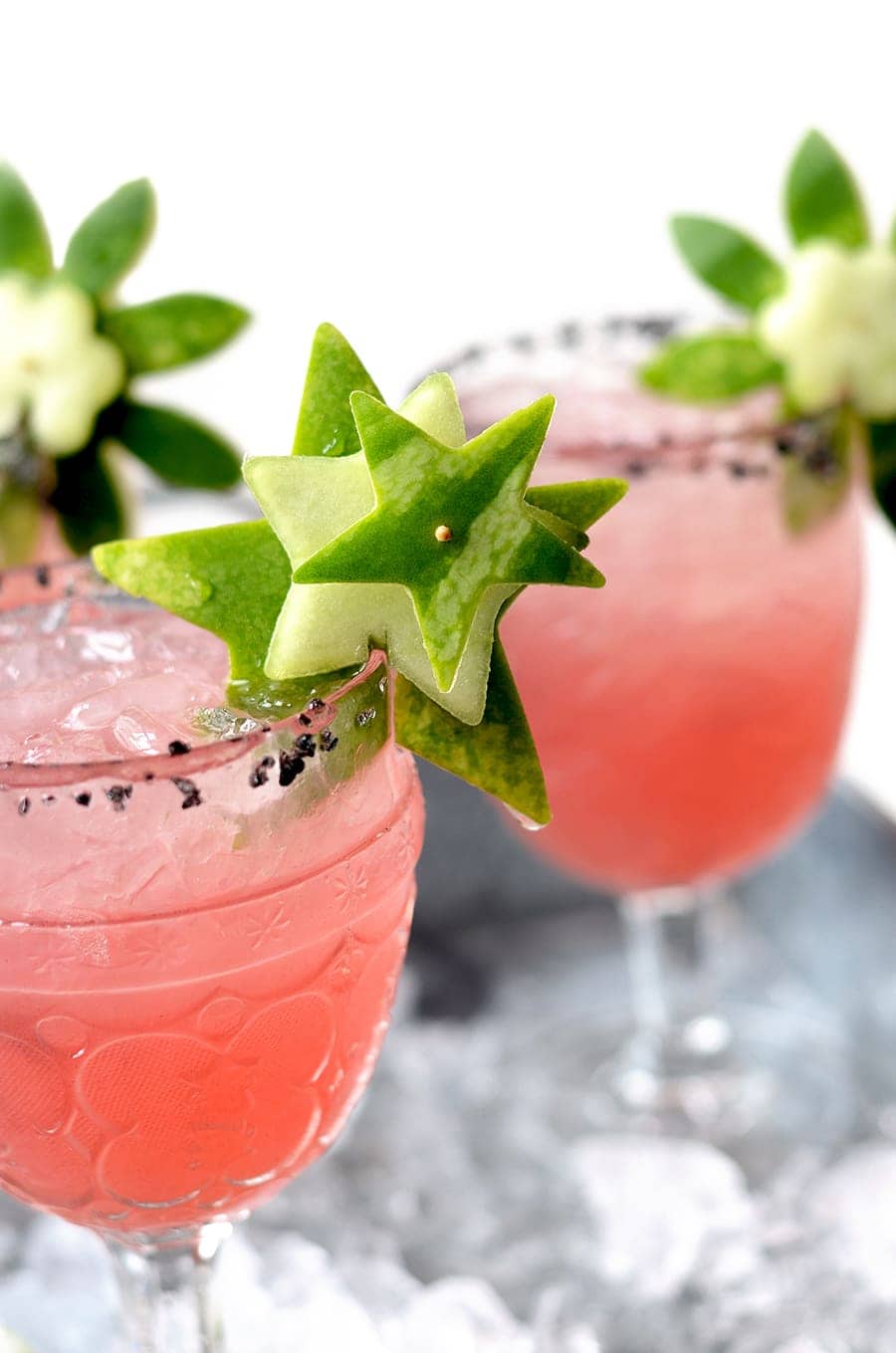 It's been so, incredibly, miserably hot lately. And not just here in West Virginia!
July has been busy… a wedding in Virginia, a week in the Outer Banks visiting lighthouses and time with friends in Washington DC… and the heat followed me everywhere I went!
I hate to complain, but when the thermometer hovers in the upper 90s for weeks, its exhausting. But luckily, watermelon season is in full force!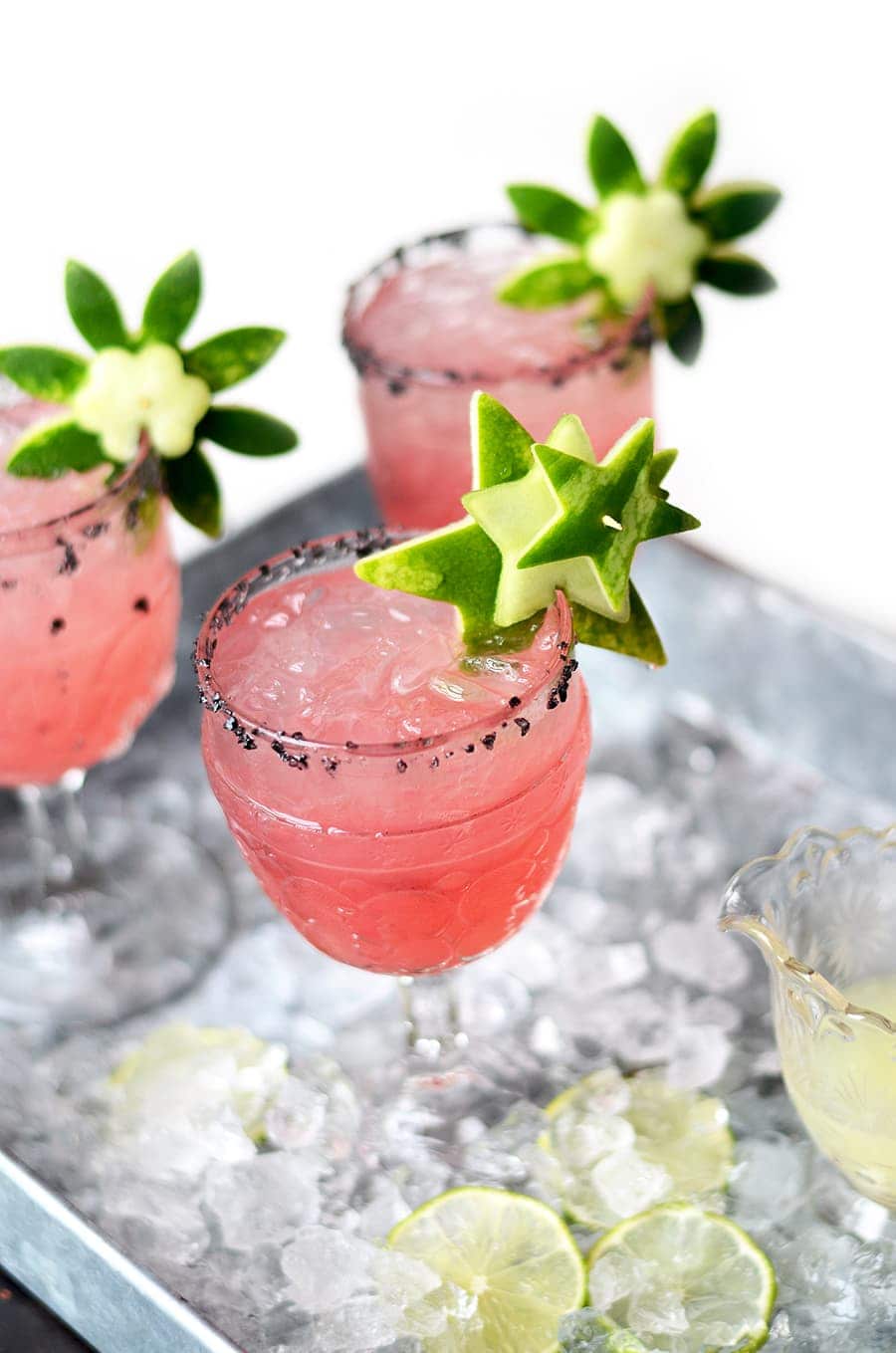 Watermelon makes the hot weather bearable. Not only is it a quintessential summer treat, watermelon has numerous health benefits which are great for hydration. But don't let all that lycopene and vitamin C deter you from using it liberally in cocktails!
Traditional margaritas are great, in fact all margarita flavors are great, but Watermelon Margaritas are my favorite. They are less acidic, fruity and thirst-quenching. Perfect for those continuous 90 degree days!
I wish I had a video of how quickly the ice melted for this photo shoot! It was so humid that the gorgeous Black Hawaiian Sea Salt ran off the glass in a pool of condensation…and I was taking the pictures INSIDE!!! Do you see the how even the garnish is dripping?
But after taking the photos, I drank one of these ice cold watermelon margaritas! What a sweet, icy way to cool down!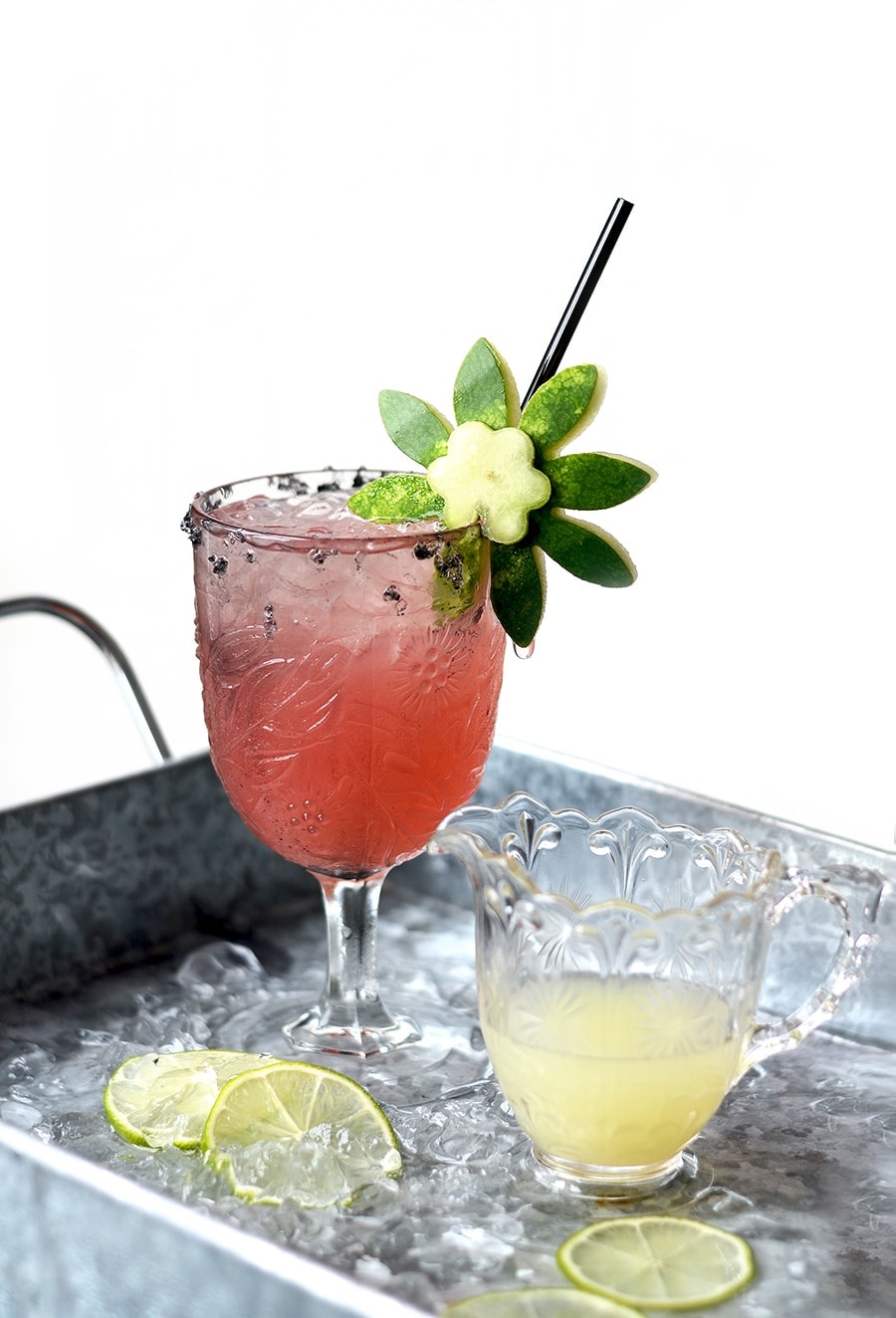 So delicious, but I have to say that these cocktails are as dashing as they are tasty! That's not just because of the fun watermelon rind garnish or the beautiful watermelon color…the glassware is particularly festive.
Of course, there's a story behind these Early American Pattern Glasses. I'm always searching for vintage glassware for my food photography, so a couple months ago I was browsing in an antique mall for new props. I came across glasses very similar to these which I figured were restaurant freebies since they were obviously pressed glass in a goblet shape. But they were $25 a glass… so yeah, that wasn't about to happen.
About a week later I saw three similar glasses in a thrift store for $.99 EACH! No chips, great condition, so yes, I snatched them up and planned to do research later to see what they were. Turns out they are antique EAPG goblets. They're different patterns, which I think adds to the charm.
I love to mix and match my antique and vintage glassware and juxtapose them with modern pieces. This galvanized aluminum tray came with a gardening set but it's perfect for casual cocktails.
But no matter how you serve your watermelon margaritas, they will be totes adorbs when you serve them with these watermelon rind cutouts! Take these drinks to the next level by following the tutorial below!
Watermelon Rind Cocktail Garnishes
Materials:
Toothpicks
Mallet
Metal cookie cutters (flowers, stars or whatever shapes you like)
Watermelon rinds, cut to 1/4 inch thick with pink flesh removed
Instructions:
Place a metal cookie cutter on the watermelon rind and gently tap it with the mallet to cut out the shape.
Repeat with a smaller cookie cutter.
Attach the cutouts together with a toothpick and break off the excess.
With a paring knife, cut a notch in the garnish so it can slide over the glass edge.
Watermelon Margarita Recipe
A pitcher of Watermelon Margaritas is perfect for summer. To make drinks for 8 use a one cup measurement instead of one ounce.
Print
Rate
Ingredients
Watermelon Margarita
1

oz

simple syrup

1

oz

lime juice

1

oz

watermelon juice

1

oz

silver tequila

1

oz

triple sec

Black sea salt
Instructions
Simple Syrup
Combine sugar and water together in a medium sauce pan and heat over low heat until sugar crystals have dissolved.

Refrigerate until ready to use.
Watermelon Juice
Puree watermelon in a blender until smooth.

If desired, strain pulp from juice using a fine mesh sieve or a metal coffee filter.

Refrigerate until ready to use.
Watermelon Margarita
Wet the top of a glass with a wedge of lime and dip in sea salt.

Combine simple syrup, tequila, lime juice, triple sec and watermelon juice in a cocktail shaker with ice.

Shake vigorously and pour into prepared glass.

Garnish with watermelon rind or lime wedges.
Nutrition
Calories:
245
kcal
|
Carbohydrates:
34
g
|
Protein:
1
g
|
Fat:
1
g
|
Saturated Fat:
1
g
|
Sodium:
20
mg
|
Sugar:
32
g
|
Vitamin A:
161
IU
|
Vitamin C:
11
mg
|
Iron:
1
mg
Tried this recipe?
Let us know how it turned out for you! Scroll down to leave a comment below.
You might also like:
Spicy Thai Basil Cucumber Cocktail
With hot peppers and savory Thai basil, this drink is cool and refreshing, with a nice, slow jalapeno burn at the finish.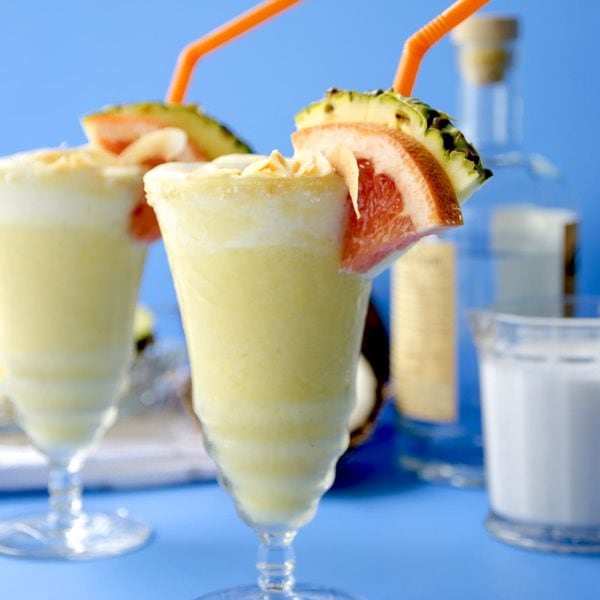 Pina Coladas from Scratch
Whip up one of these rich, creamy Piña Coladas from scratch and cool down in style! They are frozen, smooth, pineapple-y, sweet, and perfect for summer!
Orange Turmeric Margaritas
Orange Turmeric Margaritas are a sweet and smoky take on the classic cocktail. Homemade simple syrup. fresh juice and a salty, spiced rim make these drinks extra special but are still easy to make.