Kombucha Margaritas are the newest twist on the classic cocktail! Fizzy, sweet and sour!
Why not give an anti-viral, probiotic boost to your cocktail hour? These Kombucha Margaritas are filled with healthful benefits, but just as fun as the original. Cheers to a healthy year!



We have this great little market in downtown Charles Town called Bushel & Peck. It started with a community dream. Local citizens were anxious to have an indoor, year-round farmers market. And as luck would have it, about the time our outdoor market was gaining in popularity, the city government was looking to restore Charles Washington Hall, an 1870s market house and theater.
I was one of the first to get behind the idea of not just restoring the building, but restoring its original purpose as a community space. At the time I was leading our Historic Landmarks Commission, and I was certain that an indoor market was vital to the community. Shopping local is an important economic boon. But beyond that, supporting local growers and food manufacturers is a must for job creation and agricultural sustainability.
It was a long time coming, but now the market house is open and filled with produce, meats, cheeses and bakery items from our area. It's great because I can walk there, but also because the produce is so fresh and beautiful. But maybe the best part is that I can get local goods year round, without getting up on a Saturday morning to go to the outdoor farmers market! Can I get a hollar from my fellow night owls?
On a recent trip to Bushel and Peck, I discovered a local company that makes small batch kombucha. The Cultured Leaf has a variety of flavored kombuchas and B&P has a keg system where you can buy a glass jug and refill it.
Kombucha is all the rage for it's natural probiotic health benefits, so when I saw that they had an Elderberry flavored drink, I had to try it. Elderberry is also known for its natural healing powers as a flavonoid with anti-viral properties. Well, a very virulent flu has been making the rounds in our area and I figured that an ounce of prevention was warranted.
We bought a jug before Christmas and drank up daily. We visited friends and family, hugged and kissed babies, shared meals, and low and behold, we didn't get sick! Quite a turn around from the Christmas bug of 2016. So of course back I went for another jug!
We've been drinking a lot of kombucha. And as I was drinking one day, I started to think about the sour, sweet taste and margaritas came to mind. Not a huge leap since tequila is rumored to be a probiotic as well. I think the theory has been mostly debunked, but agave, the plant that tequila is made from, is a prebiotic and probiotic.
So yes, I decided that a probiotic, anti-viral cocktail was in order for winter! Hello kombucha margaritas!!!!! A girl's gotta have some fun (wink, wink).
And ya know what? These Elderberry Kombucha Margaritas are so freaking yummy! They're fruity, sweet and sour and very refreshing! It's really everything you want in a margarita but with a healthy twist!
But also so pretty! I had to take this colorful infusion just a little further by garnishing it with white orchids. Looks very Galentine's Day doesn't it? It's like a little dose of tropical sunshine to ease the dullness of winter!
Because our elderberry kombucha is not widely available, I tried a variety of supermarket finds for you lovelies. My second fave was Health Ade's pomegranate flavor which also imparted a gorgeous color to the cocktail. If you want to make these kombucha margaritas and can't find either of these brands, stick with a fruity kombucha with sweet berry or citrusy flavors.
Hope you love them! xoxo -Kitty
Elderberry Kombucha Margarita Recipe
Probiotics are all the rage. We jumped onto the trend by drinking locally made kombucha. The tart, sour taste makes a perfect addition to homemade margaritas!
Print
Rate
Ingredients
1

ounce

lime juice

½-1

ounce

agave

1

ounce

silver tequila

1

ounce

triple sec

2

ounces

elderberry kombucha

(but other fruity flavors are good too!)
Instructions
Fill a cocktail shaker with ice.

Shake the lime juice, agave, tequila, and triple sec in the shaker.

Add the kombucha and shake lightly, while keeping a firm grip in the shaker lid (there's natural carbonation!)

Pour into a glass rimmed with salt and serve with a lime.
Notes
This recipe was tested using Cultured Leaf elderberry kombucha, which can be purchased in West Virginia, Maryland and Virginia.
You can substitute any fruity kombucha flavor you like.
Like alcohol, the fermentation of kombucha leaves residual sugar in the beverage. Adjust the agave in your cocktail to taste.
Nutrition
Calories:
214
kcal
|
Carbohydrates:
25
g
|
Protein:
1
g
|
Fat:
1
g
|
Saturated Fat:
1
g
|
Sodium:
6
mg
|
Sugar:
20
g
|
Vitamin C:
9
mg
Tried this recipe?
Let us know how it turned out for you! Scroll down to leave a comment below.
Love margaritas? Check out all our great cocktail recipes!
You might also like:
Cucumber Cocktail
With hot peppers and savory Thai basil, this drink is cool and refreshing, with a nice, slow jalapeno burn.
Sorbet Floats
Prosecco Pineapple Sorbet Floats are the ultimate light and refreshing brunch cocktail or dessert.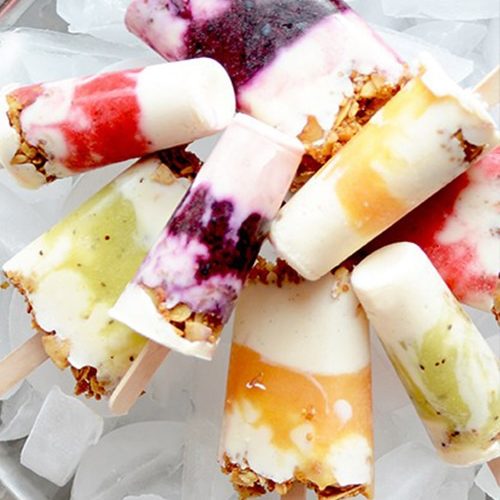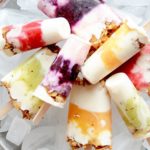 Parfait Popsicles
Made with fresh fruit, creamy vanilla yogurt and homemade granola, these Fruity Yogurt Parfait Popsicles will cool you down any time of day…breakfast, lunch or just a snack. No guilt!