Prosecco Pineapple Sorbet Floats are the ultimate light and refreshing brunch cocktail or dessert.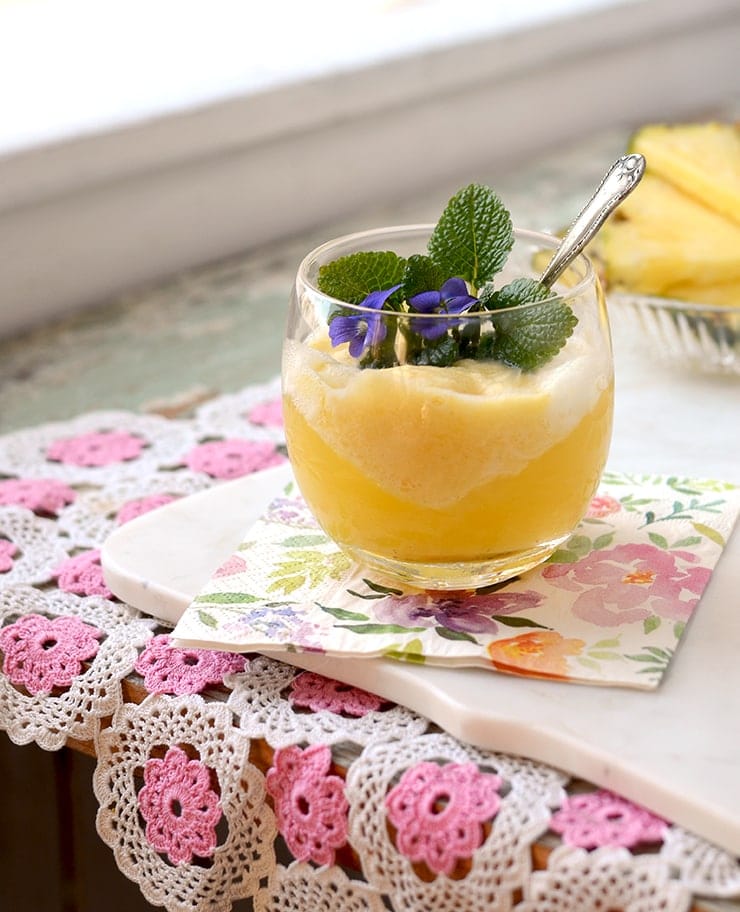 Nothing is as cool as frozen bubbly! Although Prosecco Pineapple Sorbet Floats are perfect for special occasions, these beauties are not too fussy for a casual affair. So clink and drink up!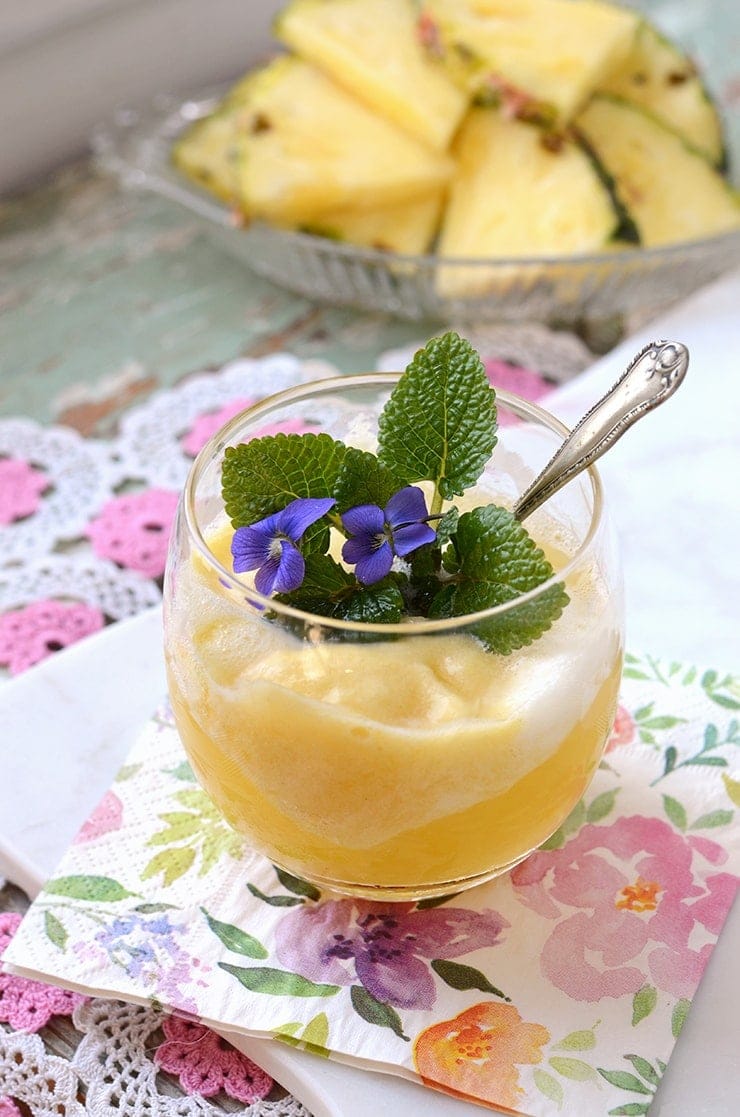 It's Spring here in West Virginia. The garden herbs are waking up, the grass is tall and the days are getting warmer. So goodbye Old Man Winter! Don't forget to take your dark outlook with you when you leave!
It's time to celebrate -and there are many reasons this time of year. Easter and Mothers Day are just around the corner, but you don't need an excuse to plan a divine brunch! Darling, the warm weather is reason enough!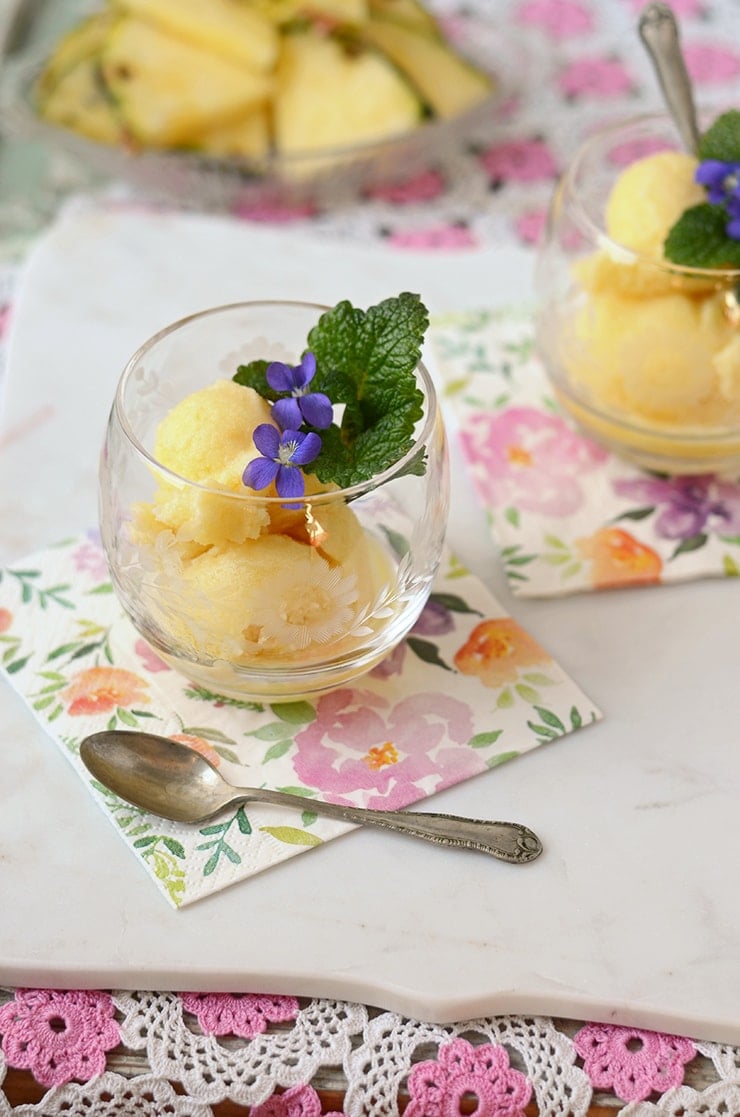 And brunch needs a good cocktail! And hats, the Sunday-go-to meeting kind with wide brims and tons of style… No? Alright, maybe the vitamin D is going to my head. You only have to wear a hat if you want to, but I'm all for sipping Prosecco Pineapple Sorbet Floats on the veranda like a lady.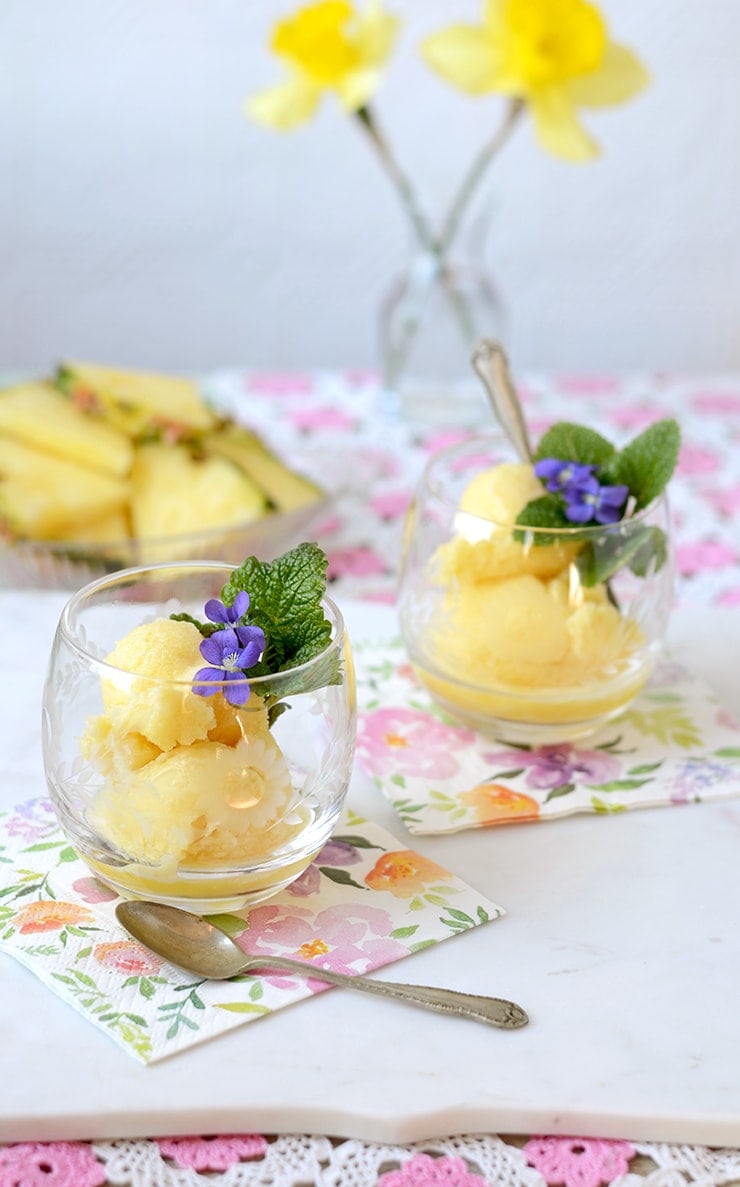 To make Prosecco Pineapple Sorbet Floats you need pineapple sorbet. When I first thought up this combo, I went searching for a ready-made sorbet. Well, let's just say that all my local stores have a gazillion ice creams, but very few sorbet flavors.
Not a problem because sorbet is easy enough to make, it just takes more patience.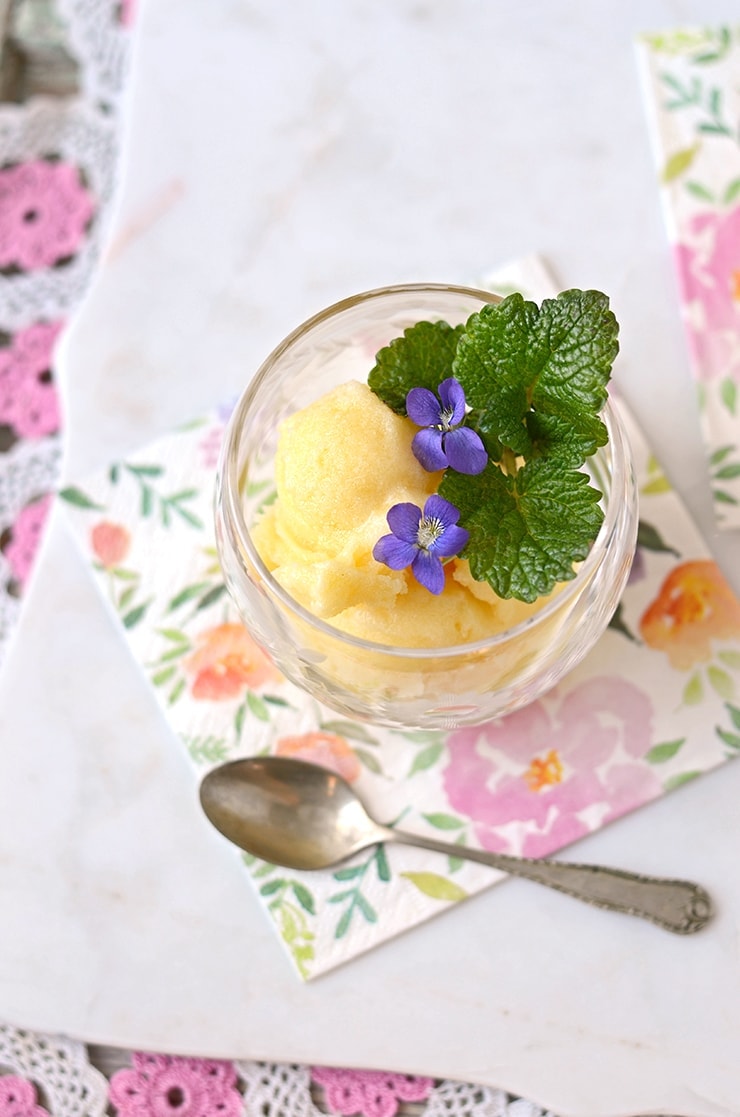 This easy peasy pineapple sorbet is no churn. The trick is using frozen pineapple and a high powered blender. With a little agave and pineapple juice, you pulse the mixture until it's a smoothie texture and then transfer it to the freezer to harden.
That's why you need patience. My freezer is way too full, so it takes a good night of freezing to set up. But in the morning you'll have a lovely sorbet.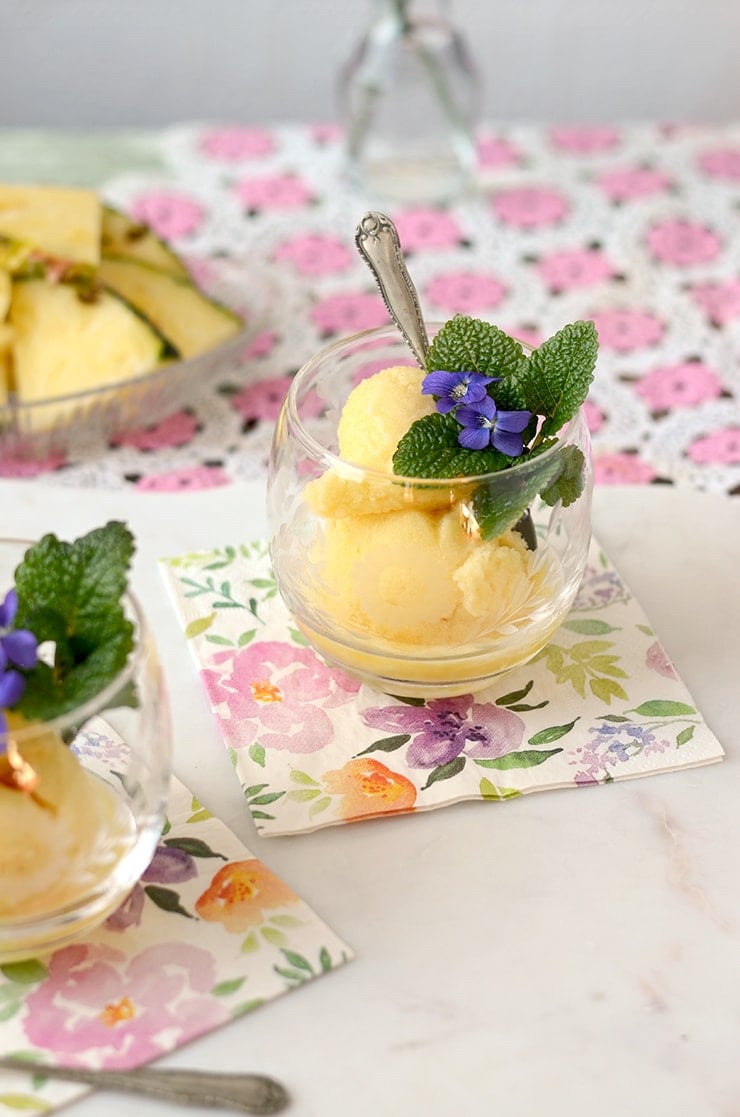 When mixing the Prosecco Pineapple Sorbet Floats, I don't measure. Just place a scoop or two of pineapple sorbet in a glass and pour in some prosecco. That's all there is to it! Really!
What can I say about this cocktail? They are the perfect balance between sweet and tangy and oh so frothy! And goodness, the deep golden yellow is sunny like Spring!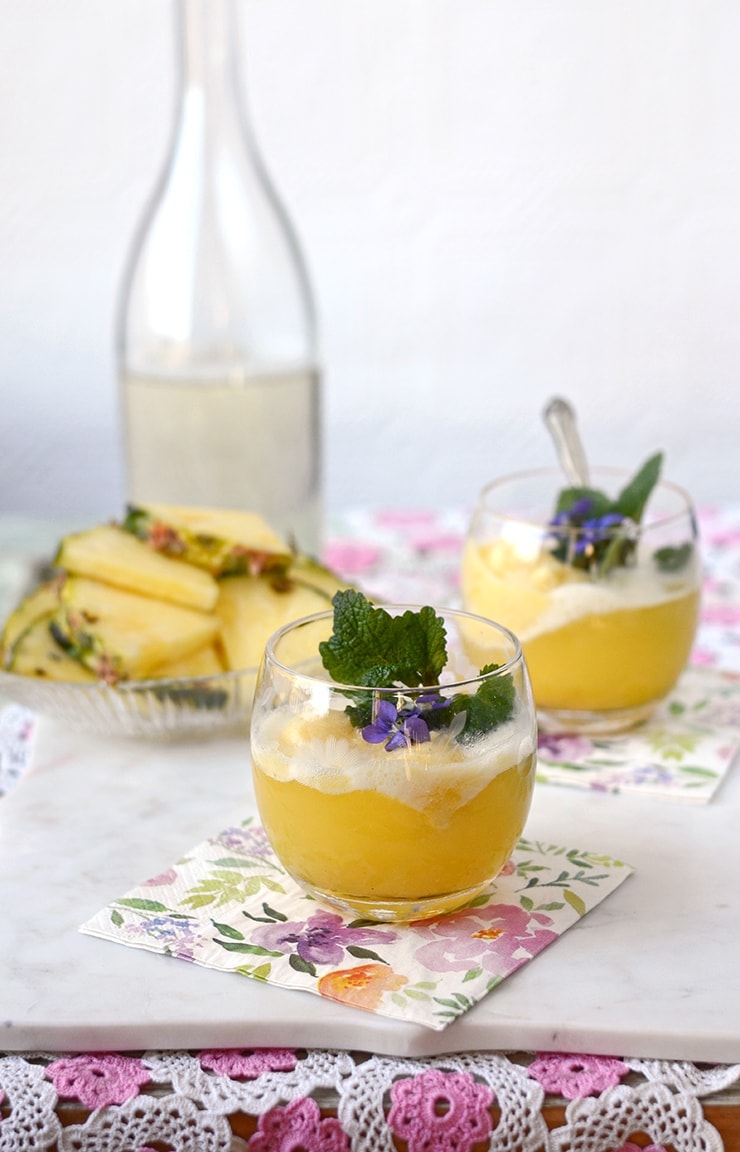 Now a moment to discuss the look. These glasses are flea market finds. Just simple etched glass and stemless, so don't feel pressure to serve these cocktails in fancy stemware.
The pretty garnish is lemon balm and wild violets from my yard. Did you know that those tiny little purple flowers covering your yard are edible? How vintage is this waste not, want not hack?
And you guessed it! The spoons were thrift store finds too- $1 for four. The only things in this picture that are new are the marble cutting board (Williams Sonoma Outlet) and the cocktail napkins (Homegoods). So remember that you don't have to spend a lot of money to be those Sunday brunch, veranda sitting, Prosecco Pineapple Sorbet Float drinking people!

Prosecco Pineapple Sorbet Float
This refreshing float makes a great cocktail or dessert for special occasions.
Print
Rate
Ingredients
Pineapple Sorbet
2

oz

pineapple juice

4

oz

agave syrup

16

oz

frozen pineapple
Prosecco + Pineapple Sorbet Float
Instructions
Pineapple Sorbet
In a blender, combine the pineapple juice and agave.

Add about a quarter of the pineapple and pulse.

Slowly add in all the pineapple, pulsing with each addtion. The goal is to keep the mixture frozen like a smoothie.

Transfer to a container and place in the freezer to harden overnight.
Prosecco Pineapple Sorbet Float
In the bottom of a glass, place a scoop of pineapple sorbet.

Pop a bottle of Prosecco and pour over the sorbet.

If desired garnish with pineapple slices, mint or edible flowers.
Notes
Choose a light, sweet Prosecco but don't feel the need to break the bank. Our selection came from this list.
Nutrition
Calories:
106
kcal
|
Carbohydrates:
26
g
|
Protein:
1
g
|
Fat:
1
g
|
Saturated Fat:
1
g
|
Sodium:
2
mg
|
Potassium:
103
mg
|
Fiber:
1
g
|
Sugar:
21
g
|
Vitamin A:
44
IU
|
Vitamin C:
37
mg
|
Calcium:
10
mg
|
Iron:
1
mg
Tried this recipe?
Let us know how it turned out for you! Scroll down to leave a comment below.
You might also like:
Lemon Thyme Potatoes au Gratin
This Lemon Thyme Potatoes au Gratin recipe is a perfect side dish for special meals, holiday gatherings and anytime you want to treat yourself to a special root veggie dish!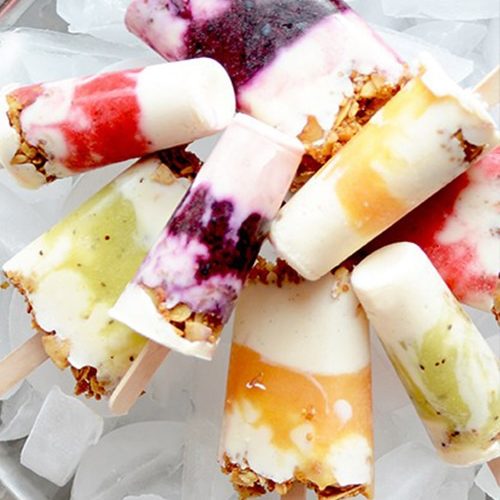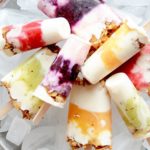 Fruity Yogurt Parfait Popsicles
Made with fresh fruit, creamy vanilla yogurt and homemade granola, these Fruity Yogurt Parfait Popsicles will cool you down any time of day…breakfast, lunch or just a snack. No guilt!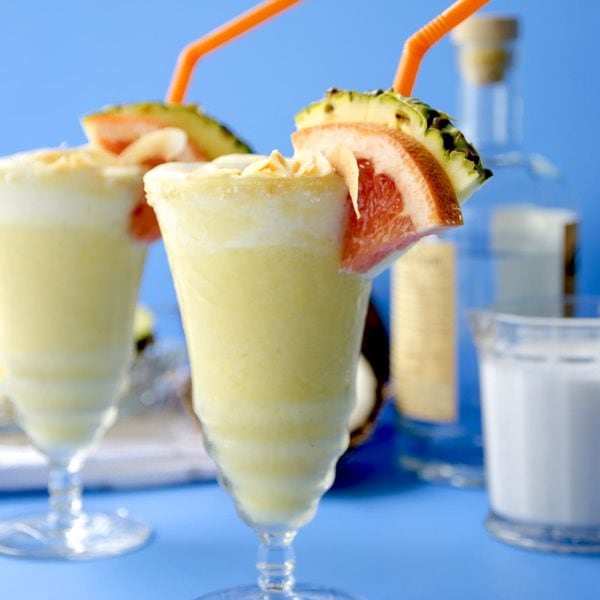 Pina Coladas from Scratch
Whip up one of these rich, creamy Piña Coladas from scratch and cool down in style! They are frozen, smooth, pineapple-y, sweet, and perfect for summer!