Aloo Gobi Baked Potatoes, a new twist on the classic Indian dish. Great for weeknights and easy to prep in advance, this recipe will become a fast favorite!
---
Large Russet baked potatoes, garam masala spiced cauliflower and a rich and flavorful Indian sauce update this curry. It's all made from scratch, but the fact that this sauce can be made in advance is a win for busy weeknight dinners. You're going to love these Aloo Gobi Baked Potatoes!


Indian is one of my favorite cuisines. I love the rich sauces with the perfect balance of spice to flavor. Aloo Gobi is one of those dishes that can be saucy or it can be a rather dry stirfry, but however the dish is prepared its always one of my favorites. Cauliflower naturally has a smooth, buttery taste, but with the addition of garam masala it takes on a wonderful nutty quality. And then there are potatoes which get soft and creamy as they break down in the spices. So good!
So my mind started thinking about Aloo Gobi and wandered off to how much I love baked potatoes topped with broccoli and cheese and then BANG! The idea Aloo Gobi Baked Potatoes flew into my wacky brain!
Its a brilliant idea, if I do say so myself!
Spicy cauliflower loaded on top a a baked potato and covered in a creamy sauce…YES PLEASE!
Baked potatoes are one of my favorite weeknight meals because they only take a few active minutes to prepare.
But the real reason this is a winner is that the sauce can be made in advance and it makes four cups so you'll have extra to freeze for later! So you can throw those little grocery store spice pouches away and make this recipe from scratch! This sauce reheats beautifully on the stove, so it will become one of your weeknight meal secret weapons! You'll find its also great on chicken, quinoa, veggies shrimp… so many things!
Does that sauce dripping down the baked potato make your stomach growl? Or is it the thought of nutty, toasted cauliflower that makes you hungry? Or maybe you like the salty, roasted potato skin? So many reasons to love this homemade spin on Aloo Gobi!
Let us know you think of this update on the classic baked potato! Leave a comment here or on one of our social media pages. We love to hear from you!

Aloo Gobi Baked Potatoes
The sauce recipe makes 4 cups, way more than is needed for baked potatoes. Freeze the extra sauce for later, or if cooking for a crowd double the cauliflower and potatoes.
Print
Rate
Ingredients
Potatoes:
4

Russet Potatoes

Salt and pepper to taste

1

TB

canola oil
Cauliflower:
1

head cauliflower

cut into small florets

1

tsp

garam masala

pinch of salt

1-2

TB

canola oil
Sauce:
1/3

cups

cashews

softened in warm water and drained

1/2

cup

water

1/2

cup

ginger

finely chopped

3

TB

butter

divided

9

cloves

garlic

minced

2

cups

plum tomatoes

diced

1

medium onion

diced

1/2

cup

whole milk

1

cup

heavy cream

1

tsp

garam masala

1

tsp

fenugreek powder

1/2

tsp

Indian chili powder or cayenne

3/4

tsp

ground turmeric

1

tsp

coriander powder

Salt to taste
Instructions
Baked potatoes:
Preheat oven to 425F.

Wash potatoes and pierce them with a fork several times.

Oil potatoes and generously sprinkle them with salt and pepper.

Place in an oven safe dish and bake until soft, about one hour.
Sauce:
Combine cashews, ginger and water in food processor and puree until smooth.

In a medium sized dutch oven, heat one tablespoon butter over medium heat.

Saute onions until golden brown and transluscent.

Add garlic and saute until garlic is fragrant.

Add tomatoes and saute a couple minutes.

Add ginger puree, milk, cream and spices and bring mixture to a gentle simmer.

Cook until tomatoes have broken down, stirring frequently.

Add salt to taste.

Puree sauce in a blender, adding the two remaining tablespoons of butter, one at a time.
Cauliflower:
In a large skillet, heat about 1-2 TB of oil over medium-high heat.

Add garam masala and a generous pinch of salt and saute one minute.

Add cauliflower and cook, stirring often, until cauliflower is toasted and easily pierced with a fork but still a bit firm.
Assembly:
Make a lengthwise cut in the potato and squeeze the ends.

Pour a scoop of sauce into the potato and top with cauliflower.

Add more sauce and garnish with fresh cilantro.
Nutrition
Tried this recipe?
Let us know how it turned out for you! Scroll down to leave a comment below.
You might also like: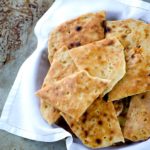 Naan with Candied Carrots, Cashews and Coconut
This naan recipe will surprise and delight guests with its sweet taste and tender crust.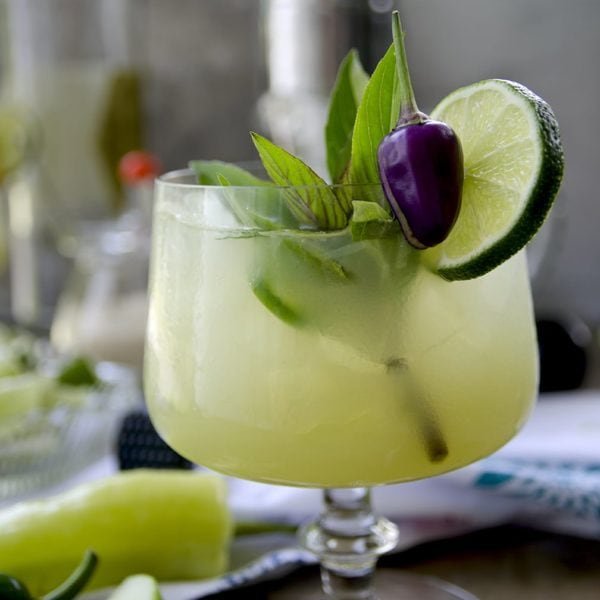 Spicy Thai Basil Cucumber Cocktail
Spicy Thai Basil Cucumber Cocktail is a sweet way to enjoy the heat of late summer! Literally!
Easy Tandoori Chicken
This Easy Tandoori Chicken uses only a handful of ingredients and is a yummy, healthy choice for dinner.