When life gives you lemon balm, make Lemon Balm Pesto! This mint family herb is an outstanding start to a fresh pesto sauce that's easy to prepare.
---
This versatile Lemon Balm Pesto is a wonderful addition to so many dishes. You'll love it on pizza, pasta, vegetables, salads, sandwiches and more! Get creative with this yummy herb!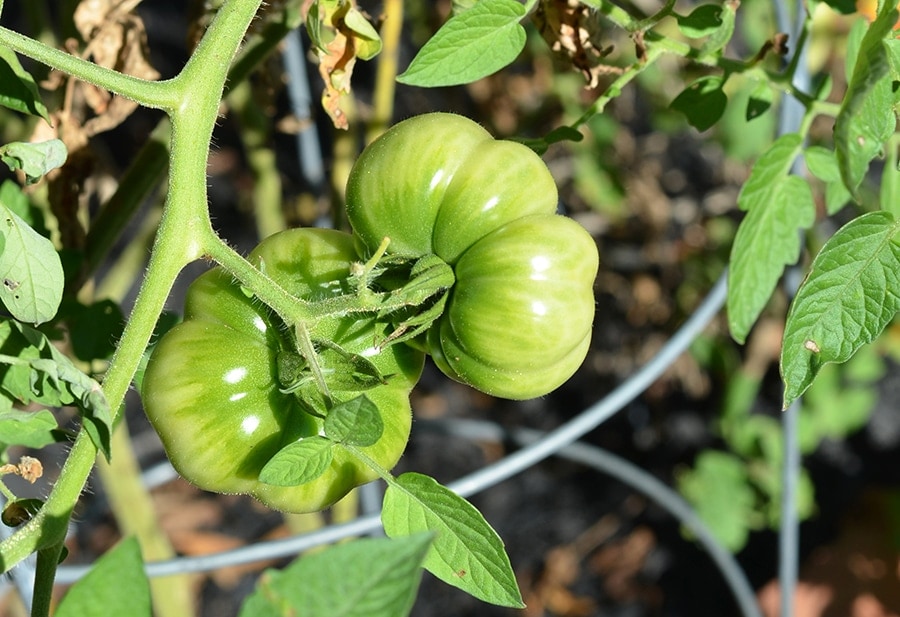 I've been really bummed out by my garden lately. It's been a year of extremes…lots of rain and very hot…so enough rain for lots of weeds but not enough that I don't have to water the plants. Also all that weeding has given me poison ivy TWICE!
The garden just hasn't been productive enough for the amount of work it takes. Out of about 30 tomato plants, very few are producing. Those bearing fruit are taunting me with beautiful green tomatoes. So far the only tomato bring in lots of fruit is an heirloom white cherry tomato. They're actually quite tasty, but I want a big, juicy, red tomato.
And did I mention the summer squash and cucumbers were take out by squash bugs? I've got some winter squash hanging on despite not finding anything that will eradicate those pesky bugs! But I have my fingers crossed that the pumpkins will make it and the tomatoes will start ripening.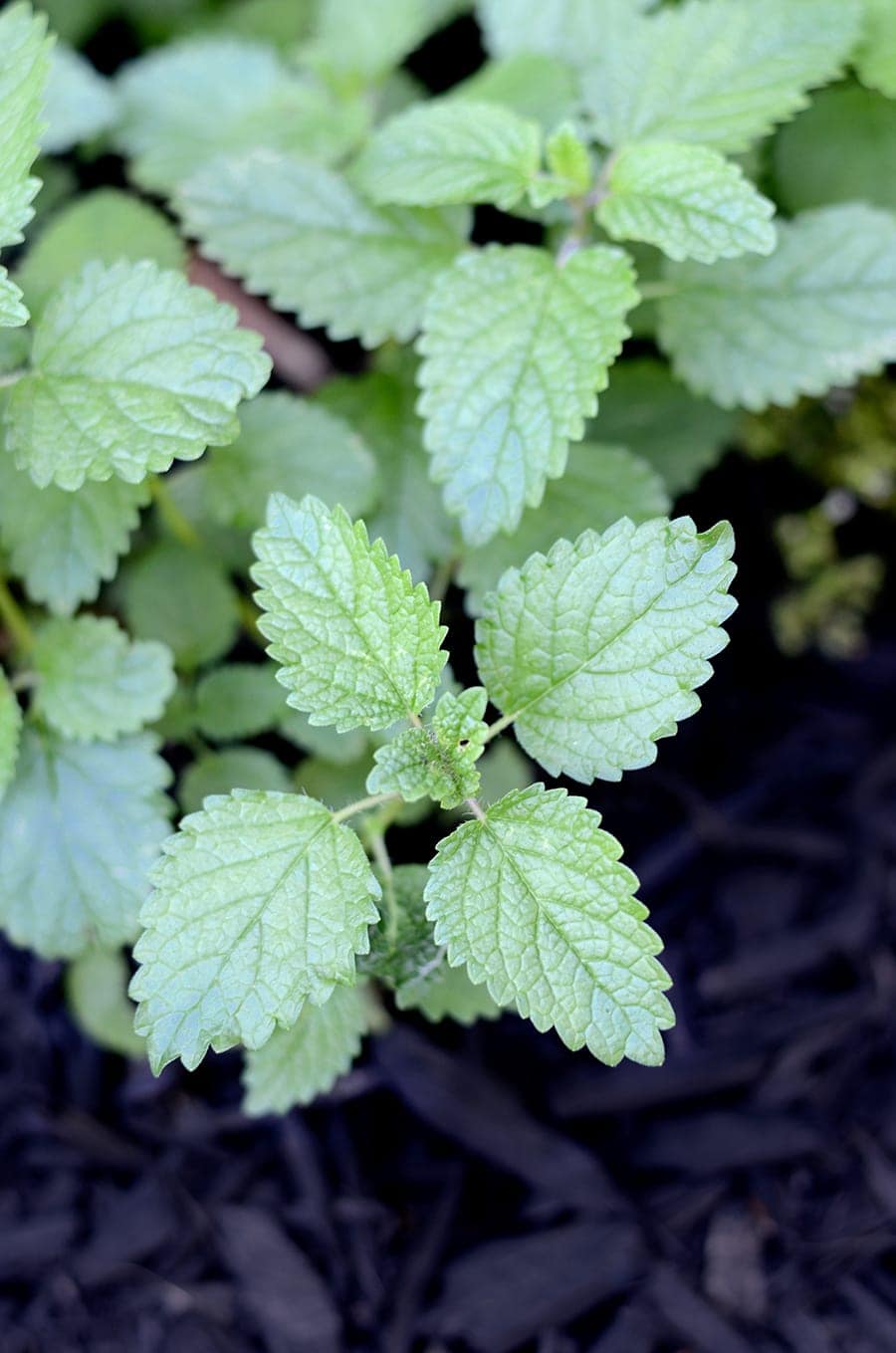 What I do have is lemon balm to spare! When we weeded the herb garden in late July, I trimmed all the herbs back. If you don't trim your herbs back, two things will happen. Either they go to seed and stop producing or if they're in a lot of sun, they will burn and dry out.
But if you give them a nice trim, new growth will emerge for your eating a viewing pleasure. And if it's a plant in the mint family like lemon balm, it will thrive and is likely spread everywhere…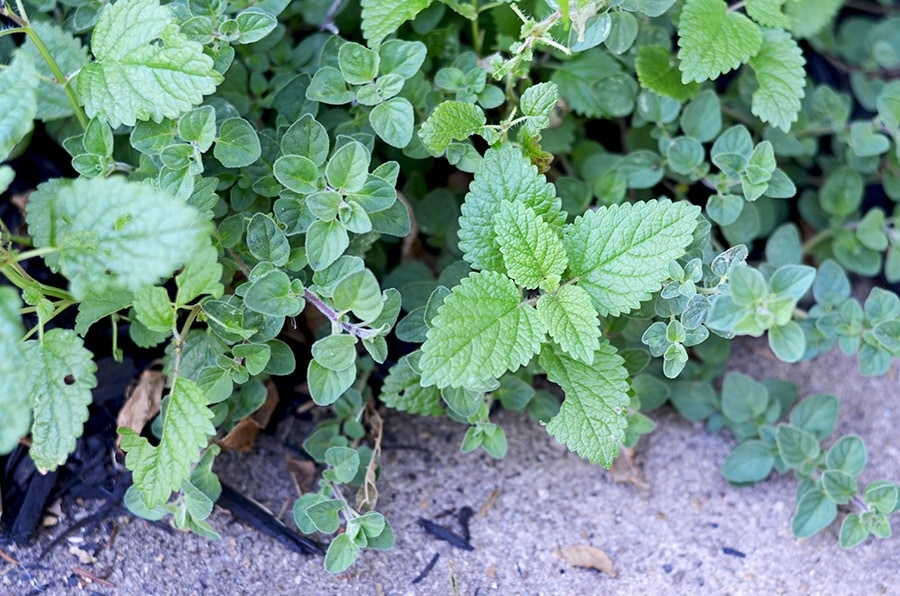 Lemon balm is popping up in the oregano and hiding in the tarragon and generally taking over. It's not quite as bad as mint (which I grow in pots) but it can be a nuisance. So, when life gives you lemon balm you make Lemon Balm Pesto!
It's an ideal use because it takes a good bit of lemon balm to make a pesto, so all those runners you're ripping out won't go to waste.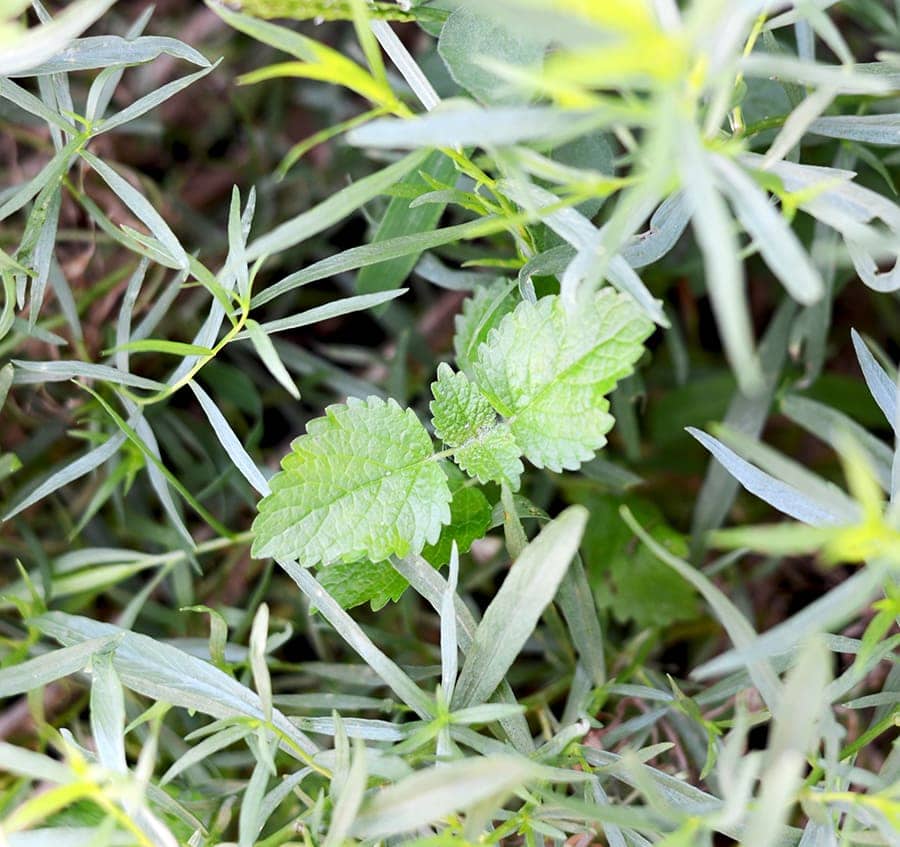 So maybe I can reclaim part of the herb garden to replant the catnip that was edged out by lemon balm and oregano. That would certainly make my boss Millie happy ;-)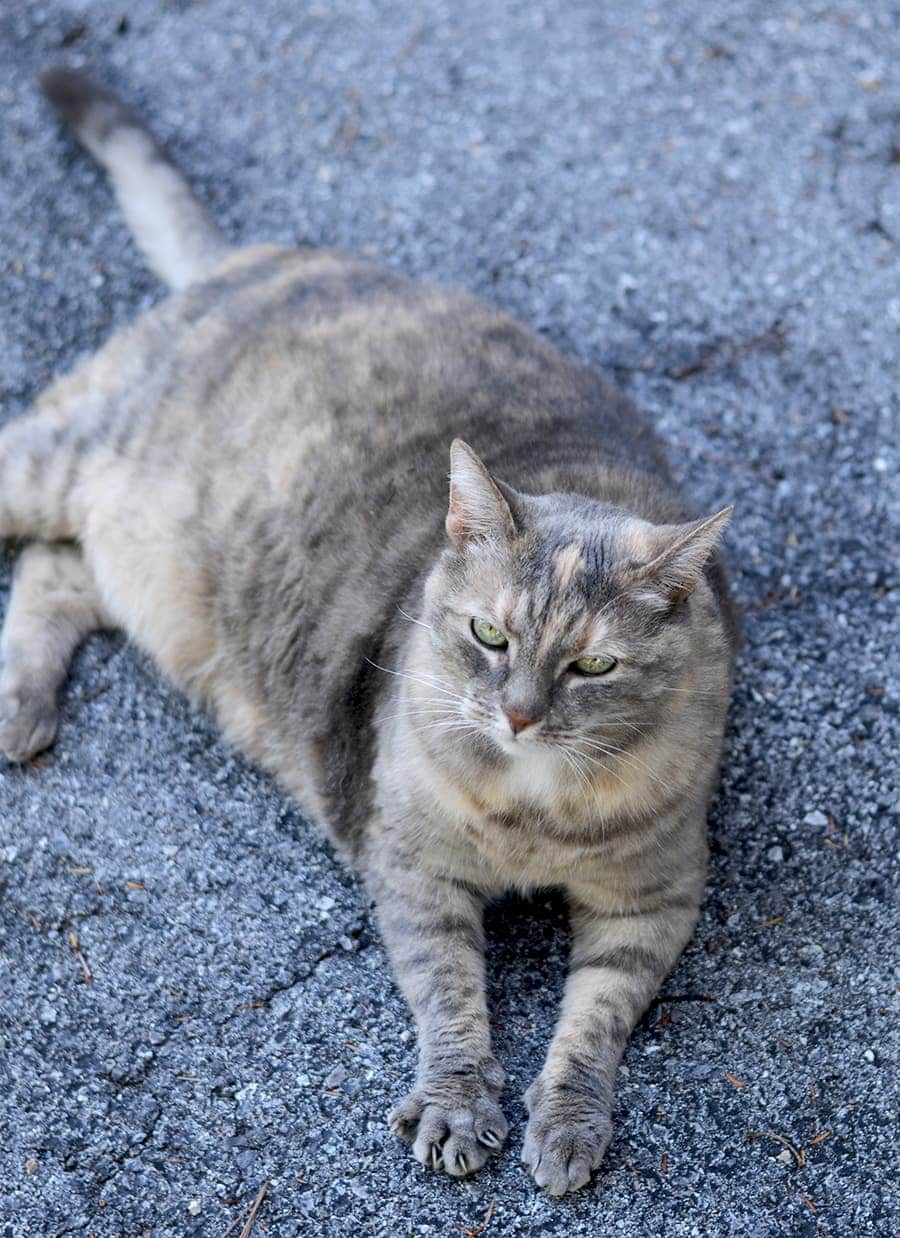 In general, any type of pesto is easy to make because it's uncooked and uses just a handful of ingredients, typically nuts, cheese, olive oil, lemons and garlic. That's why we love to make fresh pesto for weeknight meals. We always have these ingredients in our fridge and pesto goes with just about everything else that's growing in our yard.
This simple Lemon Balm Pesto version exchanges chives for the garlic and lemon balm for the basil, but is otherwise pretty traditional. You just can't go wrong with pine nuts and Parmesan cheese!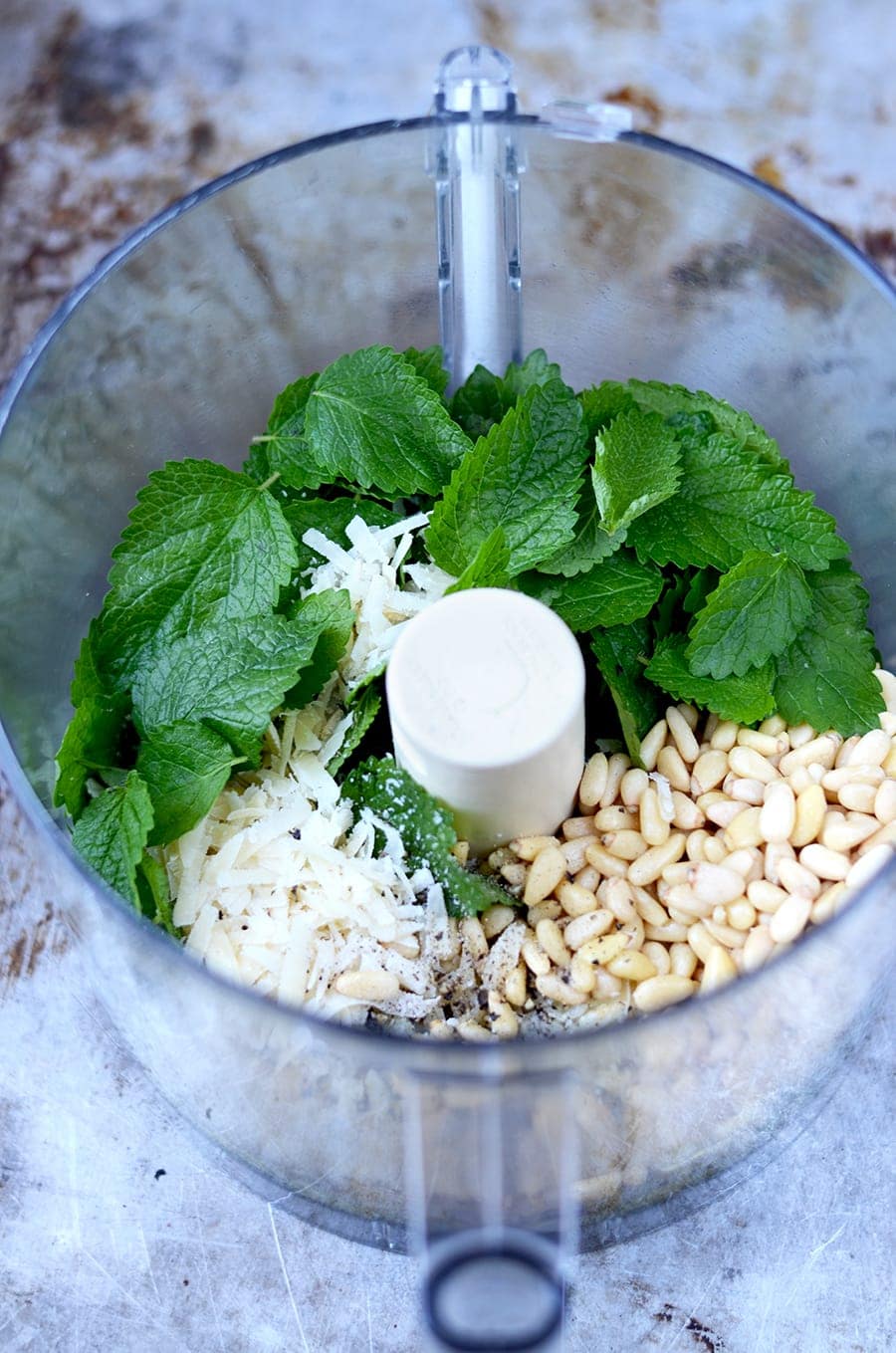 Now a word of caution… always, always triple wash your garden herbs. Whether it's from your pets or from uninvited guests (we've got skunks, squirrels and a new arrival, a groundhog) you don't want fur in your food. But you also don't want spider webs, bugs or dirt either. I find a salad spinner makes this task easy. We have this OXO Good Grips version and I love it because it's dishwasher safe, and is flat on top so I can stack things on it when it's not in use. But mostly I love that it grips the counter so it doesn't spin off onto the floor!
But however you wash your lemon balm, make sure its dry before you toss it into the food processor. (Did you think we were going to use a mortar and pestle? That would be a good arm workout, but no….that's too slow!)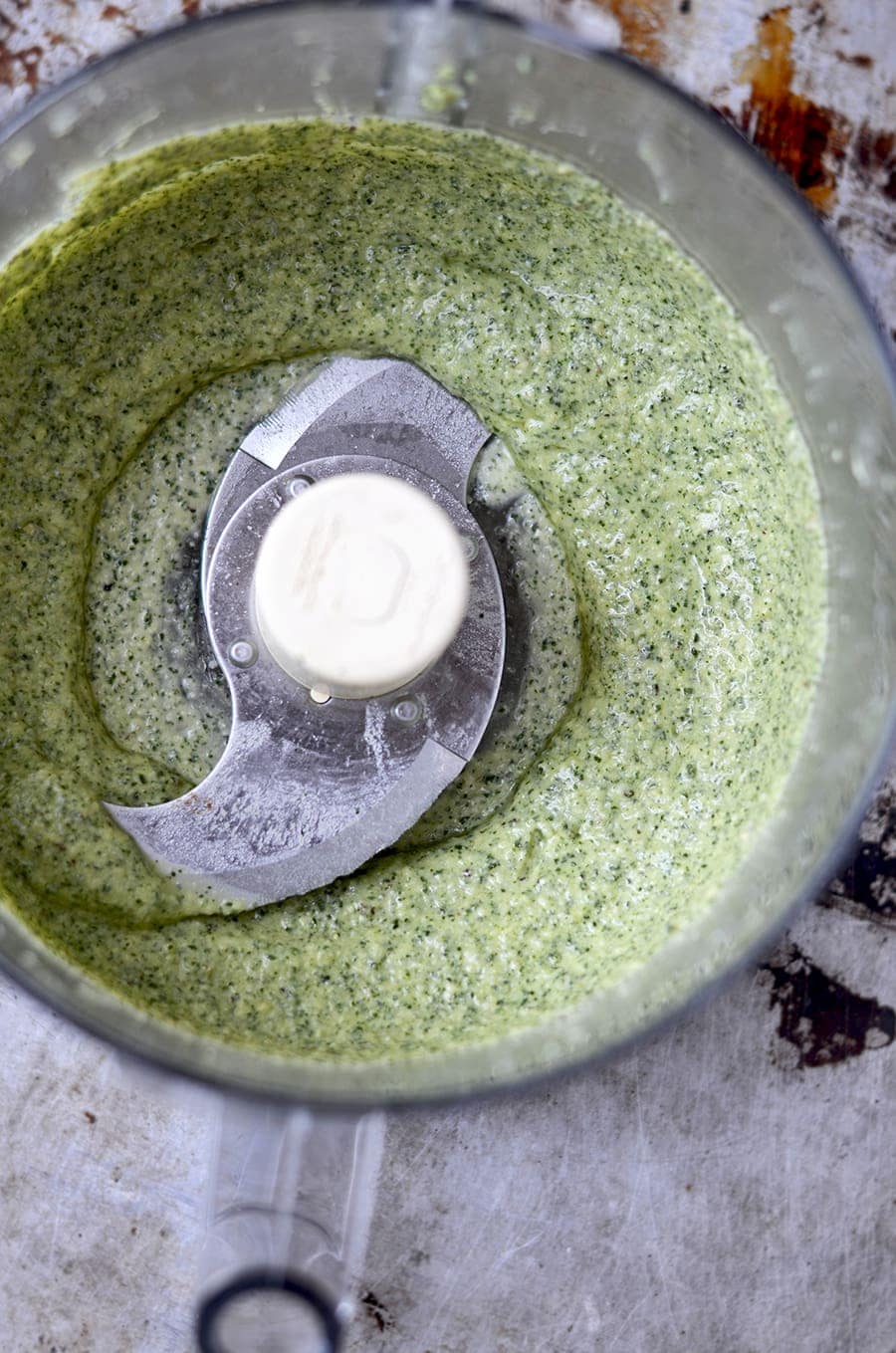 You want to process the ingredients until smooth for this Lemon Balm Pesto recipe. Unlike basil, lemon balm has a thick, toothy leaf which can be a bit unpleasant. So really pulse that sauce until it looks creamy.
It's salty, rich, herbaceous and so yummy! It's a little more delicate in flavor than basil pesto, but I love how the lemon flavor stand out. Don't you want to slather that on a piece of toast with fresh tomatoes? Mmmmmmm…
This sauce is just the beginning of a fabulous meal. Personally I want to try it with this copycat version of Panera's Garden Vegetable Soup from the Little Kitchen. But it can also be used as a pizza sauce, a spread for sandwiches, or a dressing for salad. Stretch your creativity and see how many ways you can make this humble herb into a delicious meal.
I'd love to hear your pesto combos! Leave a comment below or connect with me on Instagram!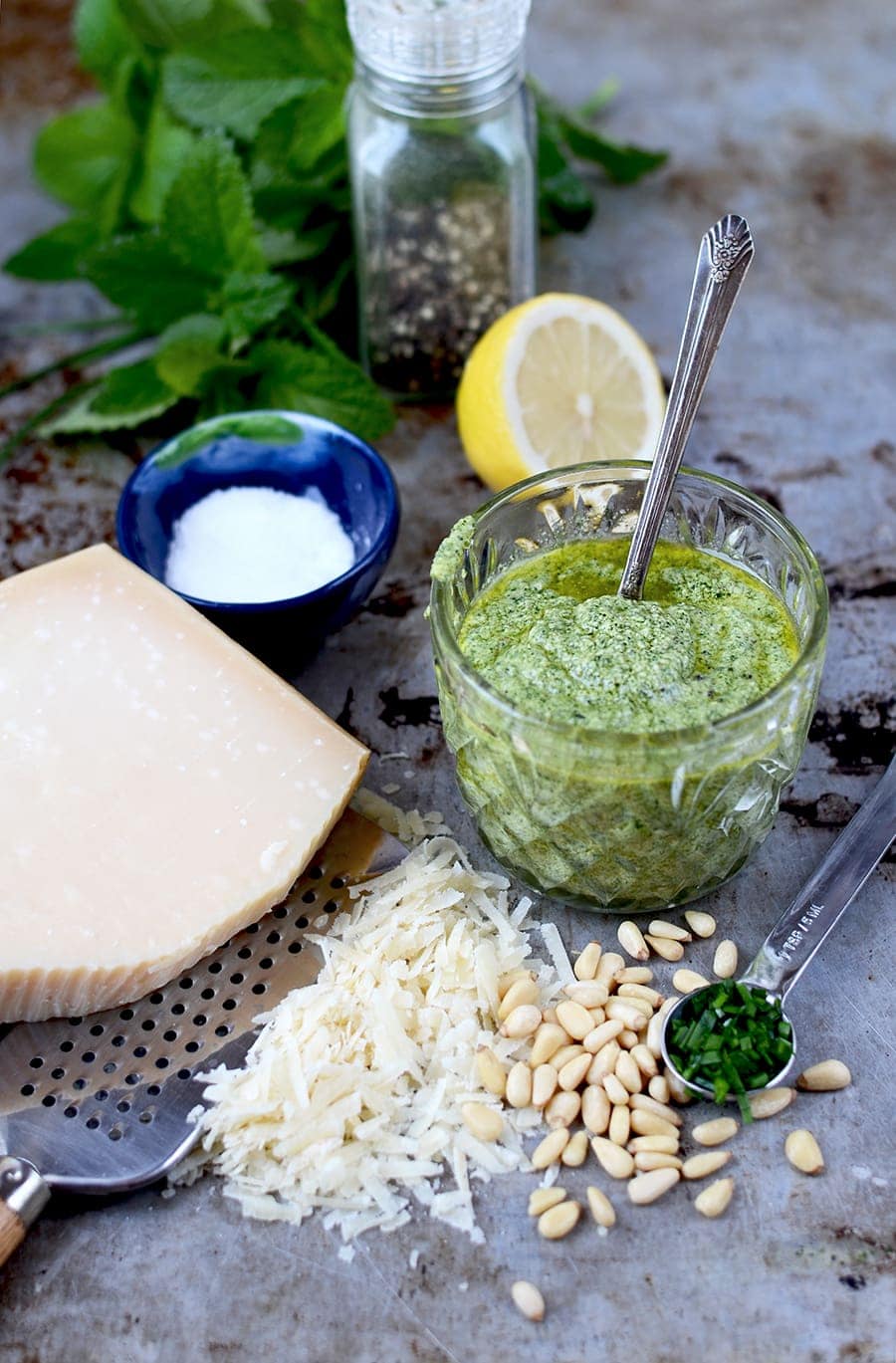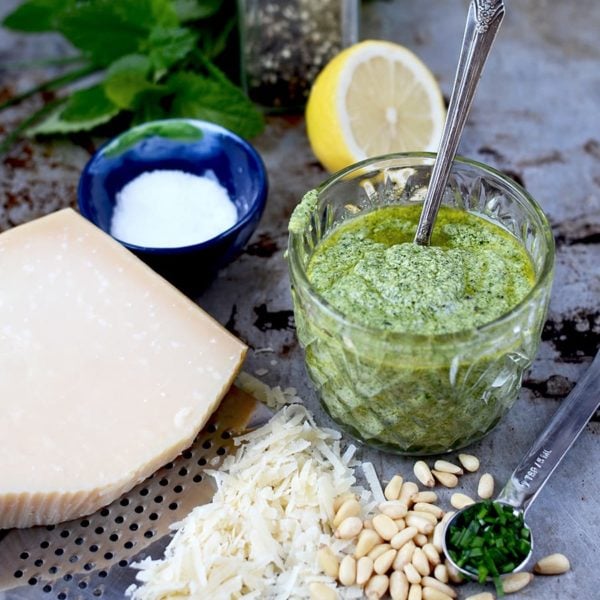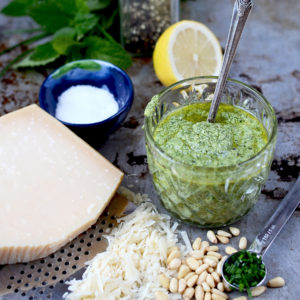 Lemon Balm Pesto
Despite the high cost of the traditional pesto ingredient pine nuts, I decided to stick with them because they are high in fat. High fat = richness and flavor. I figure the lemon balm is free, so there's the difference in cost... but if you cannot find pine nuts in bulk ( I buy mine at Costco), use almonds or cashews instead.
Print
Rate
Servings:
8
2 tablespoon servings
Ingredients
3/4

cup

lemon balm leaves

firmly packed

1/2

cup

pine nuts

3/4

cup

Parmesan cheese

1/4

cup

extra virgin olive oil

3

TB

lemon juice

1

tsp

fresh chives

salt and pepper to taste
Instructions
Place all ingredients in a food processor and pulse until smooth.

Add salt and pepper to taste.

Store in an airtight container for up to one week in the refrigerator or 3 months in the freezer.
Nutrition
Calories:
157
kcal
|
Carbohydrates:
2
g
|
Protein:
4
g
|
Fat:
14
g
|
Saturated Fat:
2
g
|
Cholesterol:
6
mg
|
Sodium:
151
mg
|
Potassium:
88
mg
|
Vitamin A:
250
IU
|
Vitamin C:
3.5
mg
|
Calcium:
123
mg
|
Iron:
0.8
mg
Tried this recipe?
Let us know how it turned out for you! Scroll down to leave a comment below.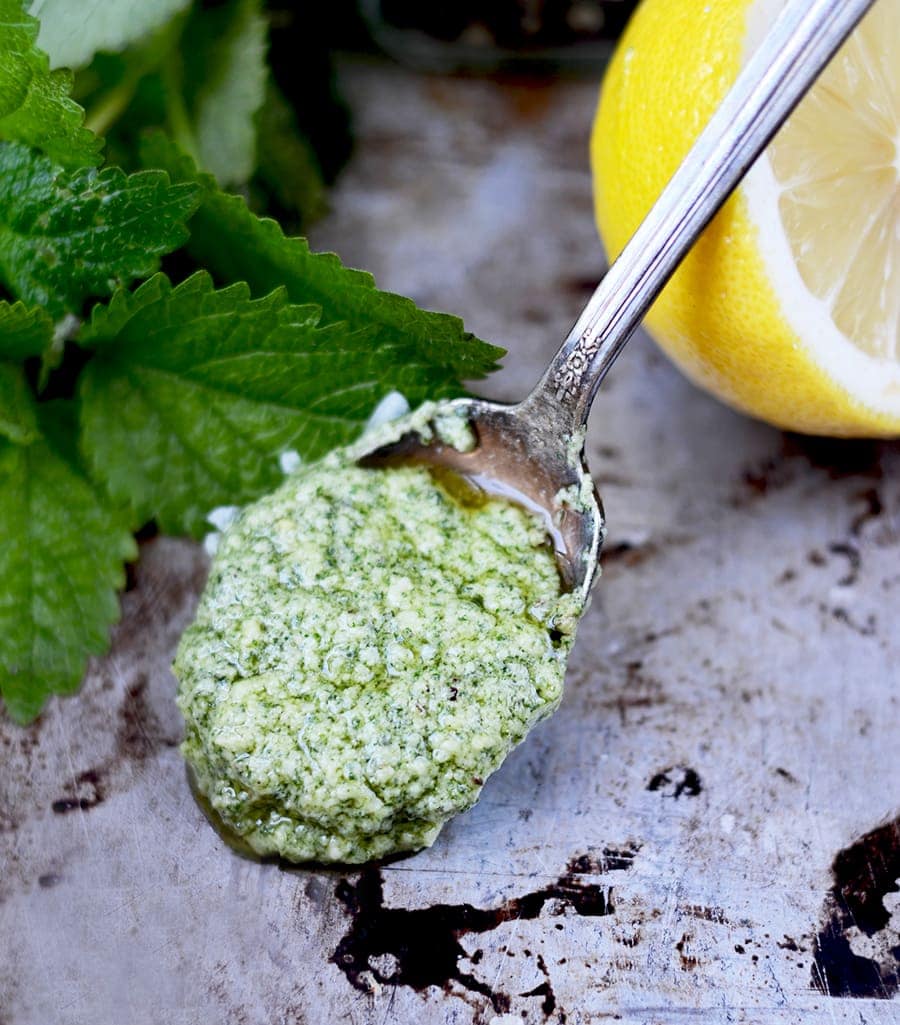 You might also like: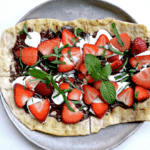 Chocolate Strawberry Mint Dessert Pizza
Chocolate Strawberry Mint Dessert Pizza with whole-milk ricotta cheese! This recipe lies at the intersection of easy and unbelievably delicious!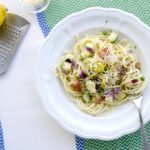 Easy Summer Garden Pasta
This easy Summer Garden Pasta is the perfect late summer, weeknight dinner. It's fresh, bright, savory and filling without being heavy.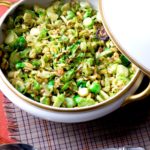 Easy Brussels Sprouts with Pinenuts and Parmesan
This go-to fall recipe is fast, contains just a handful of ingredients, and is perfect for any meal.
I shared this recipe on the following linkups. Come join the fun!
♦ Fiesta Friday
♦ Friday Favorites with Life in Leggings
♦ Friday Favorites with Momfessionals, A Little Bit of Everything, and Grace and Love
♦ Weekend Potluck with The Country Cook,Sweet Little Bluebird, Mommy's Kitchen, The Better Baker, & Served Up with Love
♦ Sugar and Spice Link Party
♦ Saucy Saturdays with Mid-Life Croissant, The Flavor Bender, La Petit Chef & Take Two Tapas