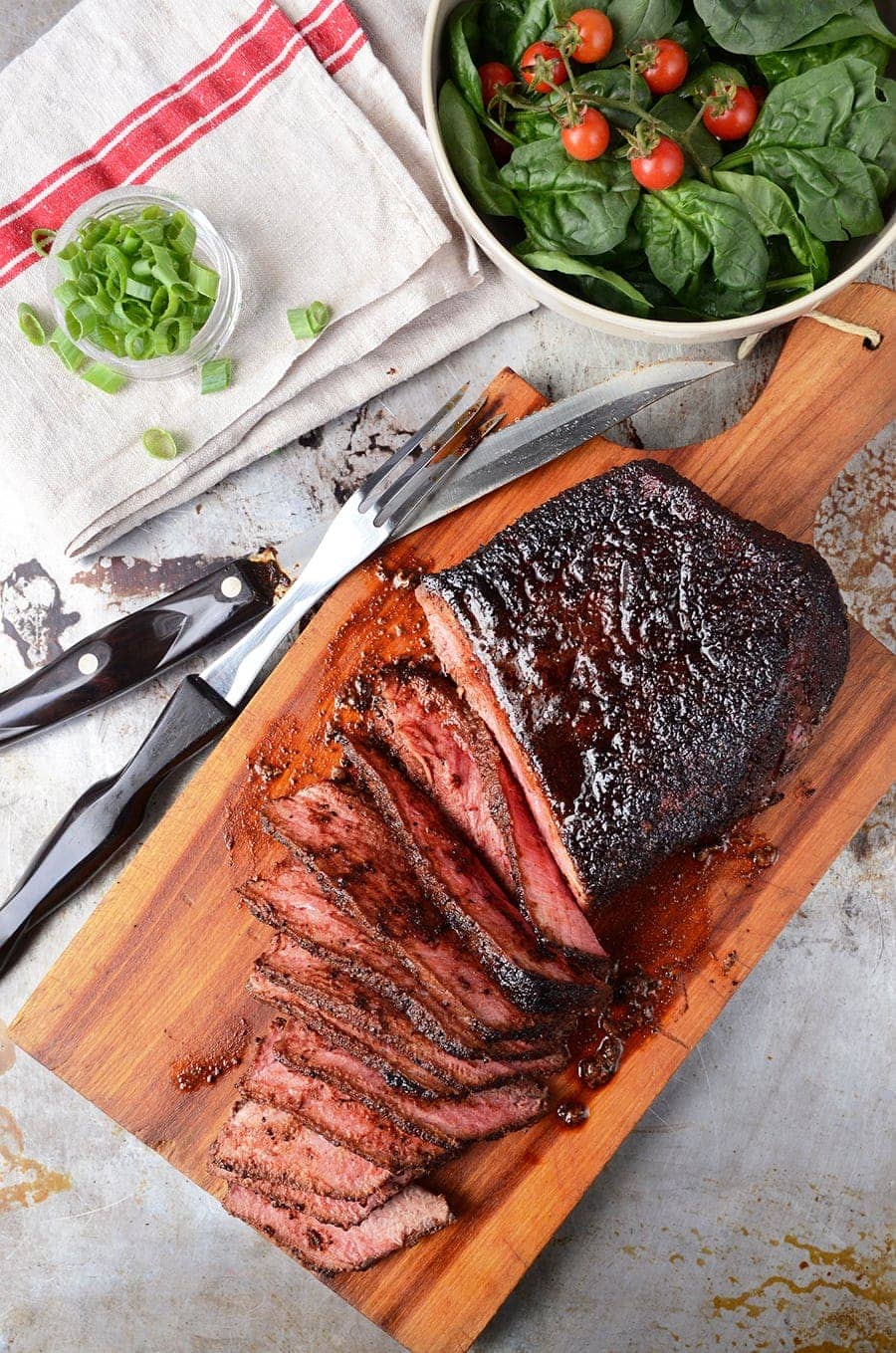 This Coffee Rubbed London Broil recipe is pan seared, locking in the flavor of this thrifty cut of beef.
---
No marinating required! Cheap eats meets gourmet dry rub in this easy London broil recipe. It cooks in under 30 minutes and is stellar as a dinnertime main or sliced for sandwiches.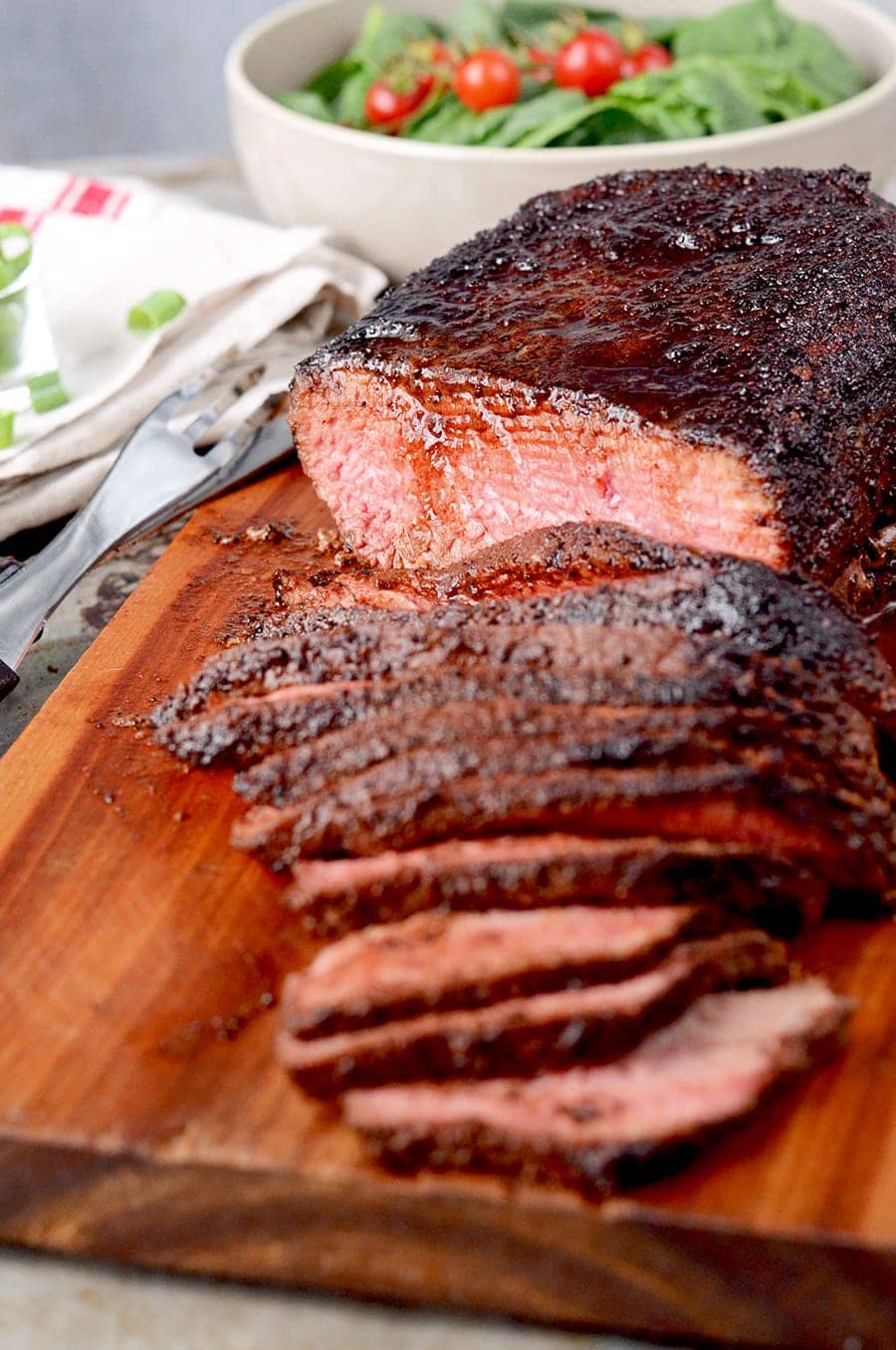 This summer our local supermarket had a special on London Broil cuts. At buy one, get one free, I couldn't pass up the sale, so I piled my cart full of them. Okay, maybe not full, but I bought enough to freeze for later. Over the years we've cut back on meat, preferring to spend our grocery budget on organic vegetables and fruits. So, I am always on the lookout for a specials like this.
There are only two of us, so in general, we don't eat roasts very often. But this top round cut of beef is the best of both worlds. It comes in small 2-3 pound cuts and the leftovers are excellent for sandwiches! So, this one London broil can make multiple meals with very little effort.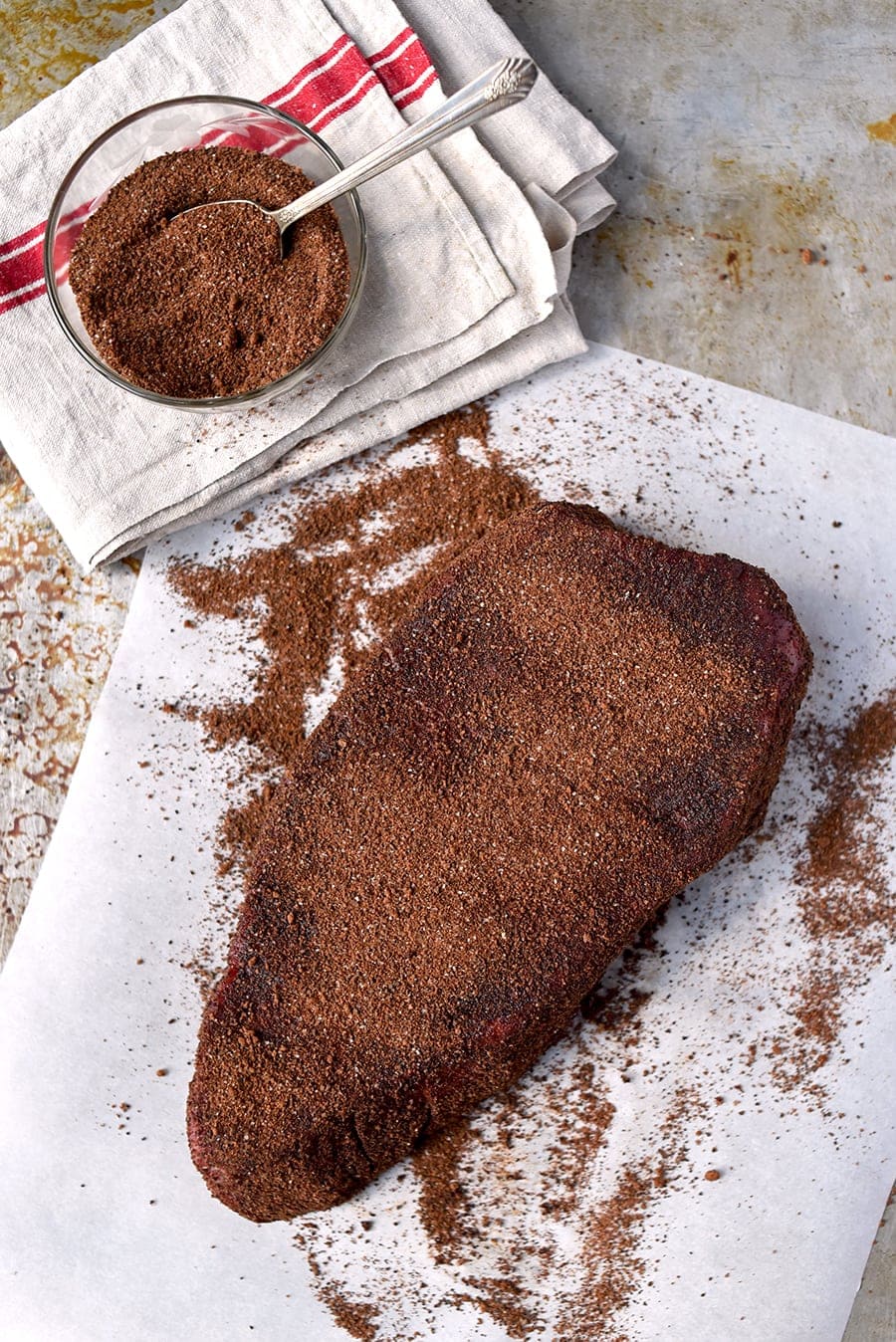 The name London broil might be a bit confusing. It's typically known as a style of cooking and not a cut of meat but I guess the recognizable name sells. I've heard of flank steaks, shoulder, bottom round, sirloin tip and top round being labeled as such. To make this recipe you want to make sure you get a cut that is 1.5-2 inches thick. I've suggested a 2 pound steak because in our taste tests smaller cuts were more tender while those over 32 ounces were slightly tough.
If you primarily want to make sandwiches with the London broil, you can get a larger cut and refrigerate the meat before slicing. I was able to hand cut paper thin slices once the meat was cold.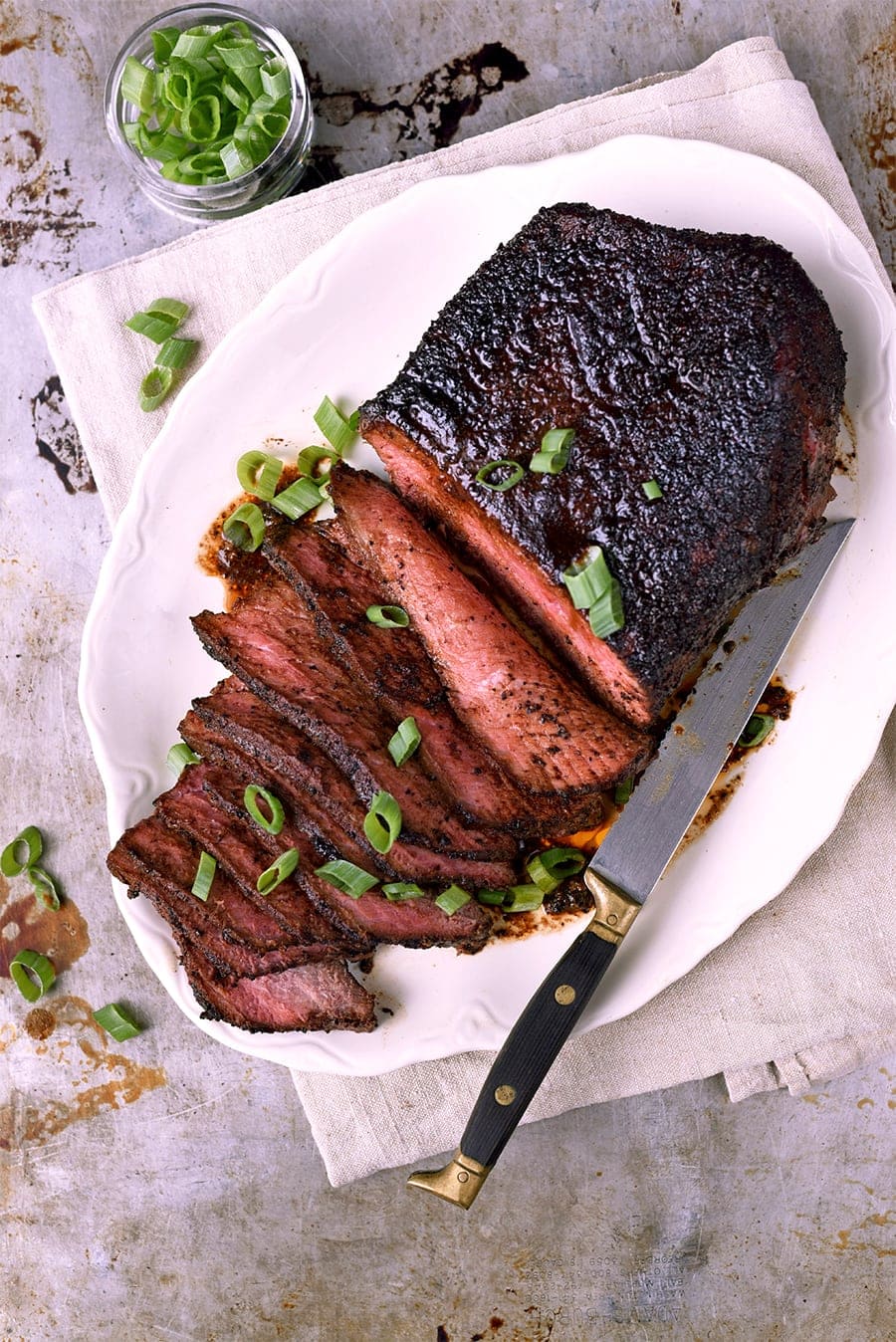 The benefit of this recipe lies in the coffee dry rub. It's a simple combo of sweet, bitter and savory flavors that you most likely already have in your pantry. It can be made in advance if you're into meal prepping but if not, it takes less than 5 minutes to put together. Before cooking the London broil, you pat the meat dry and then coat it with this glorious rub. No marinating and no waiting!
Did I mention that this recipe is pan seared? It starts on the stove and then finishes in the oven, so it's a year-round, no special equipment kind of recipe too. I cooked mine in a cast iron skillet, because that's the pan I had that fit the steak. It was great for getting a nice sear, but the downside is it that it retains heat a little too well. If you use cast iron or a heavy bottomed dutch oven, make sure to rest your meat on the cutting board or you will end up with a tough, overdone doorstop! Lesson learned!
You also have to make sure you pull the London Broil out as soon as it reaches 125 Fahrenheit degrees. The meat will continue to cook even out of the pan, so, maybe I was a little quick to say no special equipment. Every kitchen should have a good instant read thermometer. Our old one bit the dust, so I've been testing out this ThermoPro I purchased on Amazon. So far it's reliable, easy to use and the price is very reasonable. In my experience, a good thermometer saves money and accidental food poisoning, so it's a worthwhile investment.
Now on to the recipe! Enjoy!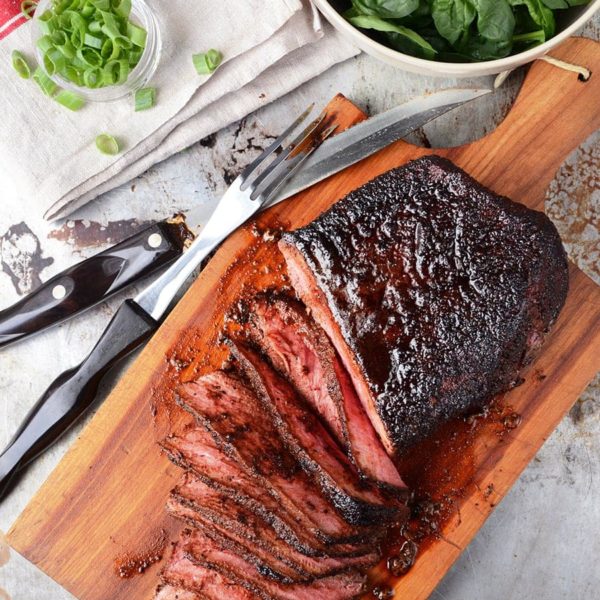 Coffee Rubbed London Broil
This London Broil recipe is a versatile main roast. It's pan seared and then transferred to the oven for an easy 30 minute main course.
Print
Rate
Ingredients
2

Tablespoons

coffee grounds

2

Tablespoons

dark brown sugar

2

Tablespoons

chipotle powder

2

teaspoons

cocoa powder

2

teaspoons

sea salt

1

tsp

ground ginger

2

lb

London broil

(might also be labeled as Top Round Steak)

2

Tablespoons

olive oil
Instructions
Preheat oven to 325F and pull out your steak to warm up to room temperature.

In a bowl, combine coffee, sugar, chipotle, cocoa, salt and ginger.

Place steak on a plate and pat dry with paper towels.

Rub coffee mixture onto steak, covering all sides.

Add olive oil to a saute pan large enough to fit your roast.

Heat pan over medium high heat.

When the oil is hot, carefully add London Broil to the pan and cook for 5 minutes without moving it.

Flip the steak and sear an additional 3 minutes.

Cook until a thermometer reaches 125F (about 10-20 minutes more)

Pull the pan out of the oven and transfer the roast to a cutting board and let rest for 5-10 minutes.

Slice meat as thinly as possible against the grain.
Notes
This recipe is excellent for sandwiches. For the thinnest slices, refrigerate beef before carving.
Nutrition
Tried this recipe?
Let us know how it turned out for you! Scroll down to leave a comment below.
Leftovers? These LONDON BROIL STEAK SANDWICHES are loaded with roasted peppers, spinach and cheese!!!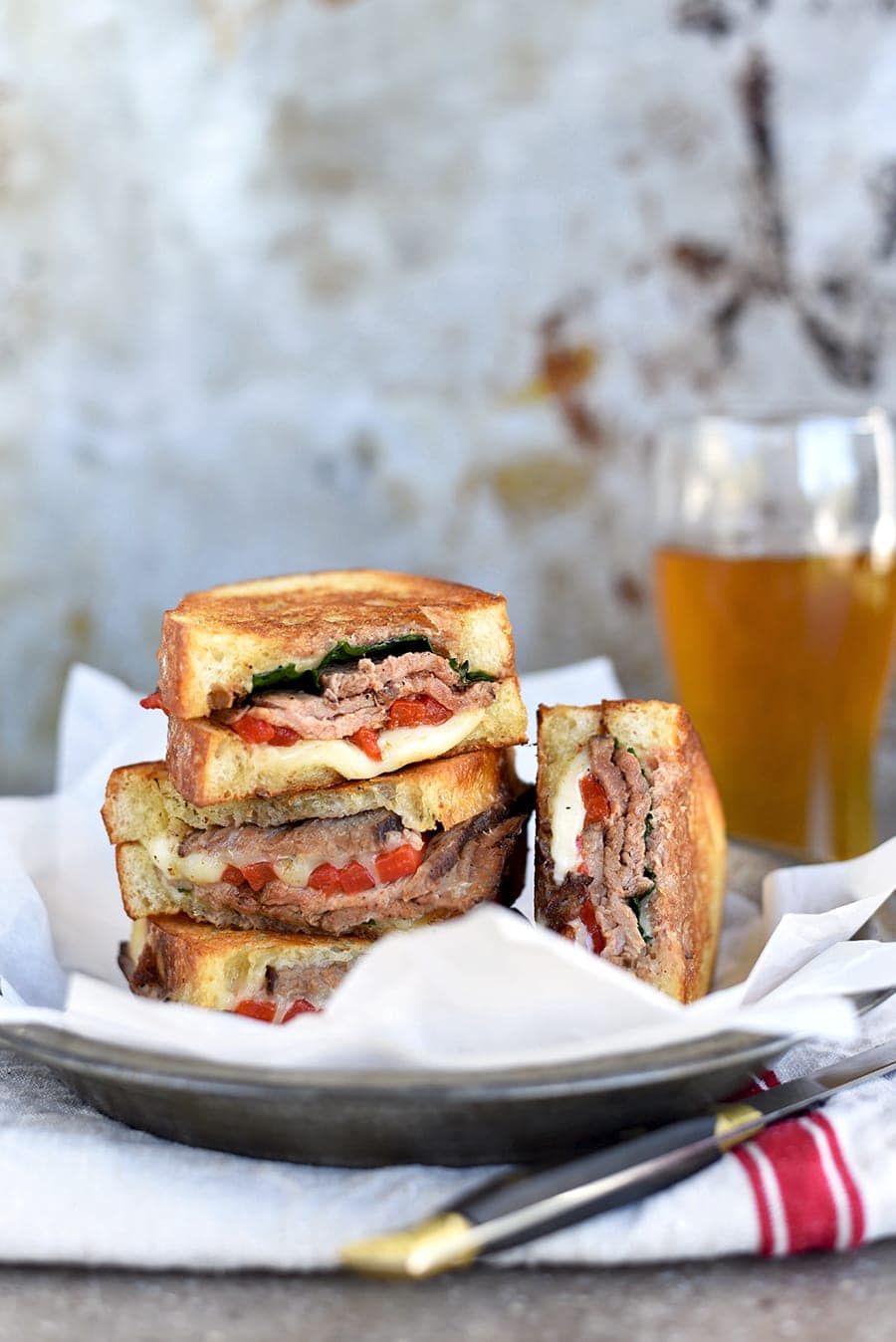 You might also like: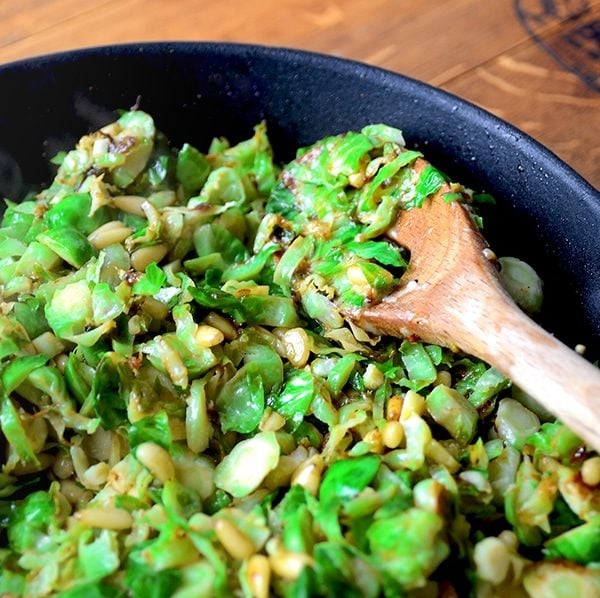 Easy Brussels Sprouts with Parmesan and Pinenuts
It really doesn't get easier than this dish. Brussels sprouts, parmesan, pinenuts, lemon zest, olive oil, salt and pepper…simplicity is the key here!
Rosemary Sweet Potato Rolls
One dough, two uses! These Rosemary Sweet Potato Rolls are the perfect side to your meal but the dough can also be used for pizza.
Broccoli Cheese Casserole with Crunchy Quinoa Topping
Large family dinners call for indulgent casseroles but this dish will surprise you with its hidden protein content! Gotta love the power of quinoa.