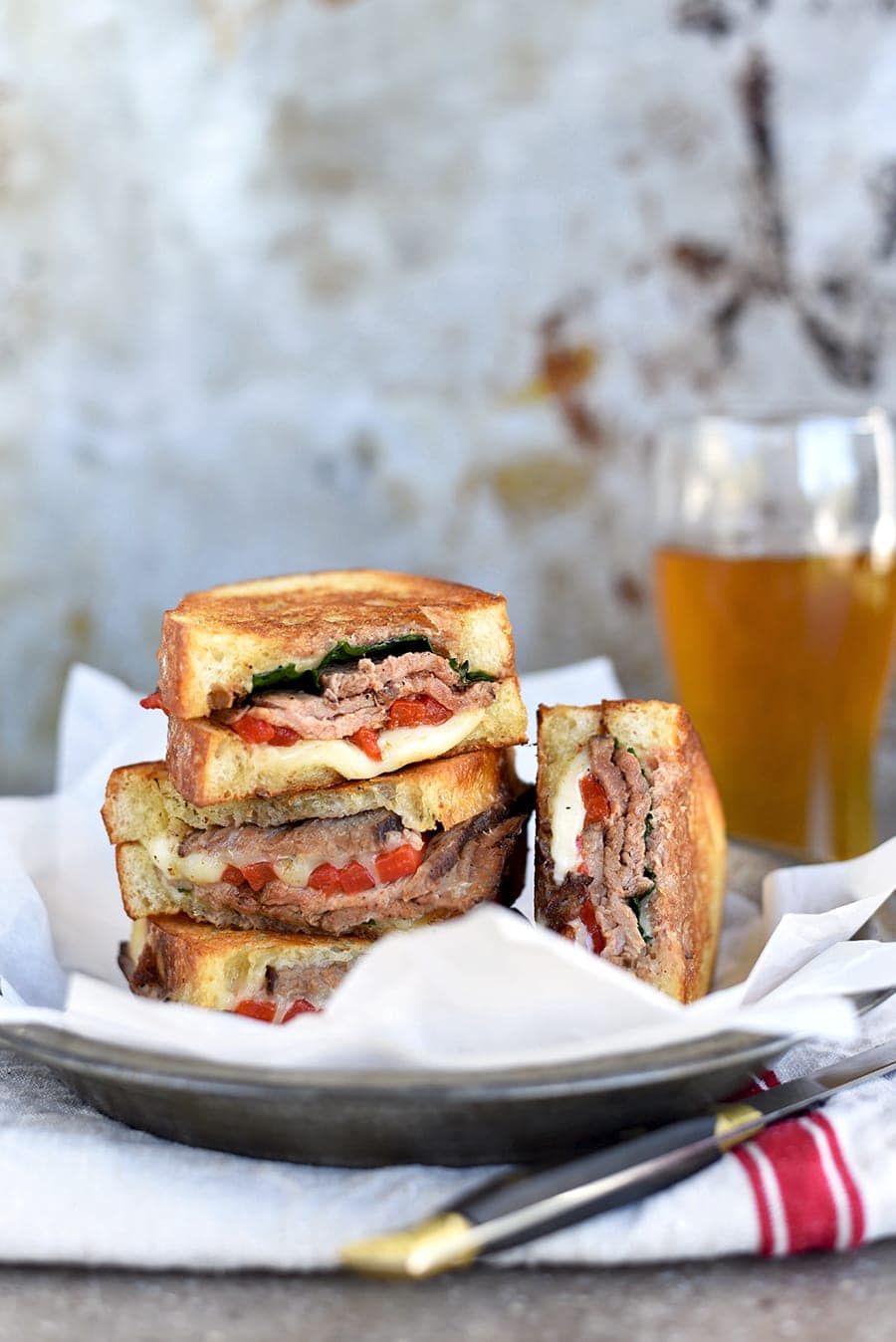 Everyone loves pub grub! You can create the gastro pub vibe at home with this spectacularly golden, pan grilled steak sandwich!
---
Our London Broil Steak Sandwich recipe is made with coffee rubbed London broil and stuffed with roasted red peppers, fresh spinach and a gruyere, cheddar cheese blend for an epicurean dinner.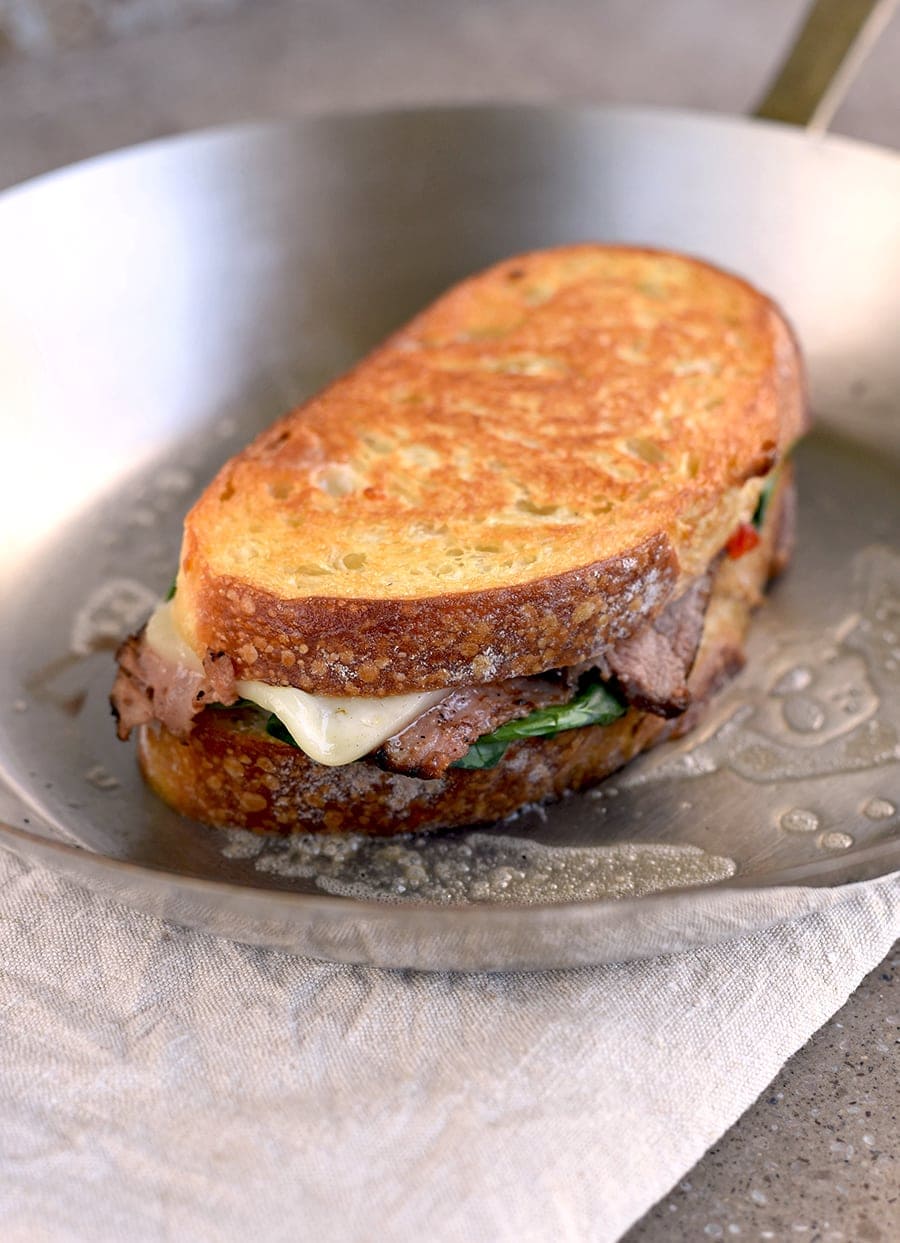 The concept of a 30 minute meal is hard for me. Quick dinners are my nemesis because I honestly don't have many time constraints around dinner time. I work from home and don't have kids, so there is usually no rush.
Not only is food my livelihood, it's my leisure activity too. I love to pour a glass of wine and enjoy the process of making dinner, an activity I often drag out by goofing around. I sing and dance about with a wooden spoon as a microphone. I'm pretty sure my neighbors think I'm cray cray but #sorrynotsorry. I am who I am.
But I realize many of you don't have a lot of time to devote to a weekday dinner, although, I'm sure you still want a meal that tastes great. So, I've been challenging myself to cook dinner in less time with easier ingredients because I want to create delicious recipes that work for busy folks too.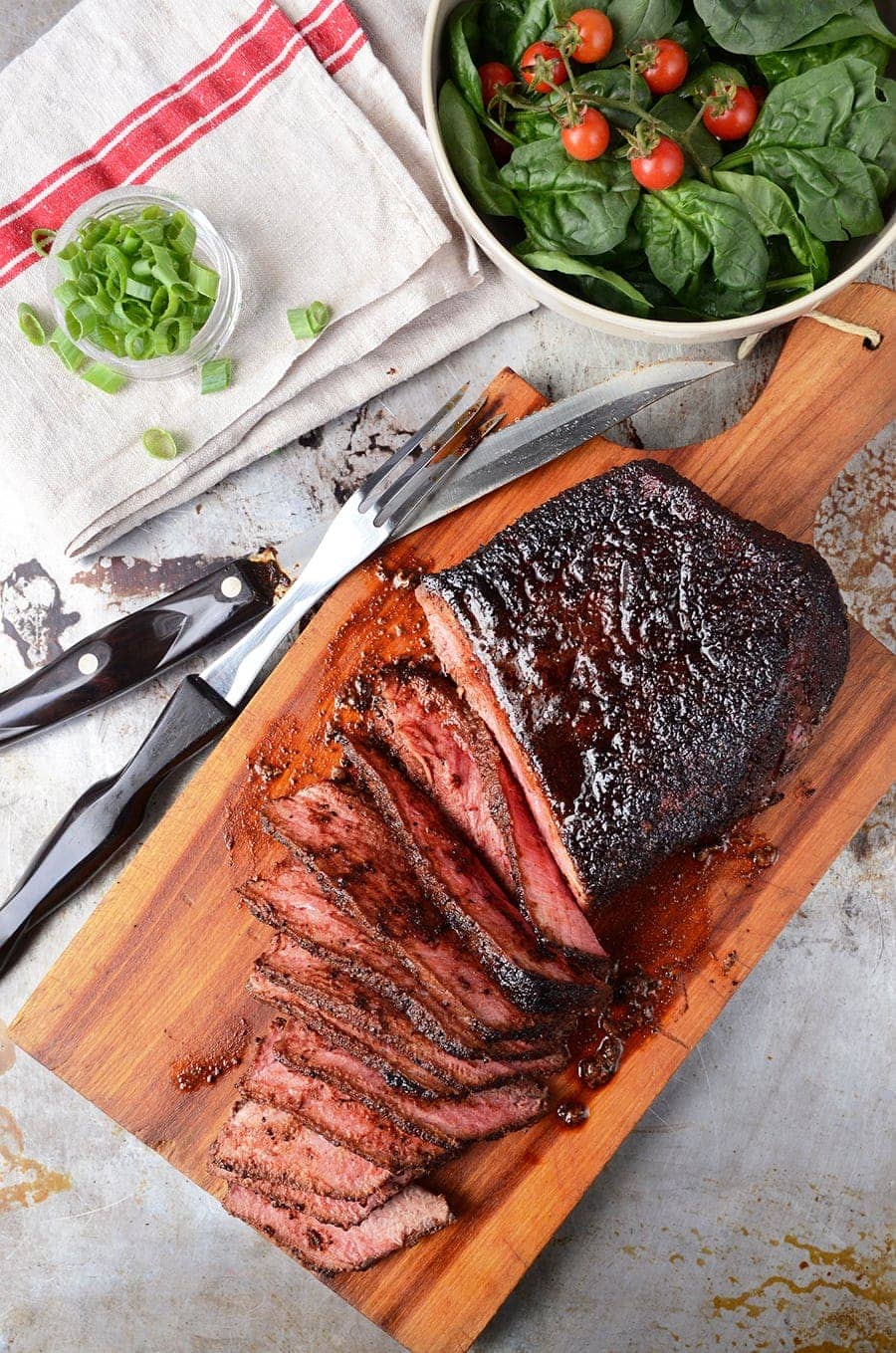 Personally, I think we knocked it out of the park with our Coffee Rubbed London Broil recipe. It's an affordable cut of meat, it only takes 5 minutes to make the dry rub and it cooks in less than 30 minutes. But the best part is the recipe makes GREAT leftovers for sandwiches.
Sandwiches can be boring or they can be the ooey gooey stuff foodie dreams are made of! You know the kind of sandwich that has crispy golden bread on the outside, melty cheese on the inside and in between, it's loaded with interesting ingredients? This London Broil Steak Sandwich recipe is just that kind of gastropub worthy eats I'm talking about!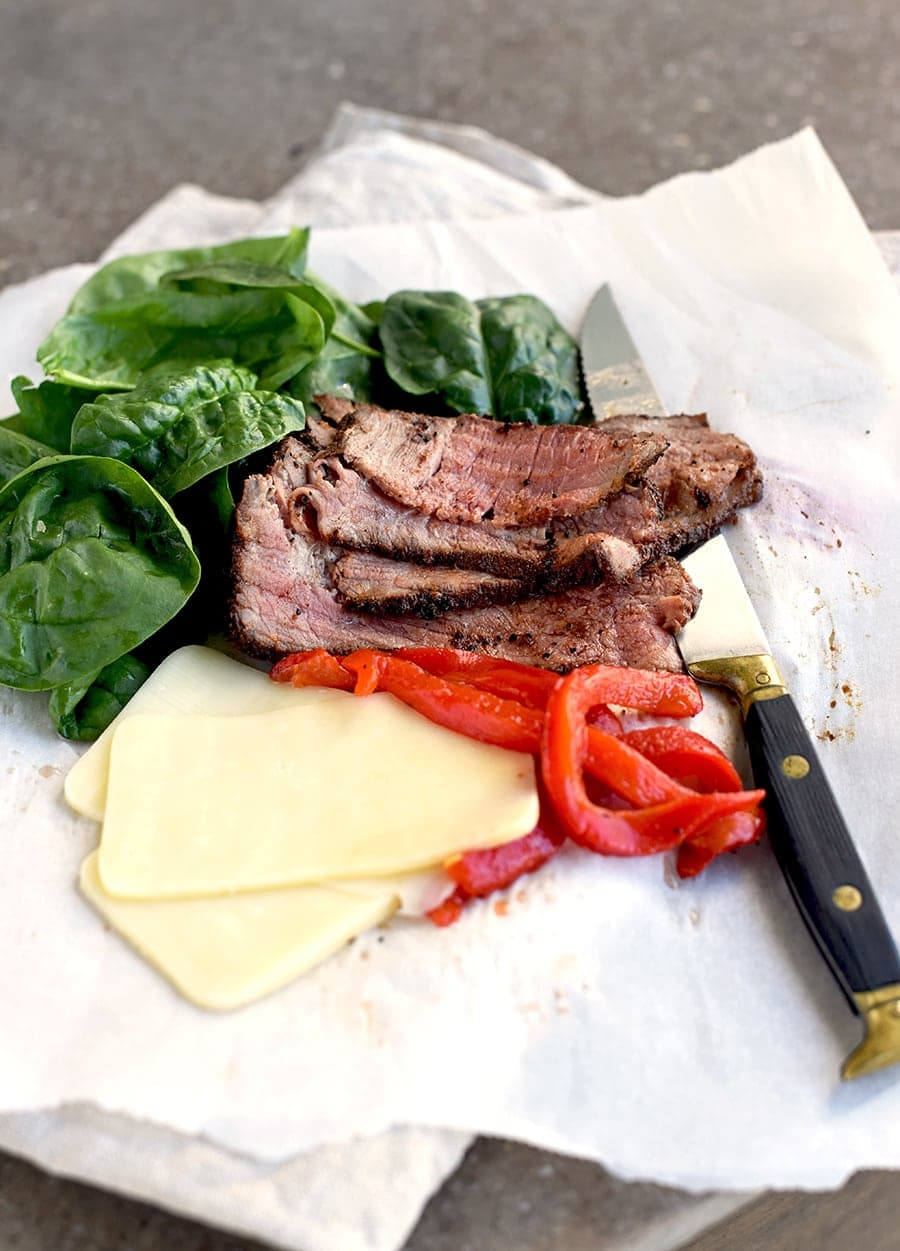 Just ask my hubby! Kevin is our resident grilled cheese whisperer. His love of grilled cheese sandwiches runs deep and he delights in adding things to them to spice them up, be it a mix of cheese, bacon, ham or all of the above. Those are all great, but pretty pedestrian and we wanted to bring something more to this steak sandwich.
The wonder of this sandwich is that the flavor of the coffee rubbed London Broil is unique enough that it doesn't disappear when you add it to buttery bread. That gave us a lot of artistic license when crafting this recipe. Instead of the usual lettuce and tomato we went bold with roasted peppers and fresh spinach. And the spice rub on the meat tastes surprising awesome with cheese.
We've fallen in love this Wood River Creamery Alpha's Morning Sun Cheese we get at Costco. It's a cheddar gruyere blend that melts like a dream but is mild enough to not overpower dishes. If you can't find this cheese in your supermarket, no worries. You can make your own cheese blend by grating equal parts of gruyere and cheddar or substitute with another melty cheese like monterey jack. Don't fuss if you have to make a swap because cheese is only one part of the perfect sandwich equation.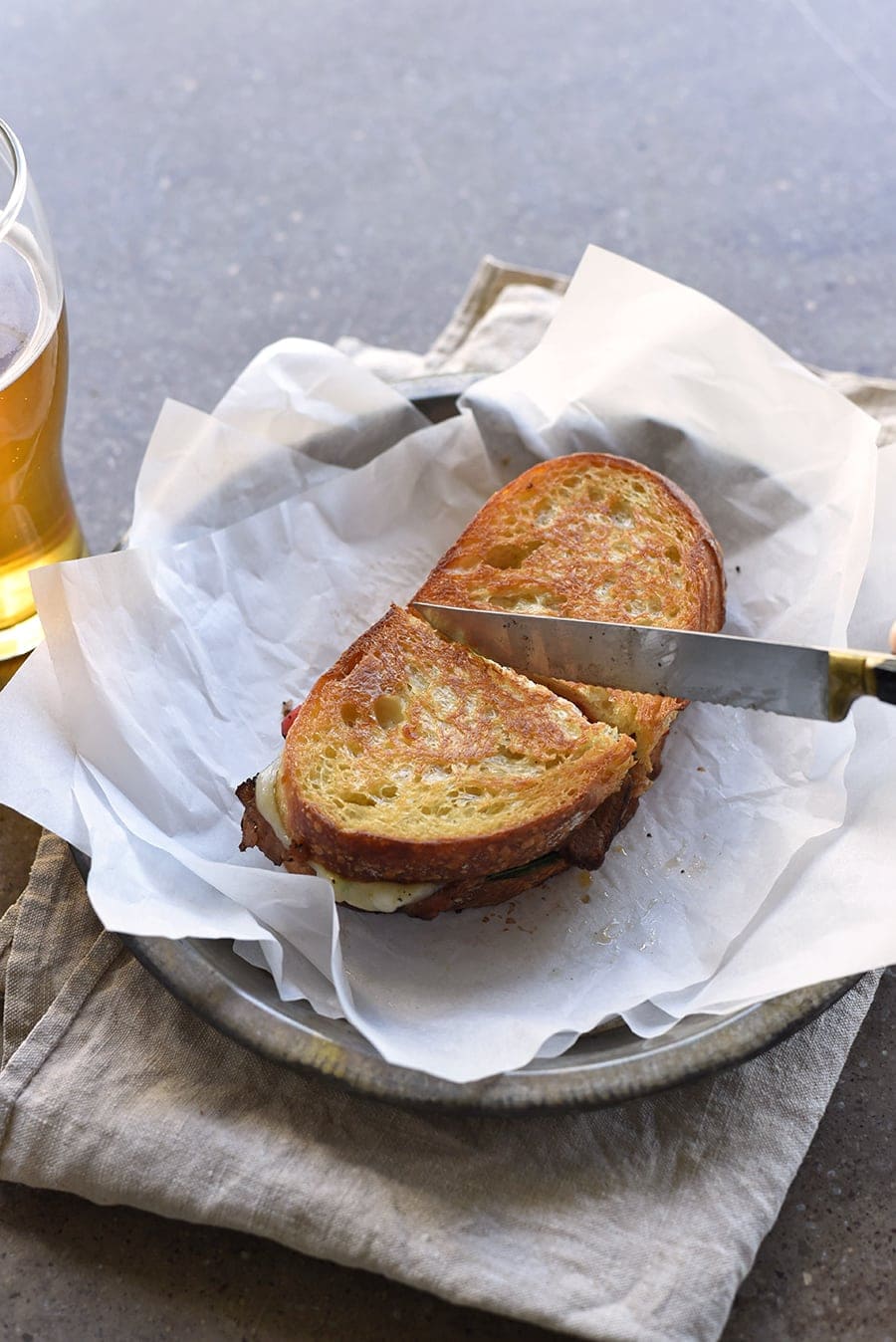 Kevin's sandwich knack extends way beyond ingredients. He knows exactly how to develop the BEST color and crunch on the sandwich bread. His trick is he adds the butter to the pan and not to the bread. That way you don't need to soften the butter. Plus with this method the butter gets in all the nooks and crannies of the bread.
The other secret to a perfectly pan grilled sandwich is cooking low and slow. Evenly melted cheese and beautifully golden bread can't be done over a scorching burner. Too much heat and your bread will be burnt and the cheese cold.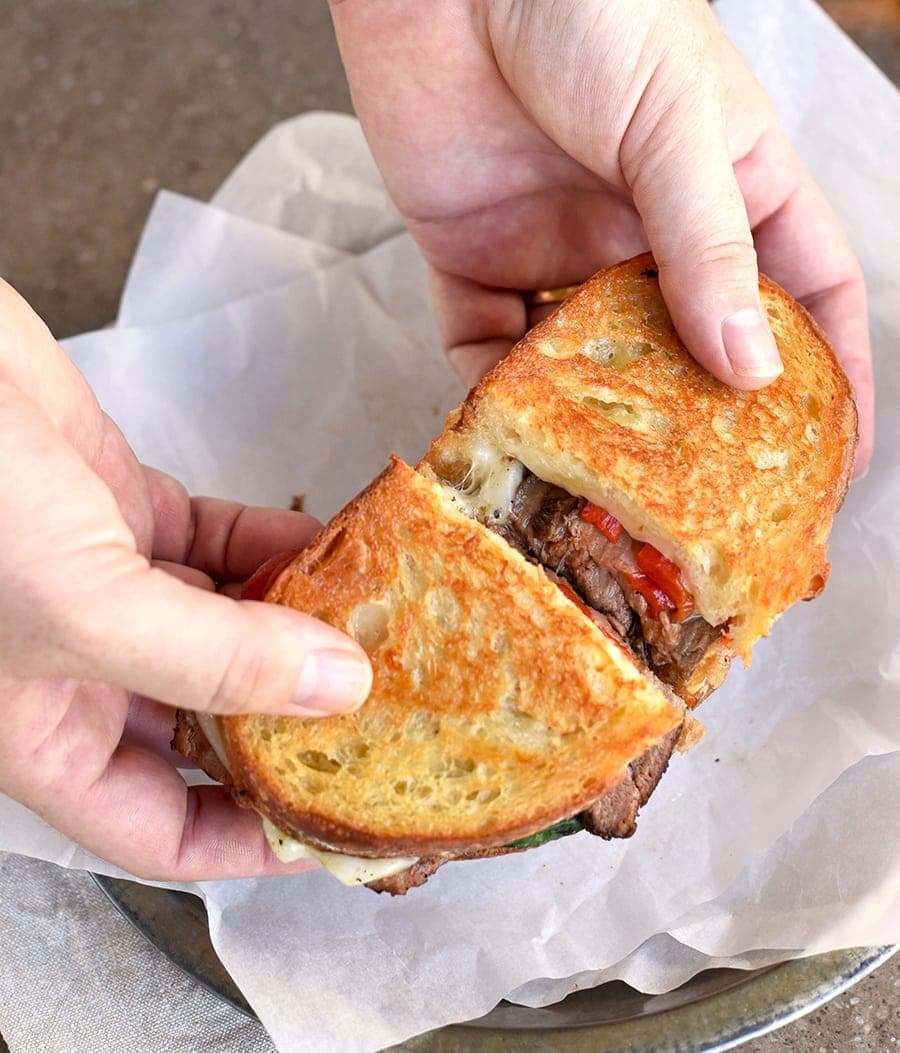 Look at that! Stretchy cheese, plump peppers and the rub has just the right bit of savory kick to bring out the beefy flavor of London Broil. Mmmmmm. And the buttery crunch is lick your fingers good. Messy, satisfying and better than going out. Now you can be a sandwich master too! Scroll down for the recipe.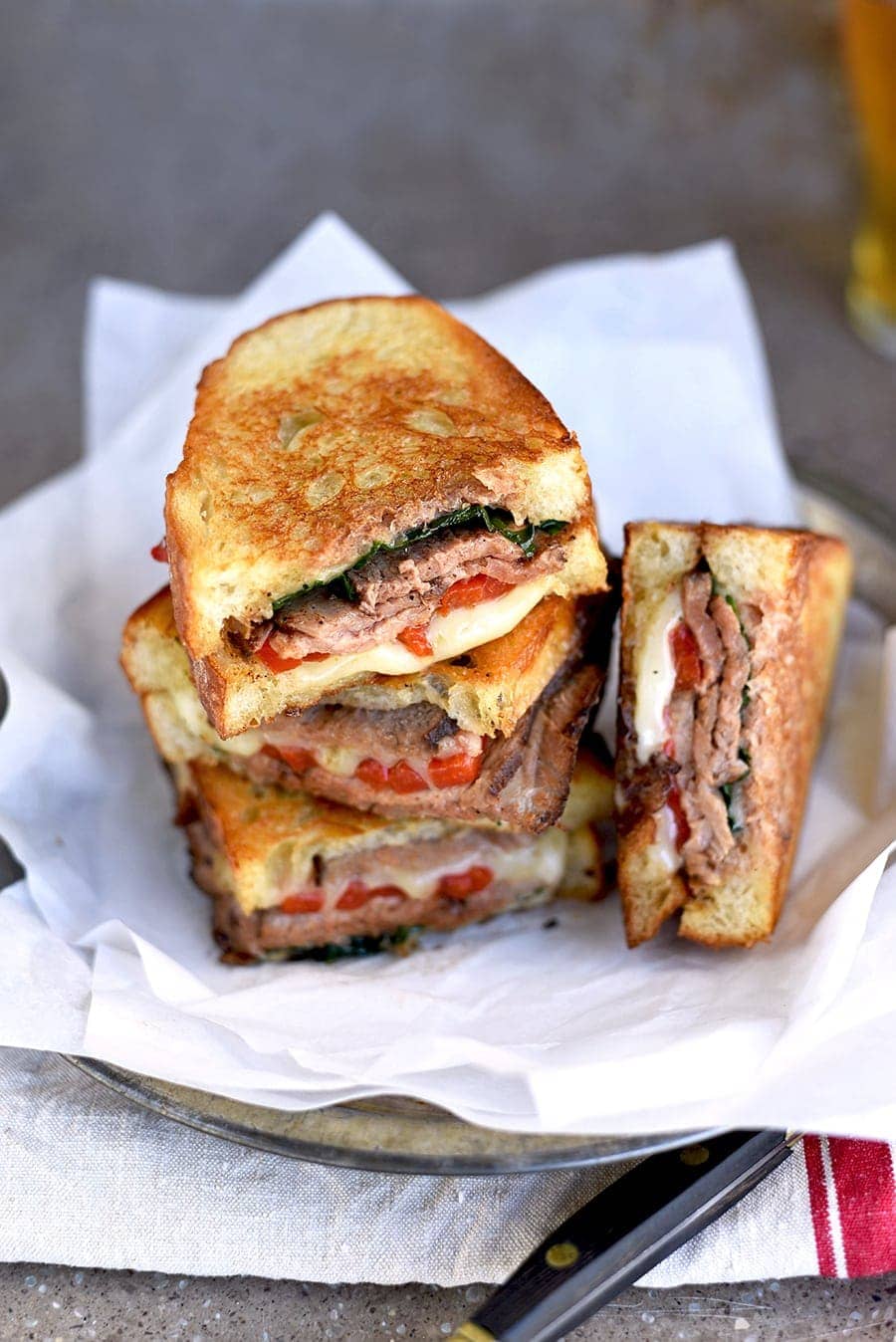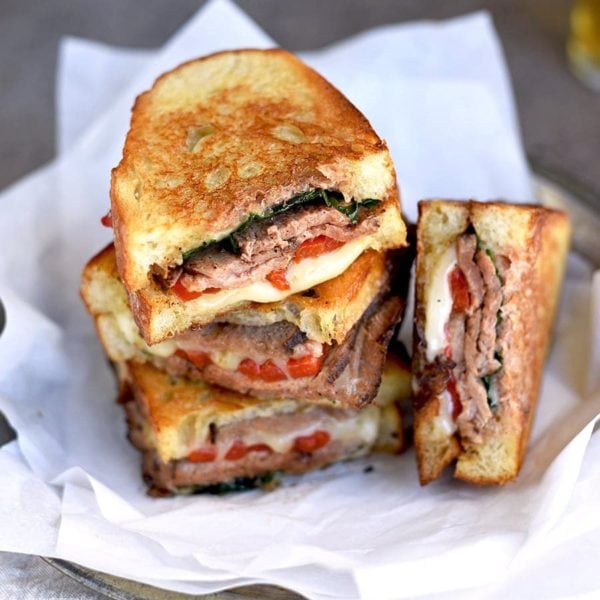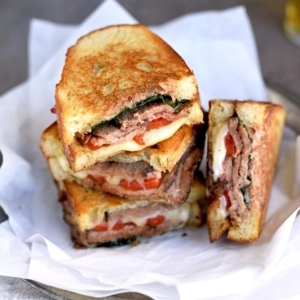 London Broil Steak Sandwiches with Roasted Peppers, Spinach and Cheese
Print
Rate
Ingredients
2

Tablespoons

extra virgin olive oil

2

Tablespoons

butter

4

large slices

rustic Italian bread

2

oz

Coffee Rubbed London Broil,

thinly sliced

1-1/2

oz

cheese,

(we used a cheddar gruyere blend)

1/4

cup

spinach,

washed and dried

1/2

cup

roasted red pepper,

sliced
Instructions
In a small bowl, combine olive oil with a pinch of salt and a pinch of pepper.

With a pastry brush, baste the inside of the sandwich bread with olive oil mixture.

Layer each sandwich with cheese, spinach, roasted pepper and London broil.

Heat a large skillet over medium low heat.

When the pan in hot, add the butter to the skillet.

Once the butter is melted, add the sandwiches to the pan.

When the bread is golden and toasty, gently flip the sandwiches over.

When the bottom of the sandwich is golden and the cheese is melty, transfer the steak sandwiches to a cutting board, slice in half and serve.
Nutrition
Tried this recipe?
Let us know how it turned out for you! Scroll down to leave a comment below.
You might also like:
Tabouleh Turkey Burgers with Feta and Harissa
Make your next cookout a multicultural affair. These Tabouleh Turkey Burgers with Feta and Harissa are a fresh take on the classic grilled burger.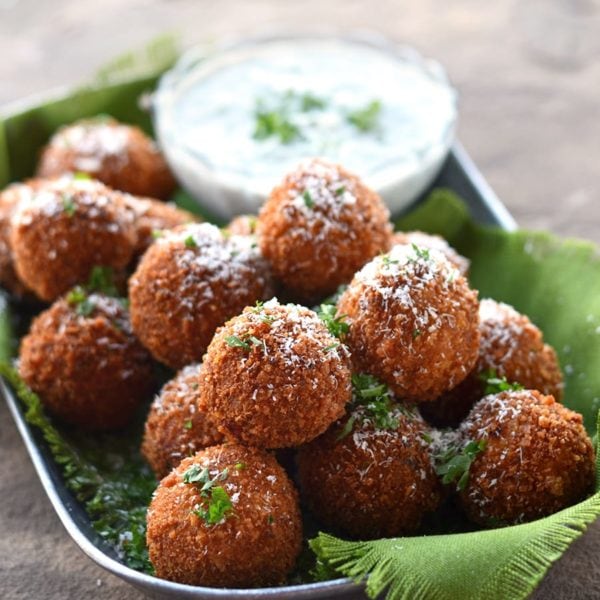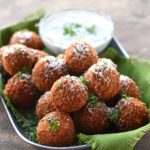 Fried Mozzarella Balls with Pumpkin, Sage and Caramelized Onions
Take your party to the next level with these Fried Mozzarella Balls. They are crunchy on the outside, gooey on the inside and served with Yogurt Herb Dip.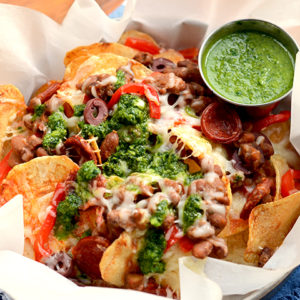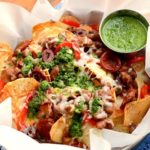 Spanish Potato Nachos
Homemade potato chips get loaded with savory Spanish ingredients in this fusion recipe. Far from ordinary, these nachos are topped with Manchego cheese, Chorizo sausage and served with a fresh, zesty Chimichurri.